Dad Life
When Everybody Asks a Gay Dad, "So, You're the Mom?"
Mar. 16, 2017
"So, you're the mom?" That's a question I get asked a lot by fellow parents, friends, family and casual acquaintances. I used to laugh it off as something funny, but always felt it was brash and lacked tact, frankly. I am a gay male who is also a parent to two adorable boys with another man. Does that, then, make it so one of us has to be the mother? It made me think of a few more questions I will dare to answer in this blog. Am I female? Am I trying to take a woman's place or roles? Am I trying to portray the stereotypical attributes of a motherly figure? Does society always feel the need to label or categorize?
---
I'm Not a Female
First off, no I am not a female. I have never been a female nor do I ever have the desire to be one. I love women and respect them and many of my best friends are female. However, I am not a female. Repeat I am male and I love men. Totally love being a gay male.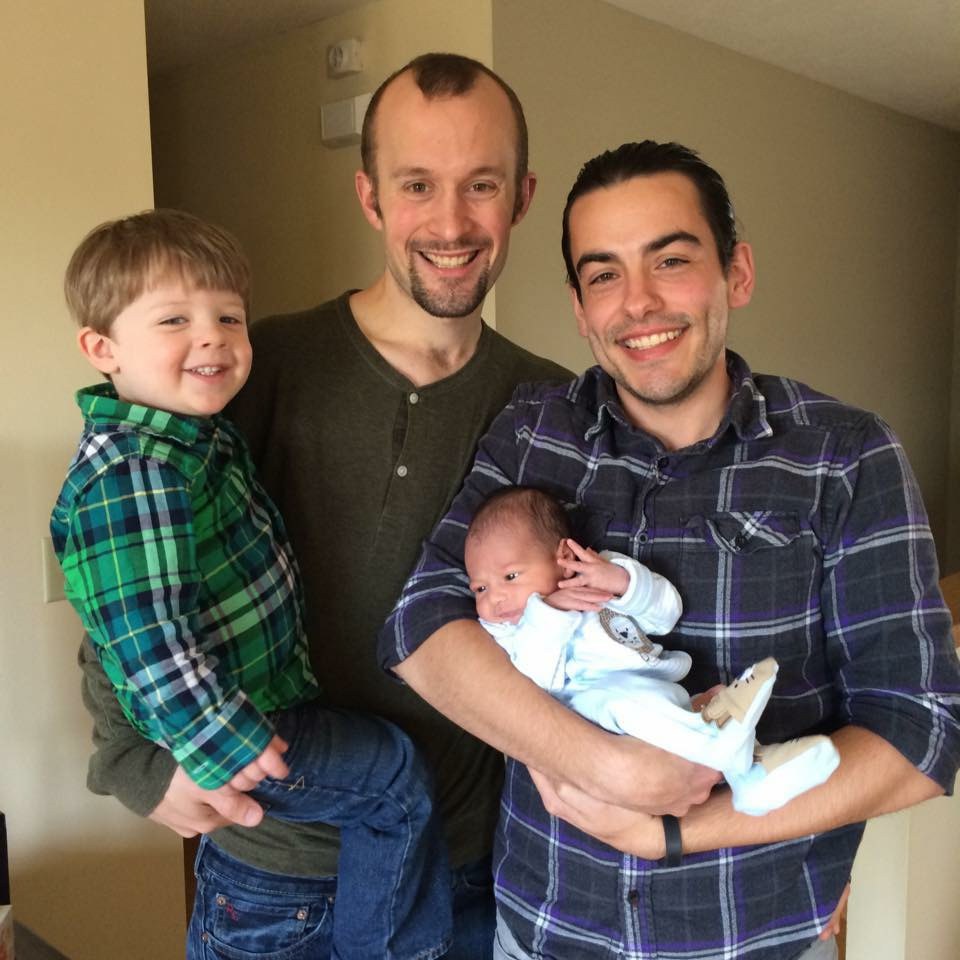 Benjamin (left) and his husband Nick with their two sons
I'm a Parent
Second, both my husband and I could never take the place of either of our children's birth mother or father for that matter. How could we? They conceived them and made the ultimate selfless sacrifice to give me the opportunity to parent their child. Not be a mother, but a parent. Obviously I want female role models and influences in my kids' lives. They have experiences and knowledge that I certainly don't. Do women and men have to have set roles or responsibilities in parenting? Why? Do we still live in a society where men cannot cook and clean and women can work and have no interest in house work or shopping? I certainly hope we do and that these people aren't seen as abnormal or "modern-day" families. Furthermore, if all males and females and everyone else all were treated equally and didn't come with societal baggage or discrimination, would it be as necessary to categorize their roles or choices in parenting? I don't know. That dream is sadly way far off
In a Way, We're All Moms
Third, we certainly have societal views of what a woman's role in parenting is. A lot of this ties in with my response to the second question. If being compassionate, nurturing, loving and affectionate with my kids makes me a mom then I hope all parents are moms. Or if that means cooking, cleaning, driving my kids to and from practices or endless doctor's appointments then again I hope all parents are moms.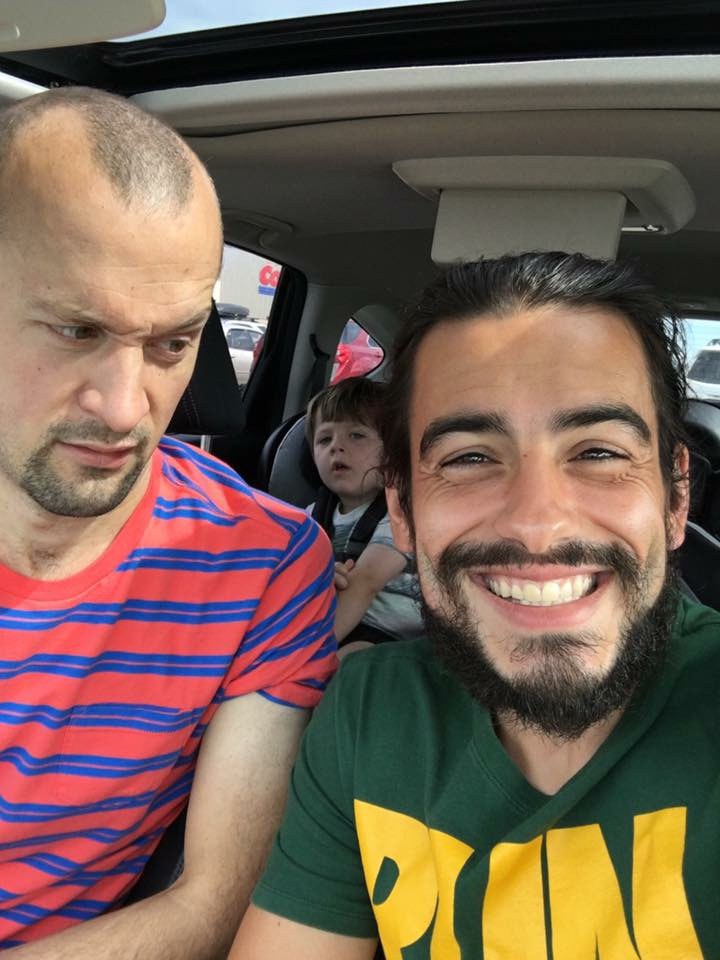 Benjamin (left) and Nick with their oldest son in the back
 No More Labels
I know by this point this may seem like a lot of ranting and maybe it is. However, that is because I do feel that society likes to label or categorize us. In order for the majority of society to make sense of same-sex parenting one person has to fill a certain role or expectation in people's minds. Society does the same thing to single parents or lesbian parents or any set of parenting situations. Not all of society is a heterosexual married couple living in suburbia with a cat and dog and 2.5 kids. Most of society isn't. Let's stop placing labels on people and just let them be what they want to be. I'm just trying to parent the best that I can. Let's leave what you call me or my role alone.
Read Benjamin's post "Are Adoptive Parents Saviors?"
And "Dad, why is my color different from my brother's?" 
It started when a four-year-old boy asked a clown, who had been hired to paint the faces of kids at a picnic, a simple question:
"Can I have a blue butterfly?"
Keep reading...
Show less
The Long Island Adoptive Families support group was created by parents going through the adoption process or who had already adopted. It was a great way to help members navigate the path of adoption whether it be private domestic, international agency, domestic agency or foster care. We spoke with Chemene, one of the founders, and found out how this group is supporting local gay men interested in becoming fathers.
Keep reading...
Show less
Adam Lozon and Scott Dufour met online and have been together 11 years.They live in Hamilton, Ontario, Canada, with their son Paulo. The couple are both in banking and are engaged to be married. We caught up with the dads to see how fatherhood was treating them!
Keep reading...
Show less
Guest post from Greg Hutch.
It's two weeks before school starts and I am sitting in my classroom updating the photos in the frames on my desk. These frames used to be filled with pictures of my dogs, of me playing my instrument (I am a music teacher), or of the various other things that I have enjoyed in my lifetime. Today, they are filled with loving pictures of my family, including my son and partner who I raise him with. Times sure have changed…thanks to our son, Clark.
Keep reading...
Show less
Editor's Note: In this ongoing series, we're shining the spotlight on some of the gay dads behind Gays With Kids as their incredible passion and commitment plays an invaluable role in making Gays With Kids possible. Please contact Brian Rosenberg if you'd like to talk about getting involved, too.
Keep reading...
Show less
Happy gay uncles day to all the wonderful "guncles" out there! Here at Gays With Kids we know how important your roles are within our families so we want to celebrate you today, and say a big thanks! Enjoy this collection of "guncle" photos and a few words of wisdom and contemplations from the uncles themselves.
Keep reading...
Show less
Two years ago when Oliver arrived into our lives, my partner Rob and I were living in separate countries. We met in Kuala Lumpur, Malaysia, and had Oliver when Rob was working in Bangkok and I was in KL. Oliver arrived two weeks early when we received an unexpected message from our agent saying to go to the hospital – our surrogate had been checked into hospital.
Keep reading...
Show less
The day began like any other. My alarm went off at 4.30am. I snoozed until 5am. I ate breakfast until 5.30am, at which point my son, Felix, woke naturally like clockwork. I fed him mashed bananas, cashew butter and chia seeds. I woke my dad up with a cup of tea and handed the baton over for him to look after Felix as I left for work on my bike at 6.30am. I worked through the day as normal. Then, at 6.49pm I received a call from the police.
Keep reading...
Show less
GET GAYS WITH KIDS IN YOUR INBOX

Follow Us on Instagram