Dad Life
Truth and Courage Share a Sacred Space
Feb. 01, 2017
South Ozone Park was not a sanctuary city, not in the formal sense. On the Irish block of the Italian parish, every mother — Jeannie McCormick, Margie Carbone, Edna Malowitz and especially my mother, Nurse Vivian — knew every boy, so if I was digging a hole to China, Peggy McCaffery saw to it that I didn't touch the roots of Linda Puccarella's sycamore trees. If I fell off my bicycle, Sally Cadden offered me sweet milky tea and a slice of buttery soda bread, with caraway seeds. All the neighbors looked out for one another.
---
"Sanctuary" is derived from the Latin word sanctuarium, which means a place to keep things holy. The other side of the Communion rail of St. Anthony of Padua was the sanctuary, even if Father Fusco let Brother X serve as an altar boy there. Sister Mary Magdalen told me that in the early churches, if a fugitive stepped inside, then he or she was safe, from 15th century Queen Elizabeth Woodville to Quasimodo. She said that only a coward would violate the laws of sanctuary.
In December 1985, a resolution was signed that then-Mayor Dianne Feinstein explained as providing that "persons will not be discriminated against or hassled in San Francisco because of their immigration status as long as they are law-abiding." In 1989, the board passed a law declaring San Francisco "a city of refuge."
I never meant to be a deputy sheriff. Back in South Ozone Park, I always chose the second half of Cops and Robbers because I was not particularly courageous. But nowadays I hang out with a lot of courageous deputies, so I tend to do the brave thing just to fit in.
I try not to leave the shining city on the hill, but every once in a while, even I play hooky.
One of my more assertive readers is an English teacher at San Lorenzo Valley Middle School in Santa Cruz County named Matt McMillan. He emailed and emailed and emailed me until I agreed to drive down and talk to his students about journalism and memoir.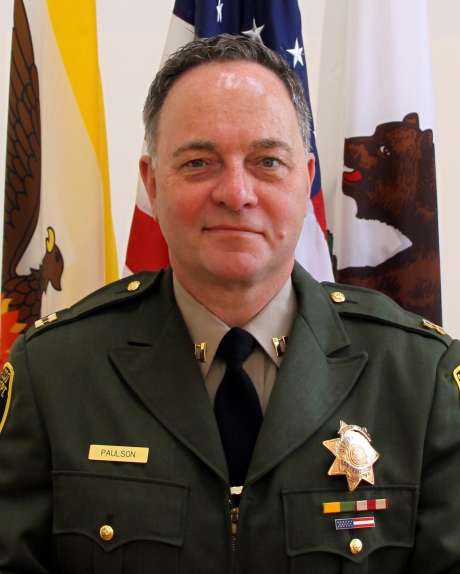 Kevin in his deputy sheriff's uniform
The big reason I agreed: My 13-year-old never listens to me, so it was worth it to drive an hour and a half south just so that a hundred 13-year-olds would have to write down everything I said.
I am not particularly honest, but after hanging out with the honest reporters of The San Francisco Chronicle, I tend to speak the truth just to fit in. I don't care much about Donald Trump's opinion, but I do want the respect of Jill Tucker and Leah Garchik.
So I talked to the students about creativity, and I told them the secret to being a writer — and the secret to making a great chili (grating a cinnamon stick rather than using powder). I told them that each of us has a gift, and we have to fail at what we don't do well before we can excel at what we can do. And I told them that for a reporter, there is one sacred space, one sanctuary: the truth.
I had heard myself speak before, so what I said was no surprise to me. But Noelle and Remy and Tyler and Jordan and Daniel and their fellow middle schoolers were my epiphany. They asked me far better questions than I asked them:
"What story have you not told?" (The secret of the perfect lemon meringue pie.)
"How do you know your gift is from your heart and not your ego?" (I didn't know, not at first. I only knew that I was a lousy singer and a horrible dancer, but that people laughed when I told them a story.)
"What story do you wish you had not told?" (How Nurse Vivian, when she worked in the obstetrics ward of Kings County Hospital, baptized all the Jewish babies.)
Do you like your job? (I'm humbled to serve as both a San Francisco deputy and a San Francisco Chronicle columnist, guarding two sacrosancts: courage and the truth.)
As I drove back through the switchbacks of the Santa Cruz Mountains, I turned on the radio. Mayor Carlos Gimenez (a Cuban American, naturalized in 1975) declared that Miami was no longer a sanctuary.
There was traffic and I was running late, so Terry Asten Bennett picked up the boys from school. It was not until after dusk that I drove my little Prius (known to the boys as the kipcap) into the outer, outer, outer, outer Excelsior, and as I hugged my sons, I felt honored to live in a town where neighbors still watch out for each other.
It started when a four-year-old boy asked a clown, who had been hired to paint the faces of kids at a picnic, a simple question:
"Can I have a blue butterfly?"
Keep reading...
Show less
The Long Island Adoptive Families support group was created by parents going through the adoption process or who had already adopted. It was a great way to help members navigate the path of adoption whether it be private domestic, international agency, domestic agency or foster care. We spoke with Chemene, one of the founders, and found out how this group is supporting local gay men interested in becoming fathers.
Keep reading...
Show less
Adam Lozon and Scott Dufour met online and have been together 11 years.They live in Hamilton, Ontario, Canada, with their son Paulo. The couple are both in banking and are engaged to be married. We caught up with the dads to see how fatherhood was treating them!
Keep reading...
Show less
Guest post from Greg Hutch.
It's two weeks before school starts and I am sitting in my classroom updating the photos in the frames on my desk. These frames used to be filled with pictures of my dogs, of me playing my instrument (I am a music teacher), or of the various other things that I have enjoyed in my lifetime. Today, they are filled with loving pictures of my family, including my son and partner who I raise him with. Times sure have changed…thanks to our son, Clark.
Keep reading...
Show less
Editor's Note: In this ongoing series, we're shining the spotlight on some of the gay dads behind Gays With Kids as their incredible passion and commitment plays an invaluable role in making Gays With Kids possible. Please contact Brian Rosenberg if you'd like to talk about getting involved, too.
Keep reading...
Show less
Happy gay uncles day to all the wonderful "guncles" out there! Here at Gays With Kids we know how important your roles are within our families so we want to celebrate you today, and say a big thanks! Enjoy this collection of "guncle" photos and a few words of wisdom and contemplations from the uncles themselves.
Keep reading...
Show less
Two years ago when Oliver arrived into our lives, my partner Rob and I were living in separate countries. We met in Kuala Lumpur, Malaysia, and had Oliver when Rob was working in Bangkok and I was in KL. Oliver arrived two weeks early when we received an unexpected message from our agent saying to go to the hospital – our surrogate had been checked into hospital.
Keep reading...
Show less
The day began like any other. My alarm went off at 4.30am. I snoozed until 5am. I ate breakfast until 5.30am, at which point my son, Felix, woke naturally like clockwork. I fed him mashed bananas, cashew butter and chia seeds. I woke my dad up with a cup of tea and handed the baton over for him to look after Felix as I left for work on my bike at 6.30am. I worked through the day as normal. Then, at 6.49pm I received a call from the police.
Keep reading...
Show less
GET GAYS WITH KIDS IN YOUR INBOX

Follow Us on Instagram