True Romantics: Daryl and Kevin with Landin
Apr. 21, 2016
---
Daryl and Kevin's story is a tale of two romantics. They were both looking for love when they found each other on Facebook in 2010. Kevin saw a photo of Daryl on a mutual friend's Facebook page and asked the friend to find out if Daryl was single. Daryl took one look at Kevin's Facebook profile and said he instinctively knew that Kevin was the man he was meant to be with. But Daryl and Kevin weren't the only part of that equation. Daryl had a 2-year-old son, Landin, from a previous straight relationship. For Kevin, who had always wanted to be a dad, this couldn't have been more perfect. Here's how the story goes.
Daryl became a dad when he was 19 years old and still confused about his sexuality. For years in was in a relationship with a woman; they got engaged, and she got pregnant. Their son Landin was born April 15, 2007. But when Landin was a little over a year old, Daryl decided to come out and be his authentic self. Daryl and his fiancé went their separate ways, but kept their relationship civil for the sake of their son.
When Daryl ventured out onto the dating scene, he had no illusions that it would be easy for a newly-out gay dad but his priority was to find a man who was family orientated and would love Landin like his own. Then he met 25-year-old Kevin.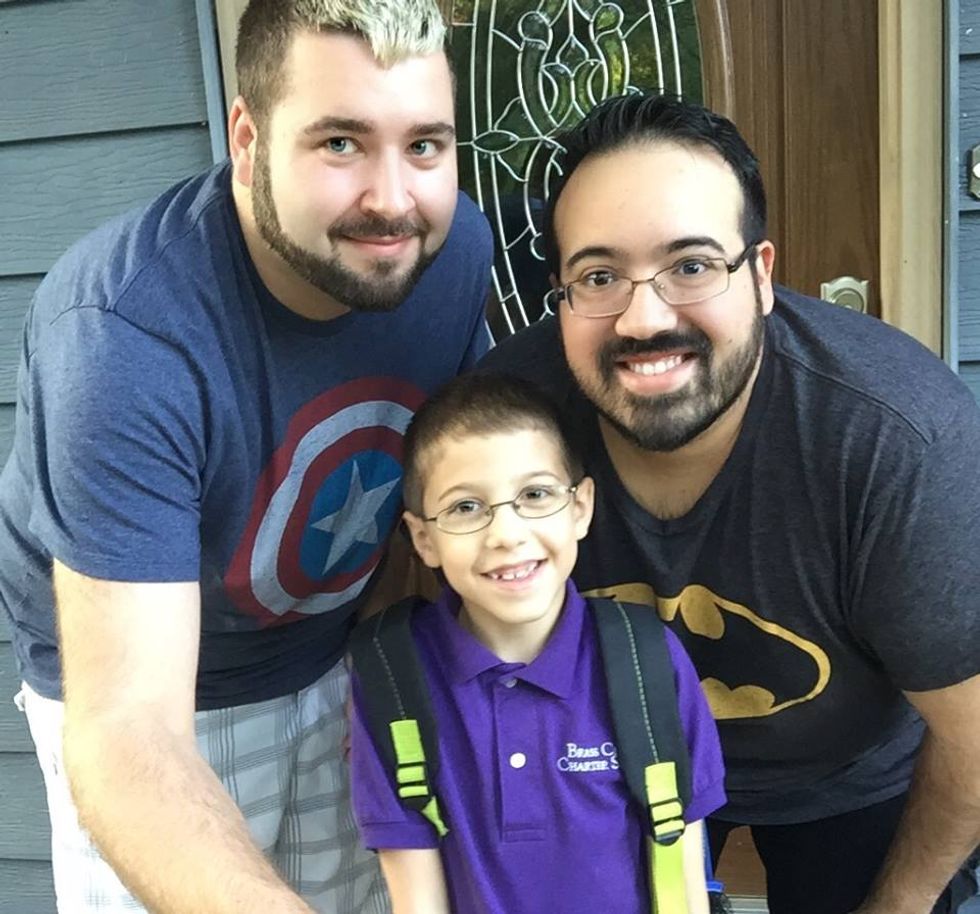 Daryl (left) with Kevin and Landin
Daryl knew after only dating a few weeks that Kevin loved kids, so he decided to introduce him to Landin to see if he passed the daddy test, inviting Kevin to spend the night. Daryl remembers waking the next morning and finding Landin snuggled up to Kevin with his cereal and watching Mickey Mouse Clubhouse with Kevin on his Blackberry. "This was the moment I knew that Kevin was the man that I would spend my life with, the moment I had found the man that would love my son unconditionally as his own and be there for us as a family," remembers Daryl.
Kevin, who was out to his friends in college, didn't come out to his family until he officially began dating Daryl. "I knew he was someone special," shared Kevin, "It wasn't fair of me to keep him hidden because I was not ashamed of what he and I had." Kevin has an Hispanic background with strong religious beliefs so he was anxious about his family's reaction.
When Kevin told his family their initial reaction was shock, then denial, but they soon came around and welcomed Daryl and Landin into the family. "Landin was their first grandchild and they couldn't be more happy and proud of him," said Kevin proudly. "Landin calls [Kevin's parents] Abuela and Abuelo [Grandma and Grandpa] and they would do anything for him. My parents also have a great relationship with Daryl."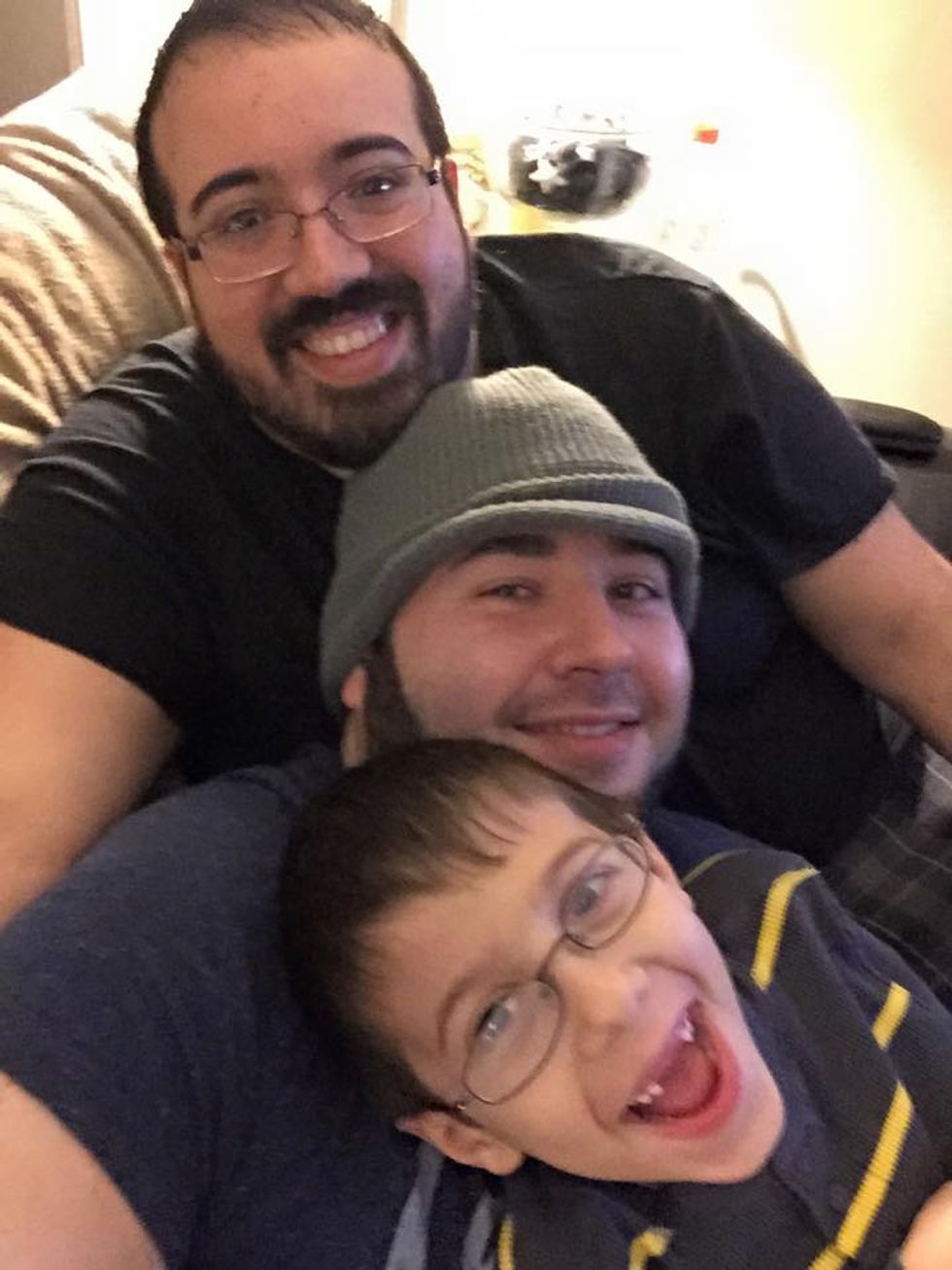 Top to bottom: Kevin, Daryl and Landin
Today this family lives in Waterbury, Connecticut. Daryl, 28, was born in Connecticut and had moved around the state and also spent time in Florida before settling in Waterbury. Kevin, 31, was born in Puerto Rico and moved to Connecticut when he was 12 years old. Daryl is a veterinarian assistant, and a clinic lead for a pet health clinic, and Kevin is a sales manager for a telecommunications company.
Daryl and Kevin have been engaged for 3 years and have been forced to push their wedding date back twice. They want to make sure they're financially ready for the rest of their lives before they have their dream wedding. Both dads are excited to involve Landin in it, possibly as their best man. But in their hearts and minds they're already married.
They co-parent Landin with his mom; both dads say they're very happy with how it works. Kevin feels that he is treated as an equal in the relationship and Daryl knows that as long as they all keep an open dialogue and listen to each other, they will do the best by Landin. "It was a long journey to get to where we are but we are finally at the point where the co-parenting is evolving more and more," acknowledged Daryl.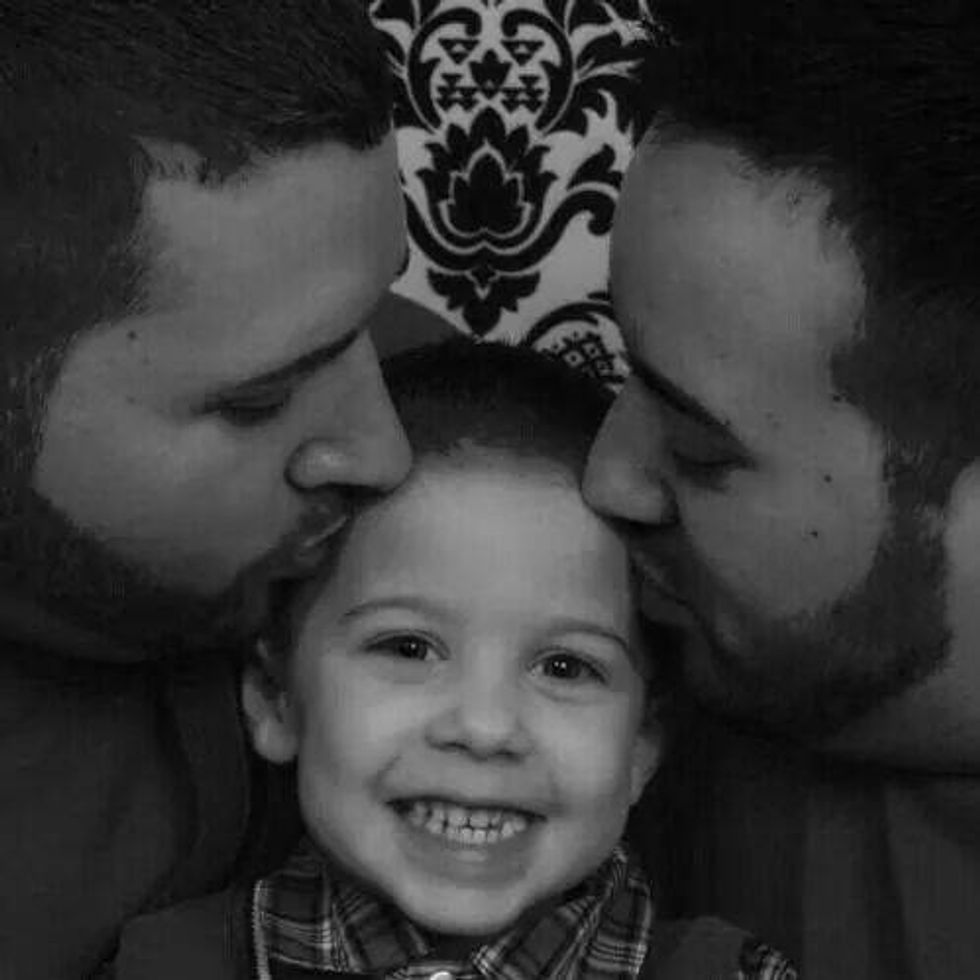 Sharing a tender moment
For Kevin and Daryl, family is the most important thing in the world. They want Landin to grow up respecting himself and others around him. Landin helps his two dads whom he calls "Daddy" and "Daddy Kevin" with cooking, laundry and other household chores, and he also works hard at school. And they couldn't be prouder of their son.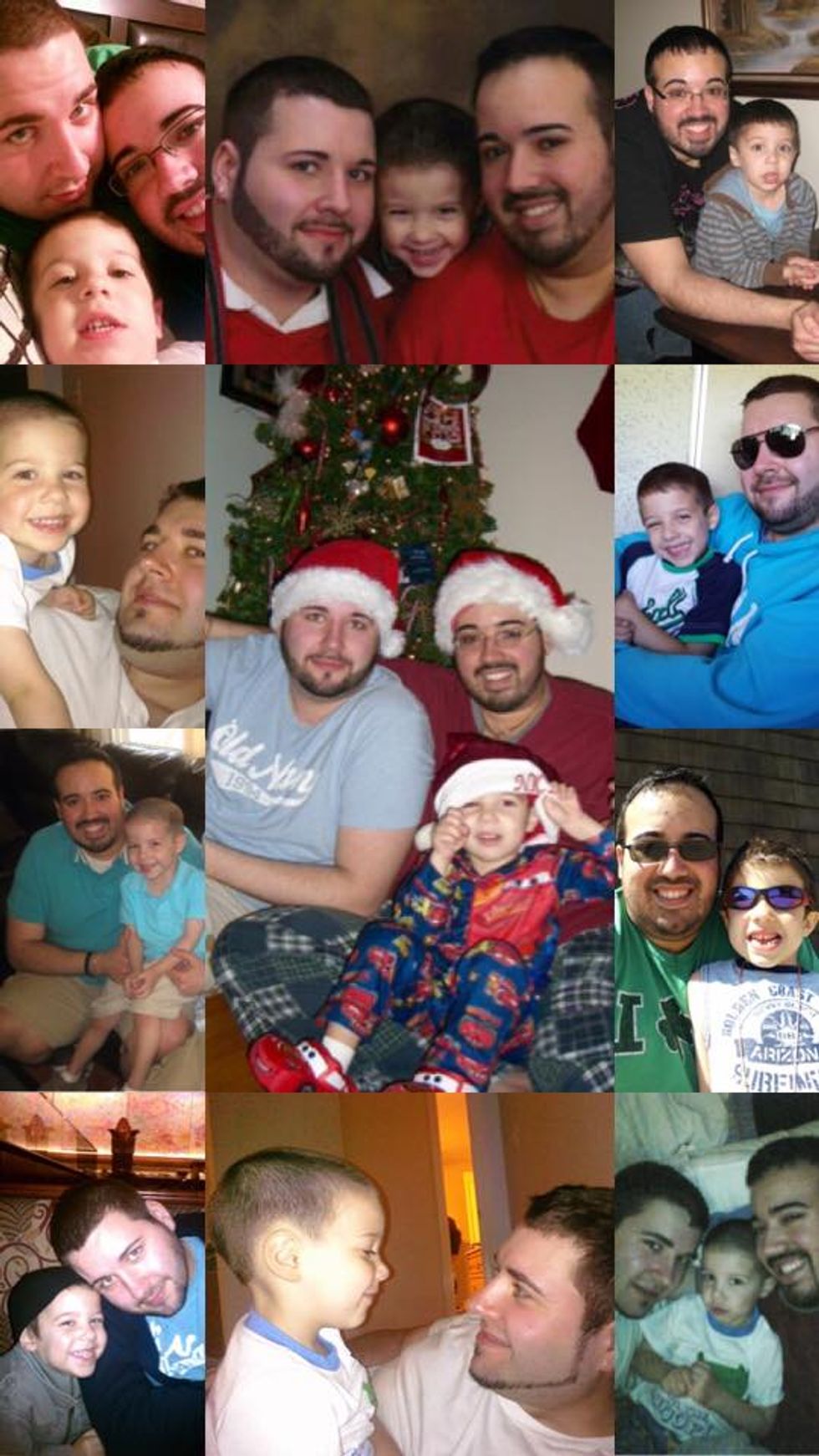 Family montage
For some gay men, dating a man with kids can be difficult, but Kevin embraced his new family as they welcomed him. Kevin shares some excellent advice to other men dating gay dads.
"A dad's priority is and always should be his children which may turn some gay men down because they aren't getting all of the other person's attention. Be patient and open-minded. In my experience a gay dad is worth the effort because he know how to put someone else before himself. He isn't playing games or wasting time. Take the journey! The ride may be bumpy at times but in the end the journey will be most rewarding. The gift of parenthood is the most challenging yet most rewarding experience of my life and I have Daryl and Landin to thank for that."
Kevin's and Daryl's words have occasionally been edited for clarity.