Sep. 14, 2016
As the song goes, "If I can make it there, I'll make it anywhere…"
---
This fall marks my 30th anniversary of being in New York City. I hadn't realized this monumental occasion until I saw a few friends posting their own NYC anniversaries lately; it got me thinking and reminiscing.
I guess after 30 years I can safely answer the question " Are you from New York?" with a yes. I'm originally from upstate in Syracuse, but now from New York City; Manhattan to be specific.
Thirty years ago I moved to the New York metropolitan area from Boston. It was 1986. I had just gotten a promotion and relocation from my then-employer, the Carnation Company, and I headed to the big city. I first lived right by Giants Stadium in Rutherford, New Jersey, so close to the stadium that I could hear Madonna performing on stage that first month, right from my kitchen window. From the bathroom I could see the Empire State Building.
I had arrived!
I felt an odd mix of fear and exhilaration. I was sharing an apartment with a college friend from Cornell, which made the transition so much easier. I had a lot of New York friends when I was at Cornell.
One year later, I left my job and started the MBA program at Columbia University. I was moving steadily along a carefully constructed plan that I thought would give me a shot at career success and personal satisfaction. It felt right at the time.
I was a good boy and followed every single societal norm that I thought I was supposed to, including getting married to a woman, a college girlfriend, on Long Island in 1989. Two children came a bit later, the glorious part of my lifelong plan.
Yes, I became a dad in the early 1990s which is something I knew in my heart of hearts was going to be a part of my journey. I thought about being a dad since I was a child myself, and that desire I think is what kept me on the straight and narrow for so long. Wanting to be a dad kept me from reading the signs along the way that perhaps I wasn't going to be a traditional kind of dad.
Turned out I wasn't traditional in any sense of the word. Back then fathers weren't as active in caregiving as they are today. That was left for the moms. But I was different. I cooked, cleaned, shopped, and changed diapers. I am very proud of that.
The thirty years that have transpired since 1986 have been a whirlwind of milestones, experiences, accomplishments and setbacks. No matter where you live, life is a journey. For me in New York, it was a roller coaster.
New York is where I eventually discovered I was gay. Literally in the iconic bar called Splash I started realizing "I am gay." With help from some work friends, I started coming to terms that I wasn't happy in my carefully crafted and societally approved life, so I had to change some things. Being married was one of them, figuring out what it meant to be gay was another.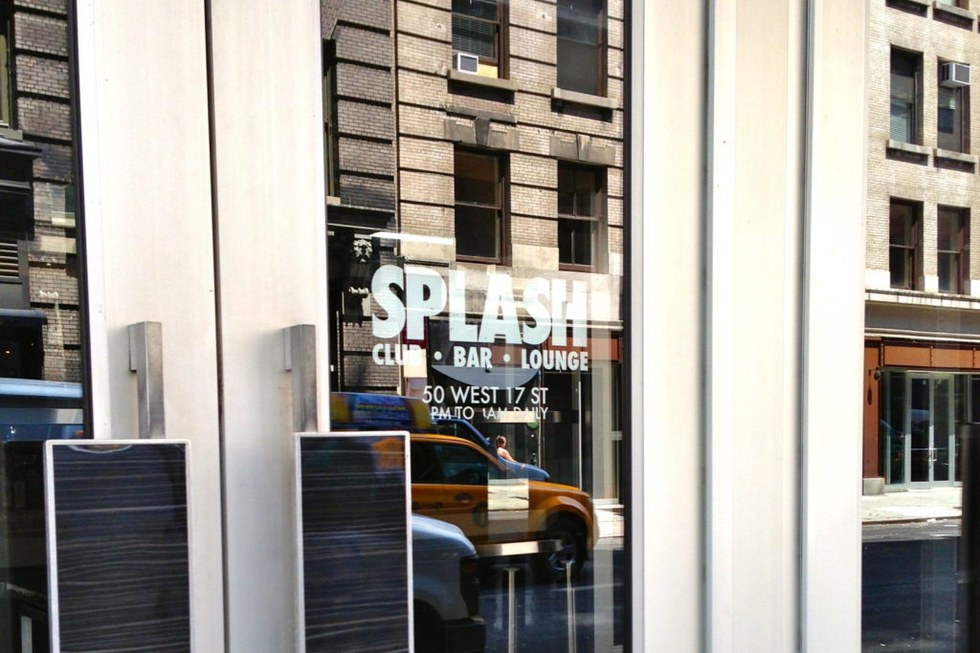 Splash Bar (now defunct)
I was wildly unhappy, but New York helped a lot. The city and all that it offers allowed me to openly meet new people and reorient my life.
Dating came later, and most of that was in New York too. I felt safe there, in a time when I'm not sure how safe we all were. I didn't feel like I could tell anyone at work, that's for sure.
Once I found my life partner, we would use New York as a way to escape the daily grind of balancing work and family demands as we explored neighborhood after neighborhood. Just last year, we got married in Central Park, with our two (now adult) children as our witnesses.
As my job got more demanding through the years, my partner took on more and more responsibilities at home. We balanced it all, but not with great ease.
We were certainly not a "normal" family, and we got our share of stares and comments as a result. But New York helped us with that too: We could all go out to dinner and be greeted with welcoming smiles. The wait staff always treated us like gold. I think in some ways we needed the attention. New York has a way about it like that.
We tried to expose the kids to the best that New York has to offer, in between swim meets, soccer games, and endless school activities. Westside Park, the Empire State Building, Central Park, the Bronx Zoo, we did it all over the years. Every year for Christmas we would do a fancy dinner and a Broadway show with the kids. The Four Seasons and "The Music Man" were  my favorite year.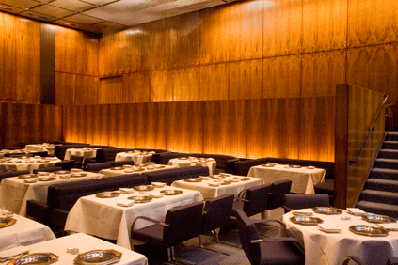 Four Seasons Grill Room (now defunct as well)
While we raised them out in the suburbs so that they could also be with their mom. As they got older and my job got more intense we started keeping a small apartment in Manhattan. That was our gateway to opening their worlds and to managing my crazy schedule. To this day I will never forget the first time I let my daughter roam around downtown on her own with a friend. It was a frightening yet growing experience for both of us.
New York has been good to me professionally, that's for sure. I love my work as much as I love New York, and for me they go hand in hand.
New York hasn't always been so kind, however. We got crushed in the real estate market, and are still licking our wounds. That's New York.
Marrying, divorcing, coming out, finding a partner, raising two children, and then marrying again has been a lifetime journey, with New York as my backdrop.
I wouldn't change a single thing. And while life is still a struggle at times, I would like to think I made it all work. In New York, New York.
If you'd like to read more about my journey with New York as my city, check out my book "Out and About Dad."
It started when a four-year-old boy asked a clown, who had been hired to paint the faces of kids at a picnic, a simple question:
"Can I have a blue butterfly?"
Keep reading...
Show less
The Long Island Adoptive Families support group was created by parents going through the adoption process or who had already adopted. It was a great way to help members navigate the path of adoption whether it be private domestic, international agency, domestic agency or foster care. We spoke with Chemene, one of the founders, and found out how this group is supporting local gay men interested in becoming fathers.
Keep reading...
Show less
Adam Lozon and Scott Dufour met online and have been together 11 years.They live in Hamilton, Ontario, Canada, with their son Paulo. The couple are both in banking and are engaged to be married. We caught up with the dads to see how fatherhood was treating them!
Keep reading...
Show less
Guest post from Greg Hutch.
It's two weeks before school starts and I am sitting in my classroom updating the photos in the frames on my desk. These frames used to be filled with pictures of my dogs, of me playing my instrument (I am a music teacher), or of the various other things that I have enjoyed in my lifetime. Today, they are filled with loving pictures of my family, including my son and partner who I raise him with. Times sure have changed…thanks to our son, Clark.
Keep reading...
Show less
Editor's Note: In this ongoing series, we're shining the spotlight on some of the gay dads behind Gays With Kids as their incredible passion and commitment plays an invaluable role in making Gays With Kids possible. Please contact Brian Rosenberg if you'd like to talk about getting involved, too.
Keep reading...
Show less
Happy gay uncles day to all the wonderful "guncles" out there! Here at Gays With Kids we know how important your roles are within our families so we want to celebrate you today, and say a big thanks! Enjoy this collection of "guncle" photos and a few words of wisdom and contemplations from the uncles themselves.
Keep reading...
Show less
Two years ago when Oliver arrived into our lives, my partner Rob and I were living in separate countries. We met in Kuala Lumpur, Malaysia, and had Oliver when Rob was working in Bangkok and I was in KL. Oliver arrived two weeks early when we received an unexpected message from our agent saying to go to the hospital – our surrogate had been checked into hospital.
Keep reading...
Show less
The day began like any other. My alarm went off at 4.30am. I snoozed until 5am. I ate breakfast until 5.30am, at which point my son, Felix, woke naturally like clockwork. I fed him mashed bananas, cashew butter and chia seeds. I woke my dad up with a cup of tea and handed the baton over for him to look after Felix as I left for work on my bike at 6.30am. I worked through the day as normal. Then, at 6.49pm I received a call from the police.
Keep reading...
Show less
GET GAYS WITH KIDS IN YOUR INBOX

Follow Us on Instagram