Apr. 21, 2016
The air, hot and still; our footsteps echoing against the terrazzo tiles as we pace back and forth reading and rereading the email trying to make sense of the words. The air growing thinner, the email telling us the surrogate was in good health but had had a spontaneous abortion blurred the more we read it. The email, clinical and cold; a few sentences stating only facts about the surrogate, the miscarriage, that we could re-do the process at a later date, and a summary of costs. It read more like an invoice – without any acknowledgement of our baby, our loss.
---
We had been in Cuba for less than a week. My husband Derek, an American diplomat, had just been posted to what is now the Embassy of United States in Havana and our new life had just started: new place, new job, new country, and a hope of baby.
When we began this process, my husband and I felt that most of the world was against us; it was a constant battle between laws, science, and uncertainty. There we were in our new home, in a new country, far from everything and everyone we knew. And all I wanted was my mom. I was helpless and despite my husband being next to me, I had never felt more alone.
I begged Derek to figure out how to call my mom. He sorted out country codes, established a SKYPE connection – all of which was overwhelmingly complicated in Cuba. But he did it, and before I knew it I was talking to my mom – our voices crackling and breaking up as if we were calling from a distant and unnamed planet. Through a series of bits and bytes my mother's voice resounded through the house.
"It's better this way. Now, no one will suffer and you and Derek can live your life."
I don't remember what I did after I heard my mother say this. I'm not sure if I hung up, started crying, or threw myself into the ocean. Derek said I stopped talking, and I don't remember much of our first months in Cuba.
It had been a little over a year that we had started down the path of surrogacy; a year since we started this awkward dance of labs, shipping genetic material overseas, freezing embryos, and waiting. The dance is not elegant or beautiful. It's like dancing with a stranger in a dark alley, desperately trying to get used to his grip, his smell, trying to find your balance and not to fall over entirely.
But I did fall; I fell and I continued to fall for what seemed forever. Everything seemed impossible. Meeting people seemed impossible. Leaving the house seemed impossible. My husband was dutiful in getting me out and insistent on trying to have a baby. I was missing the baby we had named, Violeta, piercingly and couldn't imagine replacing her.
After I had been a shut-in for weeks and weeks, Derek persuaded me to go to the beach with a group of his coworkers. I couldn't think of anything more dreadful – an afternoon of small talk with strangers. I reluctantly agreed and before I knew it, I was facing the Caribbean; it was impossibly blue. The beach was untouched, for miles all you could see was sun-bleached sand. There was nothing save a few scattered palm trees, my husband, three of his coworkers, and the overwhelming smell of sunscreen.
I refrained from talking much, save a well-placed "oh yeah" or "that's interesting." Suddenly and from nowhere a puppy came staggering across the beach and collapsed at our feet.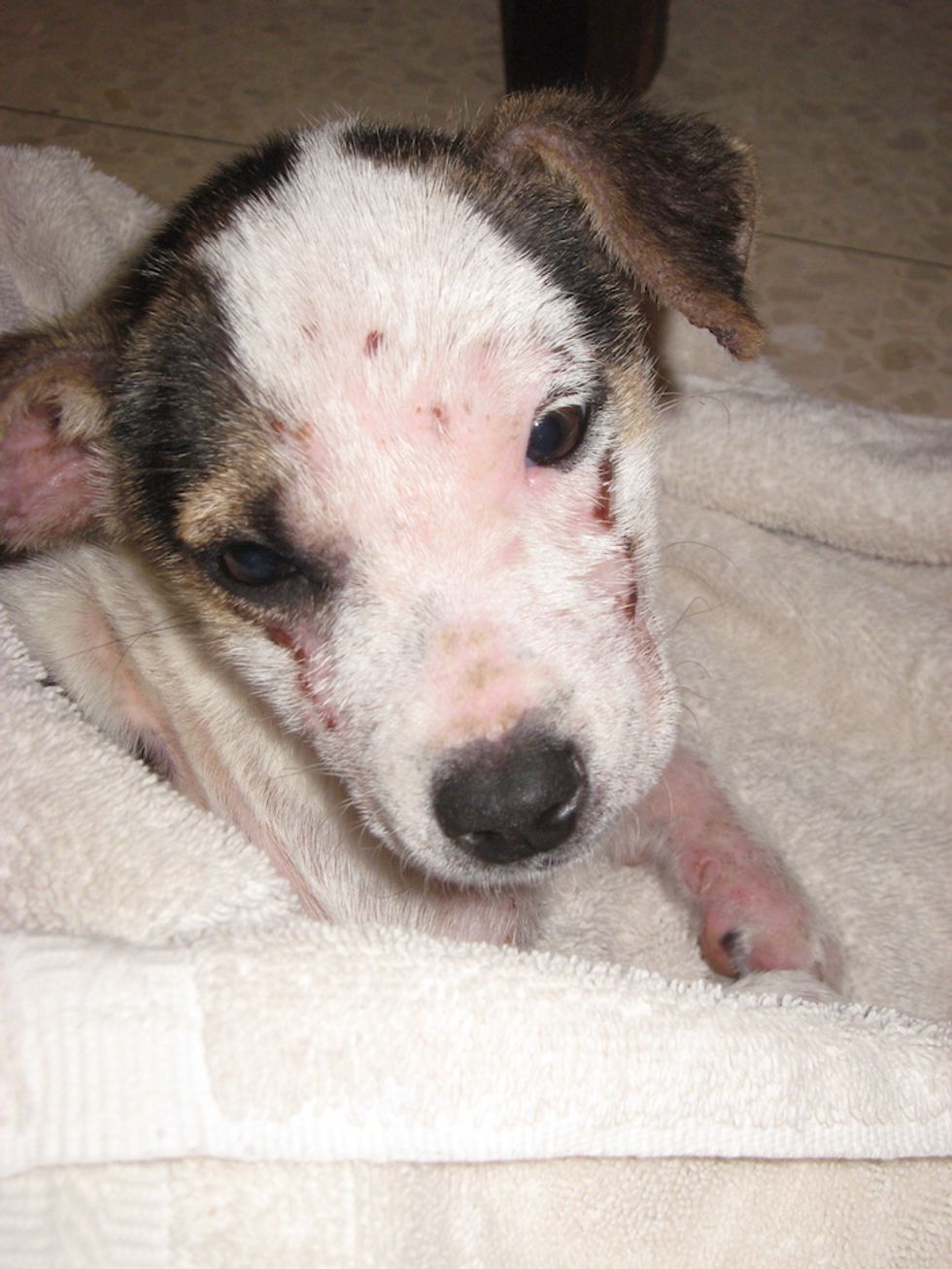 It was small, a few months old at most. It had practically no fur, its ears were bloody and its skin had turned pink from sun exposure. We searched for water among the bag full of pop and beer; the best we could find was reduced sodium seltzer. Using my hand as a bowl, I offered her the water, but she refused to drink.
Our friend said, "Well, it looks like you guys can either have a puppy, or let it die." Her words were equal parts tongue in cheek and deadly serious.
I am not a dog person. I am not thrilled to own, be with, or raise animals. I had no intention of taking a dog ravaged by scabies and the elements to my home, but there we were, with a dying dog at our feet and a decision to make.
I wrapped her in a towel and told Derek we should take her home. I picked her up; she weighed almost nothing. I said, "we need to name her before we get to the car." We went through a Rolodex of names and we finally chose Manila (not the city; the drag queen). If I was going to have a dog, I was determined to have one with a name that brought me a certain sense of subversive joy. I cradled her in my arms until we got home; her breath so faint it almost became undetectable at times. We got home and I put her in the tub, but as soon as water came in contact with her body she howled in distress.
We found a veterinarian but he couldn't see Manila until the following day. I made a bed out of towels and put her on the floor by the nightstand. I watched her from the side of the bed – her breathing slow and shallow. I picked her up and laid her next to me, her back against my chest, my arm around her tiny body and that was the first time, in months, I slept through the night. Manila's tiny lungs expanding and contracting, her tiny face, scarred and sun-burnt, resting on my arm. With that, the spell was broken. I breathed in deeply and let it all go.
Manila found us almost five years ago on an isolated beach in Cuba. She forced us to get outside, take walks, stop and talk to strangers wanted to pet her. She taught us all there is to know about potty training, picking up messes and getting up the middle of the night. A little more than a year after finding Manila, my husband and I became fathers to twins, Leo and Luna, and Manila was one of the first to meet them.
You can say we are just like any other family finding our way through the challenges of parenthood. The dance has changed quite a bit from when we began this journey; it's now heavy with joyful drumbeats, adventure, the giggles of twins, and the pitter-patter of paws that remind up how miraculous and unexpected life can be.