Sep. 17, 2015
The bills start mounting before a dime goes to diapers or day care. Here's what to expect.
---
Got a spare $300,000 lying around?
That's more or less what the U.S. Department of Agriculture estimates as the average cost to raise a child born in 2013 to the age of 18.
And for gay men who dream of parenthood but don't have traditional, inexpensive baby-making options at their disposal, the bill is even higher. So how, in the wide, wide world of adoption and surrogacy and parenting partnerships and more, do you navigate the less gushed about but very, very real costs of becoming a father?
"We thought we'd be governed by ego, that we'd want a child who was biologically ours in some way," says Anthony Romeo of the process. "But once we had our 'Come to God' talk, and it was realized we were neither the Rockefellers nor the DuPonts, we thought it might be okay to keep our genetics and instead share the love inside of us with a child."
Romeo works in group sales for the new World Trade Center Observatory; his writings have been published in the Huffington Post, Gays With Kids, The Handsome Father and other outlets. His husband Dominic is a teacher. A brief discussion of surrogacy led them to the more affordable route of adoption and, after extensive research, their first-choice agency.
There, they attended a meeting during which costs were covered from start to finish. And while they had an approximate idea of the numbers, Romeo admits to some sticker shock when he heard the number spoken aloud.
"Twenty grand," he deadpans. "Cue the cold sweats and clammy hands."
Indeed, a host of bills come due for would-be dads as they navigate the path to parenthood.* So we thought we'd tap a few experts in the fields — foster care, adoption, surrogacy, parenting partnerships — and outline the usual costs as you consider your options, with a few tips about how you might save or even subsidize.
Fostering to adopt ($0 to $2,000)
From foster parents becoming adoptive parents to singles and couples working with facilitators and private agencies, adoption is a beautiful way to build a family. Fostering — like any other on this list — can be a road fraught with emotion, but costwise, it's the unbeatable winner.
"There are all kinds of kids in foster care with all kinds of backgrounds, infants to teens and everything in between," says Ellen Kahn, director, Children Youth and Families Program for the Human Rights Campaign Foundation.
At first, she notes, efforts are focused on reunification with the family of origin, usually about a year-and-a-half's worth of time. Those 18 months can be harrowing for fosters, she notes, especially when they are falling in love with the child. The flip side? Fostering to adopt is affordable for anyone — it costs no money, just time, love and patience
"Truly," says Kahn. "There is no required out-of-pocket cost to foster or adopt a child this way. No cost to engage with the agency, no cost to get the necessary training or required classes, no cost to have your home study done."
Additionally, foster parents are provided a stipend to cover medical expenses, transportation, food and other necessities. "If you are financially challenged and think no agency will have you, think again," says Kahn. "They want you for what you bring to the table as a caregiver, as a stable and loving adult."
Additionally, those with expendable income may be able to fast-track the process by partnering with a private agency that works in conjunction with the state and/or county.
"For example, a single, gay man might choose to go to Adoptions Together, which has a contract with D.C. child and family services to help find families for children in foster care who are 8 or older." A private entity, "they don't have the bureaucracy of public agencies …. So he might opt to pay them a fee to do his home study rather than wait for the state — plus he might feel a bit more confident that his social worker will be gay-friendly, because Adoptions Together is gay-friendly.
"You could choose to spend a modest amount of money, perhaps $2,000, to do this. And it's still the same pool of kids. Companies like [Adoptions Together] exist in pretty much every state."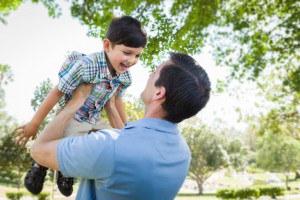 Domestic private/independent adoption ($10,000 to $30,000+)
Prospective parents amid the adoption process, no matter the classification, will be fluent in its extensive lexicon before their new child comes home. Depending on the state you live in (and that of the birth parent) you might call this version "private adoption." Or "independent adoption." Or perhaps "parental placement."
And while laws vary, of course, it's roughly the same idea.
"What it means is that the birth parents are placing their child directly with the adoptive parent or parents without an agency as an intermediary," explains attorney Jennifer Fairfax, whose D.C./Virginia/Maryland-based practice has been helping create new families for nearly two decades.
Though there are a handful of agency-only states — Colorado, Connecticut, Delaware — all the rest allow for private adoption, and there are several ways to pursue it (and before doing so, you'll want to have your home study completed).
"In many ways," says Fairfax, "I am a consultant or strategist for the adoptive parents." In the area where she practices, laws prohibit attorneys from directly matching birth and adoptive parents. "I walk my clients through all the different avenues — setting up advertising or online profiles on sites such as Parent Profiles or Potential Parents — and I review all their material before it goes live, giving input, making edits."
Attorneys like Fairfax can advise clients on the do's and don'ts of private toll free numbers and prepaid GoPhones, how to set up avenues of contact with potential birth moms, and the specific laws governing advertising — from flyers and classified ads to roadside billboards and social media accounts — which vary tremendously from state to state.
For Fairfax's clients, her fees average between $2,500 and $6,000; advertising can add several thousand dollars to their out-of-pocket expenses. "An online adoption site, for example, could cost $100 per month and you might be on it for two years."
Less advertising means less expense, of course. The flip side is that your match may take longer to find.
Birth mothers need legal representation too, and adoptive parents foot the bill. "These vary," says Fairfax, "but usually fall somewhere between $3,000 and $7,000."
State laws are among the factors determining these fees.
"For example, if we are finalizing an adoption in the D.C. area, my fees will be a little higher." In the birth mother's state, the math flips. "My clients will have to hire two lawyers over there: one for them, one for her."
State laws governing birth-mother expenses will figure in as well. "In the District of Columbia, absolutely no living expenses are allowed; in states like California, Florida or Kansas they have 'flexible expenses,' where [adoptive parents] can pay reasonable living expenses with no specified limits."
This means they might have to pay for things such as rent, food, clothing and transportation, sometimes for the entire length of the pregnancy and up to eight weeks postpartum.
Additionally, the laws differ from state to state depending on the route adoptive parents take.
"Again, using the District of Columbia as the example: an agency is permitted to take living expenses for a birth mother. But for private adoptions, that is currently prohibited."
While the numbers certainly figure in for prospective parents, Fairfax says agency vs. private is often as much about their comfort level with one-on-one birth-mother relationships. "An agency will have spoken to the birth mom, interviewed her, perhaps gotten some social and medical history, and counseled her about the prospective parents before they even speak for the first time." She says her clients are a 50-50 split; some choose the agency, others go private.
While the D.C.-area laws prevent her from doing direct matches, attorneys in other states don't have that barrier, and so their clients could have more intermediary help.
"Florida is a great example," she notes. "There lawyers can match adoptive parents with birth parents. So the firm might have its own 800 number for birth moms to call. The attorney will speak with her directly and receive information — then he or she could offer one or more client matches with profiles for her to review. They operate much like an agency in this regard – though she stresses that is not the way the law is written – and it generally includes a hefty advertising fee, roughly $6,000 to $8,000.
"If an agency, an attorney, an advertiser or any third party helps find a birth mother for you," says Fairfax, "your adoption will probably fall in the $20,000 to $30,000 range. $20,000 or less is usually when the birth and adoptive parents are in the same state."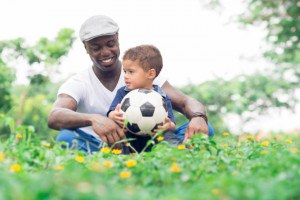 Domestic agency adoption ($30,000 to $50,000+)
The thing about adoption, says Joy S. Goldstein, LCSW, ACSW, is that everyone thinks they have one or more strikes working against them when being considered by expectant parents. "It can be something as simple as religion, or living in a studio apartment, or that they're older, or single, or a same-sex couple …. Whatever agency or attorney they are working with should be helping them reframe that into something positive about their family unit — because there's a birth mother out there who will see it."
She and husband Michael, both social workers, are the adoptive parents of three. Together they founded Forever Families Through Adoption, a licensed, nonprofit placement agency and resource center. Michael is also an attorney, whose practice focuses on adoption law; Joy is FFTA's executive director.
"It's an emotional journey," she explains. The financial anxiety many prospective parents feel doesn't help. The Goldsteins' formula — agency fees, attorney fees, home study and more — puts the base cost at about $23,000, but it will go up from there. How much depends on some things within your control, others not.
Additional expenses could include things like application approval and birth mother expenses, which can easily run into the thousands. The Goldsteins put this range at about $5,000 to $10,000.
"These can vary based on the laws of the state where [the birth mother] lives or whether she has medical insurance. In some states, for example, even if the mother contacts you in the ninth month, she is entitled to many months of court-approved, pregnancy-related living expenses. In New York State, it's typically three months."
Joy notes that when they were amid the process, they arranged for their birth mother to see a private physician. This would be an optional expense that adoptive parents would be expected to cover.
Do you have a job? If so, says Goldstein, requesting information about whether your company offers adoption-based matching programs or benefits is an important part of planning. Many do and can cover thousands of dollars of expenses, while also offering paid paternity leave.
"You have to be comfortable sharing the news, of course," Joy points out, since adoption leave can't be predicted along the same lines as that stemming from a pregnancy. A call could come anytime.
Internet advertising is another optional expense prospective parents can consider, one the Goldsteins say is generally worth it, garnering would-be parents greater exposure and a better shot at a birth mother finding them faster.
While adoption expenses are daunting, they are somewhat paced. Michael cautions people to be wary of agencies that require all the money up front. Generally speaking, the largest payment will be due at the time of matching. The caveat, of course, is that once a parent or parents are approved and ready, it may be months before your child comes home – or the call could come in a week, at which time, that money comes due.
Even if you've done a great job of saving, you may not be all the way there. Without it, your match could move on to another waiting family.
But believe it or not, there are places where you might get some help.
Grants
"Some parents take out a small home equity loan [for] that last big payment," says Becky Fawcett. "Others drain their savings. What causes me personal anguish is hearing that people are putting their adoption fees on credit cards and then paying 17.99 percent interest."
Fawcett and husband Kipp, in fact, are among the savings-drainers. Five rounds of IVF cost more than $80,000. The eventual adoption of their first son, about $40,000, wiped out the rest.
"We were so grateful to have that savings to drain," she notes, "but once we started to learn what people were doing to pay for adoption because they didn't [have the savings], the need to help was immediate."
So she founded HelpUsAdopt.org, a nonprofit that does just that, awards grants to prospective parents of all types who need that last bit of funding to say yes to a birth mother.
Fawcett stresses the organization's equal opportunity ideals. Her initial research turned up a handful of organizations that award similar grants, "but they made me sick to my stomach," she says, "so discriminatory in nature that to be quite honest, even my husband and I didn't qualify for a lot of them."
Note to those considering an application: This is not start-up money. Or middle money. Those who are awarded are already deep into the adoption process. There's a legal agreement involved.
"Our money is where you come up short. Applicants outline the details of how they have covered costs so far and we fill in the gap, whether it's a $5,000 grant or a $15,000 grant. We pay the last bills … checks that are due directly to the adoption professionals."
The number of grants awarded depends on the amounts each recipient needs; HelpUsAdopt gives away $100,000 each cycle. Fawcett says the hardest part is having to say no, but they continue to raise more money, each time helping more families. Once annual, they've since grown and now award grants thrice yearly.
Last cycle they received 380 applications, only 10 from LGBT families. She'd love to see more.
"I want the LGBT community to know that we're really here to help, that we – staff, advisory board, donors, everybody – believe in their journeys to be parents.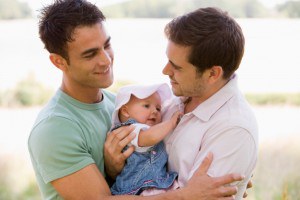 Surrogacy ($90,000 to $120,000+)
The bad news is hardly news: surrogacy is expensive. The good, says Scott Buckley, director of operations for Circle Surrogacy, is that it's not exclusively reserved for the well-off. "We've found that intended parents who have tighter budgets can still manage the costs with some advance planning."
There's little difference, if any, in fees for single- or two-dad households.
"Both would require the assistance of an egg donor … The main difference is that the couples often choose to provide sperm from both intended fathers, so typically there would be a small fee charged for the additional IVF screening for a second sperm provider."
Standard expenses include agency fees, gestational carrier fees, travel expenses, IVF, attorneys' fees, social workers' fees, medical insurance. It adds up quickly. Unforeseen (but not unheard of — plan accordingly!) extras could include lost wages for the surrogate, additional required medical tests, caesarean section fees, even day care for the surrogate's children.
Buckley advises all parents to have extra funds set aside in case the unanticipated occurs.
"That said, we've introduced a number of packages and plans that aim to make fees as predictable as possible. The first is our unlimited IVF package, which we offer with partner clinics. For a single price, these guarantee as many retrievals and transfers as necessary until you have a baby. The second is unlimited matching, which we offer to all our intended parents — if your match breaks with your surrogate or egg donor, there is no additional fee to be rematched."
Most recently, Circle began offering a fixed fee program. "With this option, intended parents will know exactly what they will pay for agency fees, surrogate and egg donor fees, and legal work from the beginning."
Some agencies, Circle included, have introduced financing options to help.
"In cooperation with Prosper Healthcare Lending, qualified parents can secure loans of up to $100,000. We've also seen parents take out mortgage-backed loans."
Men with HIV face another expense around what is commonly referred to as "sperm washing." As Gays With Kids has written about before, HIV+ men can become biological dads, too. According to Ryan Kiessling, MPM, of the Special Program of Assisted Reproduction at the Bedford Research Foundation Clinical Laboratory, HIV-positive men interested in surrogacy should budget from $8,000 to  $10,000 for this procedure.
The Gay Parenting Assistance Program (GPAP) of Men Having Babies (a nonprofit organization providing guidance, advocacy & financial assistance for current and future gay surrogacy parents) annually provides dozens of gay prospective parents with over a million dollars worth of cash grants, discounts and free services from more than forty service providers. As of May 2015, two dozen couples have already benefitted from direct assistance, and at least 8 babies are expected to be born by the end of the year. Men Having Babies created GPAP as part of its mission to promote the affordability of surrogacy and other parenting related services for gay men through financial assistance and the encouragement of transparency and customer feedback.
One expense you may not have considered — but may find well worth it — is enlisting the help of a surrogacy expert. Attorney Rhonda Levy is one such professional; her company, Empowered IVF, helps clients transform into knowledgeable consumers, capable of navigating the unfamiliar and daunting world they have entered. Fees range from single, two-hour sessions to package deals good for multiple consultations as parents move along on their journey.
She recommends seeking the advice of neutral experts who are not benefitting financially from your choice of surrogacy agency.
"A neutral expert can help you cross reference agency fee structures, and show you how some charge more without offering greater value," says Levy. "Additionally, some agencies encourage their intended parents to work with a particular fertility clinic."
This, she warns, could be because the agency has a mutually beneficial financial arrangement with that clinic.
Even more distressing, however, is that "some have chosen to refer their intended parents to [clinics with] a track record of only average and sometimes even poor performance. A neutral expert can help conduct an insightful fertility clinic assessment and protect them from unnecessarily experiencing multiple failed cycles, which can be extremely disheartening for both them and the gestational carrier."
She encourages people to do their homework and not go into the process in a passive way, but rather empower themselves with knowledge.
"The more you have, the more equipped you'll be to choose an agency that is meeting best-practice standards but isn't charging at the highest end of the scale, and a fertility clinic that will offer your carrier an excellent chance of becoming pregnant following the first embryo transfer."
Parenting partnerships
Also sometimes called co-parenting, "parenting partnerships" is an umbrella term describing a family in which parents are not romantically linked, but have purposefully chosen one another as child-rearing partners.
"There's no set formula," says Darren Spedale, founder of Family by Design, a site that helps prospective parents learn about parenting partnerships and helps them find their ideal co-parenting match. "It's really about finding the person who wants to be the complement to what you're looking for."
"LGBT iterations I've seen include gay men who find single women, gay men who partner with lesbian couples and gay couples who partner with lesbian couples … When you have two moms and two dads, there's not only a lot of love to go around, but a lot of resources available for the child — having someone available to pick their kid up after school becomes that much easier."
Spedale recommends that prospective partners should take it slow before moving forward, similar to regular dating; he recommends waiting at least a year from meeting to starting the conception process, taking the time not only to get to know one another's personalities and parenting ideologies to make sure it is truly a longterm match, but also to get all the necessary medical evaluations done, from STDs to testing for potential genetic disorders.
Costs for actually getting pregnant may be negligible, depending on the needs of the parenting partners; quite often parents simply self-inseminate. (And that is exactly what you think it is – between a collection cup for dad and a syringe for mom, Spedale estimates the bill at $3.)
A healthy discussion about sharing the child care costs, estate planning and the like should be mandatory and, says Spedale, backed up with a legal agreement. "If nothing else, having to put it all down in writing will force you to answer important questions you may not have thought of – but should."
Family by Design offers a template agreement to help get the conversation started, covering each parent's intent regarding obligations, how others should view your arrangement and the decision-making process not only for day-to-day concerns but major ones like child care providers, medical procedures, college.
"Most people enter the frame imagining a 50-50 endeavor in terms of both time and finances," says Spedale, "though that could be different if one parent's earning ability is much higher."
So, too, do others enter "known donor" arrangements; for example, a woman or two-mom couple who plans to do the majority of day-to-day parenting and decision-making, but would like the father to have some involvement in their child's life.
Important to note, in some states physician-assisted insemination will eliminate the donor's legal position as a parent. Check your state's statute.
Financially speaking, parenting partnerships are like fingerprints, as unique as the personal finances of those involved. Other questions to consider, says Spedale, would be things like which parent gets the tax credits associated with child-rearing.
Economically speaking, however, it seems to benefit parents universally. "I've heard a number of people say, 'You know, I don't know that I could have had a child if not for a parenting partnership. It's not financially feasible for me as a single parent, but it's definitely feasible in this model.'"
Crowdfunding the stork
If couples can request wedding gifts in the form of honeymoon fund donations, why not ask friends and loved ones to invest in the creation of your family?
The Goldsteins have even seen it in their own family. "I have gay, married cousins who accepted wedding gifts to fund their IVF procedures," says Joy. "Everyone feels somewhat responsible for their son — which is a wonderful feeling, as we all got to participate."
Romeo and his husband decided on a GoFundMe campaign, and it's helped to quell those aforementioned "cold sweats and clammy hands" a bit. At press time, their account was at $8,607 — more than 43 percent of the way to $20,000.
"The cost of fatherhood isn't just financial," he says, "even though that might be the part that causes dads-in-waiting the most angst and nausea … Our child will know how hard we worked to find him or her, to make our family whole. It's a different kind of family album, but hell, we're a different kind of family. And it's our differences that make us special."
*All costs in this article are approximate and based on domestic (U.S.) adoption and surrogacy procedures.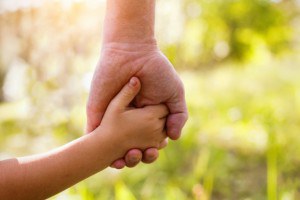 10 Tips for Saving for Adoption
The Ultimate Guide to Crowdfunding for Surrogacy or Adoption
Famous Gay Dads and Their Kids
It started when a four-year-old boy asked a clown, who had been hired to paint the faces of kids at a picnic, a simple question:
"Can I have a blue butterfly?"
Keep reading...
Show less
The Long Island Adoptive Families support group was created by parents going through the adoption process or who had already adopted. It was a great way to help members navigate the path of adoption whether it be private domestic, international agency, domestic agency or foster care. We spoke with Chemene, one of the founders, and found out how this group is supporting local gay men interested in becoming fathers.
Keep reading...
Show less
Adam Lozon and Scott Dufour met online and have been together 11 years.They live in Hamilton, Ontario, Canada, with their son Paulo. The couple are both in banking and are engaged to be married. We caught up with the dads to see how fatherhood was treating them!
Keep reading...
Show less
Guest post from Greg Hutch.
It's two weeks before school starts and I am sitting in my classroom updating the photos in the frames on my desk. These frames used to be filled with pictures of my dogs, of me playing my instrument (I am a music teacher), or of the various other things that I have enjoyed in my lifetime. Today, they are filled with loving pictures of my family, including my son and partner who I raise him with. Times sure have changed…thanks to our son, Clark.
Keep reading...
Show less
Editor's Note: In this ongoing series, we're shining the spotlight on some of the gay dads behind Gays With Kids as their incredible passion and commitment plays an invaluable role in making Gays With Kids possible. Please contact Brian Rosenberg if you'd like to talk about getting involved, too.
Keep reading...
Show less
Happy gay uncles day to all the wonderful "guncles" out there! Here at Gays With Kids we know how important your roles are within our families so we want to celebrate you today, and say a big thanks! Enjoy this collection of "guncle" photos and a few words of wisdom and contemplations from the uncles themselves.
Keep reading...
Show less
Two years ago when Oliver arrived into our lives, my partner Rob and I were living in separate countries. We met in Kuala Lumpur, Malaysia, and had Oliver when Rob was working in Bangkok and I was in KL. Oliver arrived two weeks early when we received an unexpected message from our agent saying to go to the hospital – our surrogate had been checked into hospital.
Keep reading...
Show less
The day began like any other. My alarm went off at 4.30am. I snoozed until 5am. I ate breakfast until 5.30am, at which point my son, Felix, woke naturally like clockwork. I fed him mashed bananas, cashew butter and chia seeds. I woke my dad up with a cup of tea and handed the baton over for him to look after Felix as I left for work on my bike at 6.30am. I worked through the day as normal. Then, at 6.49pm I received a call from the police.
Keep reading...
Show less
GET GAYS WITH KIDS IN YOUR INBOX

Follow Us on Instagram