Original article published August 2020; updated March 2021.
There are not many folks who can thank their aunt for playing matchmaker in their love life and helping them meet the man of their dreams. But this aunt is no ordinary aunt. A lot of Jamie Boulding-Bridges and his now-husband Thomas Boulding's story has happened due in part to Aunt Sheila's kindness and generosity. "She's one of a kind!" said Jamie. The new dads share that being part of a multi-generational household, to be fair, isn't without its hardships, but the rewards have been abound.
Aunt Sheila, 71, is Jamie's father's sister, and when Jamie's mother passed away suddenly when he was 19, it was Aunt Sheila who stepped in and took care of Jamie. She was in touch with him frequently while he lived abroad.
Jamie met Thomas 7 years ago through a dating app while he was living in London, U.K. As he was coming out of a bad breakup, his Aunt Sheila suggested he take a break from serious monogamy and try "one of those apps!"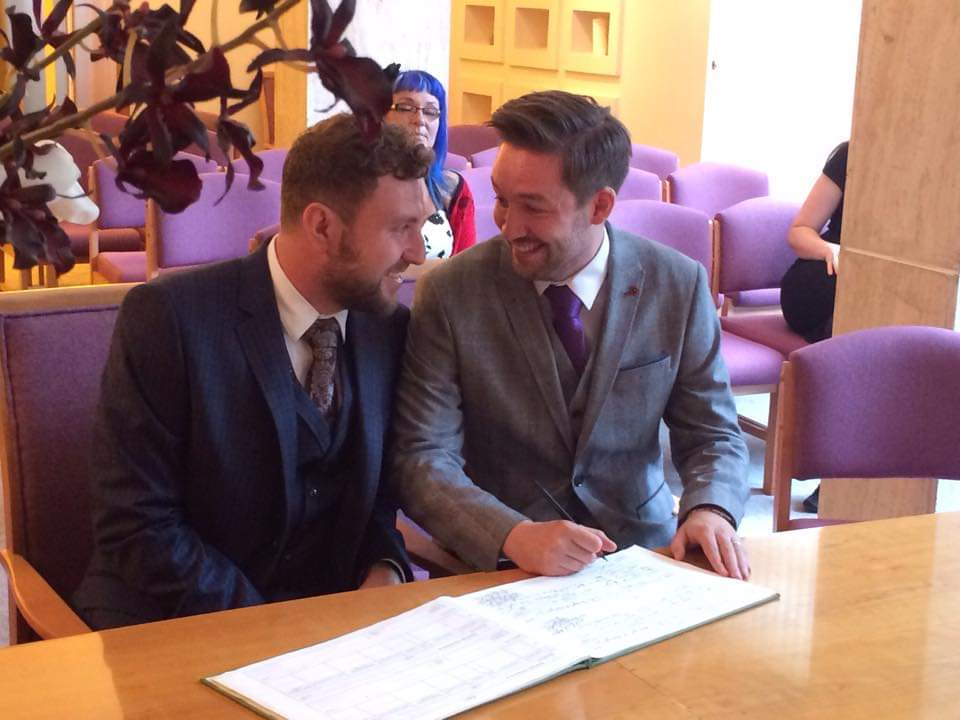 Jamie was working next to Thomas' university, and he was the second person he chatted to via the dating app. "We met in London in the summer of 2013 and by September of 2014 we were married."
The pair decided to leave Thomas' homeland and move to the United States to have Jamie's aunt live with them, thus beginning the foundation of their multigenerational household. Thomas is the eldest of 6 and Jamie is the eldest of 3 so having a family was always very important. Sheila also helped the couple with Thomas' green card. "She's an absolute legend!"
Watch Jamie and Thomas' webinar where they discuss their journey to fatherhood through surrogacy
When the couple arrived in the States, they landed in Fort Lauderdale and bought a house. Much to their frustration, they later discovered that their qualifications didn't transfer so they had to move to Connecticut for Thomas to retrain as a physician assistant, and Jamie as a couples psychotherapist and sex therapist. As they focused on their qualifications, they put their fatherhood plans on hold. Aunt Sheila helped support them through two graduate programs. And her generosity didn't end there.
"We had considered both fostering and adoption but my aunt offered us a massive gift by helping us afford our surrogacy journey." The husbands almost gave a huge check to a clinic that ended up shutting its doors unexpectedly the day before their appointment. And now their clients are all in a class-action lawsuit. "So we dodged that bullet but it shook our confidence in the process."
In November 2018 they signed with
. "We chose RMA Because the reputation for success and for professionalism stood out from the crowd and we were very happy with the journey we took with them to bring our daughter into the world," said Jaime.
For their surrogacy agency, the couple decided to work with
. "We chose to work with Vicki at Worldwide because we knew that she had litigated landmark cases for gay parents and once we went in to discuss surrogacy options she made time to personally meet with us and we immediately felt like family," said Jaime. "We felt this was an agency that would go above and beyond to help make our family building a reality."
14 months later, Baby Echo was born on February 18, 2020. The dads fell in love in an instant, and in the spring, the family relocated back to Florida.
@mountroseteenprincess
But less than a month after Echo was born, as it was happening everywhere around the world, the ramifications of Covid-19 started to be felt. "It has been difficult during the pandemic because we were scared with a newborn baby who has not fully developed her immune system and there was so little research, and there still is, around how babies catch and fight the virus." Not only that but the new dads were concerned about their aunt. "While being very active and involved for a woman in her 70s, [she's] high risk and we didn't want to chance her getting sick."
Thomas had to travel back to Connecticut to finish his clinical rotations for his physician assistant training which meant Jamie was on full-time solo dad duty with a newborn. But with the help of his aunt, it was manageable. "I don't know how I would have coped without her help. It's also been a blessing to have my aunt here because it's one more person that Echo gets a chance to interact with and kiss and cuddle."
Echo is now approaching the 6-month mark, and every day she brings her daddies and her great aunt joy. The multi-generational home is helping all its inhabitants thrive under challenging circumstances.
"Not only did my aunt help raise me when my mom passed suddenly, but she helped my husband get his green card, helped him move, supported us through two graduate degrees and made our baby a reality," said Jamie with admiration who is also training to be a same-sex fertility counseling. "She is a part of our family now that she is retired and never married or had kids; we are her kids."
"Having a multigenerational family in our home is not always easy but it is so rewarding and we wouldn't have it any other way. We are so excited to keep growing our family and watching our children discover the beauty and wonder in the world around them."
Follow this family on their Instagram accounts: Jamie @mountroseteenprincess, Thomas @thomasthepa and Aunt Sheila @sheilaonthekey.