Dad Life
12 Television Shows with Gay Dad Characters
May. 13, 2017
In recent years, we've noticed an exciting trend: gay dads seem to be gracing our television sets much more frequently these days. In fact, we found 12 television shows that have featured gay dad characters in recent years. Did we miss any? Let us know in the comments!
#1)  Grace & Frankie
---
In this Netflix original series, Martin Sheen and Sam Waterston play gay dads who come out to their wives and children well past their primes. Lily Tomlin and Jane Fonda play the ex-wives, rounding out the star-studded cast. Now in its third season, the show has been well received and sheds an interesting light on the complications involved with fathers who come out later in life.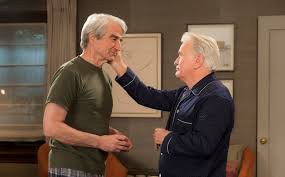 #2) Six Feet Under
Well before Modern Family's Mitch and Cam began normalizing the idea of gay fathers in America's heartland each week, there was 6 Feet Under's David and Keith. The show, which started in 2001 and ran for 5 seasons, was widely praised for being one of the first to offer a more realistic portrayal of a gay male couple. In the last season, when David and Keith decide to adopt a pair of brothers from the foster care system, the show was once again praised for becoming one of the first to depict gay parents on television.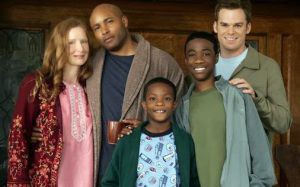 #3) Marry Me
This short lived NBC comedy featured two gay dads, both named Kevin. The characters were played by Dan Bucatisnky and Tim Meadows, who were fathers to the newly engaged Annie. Astute observers of gay dad television history will note that Dan Bucatinsky doesn't only play a gay dad on T.V. He's one in real life, too!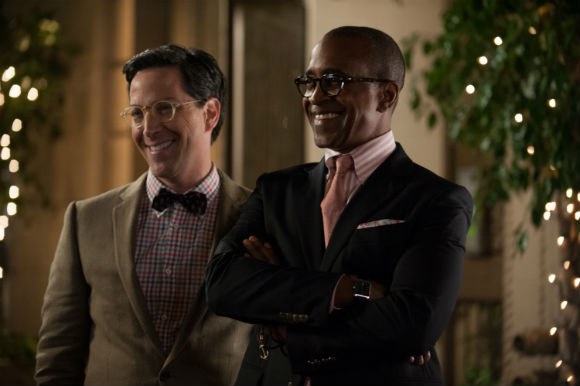 #4) Brothers & Sisters
This favorite family drama, which ran on ABC for five seasons, feature gay dads Kevin and Scotty, played by Matthew Rhys and Luke Macfarlane. More than many other shows on this list, Brothers & Sisters explores some of the struggles gay men face as they attempt to decide which path to fatherhood to pursue.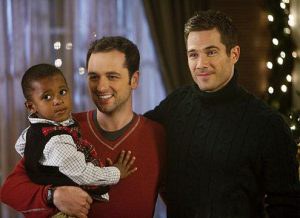 #5) The New Normal 
This short lived NBC comedy followed Bryan, played by Andrew Rannells, and David, played by Justin Bartha, during their path to parenthood with their surrogate played by Georgia King. The show received mixed reviews, and was canceled after just one season.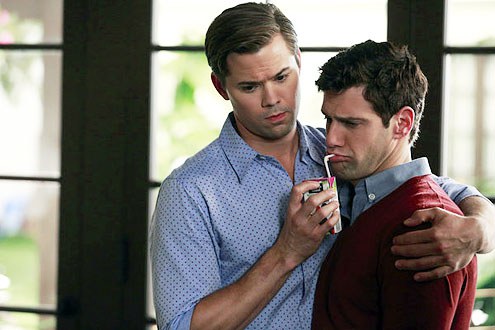 #6) Glee
It was revealed in Season 1 of the musical-comedy T.V. show Glee that one of the main character's of the show, Rachel, played by Lea Michele, was raised by two dads. But these characters weren't cast until season 3, when Jeff Goldblum and Brian Stokes Mitchell joined the cast as Rachel's dads.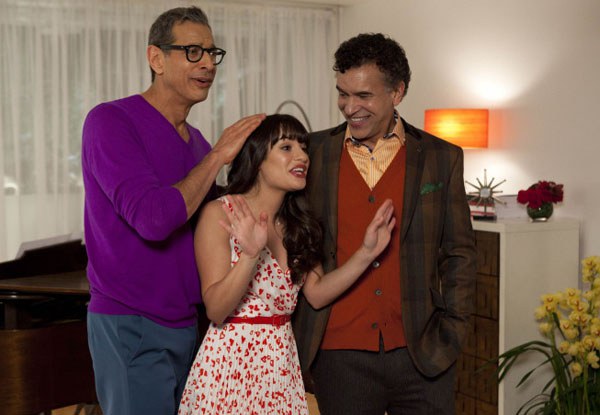 #7) Girls
In Season 4 Episode 8 of HBO's hit, Girls, Lena Dunham's character, Hannah, finds out her father, played by Peter Scolari, is gay. Interestingly, Andrew Rannells's character Elijah (who himself plays a gay T.V. dad in The New Normal) foretold this development way back in Season 1, when he yells at Hannah during a fight: "It's nice to see you. Your dad is gay."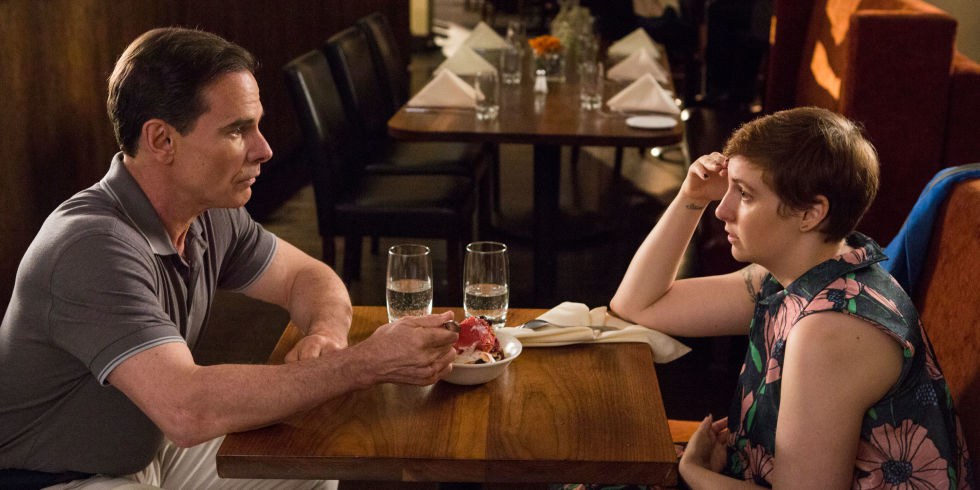 #8) Sean Saves the World
In this NBC sitcom, single gay dads finally found their spot on prime time. In the show, Sean Hayes plays a divorced gay father to his 14-year-old daughter. The show was unfortunately not well received, and was canceled after just one season. Here's hoping for some more single gay dad representation on T.V. in the near future!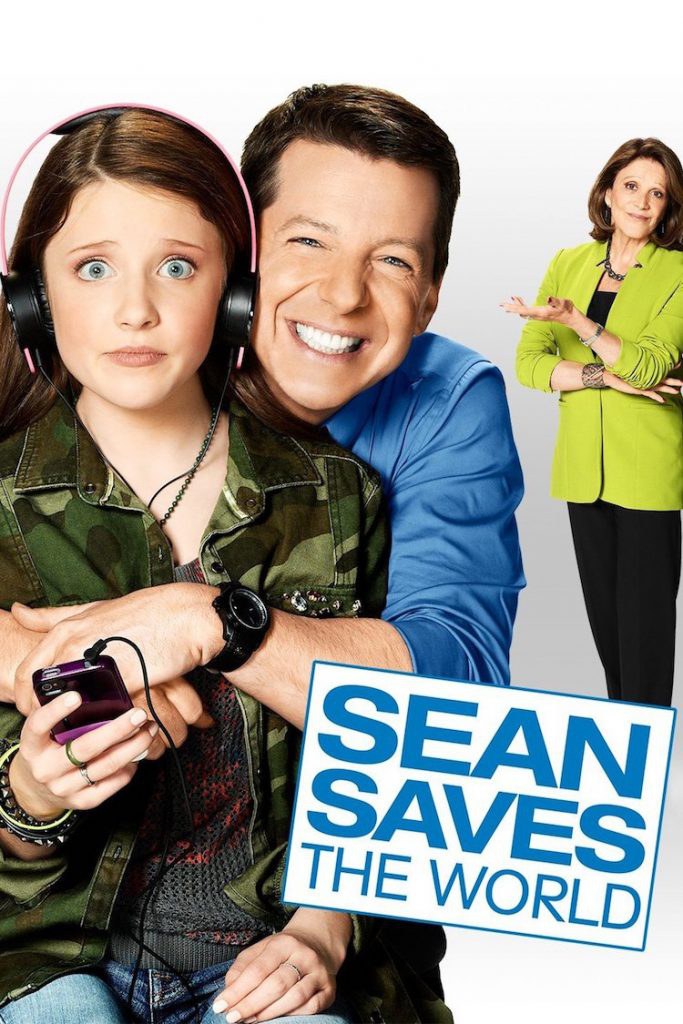 #9) Loud House
In 2016, gay dads make their debut on the kids network Nickelodeon on the animated show "Loud House." The biracial couple was voiced by Wayne Brady and Michael McBride. Despite some minor complaining from conservative groups, the inclusion of gay dads in the episode was widely applauded.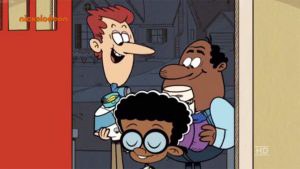 #10) Modern Family
And of course we have our trailblazers Mitch & Cam, who first graced the airwaves 8 years ago. With Season 9 in the works, these dads still reign supreme, even if their character lines are a little less "modern" than some of their contemporaries.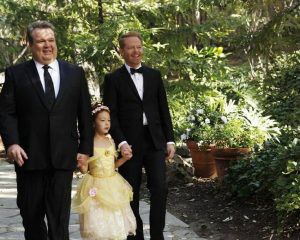 #11) Big Little Lies
Did those gay dads on HBO's Big Little Lies look familiar? They should have! Actors Larry Sullivan and David Monahan previously starred with their son in this sweet Cambell's soup ad.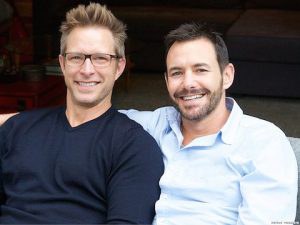 #12) 13 Reasons Why
Okay, the gay dads on 13 Reasons Why may be such minor characters as to only be known as "Courtney's Dad" in Netflix's recent breakout hit. But they are still gay dads on T.V.! So we're counting them. They also feature prominently into Courtney's character development in important and surprising ways.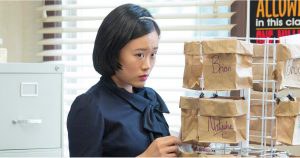 See more:
Famous Gay Dads and Their Kids
It started when a four-year-old boy asked a clown, who had been hired to paint the faces of kids at a picnic, a simple question:
"Can I have a blue butterfly?"
Keep reading...
Show less
The Long Island Adoptive Families support group was created by parents going through the adoption process or who had already adopted. It was a great way to help members navigate the path of adoption whether it be private domestic, international agency, domestic agency or foster care. We spoke with Chemene, one of the founders, and found out how this group is supporting local gay men interested in becoming fathers.
Keep reading...
Show less
Adam Lozon and Scott Dufour met online and have been together 11 years.They live in Hamilton, Ontario, Canada, with their son Paulo. The couple are both in banking and are engaged to be married. We caught up with the dads to see how fatherhood was treating them!
Keep reading...
Show less
Guest post from Greg Hutch.
It's two weeks before school starts and I am sitting in my classroom updating the photos in the frames on my desk. These frames used to be filled with pictures of my dogs, of me playing my instrument (I am a music teacher), or of the various other things that I have enjoyed in my lifetime. Today, they are filled with loving pictures of my family, including my son and partner who I raise him with. Times sure have changed…thanks to our son, Clark.
Keep reading...
Show less
Editor's Note: In this ongoing series, we're shining the spotlight on some of the gay dads behind Gays With Kids as their incredible passion and commitment plays an invaluable role in making Gays With Kids possible. Please contact Brian Rosenberg if you'd like to talk about getting involved, too.
Keep reading...
Show less
Happy gay uncles day to all the wonderful "guncles" out there! Here at Gays With Kids we know how important your roles are within our families so we want to celebrate you today, and say a big thanks! Enjoy this collection of "guncle" photos and a few words of wisdom and contemplations from the uncles themselves.
Keep reading...
Show less
Two years ago when Oliver arrived into our lives, my partner Rob and I were living in separate countries. We met in Kuala Lumpur, Malaysia, and had Oliver when Rob was working in Bangkok and I was in KL. Oliver arrived two weeks early when we received an unexpected message from our agent saying to go to the hospital – our surrogate had been checked into hospital.
Keep reading...
Show less
The day began like any other. My alarm went off at 4.30am. I snoozed until 5am. I ate breakfast until 5.30am, at which point my son, Felix, woke naturally like clockwork. I fed him mashed bananas, cashew butter and chia seeds. I woke my dad up with a cup of tea and handed the baton over for him to look after Felix as I left for work on my bike at 6.30am. I worked through the day as normal. Then, at 6.49pm I received a call from the police.
Keep reading...
Show less
GET GAYS WITH KIDS IN YOUR INBOX

Follow Us on Instagram