Feb. 10, 2017
As originally published on Prowdr by Tom Bourdon.
---
My husband and I met in L.A. in the late 90s. Our social life and nights out were nothing short of fabulous and exciting. Wild nights in West Hollywood, romantic strolls by the beach and attending movie premieres and after-parties were par for the course.
Fast-forward 18 years, and it's daddy life in the 'burbs of New England. To say our social life has changed slightly would be like saying Kim Kardashian kinda likes publicity.
It's not to say we don't still get out. In fact, we might socialize with other people now more than ever; it just looks very different. We get at least three monthly opportunities to hang with other parents at our local indoor-jumpy-house at yet-another kids' birthday party. (Still haven't figured out why these places don't sell alcohol … They'd make a killing.) And, it's not at all uncommon for a few families in the hood to get together for pizza and mini-dance party night with the kiddos on any given evening. (Kidz Bop station on Pandora, anyone??)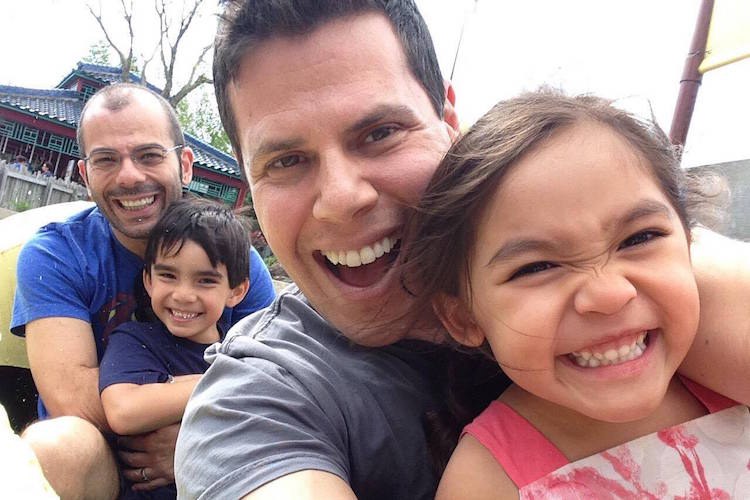 Tom (center) and Jimmy with their kids
Of course, family time is so important to us. We try to spend as much time with our beautiful children as we possibly can.
And, if only as common as a blue moon, there is one additional element to our social life: the rare date night with just the two of us.
At this stage in life, we ain't no fancy gays by any means. We are just as content going out dressed to the nines as we are going out for a dinner at the NintyNine. Just as long as we can have some enjoyable time with each other, we're game.
The only non-negotiable: when we get to have a date night, we've got to make it count!
This past summer, we had one of those rare opportunities. My grandmother and aunt agreed to come over and watch our kids, 4 and 6, so we could go out. After quickly rummaging through our junk drawer I found the nearly expired gift certificate someone had given us to a restaurant we'd never tried. I heard it even had outdoor seating!  The perfect big night out was about to happen.
The time was 5:30 and the sitters arrived. By 5:32, we peeled out of the driveway (every minute counts)! Less than 15 minutes later, we arrived at the restaurant to find the "outdoor seating" was a tiny area adjacent to a dumpy parking lot and loud street. Three of the four tables were filled by families with little kids. By 5:47, we were off to find another restaurant. Twenty minutes later … ahhhhh. We'd found a perfect alternative. The place had a beautiful patio, trendy 20- and 30-somethings already getting their drink on and an open table. At 6:20, we were reminded, in New England, mosquitos dine out at the same time as humans on a warm summer night. Also, it turns out, 40-something gay dudes are apparently the tastiest thing on their menu. (Guess we've still got it!)
So, back from the pharmacy by 6:40 with a newly purchased aerosol can in hand, we hosed each other down.  Things were looking up; the next full hour went by without a blood-sucking insect in sight.
Also, our waitress was missing in action.  Our gay charm wasn't really working that night.
Finally, by 9 p.m., we were fed and watered; the food and drinks were great. And we decided to go back home for dessert. (Wink, wink!)
We created a plan. We arrived back at the house at 9:30, hubby announced to gram/aunt he "was exhausted" before heading to our bedroom. I told him I'd be there soon.
Gram and aunt had other plans for me. At 9:55, I was still listening to a recap of every single "cute" thing our kids did from my grandmother (bless her).
Turns out my repeating the phrases "You must be as tired as I am!" and "Well, thanks again for coming over!" wasn't enough of a hint. By 10:15, my subtle cues had finally worked. Sitters left and kids were sound asleep.  Time to get back to date night!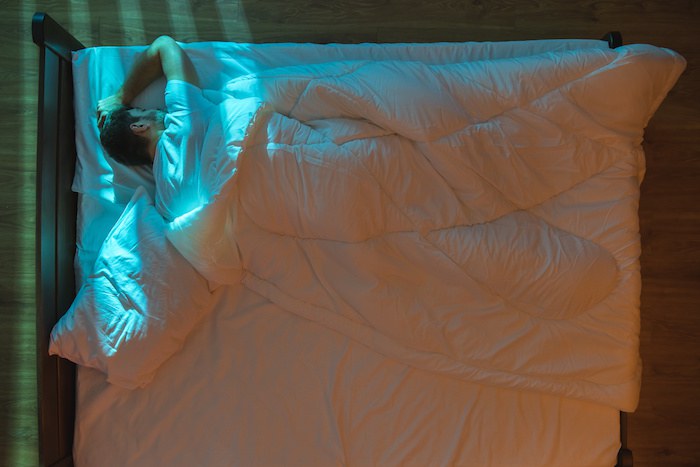 I headed into our bedroom to smell the sweet aroma of Off!  — and hear the sounds of my snoring husband. Turns out my amorous plan of encouraging him to have that final martini backfired.
Lesson learned: When it comes to the rare big night out, you've got to make it count. Notes to self:
1. If possible, plan ahead. Yes, spontaneity is great, but researching options in advance isn't such a bad idea, either.
2. Make it clear to the sitters: When we get home, you go home. (Sorry, gram!)
3. Whether it's sneaking in a disco nap earlier in the day or going lighter on the food/drink when you're out, try to save room for "dessert" when you get back home.
Tom Bourdon is the senior vice president of LGBT partnerships for prowdr.com.
When Milo turned two, friends and family would say, "Just wait for the terrible twos to start!" They came, they were terrible, (ok not all the time) and traveling with a two year old was trying at times, but it was still enjoyable (kind of)!
Keep reading...
Show less
Over 2 years ago, we spoke with experienced filmmaker Carlton Smith about his documentary featuring gay dad families created through foster-adopt. It was a heartfelt project that shone a light on the number of children in foster care (roughly 400,000 as referenced at the time) who desperately needed a home. And the large population of same-sex couples, many newly married, who were interested in starting families of their own.
Keep reading...
Show less
"Let's skip," my daughter said on our way to school the other week. She took my hand and started skipping along, pulling me forward to urge me to do the same.

Wouldn't it look, well, gay, for me to skip down the street? In public? I wasn't willingly going to make myself look like a sissy.
Keep reading...
Show less
Listen to the mustn'ts, child. Listen to the don'ts. Listen to the shouldn'ts, the impossibles, the won'ts. Listen to the never haves, then listen close to me... Anything can happen, child. Anything can be. - Shel Silverstein
Keep reading...
Show less
As part of our ongoing #GWKThenAndNow series, we talk to dads who have gone the distance and been together a great many years. Terry and Michael have been together 15 years, have two children, and live in Orlando, Florida. We find out how it began, and what they look for in a partner in life, love and fatherhood.
Keep reading...
Show less
Johnathon and Corey, both 29, met in 2011 working for the same employer. And since their first date, they've been inseparable. Johnathon is a full-time student pursuing a degree in Human Services, and once he completes his degree, he will return to his Native American tribe to help fellow Native American families in need. Corey is a stay-at-home dad. Together they adopted 6-year-old twins, Greyson and Porter, from foster care on June 1, 2017. We caught up with the first-time dads to see how fatherhood was treating them.
Keep reading...
Show less
It started when a four-year-old boy asked a clown, who had been hired to paint the faces of kids at a picnic, a simple question:
"Can I have a blue butterfly?"
Keep reading...
Show less
The Long Island Adoptive Families support group was created by parents going through the adoption process or who had already adopted. It was a great way to help members navigate the path of adoption whether it be private domestic, international agency, domestic agency or foster care. We spoke with Chemene, one of the founders, and found out how this group is supporting local gay men interested in becoming fathers.
Keep reading...
Show less
GET GAYS WITH KIDS IN YOUR INBOX

Follow Us on Instagram