Dad Life
Strawberry and Cream Cheese Crepes for Your Valentine
Feb. 13, 2017
For Valentine's Day one of my favorite things to make for my husband is delicious crepes. With so many different variations of recipes for sweet crepes, you can never go wrong! You can choose the light and sexy route with strawberries and cream, or opt for a more decadent version with chocolate.
Step by step I will explain how to create fail-proof and delicious strawberry and cream cheese crepes for Valentine's Day!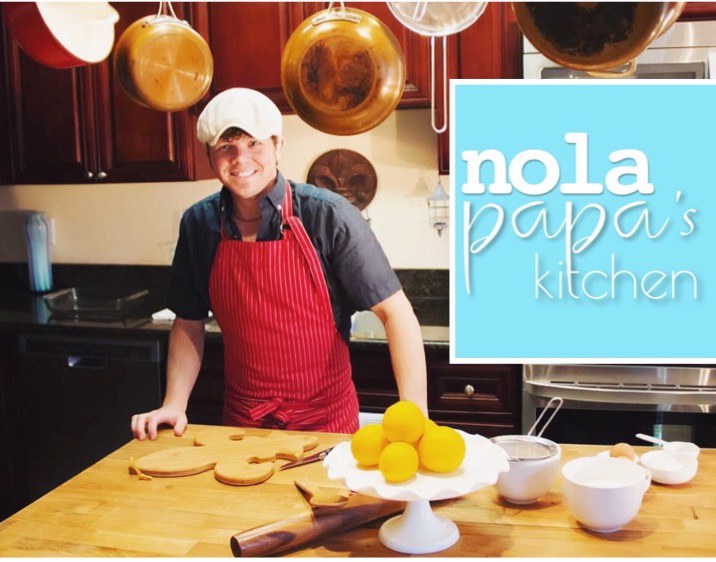 Strawberry and Cream Cheese Crepes
---
Utensils
3 medium size bowls
wooden spoon
stand mixer or hand mixer
10-inch non-stick pan
rubber-tipped spatula
Ingredients
1 pint of strawberries
1 cup of granulated sugar
1 package (16 ounces) of Philadelphia cream cheese at room temperature
1/3 cup of sour cream
1/3 cup of sweetened condensed milk
1 tablespoon of confectioners sugar
1 teaspoon vanilla extract (high quality)
1 cup of all-purpose flour
2 eggs
1 cup of water
1/8 teaspoon salt
1 cup of milk
non-stick cooking spray
Recipe
Now I will complete each component of this dessert in the order each step should be prepared in.
Step 1: Strawberries in Sugar
Rinse strawberries and cut into small pieces.
Place in a bowl and top with the sugar.
Stir with wooden spoon. Place in the refrigerator for at least one hour.
The acid from the berries when mixed with sugar creates a syrup that is perfect for this dessert.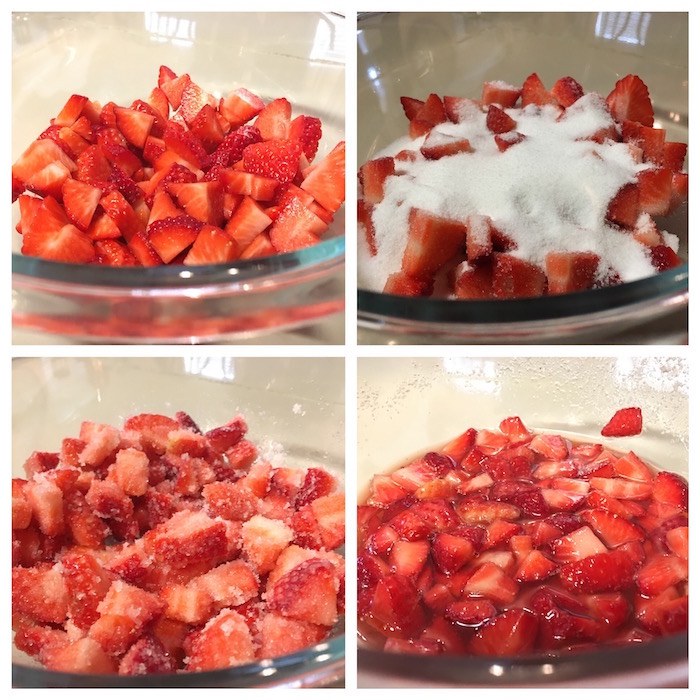 Step 2: Cream cheese mixture
In a bowl put cream cheese, confectioners sugar, sour cream, condensed milk and vanilla extract.
Cream together on medium to high speed until it is a creamy texture with no lumps. This step will take at least 15 minutes. Use your rubber-tipped spatula to take any mixture off the sides of the bowl.
Step 3: Crepe batter
In a bowl put flour, salt, milk, eggs and water. Whisk together until your thin batter is nice and smooth. It should be a lot like pancake batter but much thinner and looser, almost like the consistency of buttermilk or eggnog. Once your batter is made, allow to sit in the refrigerator for at least an hour for any bubbles to disappear.
Step 4: Making the crepes
Spray the non-stick pan.
With the stove on medium to high heat, add ⅓ cup of batter to the pan and swirl around until the mixture fully coats the pan.
Once edges of the crepe start to curl upwards, use a non-stick spatula to flip the crepe. ( I use my fingertips to grab the edges and flip, but be careful that you do not burn yourself.)
Allow to cook until brown spots start to form on both sides.
*Usually the second or third crepe comes out better than the first.
The batter should be enough to yield 6 to 8 medium crepes.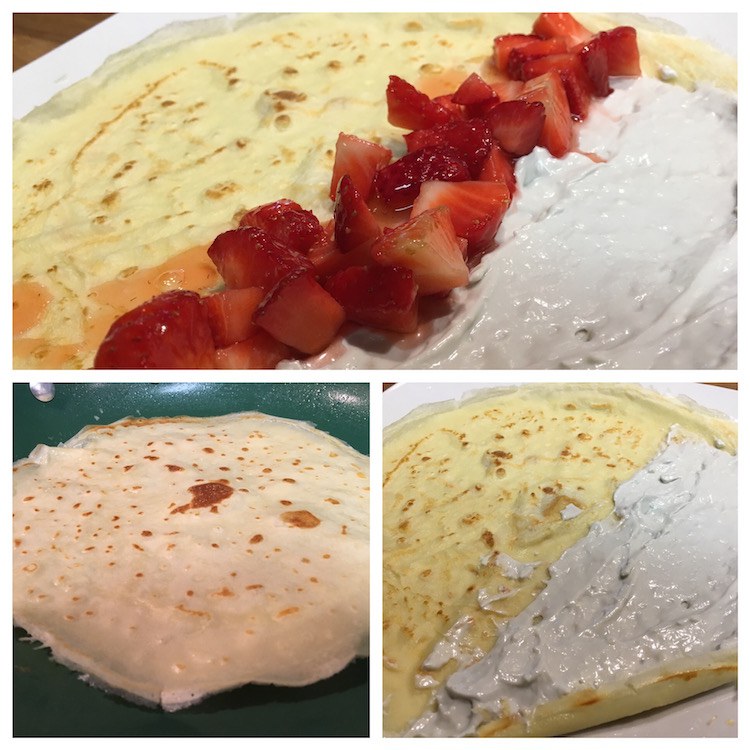 Step 5: Assembling the crepes
Once your strawberries have developed a syrup and your cream cheese mixture is smooth you are ready to proceed.
With the crepe laying flat on a plate, add a layer of the cream cheese frosting over the right side of the crepe.
Then add a couple of spoonfuls of strawberries over the cream cheese frosting.
Afterwards, carefully flip and roll the crepe over until it is layered with frosting and strawberries.
Drizzle with strawberry syrup and top with confectioners sugar.
Making crepes is fun and easy! Your crepe batter can last in the refrigerator for up to 2 days. There are also different ways to fold your crepe depending on how large the crepe is.
For smaller and medium crepes rolling and flipping is the best route I have found.
You can also stack, which is yummy too!
For larger crepes you can fold the traditional triangle method.
But however you fold them, they all taste delicious! I hope you have a wonderful Valentine's Day with your loved one. And if you're single, that just means you have more delicious crepes for yourself!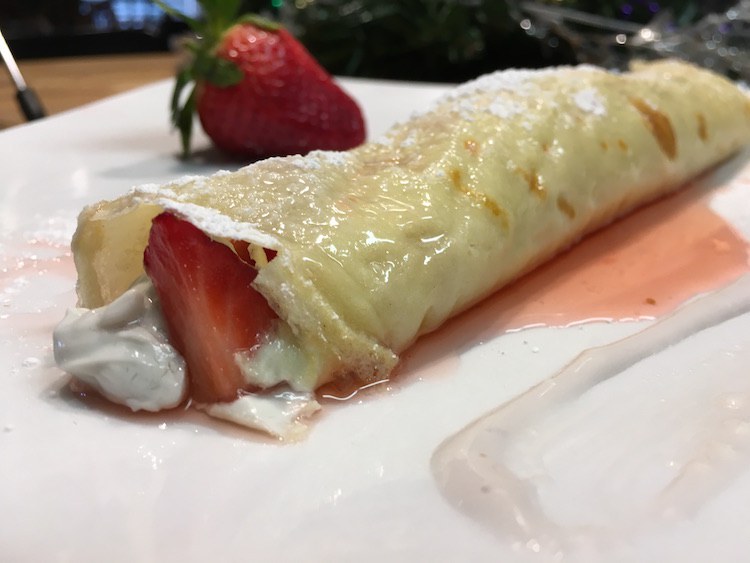 I would love for you to follow our family's journey on Instagram, Nolapapa.com and like us on Facebook.
Feature image photo credit: BSA Photography
It started when a four-year-old boy asked a clown, who had been hired to paint the faces of kids at a picnic, a simple question:
"Can I have a blue butterfly?"
Keep reading...
Show less
The Long Island Adoptive Families support group was created by parents going through the adoption process or who had already adopted. It was a great way to help members navigate the path of adoption whether it be private domestic, international agency, domestic agency or foster care. We spoke with Chemene, one of the founders, and found out how this group is supporting local gay men interested in becoming fathers.
Keep reading...
Show less
Adam Lozon and Scott Dufour met online and have been together 11 years.They live in Hamilton, Ontario, Canada, with their son Paulo. The couple are both in banking and are engaged to be married. We caught up with the dads to see how fatherhood was treating them!
Keep reading...
Show less
Guest post from Greg Hutch.
It's two weeks before school starts and I am sitting in my classroom updating the photos in the frames on my desk. These frames used to be filled with pictures of my dogs, of me playing my instrument (I am a music teacher), or of the various other things that I have enjoyed in my lifetime. Today, they are filled with loving pictures of my family, including my son and partner who I raise him with. Times sure have changed…thanks to our son, Clark.
Keep reading...
Show less
Editor's Note: In this ongoing series, we're shining the spotlight on some of the gay dads behind Gays With Kids as their incredible passion and commitment plays an invaluable role in making Gays With Kids possible. Please contact Brian Rosenberg if you'd like to talk about getting involved, too.
Keep reading...
Show less
Happy gay uncles day to all the wonderful "guncles" out there! Here at Gays With Kids we know how important your roles are within our families so we want to celebrate you today, and say a big thanks! Enjoy this collection of "guncle" photos and a few words of wisdom and contemplations from the uncles themselves.
Keep reading...
Show less
Two years ago when Oliver arrived into our lives, my partner Rob and I were living in separate countries. We met in Kuala Lumpur, Malaysia, and had Oliver when Rob was working in Bangkok and I was in KL. Oliver arrived two weeks early when we received an unexpected message from our agent saying to go to the hospital – our surrogate had been checked into hospital.
Keep reading...
Show less
The day began like any other. My alarm went off at 4.30am. I snoozed until 5am. I ate breakfast until 5.30am, at which point my son, Felix, woke naturally like clockwork. I fed him mashed bananas, cashew butter and chia seeds. I woke my dad up with a cup of tea and handed the baton over for him to look after Felix as I left for work on my bike at 6.30am. I worked through the day as normal. Then, at 6.49pm I received a call from the police.
Keep reading...
Show less
GET GAYS WITH KIDS IN YOUR INBOX

Follow Us on Instagram