Mar. 13, 2016
David Hopwood is this Sunday's Single Gay Dad. He's from Sawmill in New South Wales, Australia and has two kids, Micah, 8, and Scarlett, 5. This young dad has some memorable things to say about coming out to his kids and about raising kids as a single gay man.
---
Gays With Kids: How did you create your family?
David: Former straight relationship. I married at a young age and had my first child at 22. I loved my wife as any husband should and she was aware that I had been with men as a teenager. After nearly 10 years together, two children, a mortgage and many memories we decided to separate. At this point I took the children on full-time for 18 months while my then ex-wife moved to another state for personal reasons.
In the beginning, it was hard juggling work, study and children but we managed and created our own little life together. The children had regular contact with their mother and regular visits. We worked hard to keep life as normal and loving as possible for them. At this point I was also dealing with the notion of coming out as a gay man, and this scared me as I had in-laws, family and friends to explain myself to. I decided it was best to continue to focus on the children and my own personal growth as a father and did not come out. For a very long time I didn't have the opportunity to explore myself as a gay man and gay father.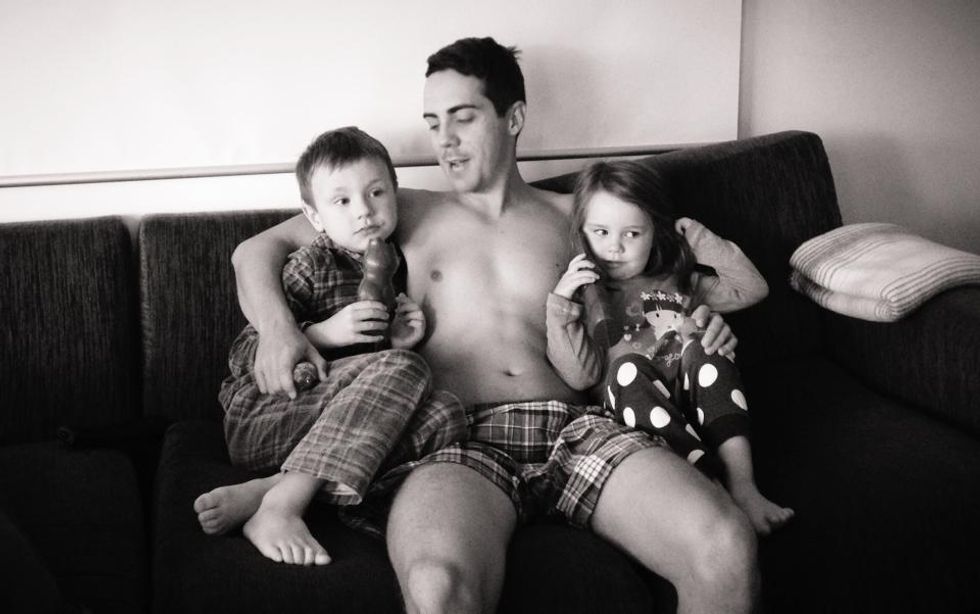 Easter 2014
The children's mother returned to live near us and we took shared custody of the children. I came out to her and the support and love she showed me was incredible to say the least. Our bond is amazing, I still see her as my soulmate and best friend I am even Uncle Dave to her new son who I adore.
I am now going on dates with men but have yet to find Mr. Right. My family and friends including in-laws have been so supporting of me and the kids. The kids understand dad wants to marry and love another man. I exposed them slowly at first to different family types and what being gay was. Children easily accept this. The sweetest comment came from my daughter: When I told them, "Daddy will have a husband one day," she turned to me and said, "But Daddy, who will twirl at the wedding when you dance?"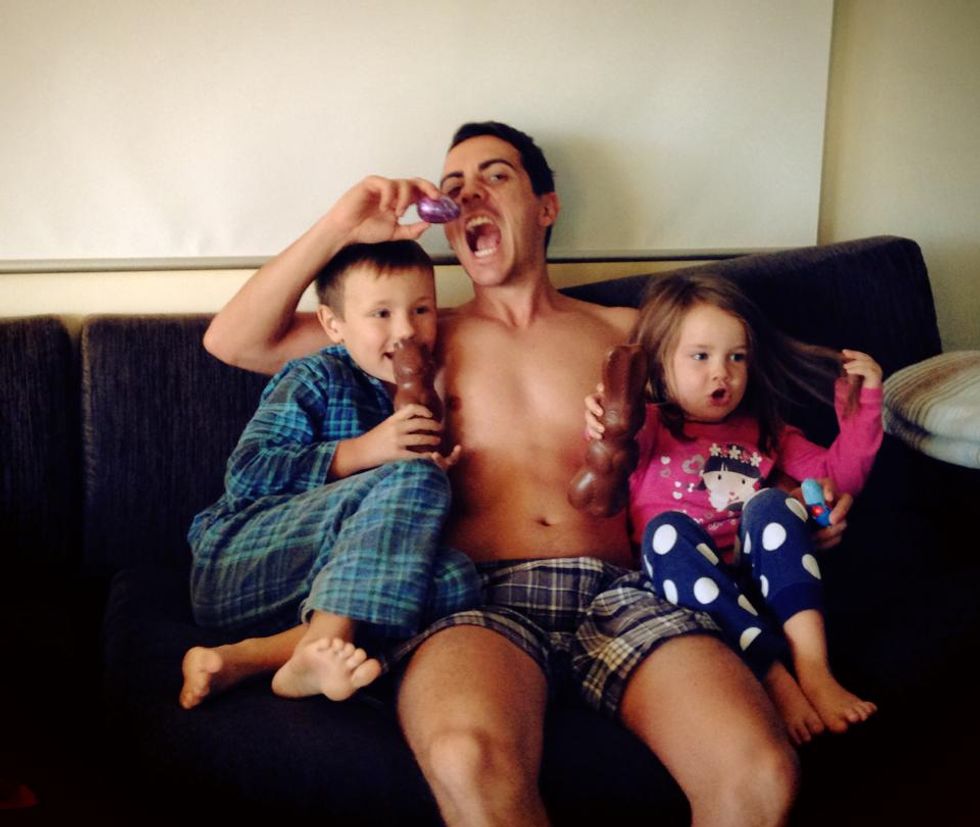 Easter 2014
Gays With Kids: What do you consider to be the most important lesson you are teaching your children?
David: Love, family, acceptance and gratitude.

Gays With Kids: Please share any advice you may have for others considering a similar path to fatherhood.
David: Take things slow, don't hurry and make rash decisions on when to come out and when to start dating. Know yourself before you allow others to discover you.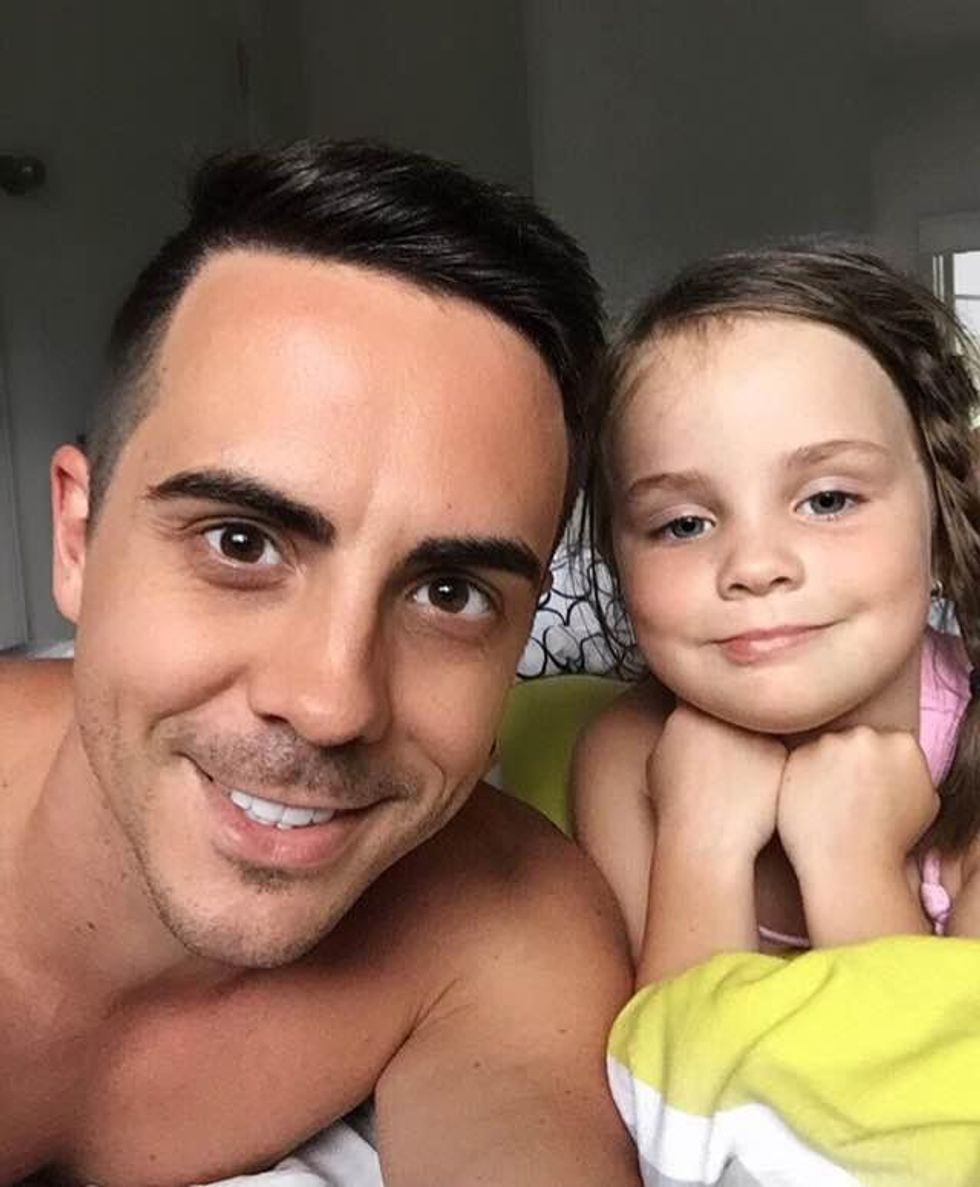 January 2016: David and Scarlett
Gays With Kids: Did you always want kids?
David: Yes
Gays With Kids: What names do your kids call you?
David: Dad, Daddy
Gays With Kids: How did the people around you react to the idea of you having a child as a single gay man?
David: The process has been a gradual one. I have yet to experience any harsh words or questions from people related to my being gay and raising children. I think the toughest questions came from myrself. For some time I worried how me being gay may affect my children especially as they are both of school age. You want your children to experience all aspects of childhood: sleepovers, sports, playdates, etc. My concern was how other parents may feel about having their children around a gay father. My children and I have been very lucky that this has not yet been an issue.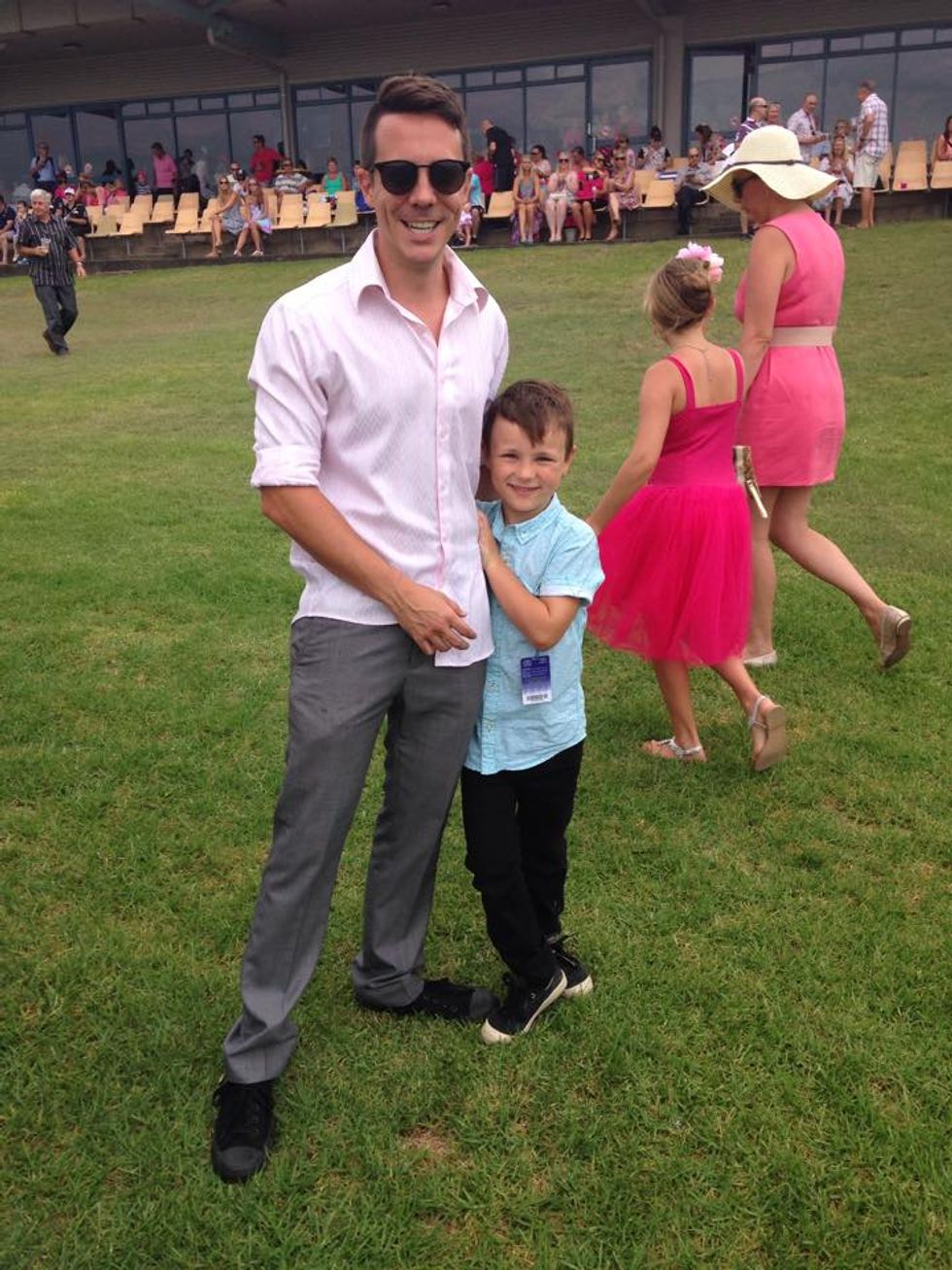 August 2015: Father and son's day out at the races
Gays With Kids: How do you plan to introduce your children to a future partner if you have thought about that at all?
David: This of course is something I am excited for. My children Micah and Scarlett understand what it means to be gay, and more importantly, they understand what it is to love. This is a concept I have invested a lot of time and discussion into. They understand the different dynamics that can be present in family units as both sides of their families are diverse in their makeup.
The first time they really seemed to ponder daddy having a husband or boyfriend was one morning when we were watching a music television show and the song "Take me to church" by Hozier came on. Visually the film clip is quite graphic and deals with gay love in an unaccepting society; the kids were intrigued and asked questions. This led me to have a discussion about gay love with them and what their thoughts were on it. Both of them said they thought it was "fine." Their own words beautifully illustrated their acceptance of it and disgust at how anyone could think it wrong.
They have met a man I was dating. This was after some time and only once I had discussed with them that I had been on dates or doing nice things with this particular man. Both of my children are quite socially adept so meeting new people is always comfortable for them and the same was for when they met him. And he adored children and this helped. I hope to not have too many of my partners pass through their lives as I am very conscious of how quickly children can attach to someone. I am mindful of protecting them in that way. I feel I know when best to introduce them to a man I have feelings for.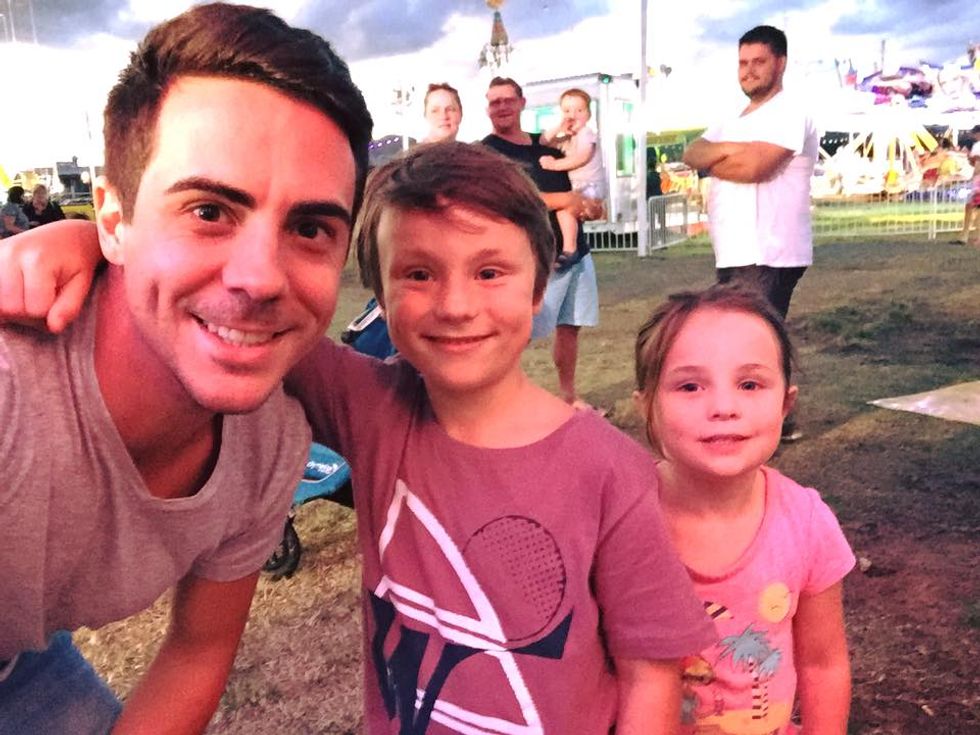 At the local fair, January 2016. David: "I was smiling through gritted teeth as I spent a fortune on tickets and kids were too scared to go on the rides."
Gays With Kids: How do you balance dating and single parenting? 
David: I am slowly adapting to the dating scene. My hometown does not have a huge gay community, so it is not common for me to be on dates.
Gays With Kids: What do you think are the challenges of single parenting? Do you think it is more difficult for a single gay man with children to navigate dating?
David: In short my response is yes. Yes, I find it difficult to date as a single parent. I think this is the same for all single parents who take day-to-day care of their children. I was the primary carer for my children for 18 months. This time was emotionally and personally empowering and also exhausting. Your concern is for your children in every aspect of daily life while also trying to keep life as normal as possible for them in the dynamic you are dealing with. Thankfully, I have their mother. We co-parent as well as we can. Our concerns are for our children.
We want them to grow with good morals and a sound ethical grounding but we also understand they are little people with their own emotions. I am sometimes envious at the thought of having someone by my side to comfort me when the role of parenting is exhausting. I will never expect my partner to parent my child if he is not comfortable with that, but I do expect them to respect my children. Micah and Scarlett are lucky to have a mother, father and step-father who love and want the best for them.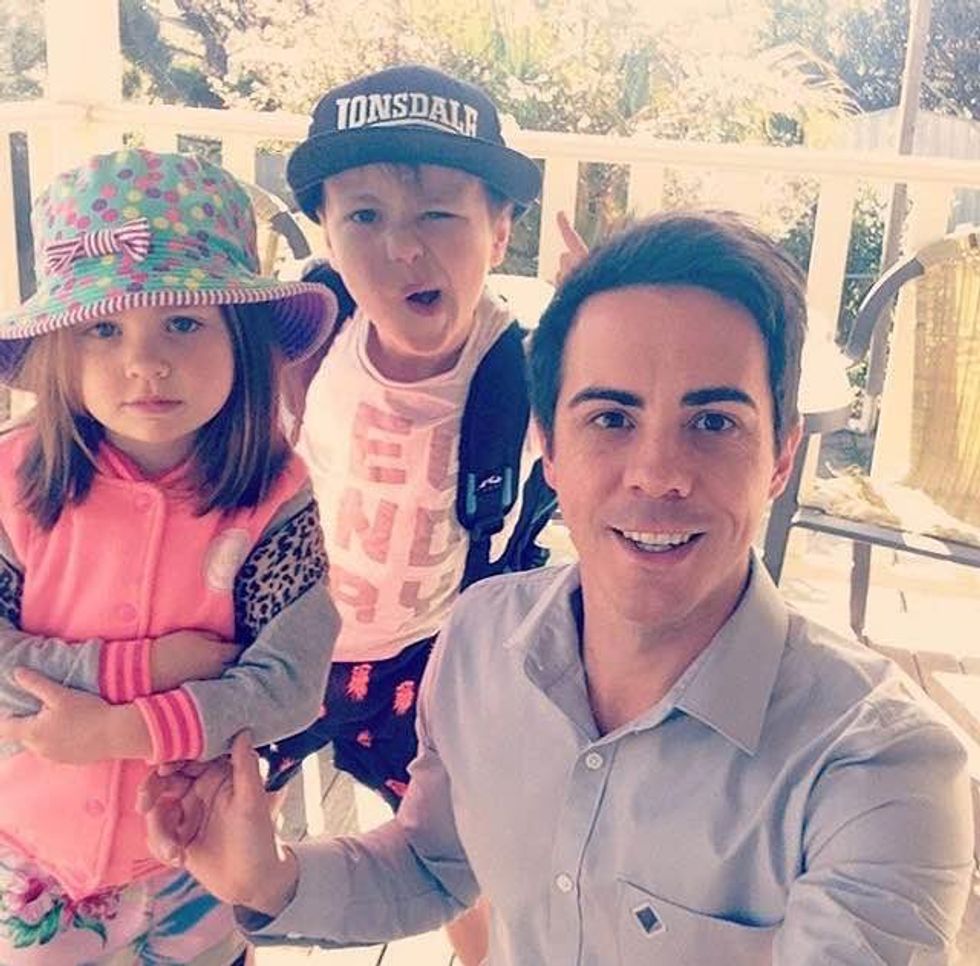 2015: David getting Scarlett and Micah off to school
Gays With Kids: How is life as a gay man in Australia? Did you experience any homophobia or any negative comments?
David: I am certain there are people out there who have said negative things about me but those people are on the outer rift of my immediate circle of friends and family. I realize that one day somewhere somehow my children, my ex-wife or I will experience harsh words or hate. What I am grateful for is our own ability to openly discuss any issue. If homophobia occurs, we will deal with that as we best know how: with love and understanding.
Answers have been edited for clarity.
Click here to read how single gay dads are doin' it for themselves!