The Scrappy Duo: A Totally New Web Series for Kids!
Mar. 22, 2017
The Scrappy Duo is on a mission: to explore, understand, create and love.
---
The Scrappy Duo, a new web series for kids, was catapulted into the world on March 2, 2017. With just a few episodes online, The Scrappy Duo has already gained a pack of loyal Scrappy Do-ers. Finding kids programming more unique, diverse and entertaining would be a challenge.
What Can You Expect?
The Scrappy Duo consists of seven original sketches, each with its own purpose.
Wake up to Tea @ Sea, the latest in kids news, literature and entertainment.
Professor Origami is downright ridiculous. S.T.E.A.M. (Science, Technology, Engineering, Art and Math) education at its best.
Baby Blues Brothers. First name: Safety. Last name: Seriously.
Finding the Middle of Nowhere is like archeology for babies.
Diversity, acceptance and love are the focus of The Very Young & The Restless.
Do you have questions about healthy living, sanity, or need encouragement in your pursuit of silliness? Ask Anatoli. 
Follow The Adventures of The Scrappy Duo as they hike, bike, swim, kayak, and camp across America.
Although The Scrappy Duo claims to cater to kids ages 3-7, there's something for everyone.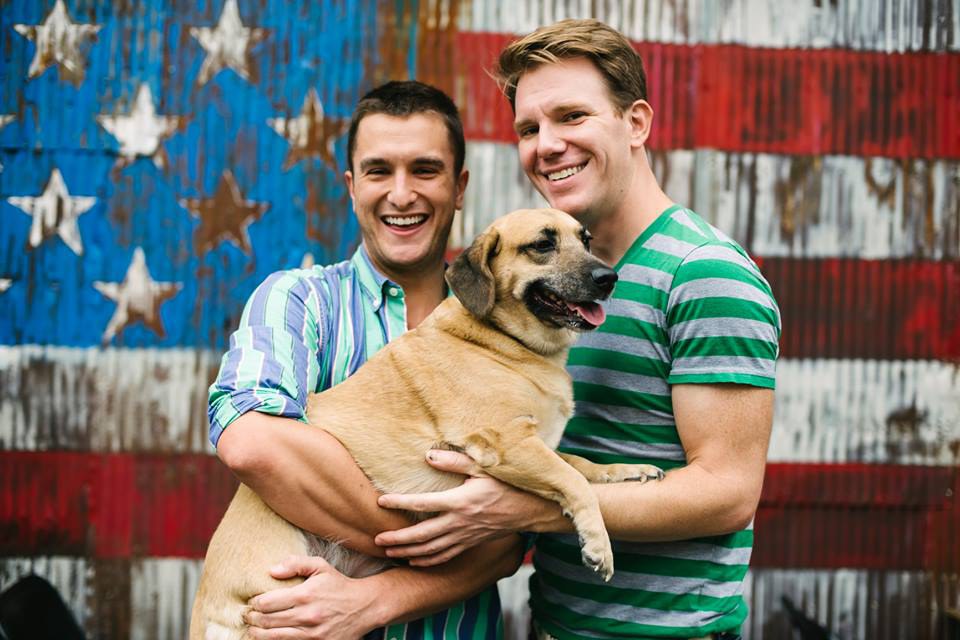 Stephen (left) and Nate
Who are Stephen and Nate?
As creators and hosts, Know-it-All Nate and Shy Stephen are performers and educators, with experience onstage, in front of the camera and in the classroom. Seven years ago they moved to the Big Apple in pursuit a Broadway career. Stifled by the big city, they took every opportunity to get away and became completely disconnected from social media. In 2016, they were married in Wooster, Ohio and moved to Pasadena, California to be live-in nannies to a 1-year-old girl.
According to Stephen, "We've always wanted to have our own show. Over the past seven years, we've tossed numerous show concepts around, but never felt the passion we do for The Scrappy Duo."
"After we were married and moved to California, our calling changed dramatically. As two married men with a desire for a family, it was time to speak up and use our talents not only to create entertainment, but to make a difference," says Nate.
When you ask Nate and Stephen the inspirations behind The Scrappy Duo, they'll rattle off a list of complete randomness: Highlights Magazine, Sesame Street, Carol Burnett, Pee-Wee Herman, Shel Silverstein, National Geographic Kids, etc. It only takes a glimpse of their content to see that The Scrappy Duo is particularly special, and that their only true inspiration has been kids.
Season 1: Newborn. March - May 2017, Tuesdays and Thursdays.
Facebook and Instagram @thescrappyduo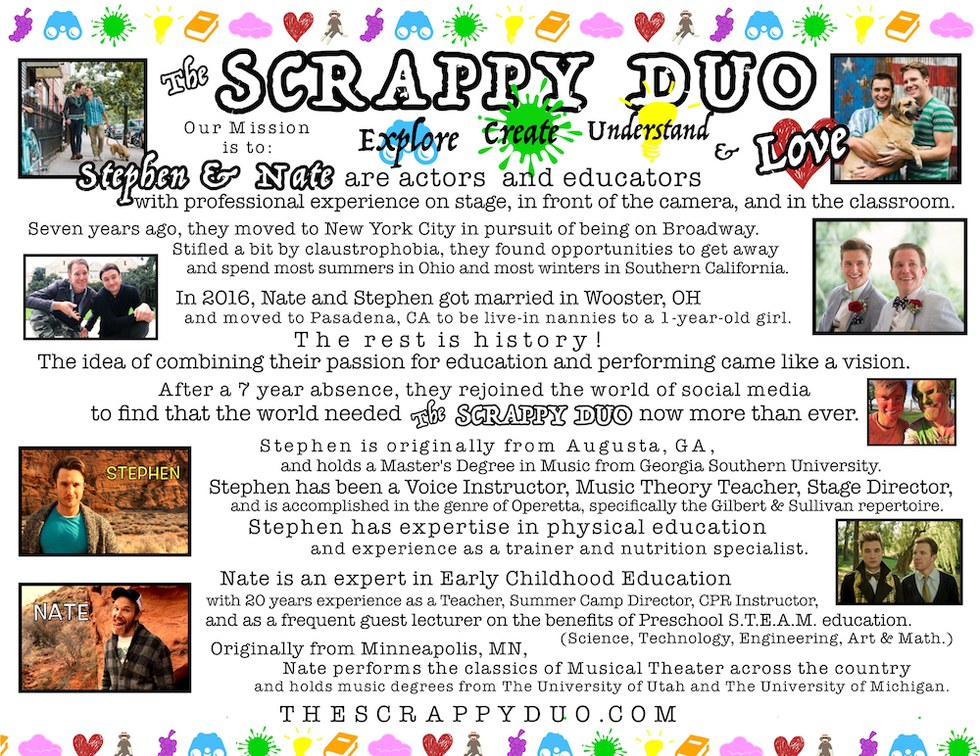 When Milo turned two, friends and family would say, "Just wait for the terrible twos to start!" They came, they were terrible, (ok not all the time) and traveling with a two year old was trying at times, but it was still enjoyable (kind of)!
Keep reading...
Show less
Over 2 years ago, we spoke with experienced filmmaker Carlton Smith about his documentary featuring gay dad families created through foster-adopt. It was a heartfelt project that shone a light on the number of children in foster care (roughly 400,000 as referenced at the time) who desperately needed a home. And the large population of same-sex couples, many newly married, who were interested in starting families of their own.
Keep reading...
Show less
"Let's skip," my daughter said on our way to school the other week. She took my hand and started skipping along, pulling me forward to urge me to do the same.

Wouldn't it look, well, gay, for me to skip down the street? In public? I wasn't willingly going to make myself look like a sissy.
Keep reading...
Show less
Listen to the mustn'ts, child. Listen to the don'ts. Listen to the shouldn'ts, the impossibles, the won'ts. Listen to the never haves, then listen close to me... Anything can happen, child. Anything can be. - Shel Silverstein
Keep reading...
Show less
As part of our ongoing #GWKThenAndNow series, we talk to dads who have gone the distance and been together a great many years. Terry and Michael have been together 15 years, have two children, and live in Orlando, Florida. We find out how it began, and what they look for in a partner in life, love and fatherhood.
Keep reading...
Show less
Johnathon and Corey, both 29, met in 2011 working for the same employer. And since their first date, they've been inseparable. Johnathon is a full-time student pursuing a degree in Human Services, and once he completes his degree, he will return to his Native American tribe to help fellow Native American families in need. Corey is a stay-at-home dad. Together they adopted 6-year-old twins, Greyson and Porter, from foster care on June 1, 2017. We caught up with the first-time dads to see how fatherhood was treating them.
Keep reading...
Show less
It started when a four-year-old boy asked a clown, who had been hired to paint the faces of kids at a picnic, a simple question:
"Can I have a blue butterfly?"
Keep reading...
Show less
The Long Island Adoptive Families support group was created by parents going through the adoption process or who had already adopted. It was a great way to help members navigate the path of adoption whether it be private domestic, international agency, domestic agency or foster care. We spoke with Chemene, one of the founders, and found out how this group is supporting local gay men interested in becoming fathers.
Keep reading...
Show less
GET GAYS WITH KIDS IN YOUR INBOX

Follow Us on Instagram