Apr. 21, 2016
"We had kids to spend time with them," says Rob Taylor. "To show them the world, teach them and see how they respond to things — it's really fascinating to see how their little brains work."
---
Calling the forests of Suquamish, Washington, home, Rob and his husband Chris run the popular 2TravelDads blog, and are hailed by The Huffington Post as one of the "world's top male travel bloggers." Tales of adventure with sons "Panda", 4½-years-old, and 14-month-old "Koala" (codenamed for privacy) to Mexico, Napa, and even across Puget Sound to Seattle, Rob and Chris not only paint vivid pictures of destinations perfect for kids, but sprinkle in a few kernels of wisdom on how to travel with charges so young.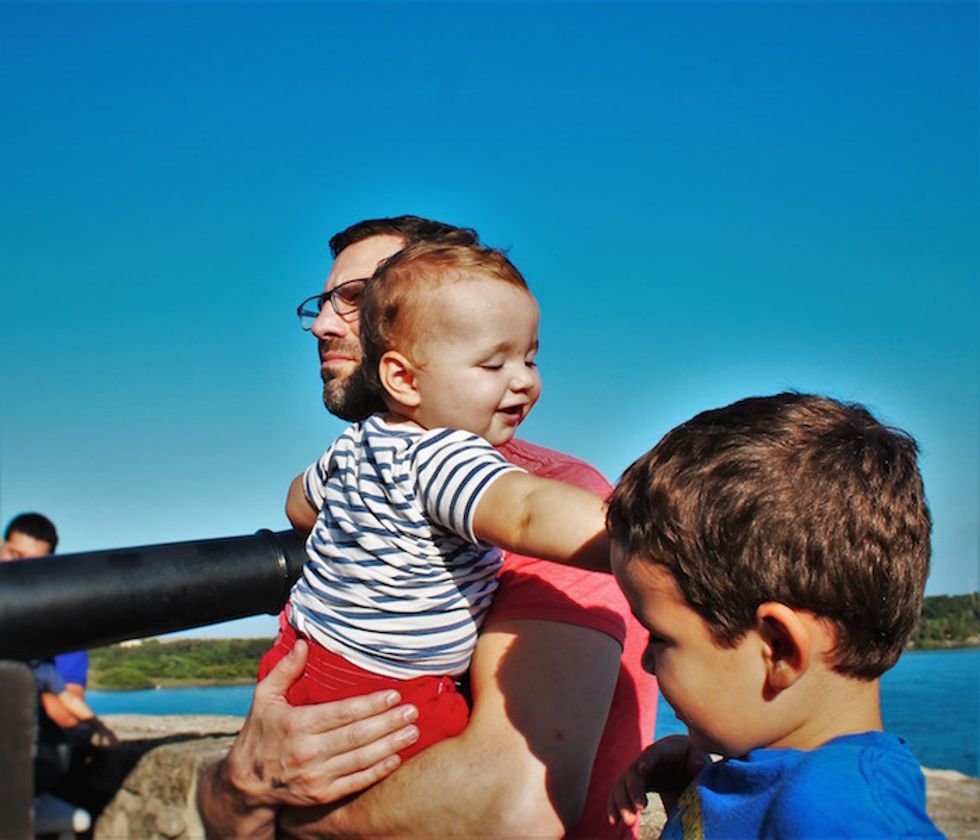 Chris with the two boys at Fort Matanzas National Monument, St. Augustine, Florida
Planes, Trains, and Automobiles
Together for 11 years and consummate travelers before fatherhood, Rob and Chris were determined to give their kids the travel bug. Conventional wisdom dictates once children are in the picture, the freewheeling lifestyle of footloose parents must radically change to something more rooted and sedentary. Not so, says Rob.
"There's no reason to change how we live and travel," he adds. "You just keep on going and keep on having fun so they keep on having fun. With our oldest, we took him on his first flight when he was around 5 months old, and he has the cutest little passport picture. With our youngest, he was 2 months old when he went on his first flight."
Parents may balk at the idea of globetrotting with young children, but Rob extols the virtue of getting kids in the air, on the road, or over the waves as soon and as often as possible. The logic is straightforward: the sooner the child learns how to travel, the sooner travel becomes that much easier. Judicious use of iPads, Yahtzee and the Endless Series family of educational games also makes for an easier commute, and with his kids, Rob has traveled only between Canada, the United States, and Mexico so far. With regards to air travel, Panda and Koala are never in a plane for more than six hours. Another tip: always use your own car seat even if airlines or ships offer one; you know the settings and your children are used to it.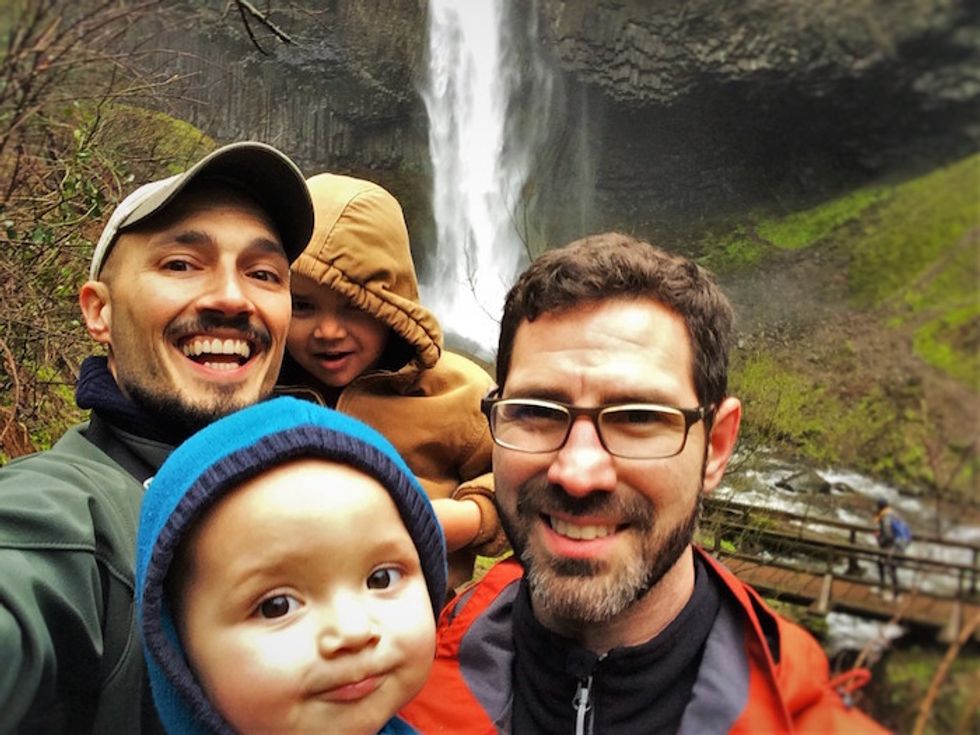 Rob (left) with Panda at the back, and Chris (right) holding Koala in the front, Latourell Falls, Oregon
First Star to the Left ...
While Koala is still playing catch-up, Panda is old enough to understand when he is in a new destination; a favorite getaway for their fathers is Mexico, and Rob describes how when they step off a plane and get hit with the famously warm breezes of San Lucas or La Paz (contrasted to the sodden Pacific Northwest), his eldest immediately switches gears.
"He knows the second we get off the plane and it's hot out that he has to probably start saying 'gracias' and 'buenos dias.'"
However, aside from Panda telling Gays With Kids he "wuvs the beach," his input into destinations as of yet remains minimal. That does not mean Rob and Chris aren't taking notes when something resonates. Rob relates how, even at an age when "The Berenstain Bears" is heavy reading, Panda has an intense fascination with a very adult pursuit: architecture. Serendipitously, during a trip to Florida, the family of four toured old Colonial-Age Spanish and British forts, with their turrets and parapets and bastions  — motifs very absent from modern-day buildings. Panda was enthralled.
"It was the highlight of his life!" Rob recalls.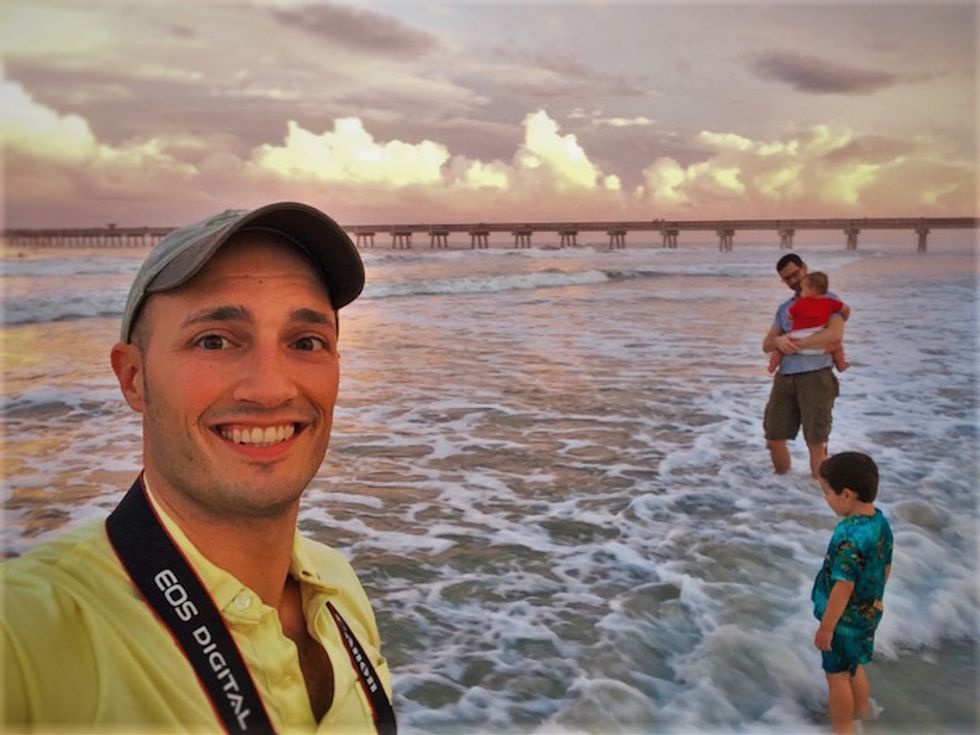 Sunset at Jax beach, Florida
... And Straight On Till Morning
"When you're traveling with kids, you start to see them doing that when they are 2 years old," Rob tells Gays With Kids. "They may not be the most articulate speakers at that age, but you can see what they enjoy and the things that really stimulate their brains."
Moreover, by the age of 2, children develop all the neurons they will ever have in life and are primed and ready to go about the business of learning the great, wide world. It is a foregone conclusion that children are, for better or worse, hardwired to absorb information wholesale, and it is that nearly unlimited capacity for learning Rob and Chris want to use to their sons' advantage.
But some concessions have been made. "Since our youngest was born was we've had a lot less beach vacations because a baby on a beach is kind of a nightmare," Rob laughs ruefully. "It is really difficult to keep a baby under control with sand all around; it's just such an interesting texture that they have to get into it and put in their mouth."
So the beach is out. The county's vast array of state and national parks, however, are very much in (check out Gays With Kids' profile on travel to Niagara Falls). They are family-friendly in the truest sense, easy on the wallet ... and are nowhere near sand.
"The next place we are going is northern California to tour Yosemite, Sequoia, Redwood and Kings Canyon National Parks," Rob says, and goes on describe how the parks have long been on their itineraries, "They've got great history; they've got great nature. Put those together with camping and lodges and they are great for kids."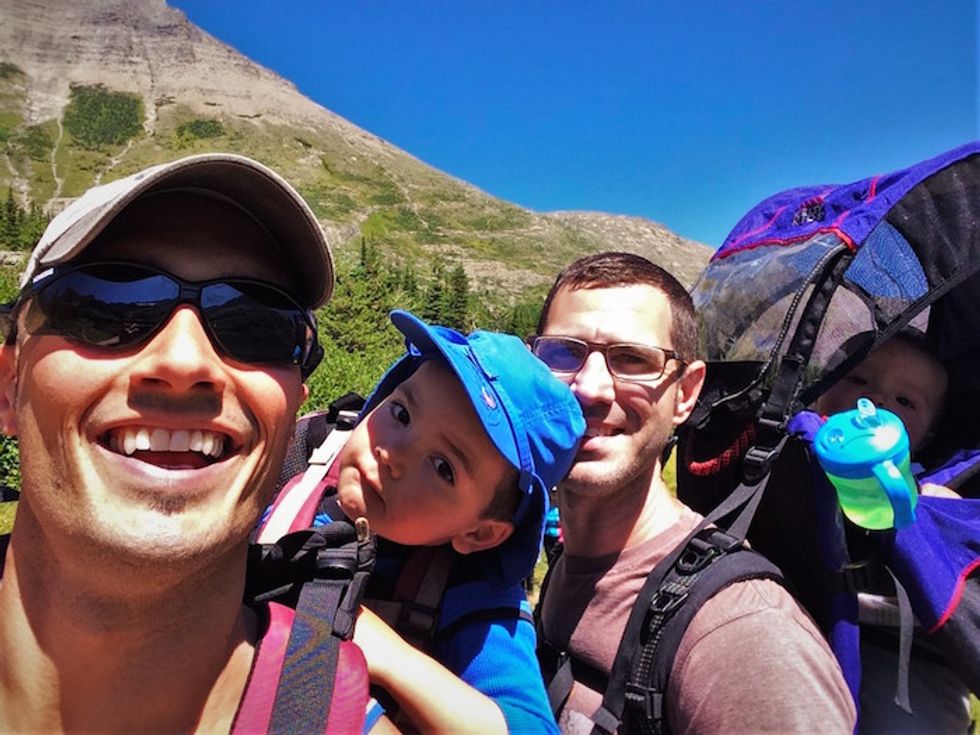 Family hike in Glacier National Park, Montana
Been There, Done That?
Very young children are still a long way away from the jaded teenager stage; going to the same vacation spot over and over again, at least in the beginning, will not result in the dreaded eye-roll. Rob notes that even if they visit the exact same place they did a year or even a few months before, both his children find something new they missed on the previous go-around. But in what may not come as too much of a surprise for any parent, Rob and Chris found the unpredictability of big-city urban environments more than a little nerve-wracking.
"We live in a place where we leave our doors unlocked and we have a huge yard; there's trees all around us," Rob says. He found that going from that to downtown Seattle while Chris was attending a business event there was more jarring than going to a place where Spanish is the lingua franca.
"Even though we had a great time going to Pike Place Market and seeing them throw fish, we were for the most part stuck in the hotel because you can't necessarily take your kids out in downtown Seattle and just chill on a corner. You don't know who is around you."
It is those kinds of forthright accounts that make 2TravelDads as popular as it is. Not that the Taylors badmouth a locale; in a world where almost every destination bills itself as family-friendly, they make it a point to get into the details and "degrees of." Some places are simply more friendly than others.
"We get to do things that I thought I would never get to do with my kids, like take them places and go on tours and stuff that I never got to do when I was little," beams Rob, giving every sign of a life well-lived, well-loved, and, of course, well-traveled. "And we don't want to leave our kids at home because they would miss out on that!"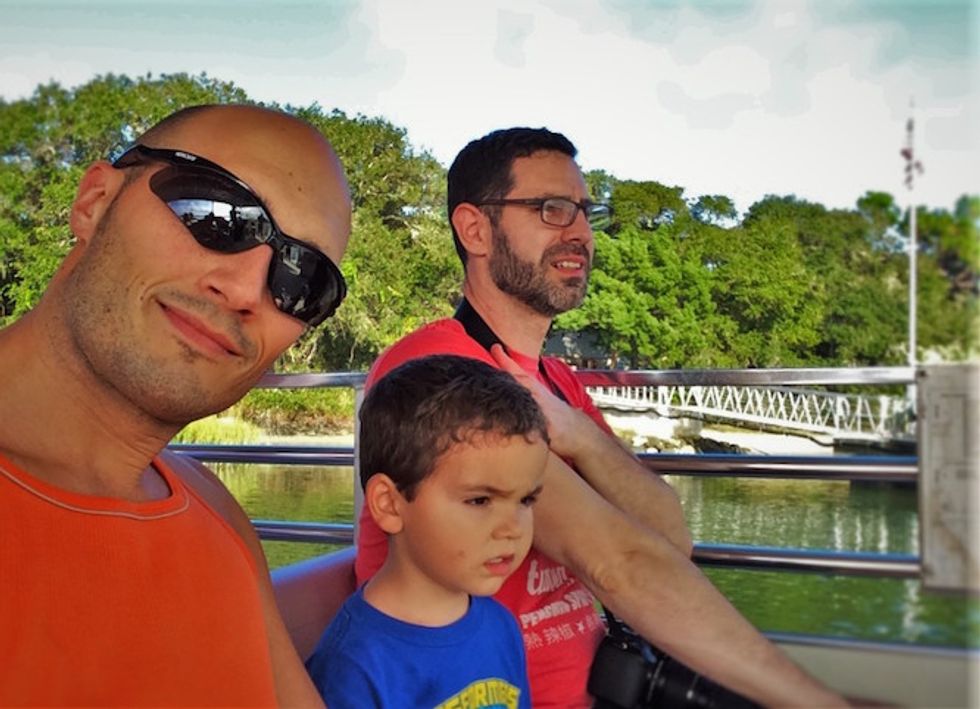 Taylor Family on a ferry at Fort Matanzas National Monument, St. Augustine, Florida