Dad Life
"Promised Land," a Children's Book With a Romantic Gay Storyline
Feb. 14, 2017
"Promised Land" is a new children's book with a gay storyline created by Adam Reynolds and Chaz Harris, published today, on Valentine's Day!
As the Odyssey reviewer Cassandra Burge says: "This story has all of the elements of a great children's book; adventure, an evil villain, a brave hero and even a cute animal sidekick. It also happens to have two male characters that fall in love."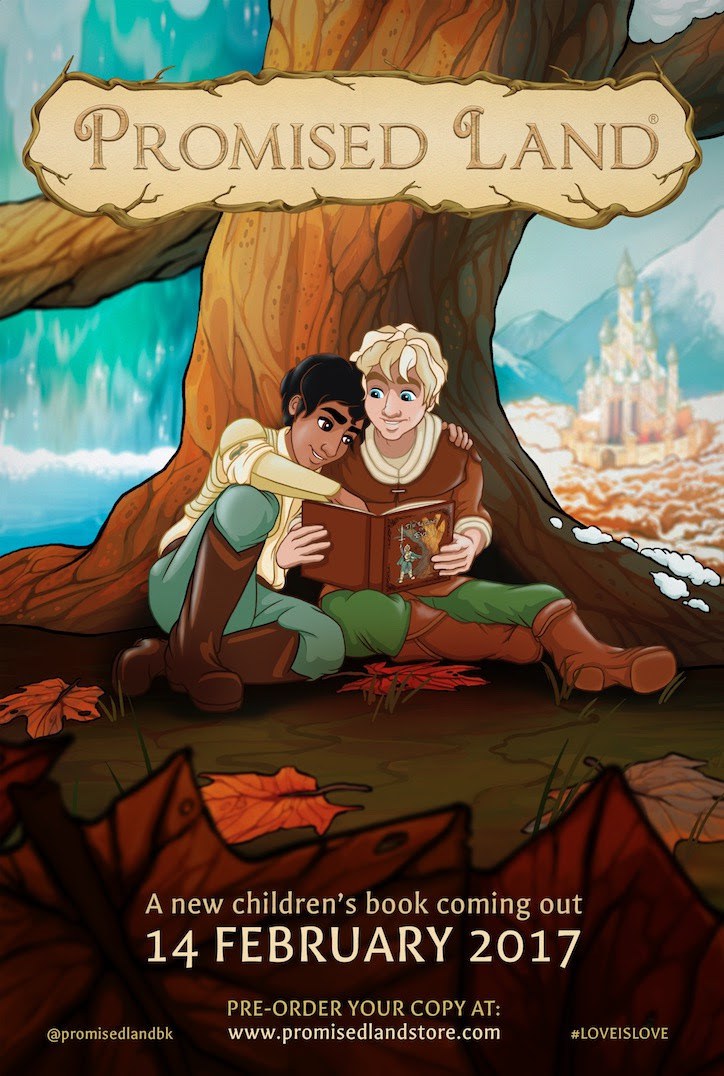 In "Promised Land," a young prince named Leo and a farm boy named Jack meet by chance in the Enchanted Forest; their newfound friendship soon blossoms into love. However, things get complicated when the Queen's sinister new husband seeks control of the forest the farm boy's family are responsible for protecting.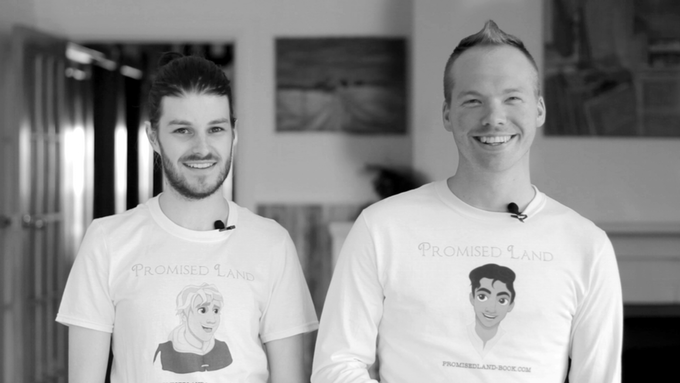 "Promised Land" authors Adam Reynolds and Chaz Harris
The Authors
---
Co­-author Reynolds said he wanted to tell the type of story he never had growing up, "As a child, everything I saw and heard supported a traditional relationship between a man and a woman. Our hope is to provide a safe environment for children and parents to discuss the different relationships, and help foster acceptance from a young age."
"So much of what we see through the media and our parents when we are children forms our opinions and attitudes towards others and, more importantly, our attitudes towards ourselves. The conflict in our story does not arise from the sexuality of the main characters; it is merely about two young men who meet, fall in love and find their relationship caught up in the middle of a turf war," explained co-­author Chaz Harris.
Speaking of why they decided to create the book, Adam and Chaz said that they wanted all children to grow up feeling that Happily Ever After is absolutely possible for LGBTI youngsters. By representing gay characters in this way, they hope it will open the door to more stories like it and help promote a more tolerant, diverse and accepting world for future generations.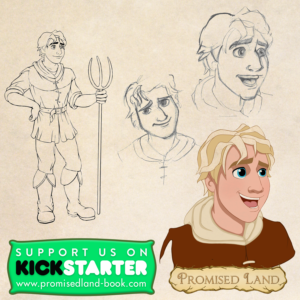 Farm boy Jack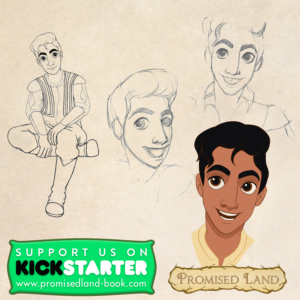 Prince Leo
"We know that publishers see a book like this as risky, so we're putting the project out for pre-orders to prove there is an audience for this book." On being asked if there may be sequels involving gay parenting, Harris adds with a wry grin, "We can neither confirm nor deny that the Happily Ever After on our final page involves marriage and kids".
Availability
"Promised Land" is released today, February 14, 2017, in honor of Valentine's Day. It is available in print, ebook and audiobook formats. It is available in electronic format on iBooks and Amazon
.
When Milo turned two, friends and family would say, "Just wait for the terrible twos to start!" They came, they were terrible, (ok not all the time) and traveling with a two year old was trying at times, but it was still enjoyable (kind of)!
Keep reading...
Show less
Over 2 years ago, we spoke with experienced filmmaker Carlton Smith about his documentary featuring gay dad families created through foster-adopt. It was a heartfelt project that shone a light on the number of children in foster care (roughly 400,000 as referenced at the time) who desperately needed a home. And the large population of same-sex couples, many newly married, who were interested in starting families of their own.
Keep reading...
Show less
"Let's skip," my daughter said on our way to school the other week. She took my hand and started skipping along, pulling me forward to urge me to do the same.

Wouldn't it look, well, gay, for me to skip down the street? In public? I wasn't willingly going to make myself look like a sissy.
Keep reading...
Show less
Listen to the mustn'ts, child. Listen to the don'ts. Listen to the shouldn'ts, the impossibles, the won'ts. Listen to the never haves, then listen close to me... Anything can happen, child. Anything can be. - Shel Silverstein
Keep reading...
Show less
As part of our ongoing #GWKThenAndNow series, we talk to dads who have gone the distance and been together a great many years. Terry and Michael have been together 15 years, have two children, and live in Orlando, Florida. We find out how it began, and what they look for in a partner in life, love and fatherhood.
Keep reading...
Show less
Johnathon and Corey, both 29, met in 2011 working for the same employer. And since their first date, they've been inseparable. Johnathon is a full-time student pursuing a degree in Human Services, and once he completes his degree, he will return to his Native American tribe to help fellow Native American families in need. Corey is a stay-at-home dad. Together they adopted 6-year-old twins, Greyson and Porter, from foster care on June 1, 2017. We caught up with the first-time dads to see how fatherhood was treating them.
Keep reading...
Show less
It started when a four-year-old boy asked a clown, who had been hired to paint the faces of kids at a picnic, a simple question:
"Can I have a blue butterfly?"
Keep reading...
Show less
The Long Island Adoptive Families support group was created by parents going through the adoption process or who had already adopted. It was a great way to help members navigate the path of adoption whether it be private domestic, international agency, domestic agency or foster care. We spoke with Chemene, one of the founders, and found out how this group is supporting local gay men interested in becoming fathers.
Keep reading...
Show less
GET GAYS WITH KIDS IN YOUR INBOX

Follow Us on Instagram