TOP - Trans Dads
Paths to Gay Fatherhood: The Trans Dad
Aug. 14, 2015
The Trans Dad
---
Transgender dads obviously come to parenthood in the same way as many lesbian, gay, and bisexual individuals, via adoption, foster care and surrogacy. But as we detailed in a Gays With Kids article this past February, some trans men also choose to have their own biological children by carrying them themselves.
"Trans men who are considering fatherhood potentially face an extra layer of discrimination in various levels of the family planning process," Sion told me, who is a trans dad featured in that article. "Fertility clinics, prenatal health providers and adoption agencies may all discriminate against a person for being transgender."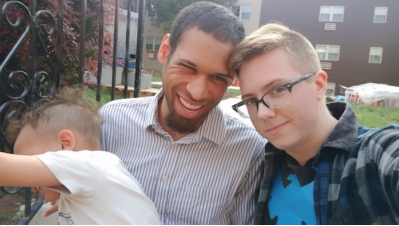 Wes and Sion with their son Caleb
Stephen Stratton, another trans man featured in that article, also bemoaned the lack of education and support in the medical and fertility fields when it comes to transmasculine pregnancy. "There is never any guarantee that the people you need to work with are going to be sensitive, understanding or knowledgeable," he wrote to me via email. "The hospital we birthed at was so welcoming and the nursing staff respected our birth plan and made us feel at ease and at home." But, he said, not everyone has a "rainbows and sunshine" experience with their health care providers.
Of course, the social stigma attached to being a trans man who is also pregnant extends far beyond the walls of hospitals and fertility clinics. For proof, one need look no further than the tabloids and media circus that erupted after Thomas Beatie publicly announced his pregnancy as a trans man several years ago.
"Not everyone was warm and accepting of how we created our family," Stephen said. "Some people did and said hurtful things." Despite the challenges, though, Stephen says he wouldn't change a thing. "I have an amazing child who I love more than anything, I would… do it over a hundred times to get to be her Papa."
While acceptance of trans people and parents is certainly increasing in the United States, there are added things to think about, Sion said, when a trans man is considering having a biological child. "Some doctors are not educated on the effects of hormone treatment and may offer a trans patient inaccurate medical advice because of that," he wrote. "It's tough." He also noted that parental rights can often be brought into question for trans men going through a divorce since some lawyers still make the case that being transgender is a mental illness.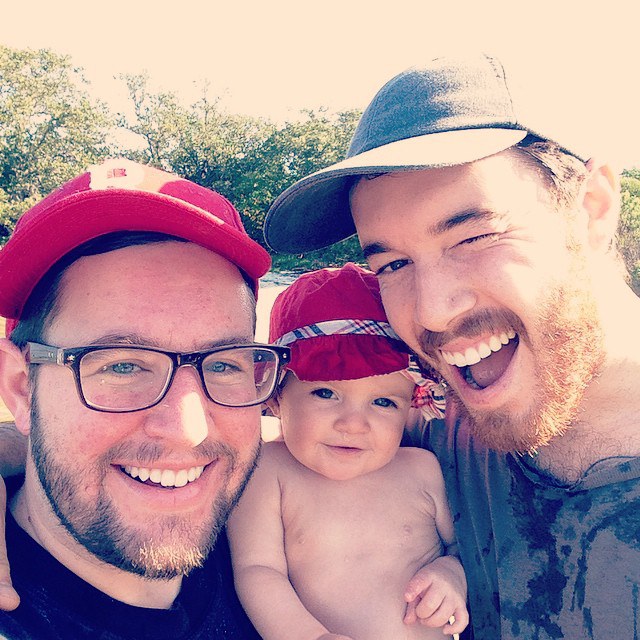 Stephen and Josh with their daughter Rowen
Sion's best piece of advice for other trans men thinking of taking this route to fatherhood? "Talk to other trans men who have done it!" Sion said. "It's a tough road, but it's easier with support. There are groups of trans men who have given birth online."
Stephen, who said his pregnancy felt lonely at times, even with a supportive partner, readily echoed the advice to reach out to other trans men who understand the experience. "My body [was] going through the changes, and … my brain ... was affected by the onslaught of hormones and it was me who was responsible for growing a baby for nine months," Stephen wrote me. "It was good to have midwives we trusted, it was good to have the support of friends and family, but it was most important to me to have other trans men to talk to who had been through it."
For other trans dads considering this or any other path to parenthood, check out Lambda Legal's page about Transgender parenting. And be sure to stay tuned for future articles about trans parents on Gays With Kids.
When Milo turned two, friends and family would say, "Just wait for the terrible twos to start!" They came, they were terrible, (ok not all the time) and traveling with a two year old was trying at times, but it was still enjoyable (kind of)!
Keep reading...
Show less
Over 2 years ago, we spoke with experienced filmmaker Carlton Smith about his documentary featuring gay dad families created through foster-adopt. It was a heartfelt project that shone a light on the number of children in foster care (roughly 400,000 as referenced at the time) who desperately needed a home. And the large population of same-sex couples, many newly married, who were interested in starting families of their own.
Keep reading...
Show less
"Let's skip," my daughter said on our way to school the other week. She took my hand and started skipping along, pulling me forward to urge me to do the same.

Wouldn't it look, well, gay, for me to skip down the street? In public? I wasn't willingly going to make myself look like a sissy.
Keep reading...
Show less
Listen to the mustn'ts, child. Listen to the don'ts. Listen to the shouldn'ts, the impossibles, the won'ts. Listen to the never haves, then listen close to me... Anything can happen, child. Anything can be. - Shel Silverstein
Keep reading...
Show less
As part of our ongoing #GWKThenAndNow series, we talk to dads who have gone the distance and been together a great many years. Terry and Michael have been together 15 years, have two children, and live in Orlando, Florida. We find out how it began, and what they look for in a partner in life, love and fatherhood.
Keep reading...
Show less
Johnathon and Corey, both 29, met in 2011 working for the same employer. And since their first date, they've been inseparable. Johnathon is a full-time student pursuing a degree in Human Services, and once he completes his degree, he will return to his Native American tribe to help fellow Native American families in need. Corey is a stay-at-home dad. Together they adopted 6-year-old twins, Greyson and Porter, from foster care on June 1, 2017. We caught up with the first-time dads to see how fatherhood was treating them.
Keep reading...
Show less
It started when a four-year-old boy asked a clown, who had been hired to paint the faces of kids at a picnic, a simple question:
"Can I have a blue butterfly?"
Keep reading...
Show less
The Long Island Adoptive Families support group was created by parents going through the adoption process or who had already adopted. It was a great way to help members navigate the path of adoption whether it be private domestic, international agency, domestic agency or foster care. We spoke with Chemene, one of the founders, and found out how this group is supporting local gay men interested in becoming fathers.
Keep reading...
Show less
GET GAYS WITH KIDS IN YOUR INBOX

Follow Us on Instagram