Co-parenting
Paths to Gay Fatherhood: The Known Donor Dad
Aug. 13, 2015
The Known Donor Dad
---
And now, for my own category! As I wrote about last June, I recently made the decision to become a known sperm donor for my good friends, Tori and Kelly. In that article, I detailed my frustrations over the lack of resources available to those thinking about becoming a sperm donor, even though this, too, is becoming increasingly popular among gay and bisexual men.
But once again, in place of research, Gays With Kids has brought you anecdotes of men who have become known donors. In "The Known Sperm Donor," for example, I brought you the stories of three different men, each of whom decided to serve as a donor for a lesbian couple. If anything became clear to me in the interviews I conducted for that article, it's that there is no cookie-cutter pattern or instruction manual for men who decide to become known donors.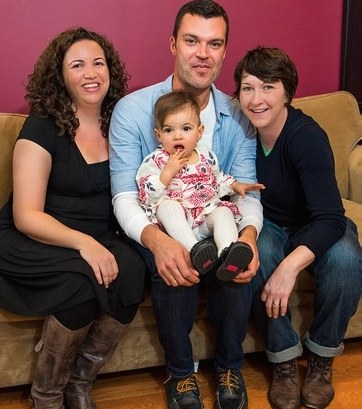 Corey Harris with his daughter and her moms Colleen and Nicole
Some men, like David Brown, would bristle at the thought of being called a "donor" at all. His relationship with Kelly and Karen, the women he helped conceive, more closely resembles a co-parenting arrangement. His kids call him Dad; he even bought a house next door to Kelly and Karen to help him play a more active parenting role. On the other end of the spectrum is Jeff, who is known as an uncle to the children he helped his friends conceive, and who lives in a completely separate state.
Then there are donor dads like Corey Harris, who is somewhere in the middle of these two ends of the spectrum, and who I caught up with recently to ask his advice to anyone considering becoming a known donor for a friend or couple.
"Use your guts," Corey said by way of advice. "If you feel good about the people raising the baby, and you have come up with terms that are acceptable to you, go for it. [The moms] Colleen and Nicole have been so awesome. When decisions come, we sit down and talk about it. At the end of the day, they are the moms, and I don't have the ability to overrule them. But it's so nice to be included."
Corey also suggests you spend time figuring out what you want out of the relationship. "It's a lifetime commitment," Corey said, "So make sure you're standing up for yourself, and deciding what it is you really want."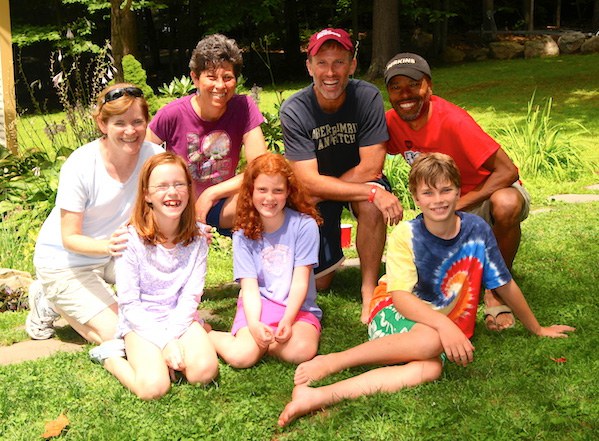 David Brown (with red baseball cap) and his partner with David's three kids and their two moms Karen and Kelly
To this, I'll add my own advice: Regardless of whether or not you expect to play an active role in the child's life, be prepared to fall in love. I was never much of a "baby person" before the birth of my daughter. And truth be told, I'm still not. But I'm obsessed with my babygirl in a way I couldn't have anticipated, and am grateful to her moms that they encourage my involvement rather than feel threatened by it.
You probably won't be surprised to find that there is surprisingly little out there by way of resources for gay and bisexual men thinking of becoming known sperm donors. So my next piece of advice is probably the most important: Find others who have already gone through the process. Being a known donor comes with a specific set of questions and concerns, and despite my friend's and family's most patient attempts to listen to me as I go about processing these questions, there really is nothing better than talking with someone who has already gone through the experience.
Other than that? Follow along at home as I continue to document the stories of other known donors for Gays With Kids.
When Milo turned two, friends and family would say, "Just wait for the terrible twos to start!" They came, they were terrible, (ok not all the time) and traveling with a two year old was trying at times, but it was still enjoyable (kind of)!
Keep reading...
Show less
Over 2 years ago, we spoke with experienced filmmaker Carlton Smith about his documentary featuring gay dad families created through foster-adopt. It was a heartfelt project that shone a light on the number of children in foster care (roughly 400,000 as referenced at the time) who desperately needed a home. And the large population of same-sex couples, many newly married, who were interested in starting families of their own.
Keep reading...
Show less
"Let's skip," my daughter said on our way to school the other week. She took my hand and started skipping along, pulling me forward to urge me to do the same.

Wouldn't it look, well, gay, for me to skip down the street? In public? I wasn't willingly going to make myself look like a sissy.
Keep reading...
Show less
Listen to the mustn'ts, child. Listen to the don'ts. Listen to the shouldn'ts, the impossibles, the won'ts. Listen to the never haves, then listen close to me... Anything can happen, child. Anything can be. - Shel Silverstein
Keep reading...
Show less
As part of our ongoing #GWKThenAndNow series, we talk to dads who have gone the distance and been together a great many years. Terry and Michael have been together 15 years, have two children, and live in Orlando, Florida. We find out how it began, and what they look for in a partner in life, love and fatherhood.
Keep reading...
Show less
Johnathon and Corey, both 29, met in 2011 working for the same employer. And since their first date, they've been inseparable. Johnathon is a full-time student pursuing a degree in Human Services, and once he completes his degree, he will return to his Native American tribe to help fellow Native American families in need. Corey is a stay-at-home dad. Together they adopted 6-year-old twins, Greyson and Porter, from foster care on June 1, 2017. We caught up with the first-time dads to see how fatherhood was treating them.
Keep reading...
Show less
It started when a four-year-old boy asked a clown, who had been hired to paint the faces of kids at a picnic, a simple question:
"Can I have a blue butterfly?"
Keep reading...
Show less
The Long Island Adoptive Families support group was created by parents going through the adoption process or who had already adopted. It was a great way to help members navigate the path of adoption whether it be private domestic, international agency, domestic agency or foster care. We spoke with Chemene, one of the founders, and found out how this group is supporting local gay men interested in becoming fathers.
Keep reading...
Show less
GET GAYS WITH KIDS IN YOUR INBOX

Follow Us on Instagram