Mar. 08, 2016
In a McCafé, a young man writes "I like boys" on his coffee cup and presents it to his father. In response, his father storms off, seemingly ending the conversation and showing his disappointment and disapproval of his son's sexuality. The young man is left alone visibly upset at the outcome of his revelation. Moments later his father returns with his own beverage, takes his son's cup and writes: "I accept that you like boys." After exchanging smiles a tagline appears: "Let there be more warmth in conversations." Cue happy tears. This feels like some of the ads that we're seeing and embracing in North America. Wrong. It was posted to McDonald's Taiwan Facebook page on the evening of Friday, May 4.
---
Since this 90-second commercial titled Acceptance was posted, it has been viewed 1.9 million times and has been shared more than 6,800 times.
The reaction to the video has mostly been positive, with over 5,500 "thumbs up" on YouTube compared to the much fewer "thumbs down" (231). However, it has still received some negative responses: Chang Shou-yi, secretary general of the Alliance of Taiwan Religious Groups for the Protection of Family, has demanded a boycott of McDonald's, accusing them of "openly promoting gay issues."
A recent poll showed that 71% of Taiwanese people support gay marriage, but the government said it would have to wait. If Taiwan was to recognize same-sex marriage, they would be the first country in Asia to do so, cementing themselves as one of the most LGBT-friendly countries in that part of the world.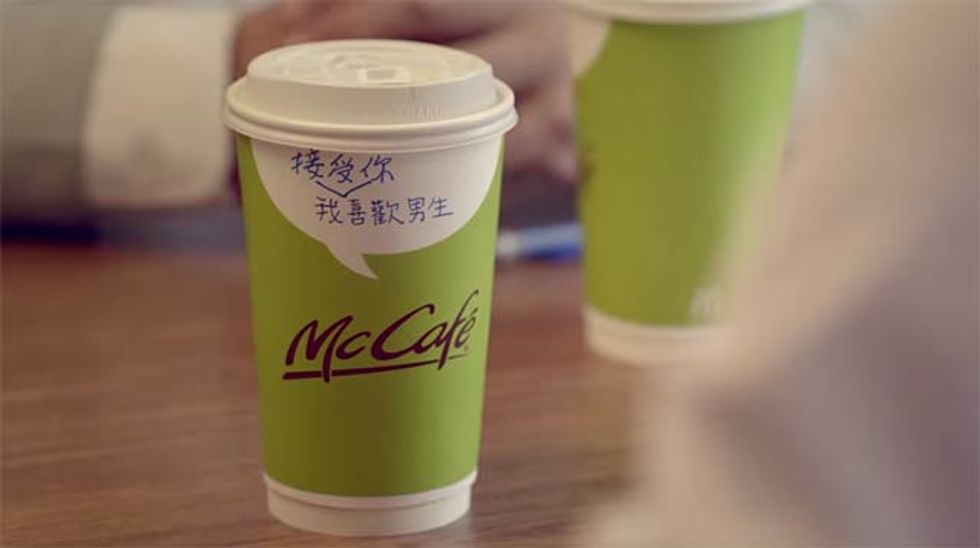 Last year McDonald's introduced a new slogan, "Choose Lovin'." This commercial shows that McDonald's is taking its own slogan to heart. We're lovin' it.