Dad Life
Worth the Wait: Mitch & Jake's Adoption Journey
May. 15, 2017
Mitch and Jake live in Asheville, North Carolina, a small city affectionately nicknamed, "the San Francisco of the East Coast." They were married on May 23, 2014, and have been together for over 10 years. Mitch, 38, works in event planning and runs his own business from home. Jake, 32, is a scientist for the National Oceanic and Atmospheric Administration (NOAA). They're new adoptive dads to 5-month-old twins, Aiden and Andrew.
---
But the road to adoption was far from uneventful for Mitch and Jake. They began their journey through LifeLong Adoptions, an agency that acts as an adoption facilitator*.
"[Facilitators] work with other agencies nationwide," explained Mitch, "They built a profile for us, put together a pamphlet essentially, then they sent it out to other agencies. They also have a web presence for women looking for potential adoptive parents."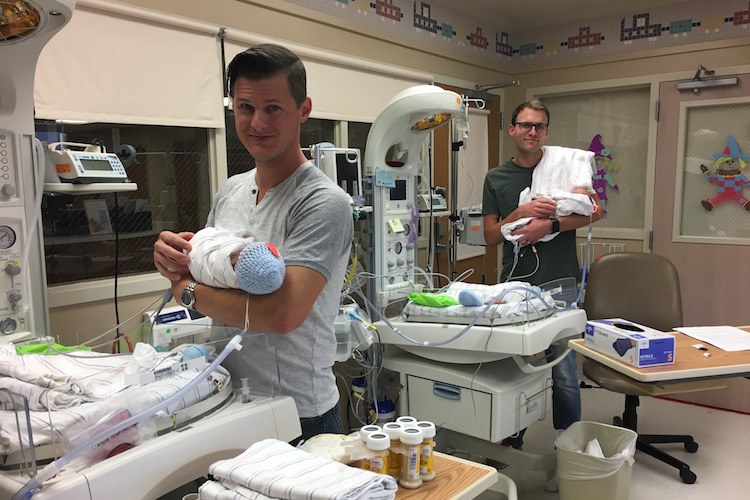 Mitch (front, left) and Jake holding their sons
They were first paired with a birth mother after roughly four months. But towards the end of her pregnancy, and after two months of contact with the dads-to-be, the birth mom had a change of heart and decided to keep the baby.
The birth mother unfortunately conceived through the most difficult of circumstance. "The pregnancy actually came from rape," shared Mitch.
Both Mitch and Jake knew that the birth mom hadn't spoken about her pregnancy with her family, too afraid of what their reaction might be.
"But when she did decide to have an open dialogue with her family I guess they were really supportive," said Mitch. "That's when she decided to keep the child."
As heartbroken as the two men were, neither could not fault her for changing her mind.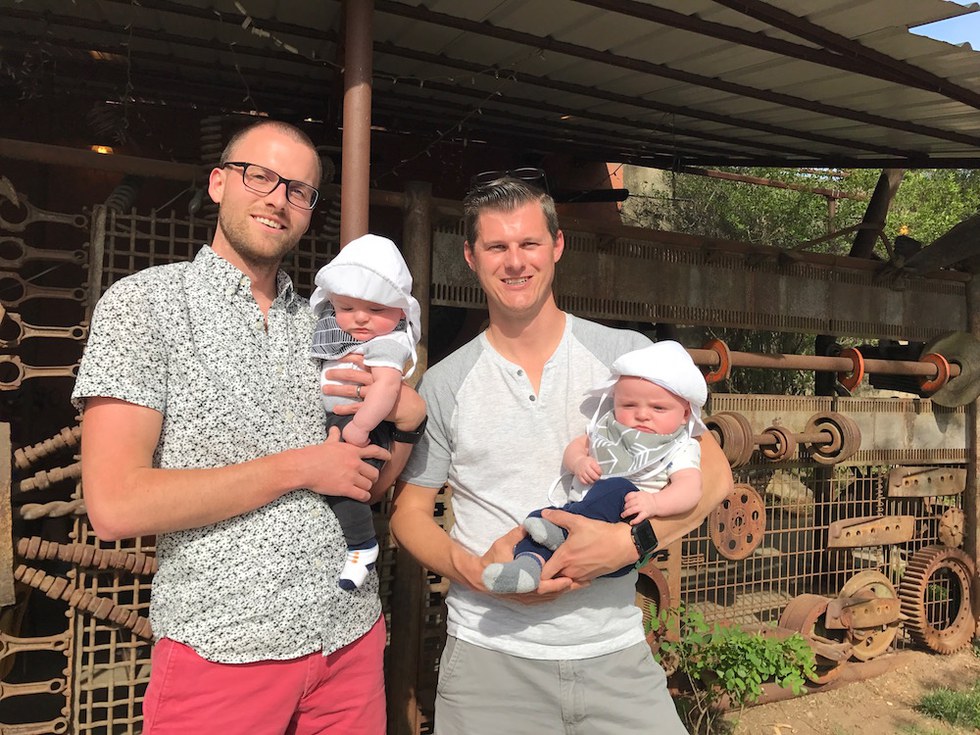 Four months later, they were connected with another birth mom. But sadly, she miscarried very late in her pregnancy. After only two weeks of contact, she dropped off the radar and Mitch and Jake presumed she must've had a change of heart. They reached out to their facilitating company and found out that she had lost the child and just didn't know how to tell them.
Again, Mitch and Jake were crushed.
"I think that was kind of hard as we would've understood," said Mitch. "We would've been fine getting the information from her but she didn't have the heart to tell us."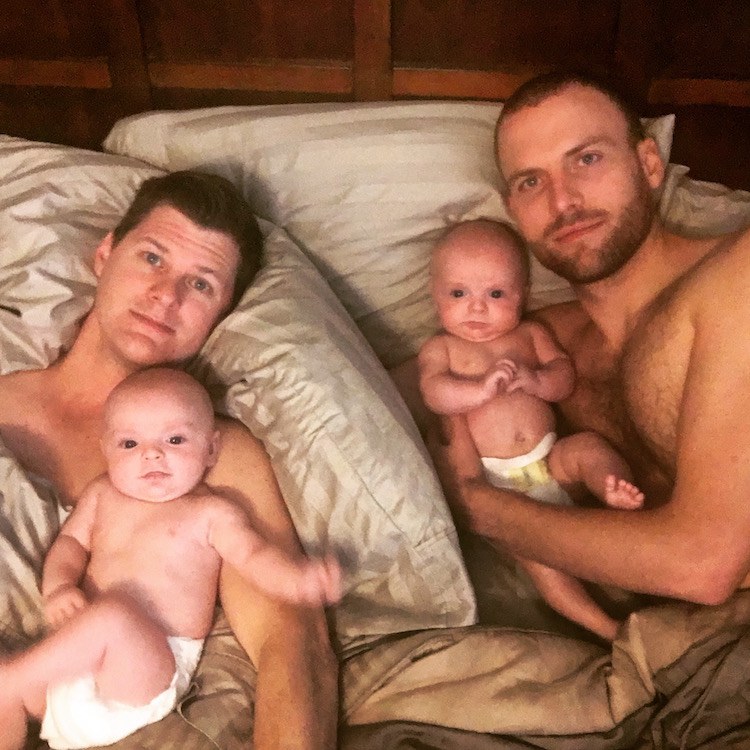 "The thing that I struggled with was each month we would get a number showing how many times our profile had been sent out," said Jake. "So at the beginning it's exciting, [but] as the months went on, it ended up being a reminder of the process still going on. In hindsight I understand why they do it, but it can be a little disheartening the longer it goes on and you wait."
Another two months went by before they were connected with their third birth mom who lived in Texas, and was pregnant with twins. Being a twin himself, Mitch was very excited to by the idea of bringing two babies home. But after two failed adoptions, both Mitch and Jake were cautious.
"They were ultimately all tense pregnancies," explained Mitch. "The last birth parents would occasionally go dark on me in terms of communication." Still, they understood: the family was experiencing financially difficulties, so from time to time their cellphones would get cut off.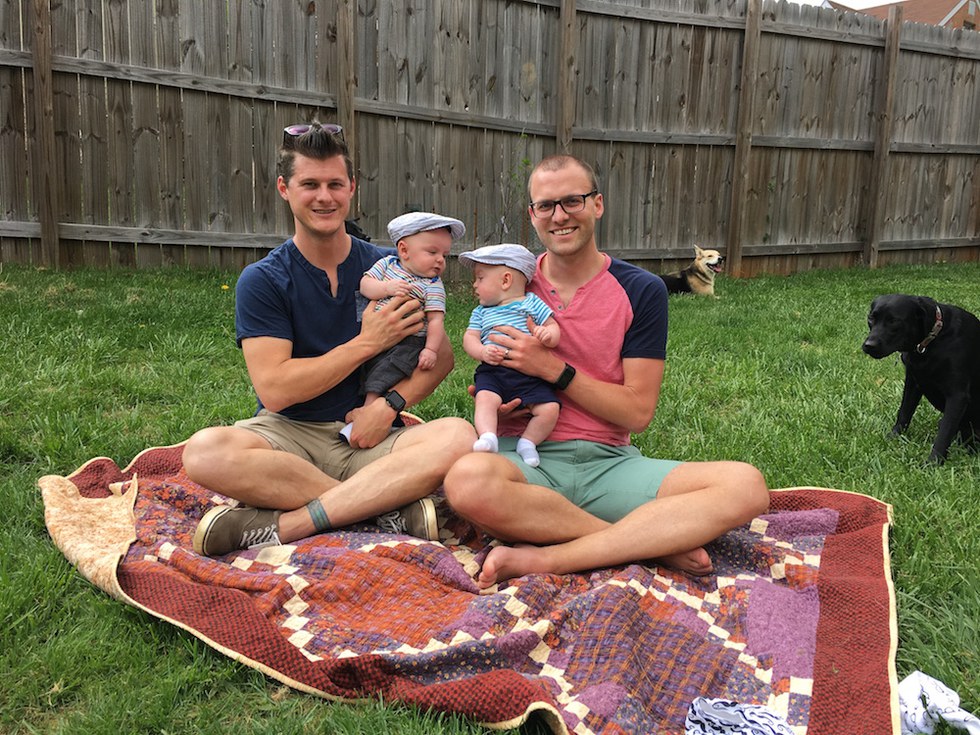 On November 3, 2016, the birth mother was induced; Aiden and Andrew were born at 35 weeks, weighing only 4 pounds. Mitch and Jake were in the room for the caesarian and stayed for three more weeks while they baby boys received care in the  neonatal intensive care unit. The new family of four returned home to North Carolina just in time for Thanksgiving.
Throughout the whole roller-coaster journey to fatherhood, Mitch ("Daddy") and Jake ("Papa") never lost hope. They knew that one day they would be dads, when the right situation came along. This happy family of four proves the wait was well worth it.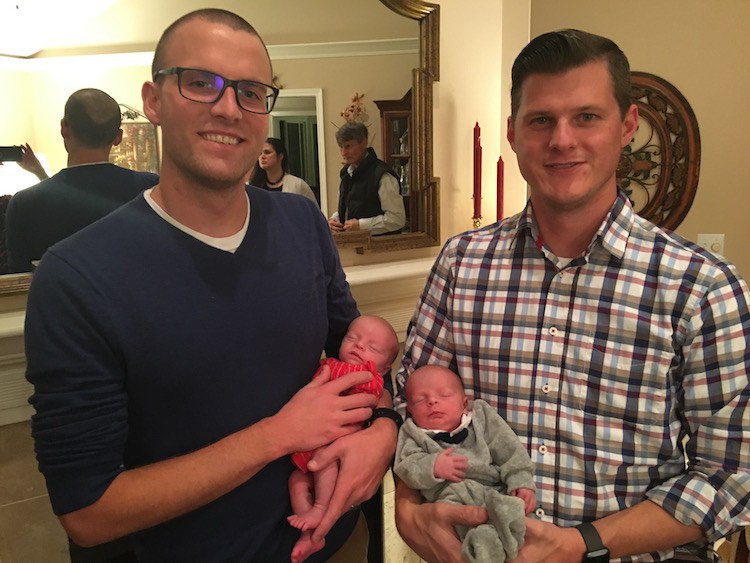 Aiden and Andrew's first Thanksgiving at Mitch's parents' house, November 2016
* Gays With Kids is planning to publish an article on adoption facilitators in the near future.
Read other stories of families created through adoption:
Life with a Newborn: Nick and Chris with Daughter Ari
Gay Dad Benjamin Carpenter is Britain's Adopter Champion of the Year
It started when a four-year-old boy asked a clown, who had been hired to paint the faces of kids at a picnic, a simple question:
"Can I have a blue butterfly?"
Keep reading...
Show less
The Long Island Adoptive Families support group was created by parents going through the adoption process or who had already adopted. It was a great way to help members navigate the path of adoption whether it be private domestic, international agency, domestic agency or foster care. We spoke with Chemene, one of the founders, and found out how this group is supporting local gay men interested in becoming fathers.
Keep reading...
Show less
Adam Lozon and Scott Dufour met online and have been together 11 years.They live in Hamilton, Ontario, Canada, with their son Paulo. The couple are both in banking and are engaged to be married. We caught up with the dads to see how fatherhood was treating them!
Keep reading...
Show less
Guest post from Greg Hutch.
It's two weeks before school starts and I am sitting in my classroom updating the photos in the frames on my desk. These frames used to be filled with pictures of my dogs, of me playing my instrument (I am a music teacher), or of the various other things that I have enjoyed in my lifetime. Today, they are filled with loving pictures of my family, including my son and partner who I raise him with. Times sure have changed…thanks to our son, Clark.
Keep reading...
Show less
Editor's Note: In this ongoing series, we're shining the spotlight on some of the gay dads behind Gays With Kids as their incredible passion and commitment plays an invaluable role in making Gays With Kids possible. Please contact Brian Rosenberg if you'd like to talk about getting involved, too.
Keep reading...
Show less
Happy gay uncles day to all the wonderful "guncles" out there! Here at Gays With Kids we know how important your roles are within our families so we want to celebrate you today, and say a big thanks! Enjoy this collection of "guncle" photos and a few words of wisdom and contemplations from the uncles themselves.
Keep reading...
Show less
Two years ago when Oliver arrived into our lives, my partner Rob and I were living in separate countries. We met in Kuala Lumpur, Malaysia, and had Oliver when Rob was working in Bangkok and I was in KL. Oliver arrived two weeks early when we received an unexpected message from our agent saying to go to the hospital – our surrogate had been checked into hospital.
Keep reading...
Show less
The day began like any other. My alarm went off at 4.30am. I snoozed until 5am. I ate breakfast until 5.30am, at which point my son, Felix, woke naturally like clockwork. I fed him mashed bananas, cashew butter and chia seeds. I woke my dad up with a cup of tea and handed the baton over for him to look after Felix as I left for work on my bike at 6.30am. I worked through the day as normal. Then, at 6.49pm I received a call from the police.
Keep reading...
Show less
GET GAYS WITH KIDS IN YOUR INBOX

Follow Us on Instagram