Meet Gay Dads: Mark and Tyler with Ayden
Mar. 16, 2016
Meet young gay dads Mark and Tyler with their infant daughter Ayden. Tyler is 27, Mark is 35. They got married on October 8, 2015. This family of three live in Memphis, Tennessee.
---
Gays With Kids: How did you two meet?
Mark: I met my husband Tyler when he was 20 and I was 28. He was from a small town in Arkansas. After we dated for a year he relocated to Memphis to start our life together. We've had our share of issues but we made it almost seven years and added a daughter via surrogacy last April. We are an Internet dating success story! We met on a gay website. He lived about a hundred and fifty miles away. We dated for a year before he relocated here. We talked every day on webcam and visited each other at least once a week. When you know you know! He was still in nursing school, so he had to finish that before he could move. The year gave us time to make sure we were solid enough to live together.
Gays With Kids: How did you create your family?
Mark: Surrogacy. We have always wanted kids. We have two dogs but knew we wanted to actually raise a family. I had a close friend who is a lesbian who agreed to carry our child.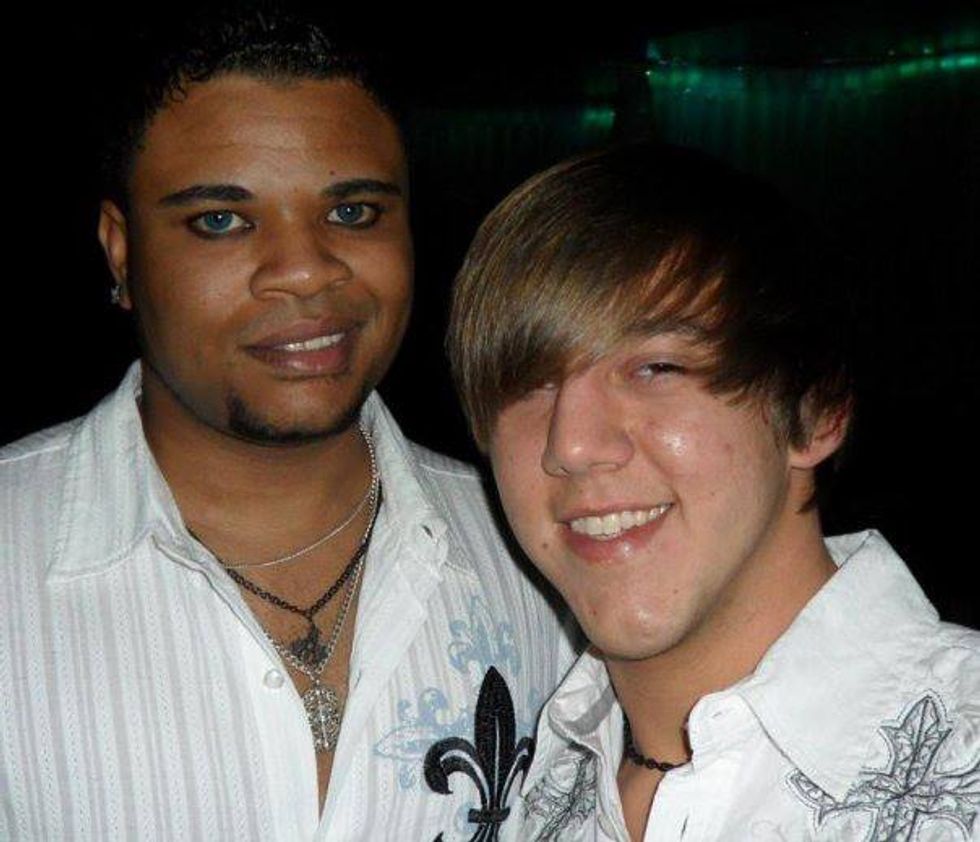 2009: Mark (left) and Tyler's first night out to a club on Tyler's 21st birthday
Gays With Kids: What do you consider to be the most important lesson you are teaching Ayden?
Mark: Equality.
Gays With Kids: Please share any advice you may have for others considering a similar path to fatherhood.
Mark: Parenthood changes you. Suddenly the things you thought were important, like clubbing and partying with friends, isn't so important anymore. All of the annoying pics of people's kids you see on social sites suddenly become cute. You want nothing but the best for your child and the moment someone says something you think may be negative towards your kid, you're ready to kick some serious butt.
Gays With Kids: Did you always want kids?
Mark: Yes.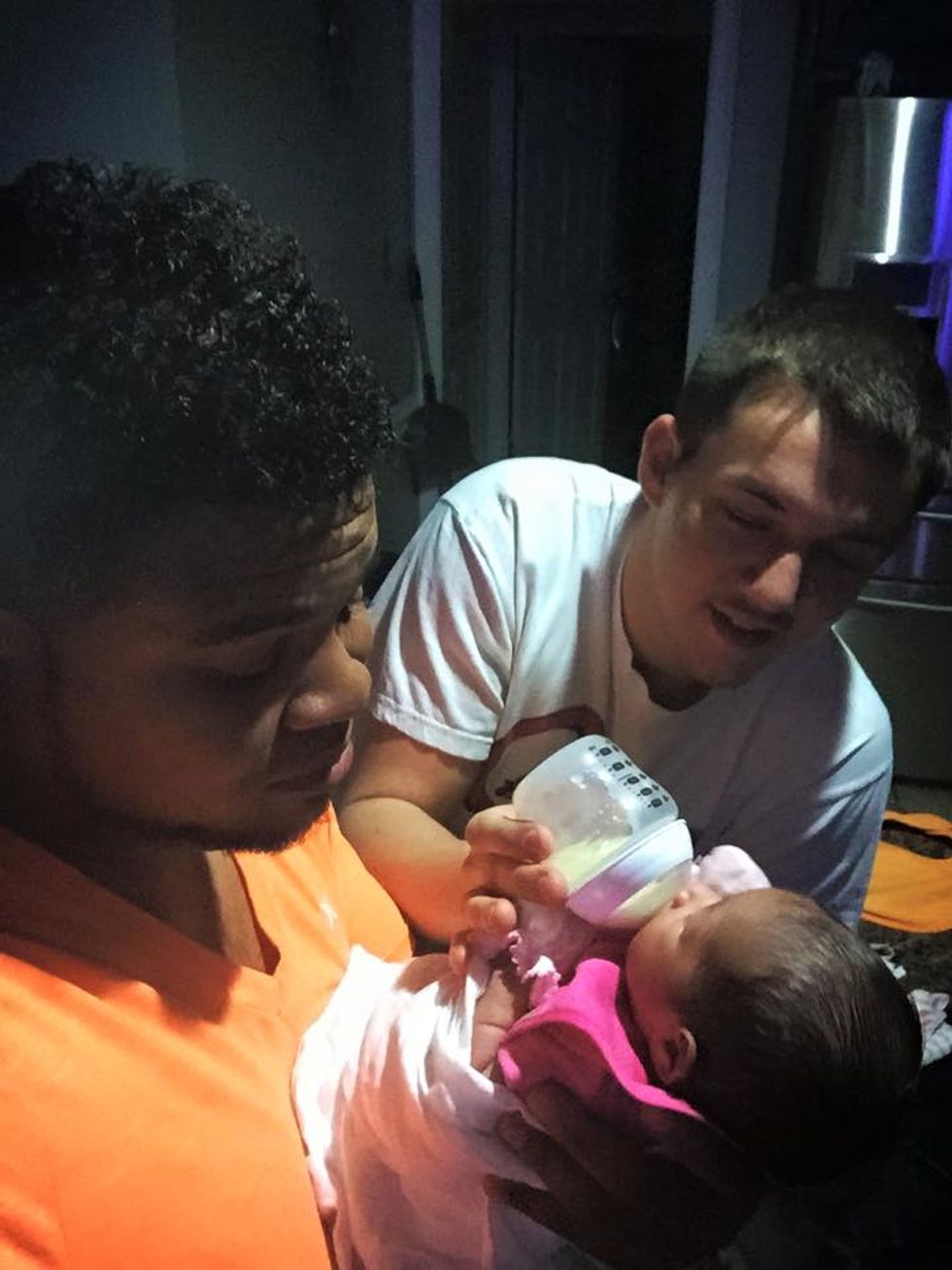 April 2015: The evening Mark and Tyler brought Ayden home of the first time
Gays With Kids: What names does Ayden call you and Tyler?
Mark: She calls us both Dada.
Gays With Kids: Can you tell us more about your friend carrying your child?
Mark: My surrogate is a 30-year-old lesbian I've known for about six years. She's dating one of my best friends. Initially I was supposed to get her pregnant and we were going to share custody between both couples, but they decided to have a little one of their own and her girlfriend got pregnant by one of our close gay friends. A year later she decided she would have one for me and my spouse. I had already tried and failed at artificial insemenation with another surrogate so I decided the old fashioned way was the best. We had sex twice a day for the five days she was ovulating and two weeks later we were pregnant.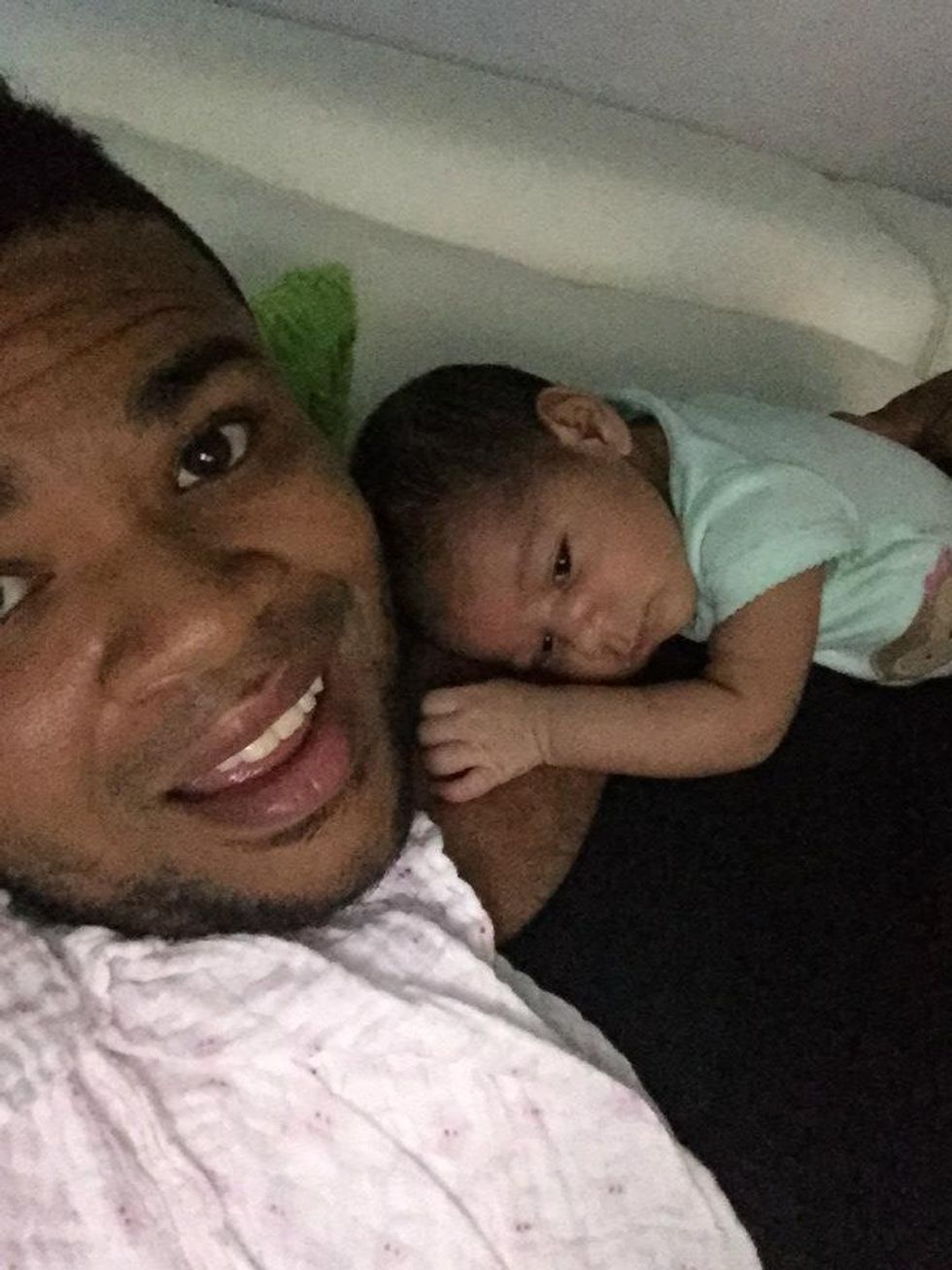 April 2015: Mark taking a selfie with 2-week-old Ayden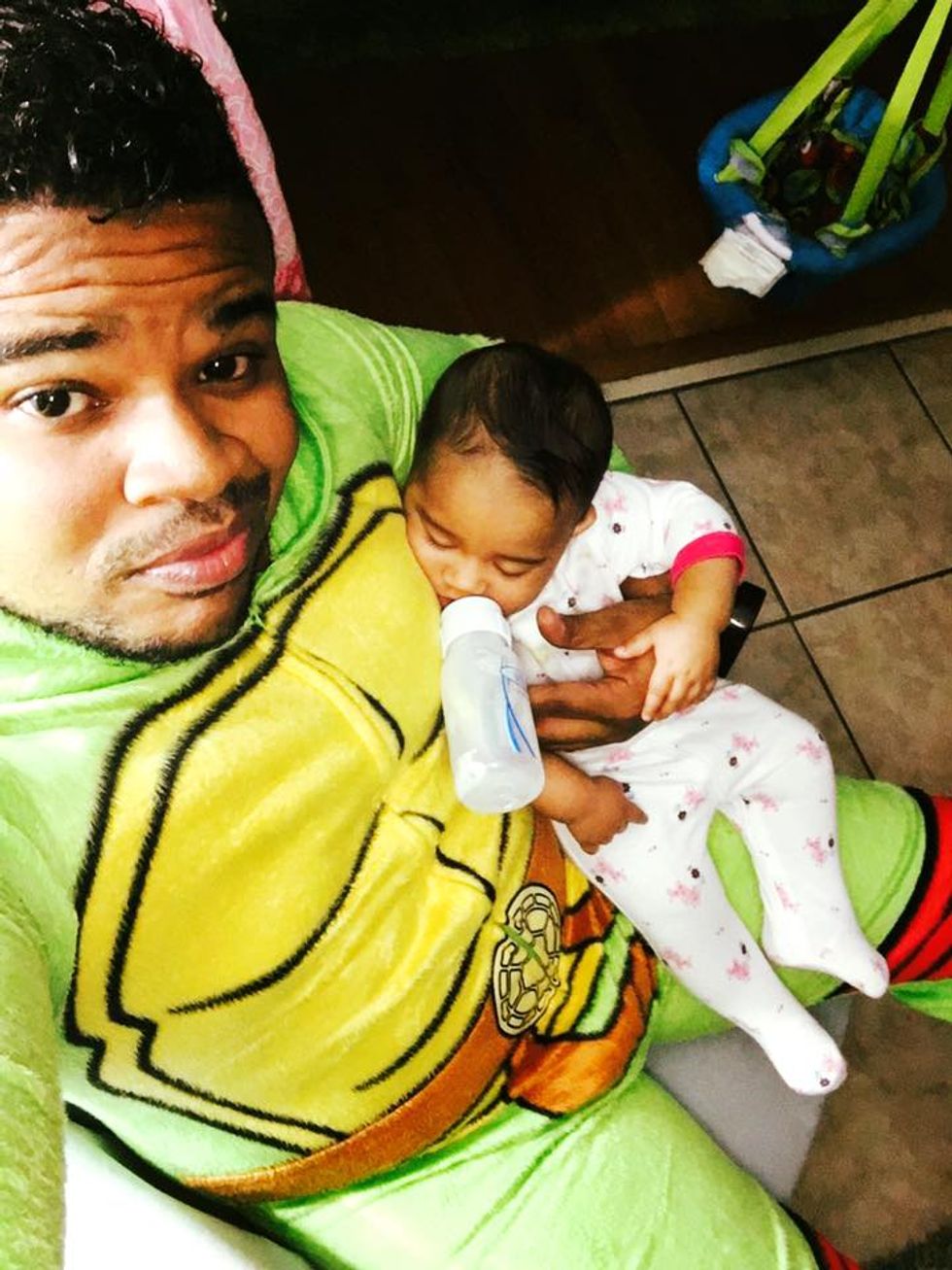 Family onesie night
Gays With Kids: Do you have help raising Ayden?
Mark: Along with my husband, my mother, sister, and neighbor help us out with babysitting needs. Often our schedules butt heads and we reach out to those three for help.
Gays With Kids: Do you both work? What do you do?
Mark: Yes, we both work full time. Tyler is a head nurse in a hospital emergency room and I'm an I.T. executive at a casino.
Gays With Kids: Are both your families involved with raising her?
Mark: Both of our families are extremely supportive with Ayden. Although Tyler's family is located three hours away, we go for weekend visits regularly to see his family and of course she's always around my family.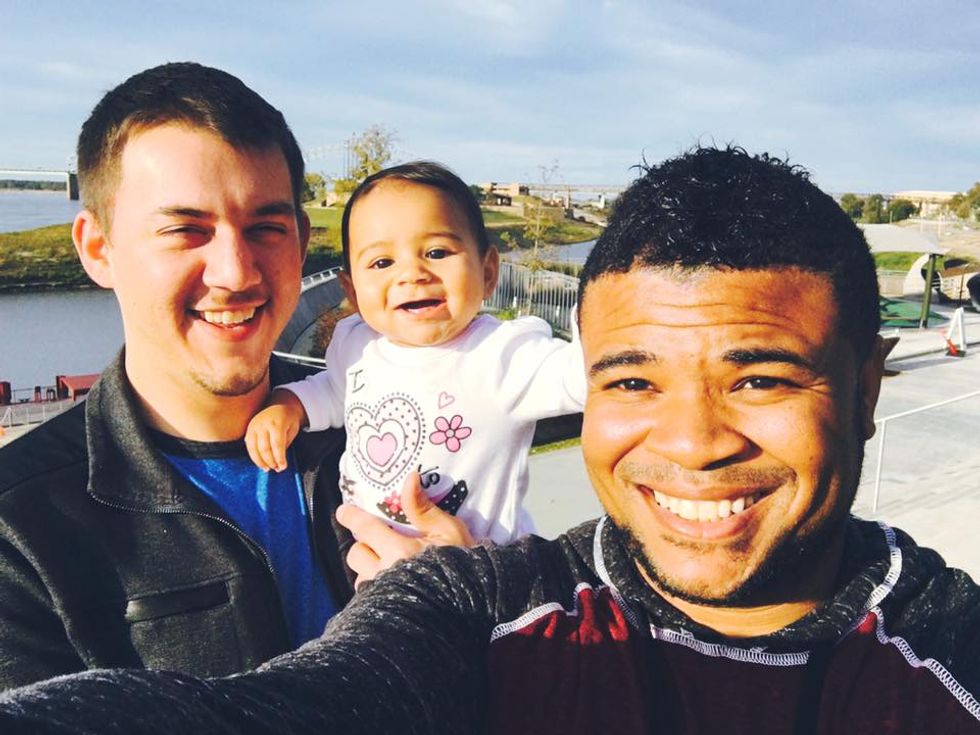 First time out as a family of three in Memphis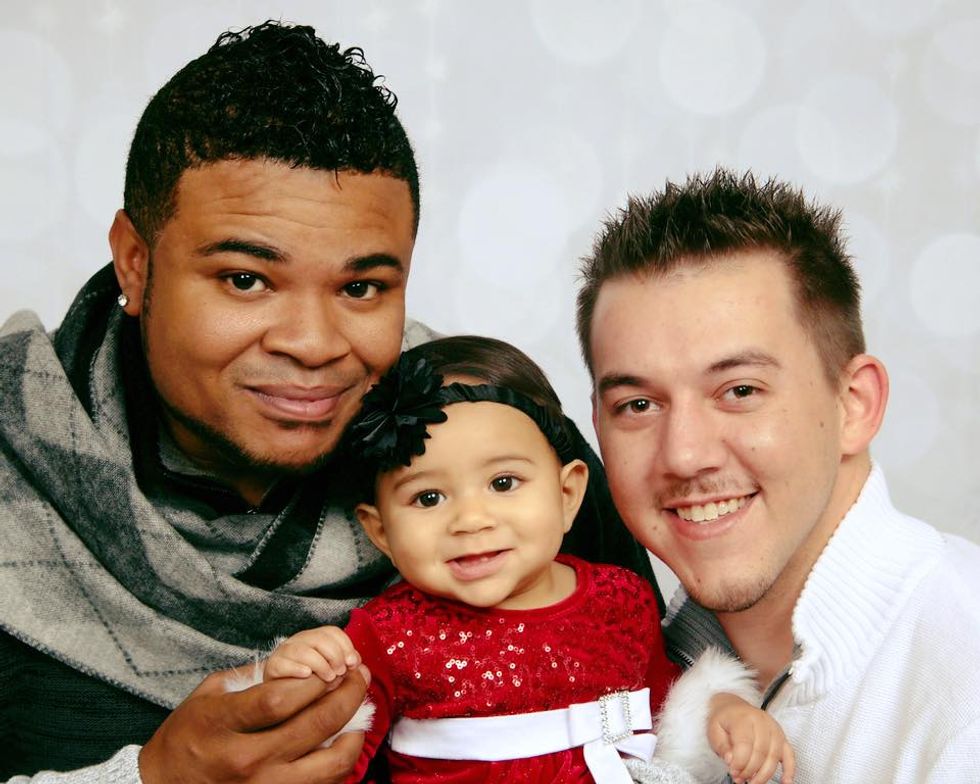 First official family portrait at JCPenney's
Gays With Kids: Is your friend, her surrogate mother, involved in your lives still?
Mark: Our surrogate has resumed her normal place in our lives as just a good friend. She has no connection to our child and probably has only seen her three or four times since birth while dealing with court issues for custody and termination of her rights.
Gays With Kids: Are you planning more children?
Mark: We would love to have one more, preferably a boy and preferably using Tyler's semen this time so we could both have a blood child. If that doesn't happen we are considering adoption maybe.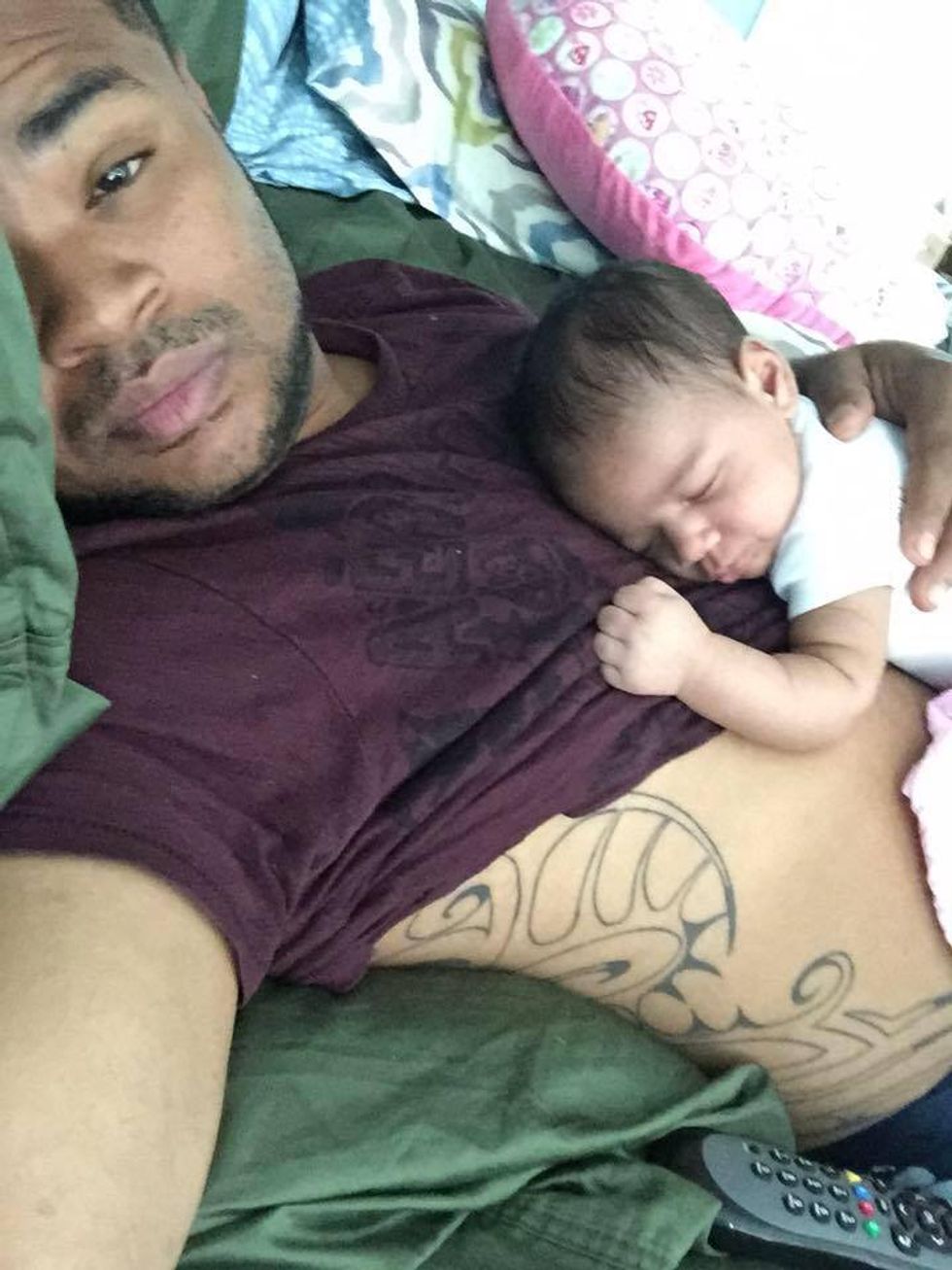 Mark and Ayden
Gays With Kids: Have you experienced any homophobia in Tennessee where you live? How is life for gay dads there? 
Mark: No, not really. Memphis is a pretty tolerable city in most areas. There are not many gay parents in general that I know of here and the ones I do know of were kids from a straight relationship mostly or lesbians. But I suppose it's okay.
Gays With Kids: How have your families reacted of you two having a baby?
Mark: Our families had pretty much ruled out the gay sons having a baby, so when we announced the news they were overjoyed. My mom already has six other grandkids but Tyler's parents had none so they were over-the-moon excited with the prospect of having their first grandchild, even though she wasn't blood-related. They treat her like any other member of their family.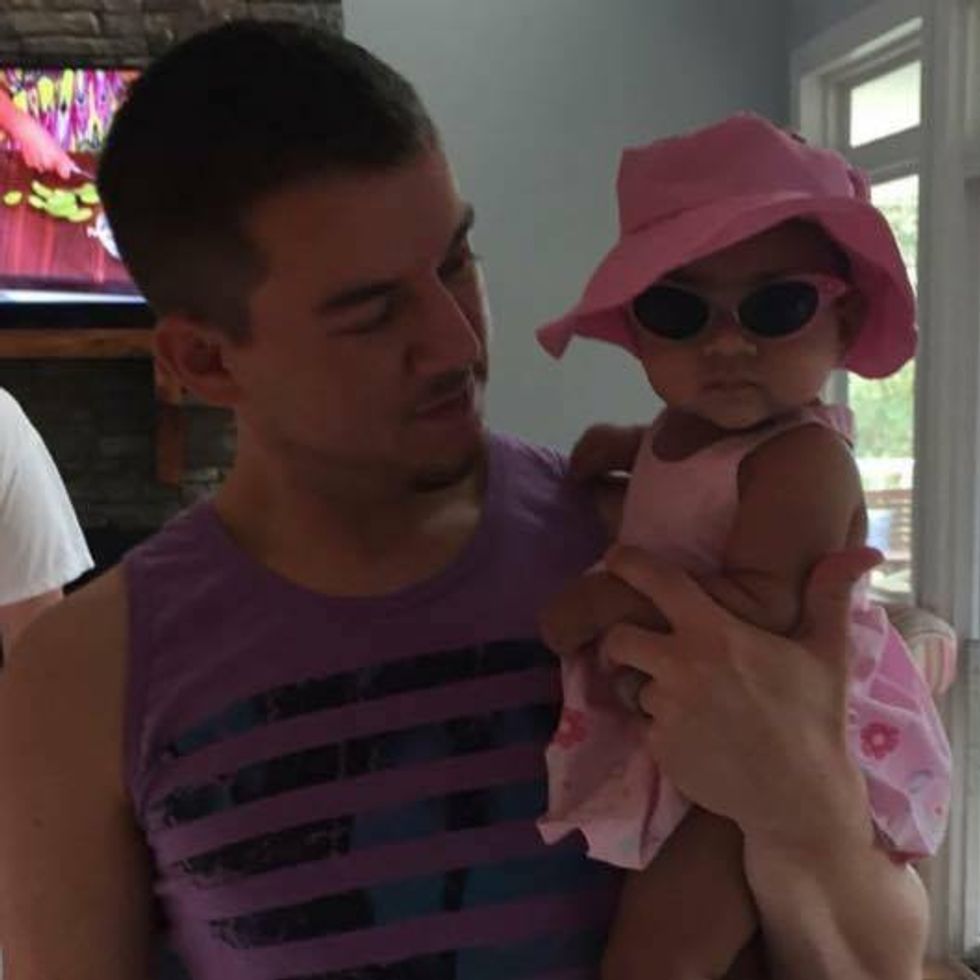 Tyler and Ayden