Meet Gay Dads Carlos and Eric With Their Kids
Apr. 20, 2016
In Fresno, California, gay dads Carlos and Eric live with their three foster-adopt sons, half-brothers Paul and Xavier, 5 years and 18 months old respectively, and 7-month-old Andre. Carlos and Eric met online six years ago and were married July 12, 2015. Here Carlos describes their somewhat formal yet tender first date.
"We were both nervous. I think we even shook hands when we met and we were both really awkward. Both Eric and I were in really poisonous relationships in the past, so we wanted to be cautious with how we proceeded this time around. Eric picked me up and we went to lunch, then a movie. Afterwards we ended the night with a goodbye (no kisses) and Eric dropped me off at home. We talked the rest of the night [on the phone] until we fell asleep."
They became an item soon after.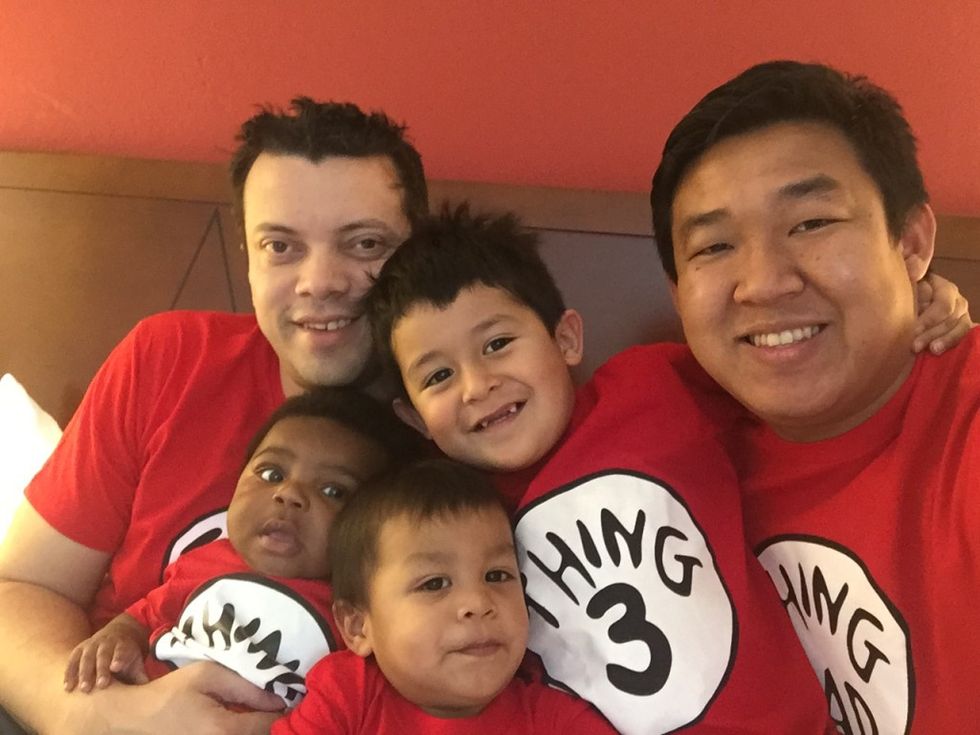 Carlos (left) and Eric with their sons
Eric and Carlos always wanted to have a family. They initially considered private adoption and began the process in 2010 with an agency four hours away from their home in Fresno. They left the first (and only) meeting with the private agency feeling disheartened. A private adoption, they had been told, would come with a price tag of over $20,000. Carlos (who was in school at the time) and Eric (who was working an hourly job) knew they couldn't afford to create their family through private adoption. They began researching other paths.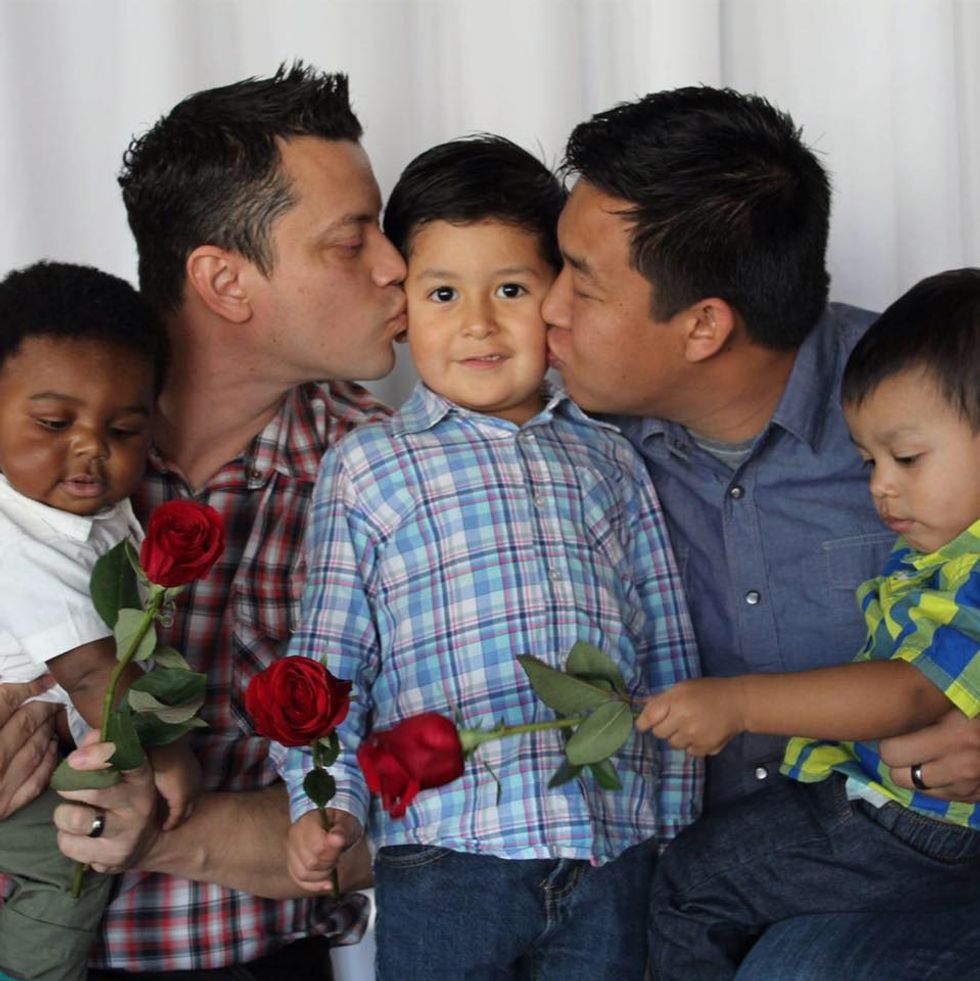 Soon they found a solution. A friend of Carlos had adopted a little boy through the foster system, and after she shared her experience with them, Eric and Carlos decided to look into foster-adopt. They researched quite a few agencies, hoping to find one that would be LGBT friendly. After visiting and starting with one but not being 100% happy, they did further research and found a different agency. They met with the staff before deciding to move forward with the certification process. Once the classes were done, they had their background checks, TB tests and physicals done. They encountered red tape when the state required further digging into Carlos' background in order for the agency to proceed. They persisted and after a hold-up of almost a year the state of California approved Carlos and Eric as certified foster parents. From starting the classes to being approved, the process had taken 16 months. Eric and Carlos waited for the calls to begin.
Carlos and Eric were under the impression that the calls would begin almost immediately, but they didn't receive their first till almost seven months later. They were matched with a little girl. Unfortunately this was only temporary, and the little girl moved on from their home. Another two months went by. One day, Eric and Carlos received a call for a 3-week-old boy who needed a home and was adoptable. They jumped on the chance immediately. The next day, Andre came home to Eric and Carlos. His adoption was finalized in September, 2015.
Soon after, Carlos and Eric received another call regarding two half-brothers. After reviewing the boys' files, the men met with social workers and said yes. Carlos and Eric slowly transitioned the boys into their home by having them over for a few hours a day, then overnight. Once the boys became comfortable, they moved in permanently and the adoption process began. Paul and Xavier were officially adopted in January of this year.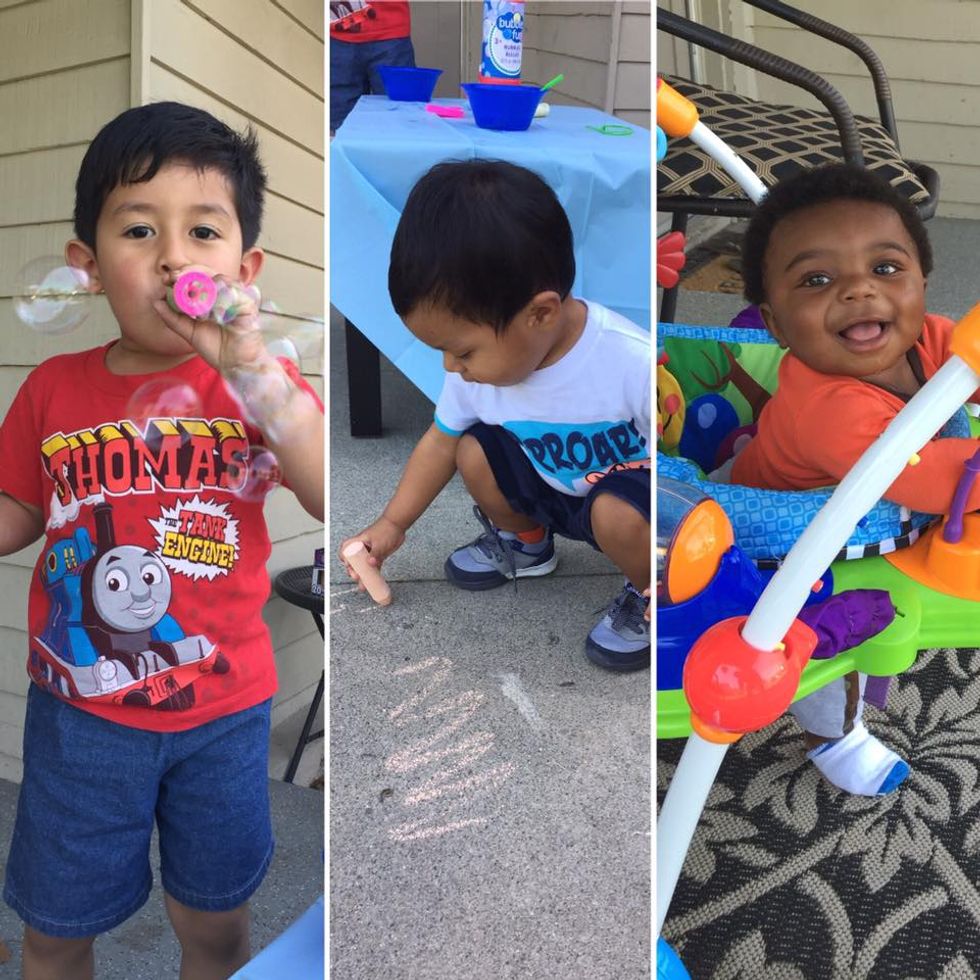 Paul, Xavier and Andre
Carlos explained the part of the process of becoming a foster-adopt parents as follows: "To adopt through the foster system, you have to become a foster parent first. You have to go through all the certification, home studies and work with the social workers. Social workers do surprise visits. (Your home has to be orderly at all times.) You are also at the mercy of the courts when you adopt from the system. Kids have to live with you  minimum of six months before adoption is even discussed. You then have to ensure that the biological rights are terminated, and that no relatives will pursue a kinship adoption. Once all those rights are terminated, then a judge can decide if you are eligible to adopt the child (or children). The judge takes in to account all the notes and comments written by the children's therapist and social workers. The judge also determines whether the adoption will be open or closed and whether there will be any visitations by relatives granted to the kids. The judge can also choose to extend the six-month period."
Carlos also gave details about their own journey towards finalization of the adoption: "We had to deal with visitations for Andre, and at one point relatives came forward. We had numerous court proceedings to clear up the matter. Paul and Xavier's dads weren't involved, but their birth mom was. Ultimately her rights were fully terminated. She was given an option to appeal but did not."
In just under a year, Carlos and Eric became Daddy and Papa to three kids under the age of 5, but they took it in stride. Carlos' biggest strength is his patience and understanding with his children as they adjust to the rules of their new home. And Carlos describes his husband, Eric, as a big kid at heart; the boys really respond to this quality in their Papa. The fathers attribute their ability to handle life with three young kids to their experience working in education: Carlos, 35, is a history teacher and Eric, 28, used to teach grade school. (Eric had a career change and is now a general manager at a hotel.)
It took Carlos and Eric a long time to create their forever family and they had to overcome lots of red tape and deal with bureaucracy and setbacks. However, today they are the proud dads of three incredible kids, and they wouldn't change a thing.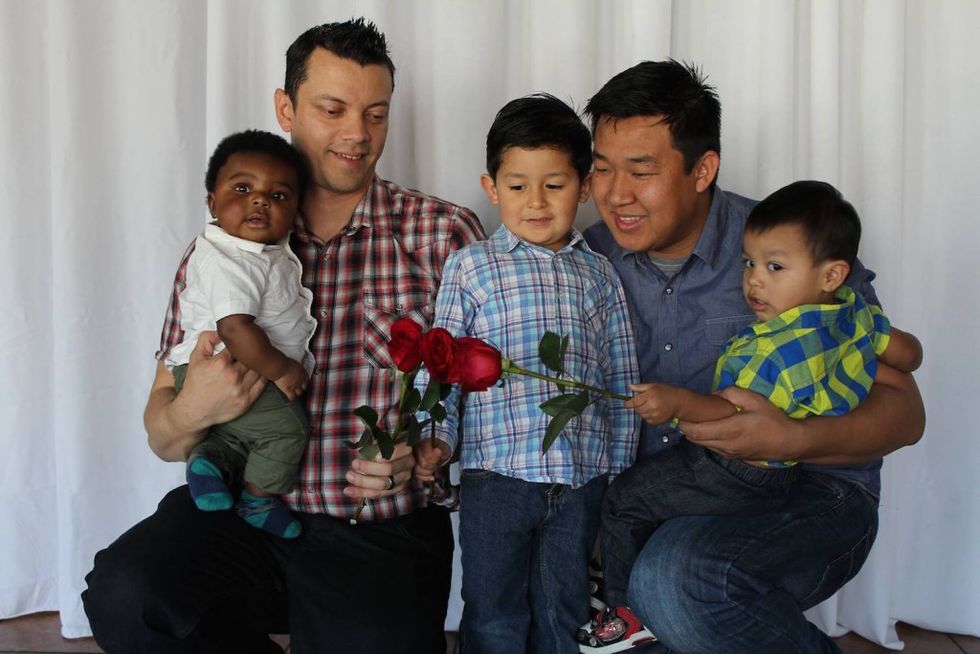 Answers have been edited for clarity.
---