May. 07, 2017
Congratulations to these dads on their new family members and important milestones!
---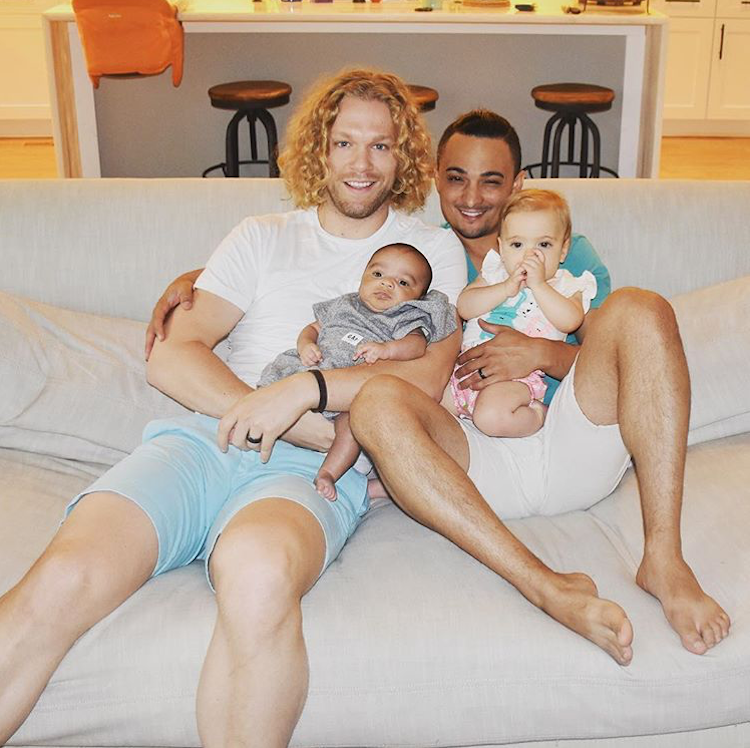 Congratulations to dads Josh and Joey on the birth of their son Micah!
Josh (above, left) and Joey (above, right), and big sister Myles (on Joey's lap) are so excited to welcome their newest family member Micah, born March 1, 2017. This family was created through adoption and they live in Atlanta, Georgia.
"We are unbelievably proud of the family we've created with the addition of out two little ones," said Josh. "The past had its challenges with two moves and two adoptions, but we wouldn't change a thing - everything happens for a reason. The Bolton-Rogers family of four is excited and optimistic for what the future holds!"
Read this family's story (prior to Micah's birth) here.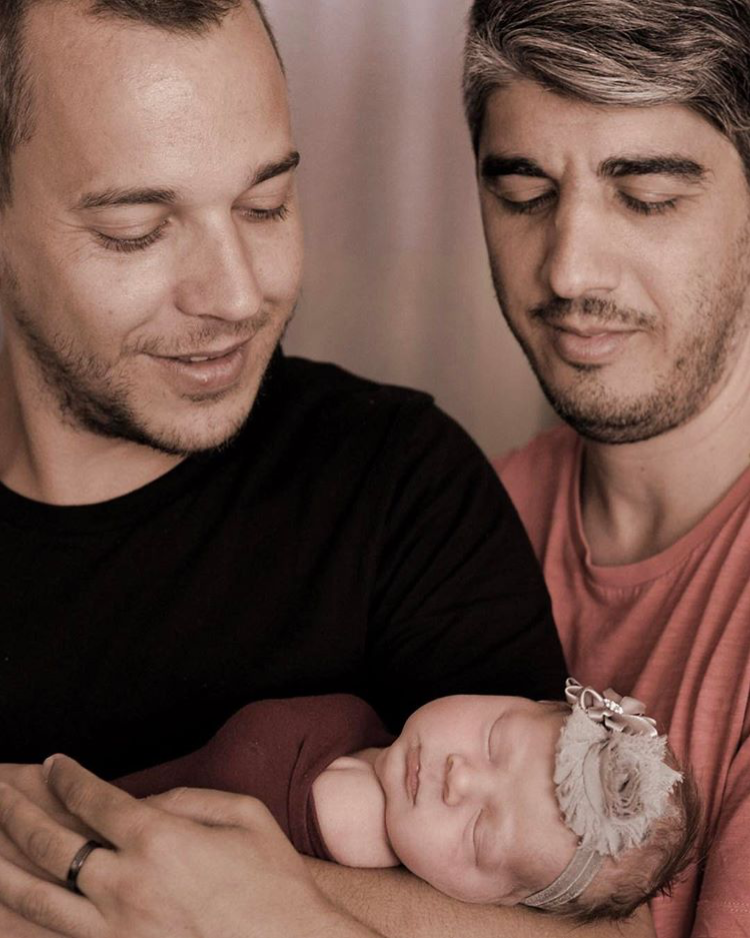 Congratulations to dads Leonardo and Leonardo on the birth of their daughter Emma!
Together 12 years, Leonardo and Leonardo created their family via surrogacy, and little Emma was born in Florida on April 4, 2017, at 11:45 a.m. This beautiful family of three live in Argentina.
On April 10, Leonardo shared this message on his Instagram page, "The best anniversary [in] the world this is! Two years married and here you came!! We love you immensely!"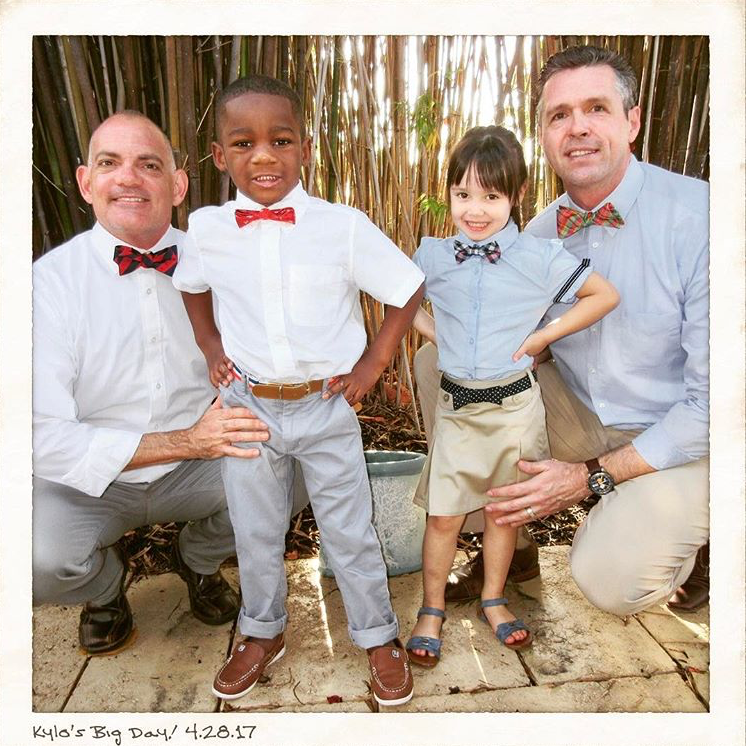 Congratulations to dads Michael and Terry on the adoption of their son Kylo!
Michael (above, left) and Terry (right) were thrilled to finalize the adoption of their son Kylo on April 28, 2017. Kylo joins sister Kyler in this forever family of four and the dads could not be happier. Michael and Terry adopted Kylo from the foster care system but did not foster as they were only open to a child whose paternal rights were already terminated for their daughter Kyler's sake in case they bonded and the adoption had fallen through.
The family from Fort Lauderdale shared: "We knew since the beginning of our relationship, over 15 years ago, we were destined to be dads. We didn't know how or when it would happen, but it eventually did. Twice. And we couldn't be happier (or busier)!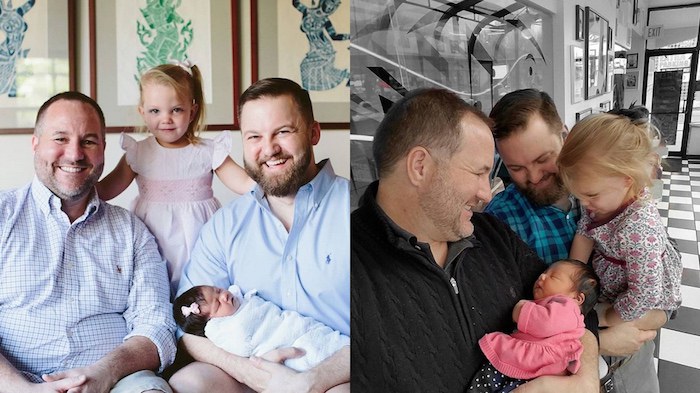 Congratulations to dads Jeremy and Matt on the birth and adoption of their daughter Annabel!
Jeremy (above, left), Matt (above, right), and big sister Audrey finalized the adoption of their newest family member Annabel, on February 14, 2017. Annabel was born only four days earlier on February 10, 2017. Big sister Audrey is said to be head over heels with her little sister. This family lives in Dallas, Texas.
"We are the luckiest dads in the world to have these two wonderful and sweet girls that complete our family," said Jeremy and Matt. "We are thankful every day for the birth families who chose us to be their Papa and Daddy."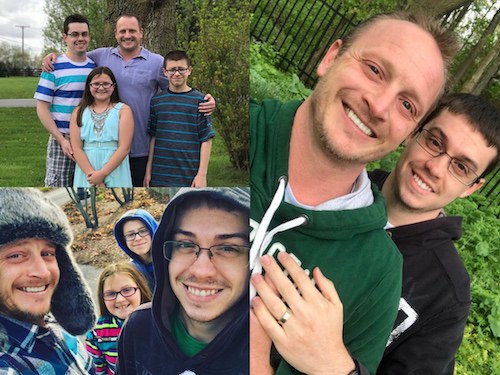 On May 2, Aaron (above, in the black hoodie) and Korey (above, in the green hoodie) got engaged bringing this family of four even closer together! The two dads are very excited to share their news and are planning on a Labor Day wedding in 2018.
"Define family: the answer is in the loving smiles you see on all four of faces," said Korey in a family photo posted on Instagram. Congratulations to the two dads and their kids!
***
Share your exciting news and momentous occasions with us by emailing them along with a family photo to dads@gayswithkids.com.
It started when a four-year-old boy asked a clown, who had been hired to paint the faces of kids at a picnic, a simple question:
"Can I have a blue butterfly?"
Keep reading...
Show less
The Long Island Adoptive Families support group was created by parents going through the adoption process or who had already adopted. It was a great way to help members navigate the path of adoption whether it be private domestic, international agency, domestic agency or foster care. We spoke with Chemene, one of the founders, and found out how this group is supporting local gay men interested in becoming fathers.
Keep reading...
Show less
Adam Lozon and Scott Dufour met online and have been together 11 years.They live in Hamilton, Ontario, Canada, with their son Paulo. The couple are both in banking and are engaged to be married. We caught up with the dads to see how fatherhood was treating them!
Keep reading...
Show less
Guest post from Greg Hutch.
It's two weeks before school starts and I am sitting in my classroom updating the photos in the frames on my desk. These frames used to be filled with pictures of my dogs, of me playing my instrument (I am a music teacher), or of the various other things that I have enjoyed in my lifetime. Today, they are filled with loving pictures of my family, including my son and partner who I raise him with. Times sure have changed…thanks to our son, Clark.
Keep reading...
Show less
Editor's Note: In this ongoing series, we're shining the spotlight on some of the gay dads behind Gays With Kids as their incredible passion and commitment plays an invaluable role in making Gays With Kids possible. Please contact Brian Rosenberg if you'd like to talk about getting involved, too.
Keep reading...
Show less
Happy gay uncles day to all the wonderful "guncles" out there! Here at Gays With Kids we know how important your roles are within our families so we want to celebrate you today, and say a big thanks! Enjoy this collection of "guncle" photos and a few words of wisdom and contemplations from the uncles themselves.
Keep reading...
Show less
Two years ago when Oliver arrived into our lives, my partner Rob and I were living in separate countries. We met in Kuala Lumpur, Malaysia, and had Oliver when Rob was working in Bangkok and I was in KL. Oliver arrived two weeks early when we received an unexpected message from our agent saying to go to the hospital – our surrogate had been checked into hospital.
Keep reading...
Show less
The day began like any other. My alarm went off at 4.30am. I snoozed until 5am. I ate breakfast until 5.30am, at which point my son, Felix, woke naturally like clockwork. I fed him mashed bananas, cashew butter and chia seeds. I woke my dad up with a cup of tea and handed the baton over for him to look after Felix as I left for work on my bike at 6.30am. I worked through the day as normal. Then, at 6.49pm I received a call from the police.
Keep reading...
Show less
GET GAYS WITH KIDS IN YOUR INBOX

Follow Us on Instagram