Mar. 02, 2016
Bryon still remembers the date when he was granted full custody of his son. "My court hearing was December 21st," he said. "It was an eight-hour hearing." The length of the hearing was partly his own fault, however; he and his lawyer were leaving nothing to chance and had subpoenaed over 25 people, including doctors and nurses, who were able to vouch for Bryon's ability to care for Jason.
Nonetheless, the children's facility continued hinting that the relationship between Bryon and Jason might be improper. Tired of the innuendo, the judge finally confronted the issue head-on, to Bryon's great relief. "He said, 'Are you alleging there is sexual assault or abuse involved here? Because if you are, you need to bring evidence. If you don't have any, you need to stop talking about it. You're making assumptions.'" With nothing else standing in the way, Bryon was granted full custody rights of Jason, and the two became father and son, legally.
Bryon and Jason's family creation story, therefore, has a happy ending. And though Bryon was never directly compensated for the homophobic accusations his former employer baselessly lobbed against him, he did see some justice served. During Jason's custody battle, Bryon sent a letter to his former employer's corporate office on the advice of his lawyer. "We just hoped it might scare them away and get them to back off the custody battle," Bryon said. "But instead, they wrote back saying they terminated the administrator right away. They said, 'That's not how we operate.'"
***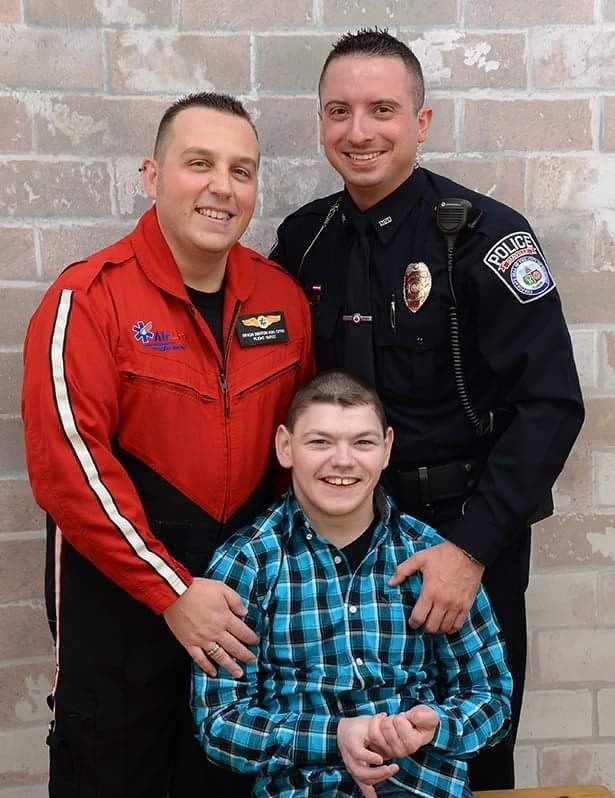 From left to right: Byron, Jason and Jason ("Big Jason")
When he became a single father to a 14-year-old boy with special needs, Bryon had just turned 22, an age most young men reserve for acting impulsively and making poor life decisions. Bryon, however, was better prepared than most.
"I'm really familiar with adoption," Bryon said. "I have adopted siblings, and my mom is adopted. I have about 18 adopted cousins." Adoption was so familiar to him, in fact, that when he was a young boy, he proudly told his mother, "I'm going to adopt kids one day."
Bryon had also been caring for others for much of his young life. His father was diagnosed with hemochromatosis (abnormal accumulation of iron in organs, leading to organ toxicity) in high school, and later developed liver cancer as a result. His mother, meanwhile, was in an inpatient psychiatric facility for much of Bryon's high school years. "This meant I had to grow up really quick," he said, noting there was no one else but him to raise his younger siblings, and care for his father.
When Bryon adopted Jason, however, they saw an opportunity to return the favor; for the first six months after Jason came home, he had no permanent caregiver in place while Bryon worked. "So my mom and my dad and sisters and everybody would take turns staying at my house while I worked and cared for him."
At first, there was a bit of a learning curve. "My mom was concerned. She wasn't used to taking care of anybody with special needs, and this was her first grandchild. She was afraid she'd break him. My family had no foundation for caring for someone with special needs, but they learned and all pitched in."
Bryon is eternally grateful to his family for stepping up to the challenge. "It would have been nearly impossible to do without my family and a strong support network," he said, before removing the qualification: "Actually, totally impossible."