Dad Life
Life with a Newborn: Wes, Michael and Katie with Talulah
Mar. 18, 2017
Michael, 37, and Wes, 39, met in Birmingham, England, during the summer of 2012. Wes, who was living in London at the time and working on the London 2012 Olympic Games, happened to be in Birmingham, where Michael lived, for Gay Pride. The two hit it off right away.
---
The subject of kids was brought up very early in their relationship. Wes was already a father to his then 8-year-old daughter, Katie, via a previous straight relationship. (Katie stays with them every week and most weekends.) Michael, who had always wanted kids, was excited to a meet a family man and to begin their family together. The two considered surrogacy to be the obvious choice for them with Michael being the first to have the biological connection.
"There was never a question of who would 'go first,'" shared Michael. "Wes wanted me to experience fatherhood, as he knew how desperately I wanted children and have a family."
Michael and Wes were married August 9, 2014. Watch their wedding video below:
Because commercial surrogacy is illegal in the United Kingdom, Michael and Wes spent their first four years together researching options for international surrogacy. Frustratingly, they were met with multiple roadblocks abroad, so they decided to try to make their dreams come true at home. They looked into charitable organizations and agencies such as COTS and Surrogacy UK, but ultimately, they decided to go it alone. Through connections made by networking, they found a surrogate, an egg donor, a fertility clinic in Manchester that suited their needs and was located near their surrogate, and an experienced solicitor who specialized in fertility law. After all these years, all the pieces of the puzzle had finally come together, and their dream was about to come true!
Talulah was born 16th October 2016 at 6am. The new family of four live 20 miles outside of Birmingham in a village called Hagley.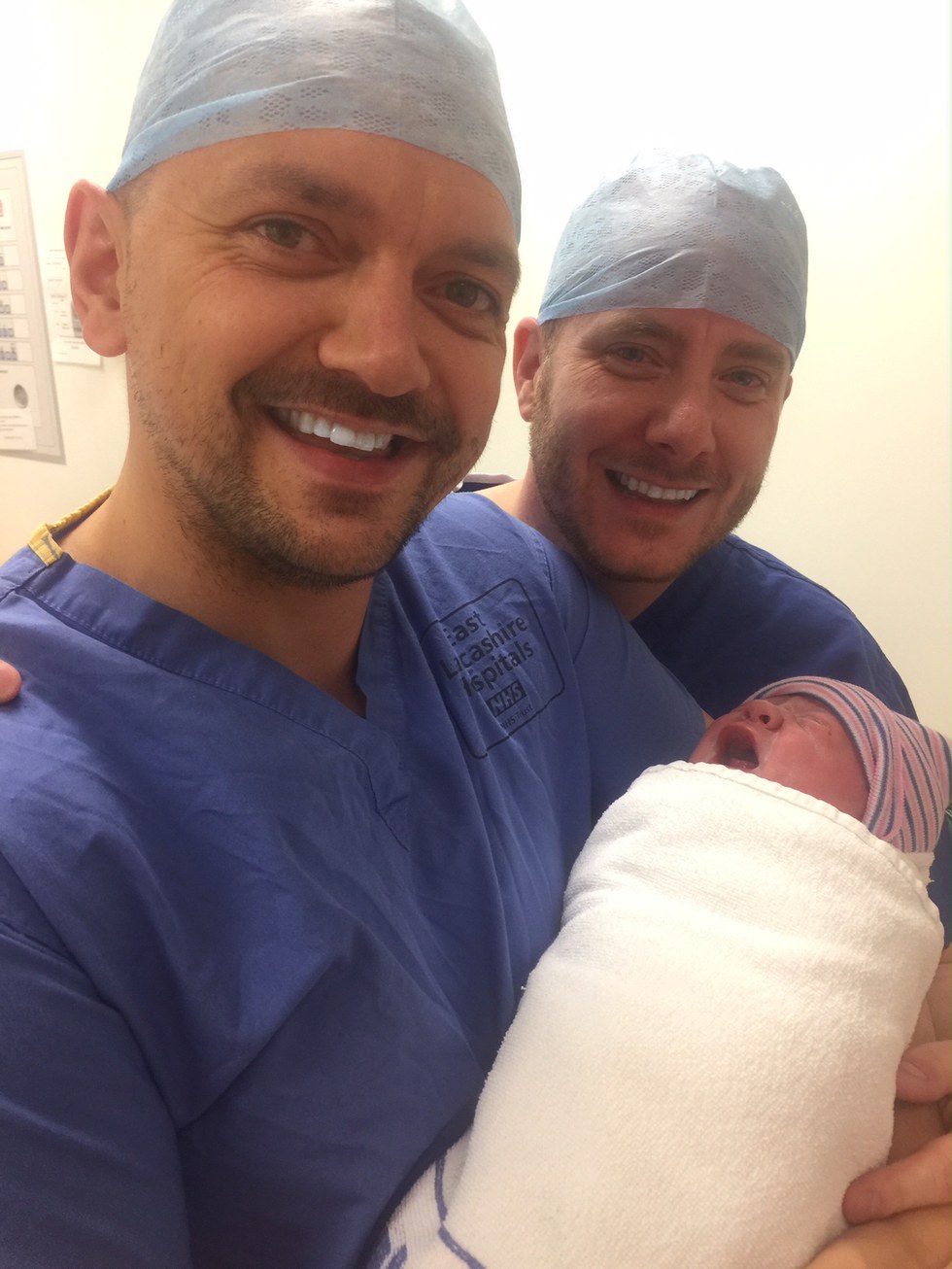 Michael (holding Talulah) with Wes
Wes and Michael's first month as Talulah's dads
Michael, who works in London as a director for a specialist healthcare recruitment firm, and Wes, who works for a premiership football team as the director of catering and hospitality, both took six weeks off work when Talulah was born, and then spent the next 12 weeks both working flexible hours from home to allow for as much bonding time with Talulah as possible.
Both Michael and Wes gushed about how wonderful Katie has been as a big sister to Talulah.
"Katie's bedroom is next to Talulah's nursery for the very reason she wants to always be able to hear her and check in on her. She's even helped with the dreadful 3 a.m. feeds (not on a school day obviously)!"
Michael and Wes also believe that having a newborn has made the family unit tighter. They have managed to get schedule in place rather quickly, knowing that they'd both be going back to work fairly soon.
On Monday, Tuesday and Thursday, Michael's mother looks after Talulah from 7:30 a.m. to 6 p.m. The other two weekdays Talulah goes to a nursery that is a five-minute walk from the dads' house.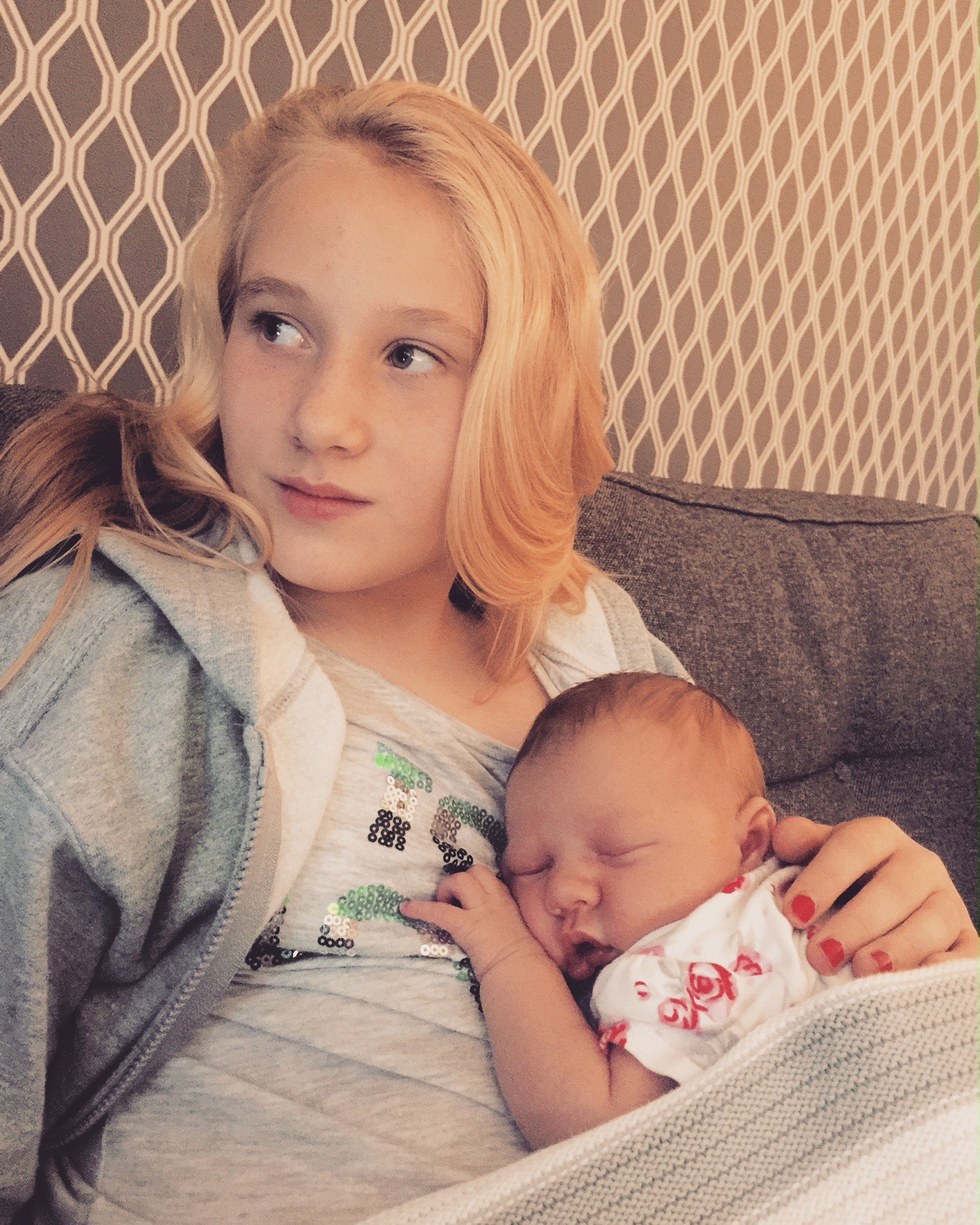 Katie holding Talulah
The biggest challenge
The most challenging aspect for the dads is feeling their age.
"We're older, which we can certainly feel," said Michael, who at 37 is two years younger than his husband. "Wes in particular has commented that it certainly feels tougher, despite all the new fancy gadgets and toys available. It's certainly more challenging."
That mixed with a long commute for Michael which involves traveling to London every day (a two-hour trip each way), and Wes leaving the house  at 7:30 a.m. to get to work, the two dads are very thankful that Talulah has been a relatively easy baby. Plus, Katie and Michael's mother have been a tremendous help!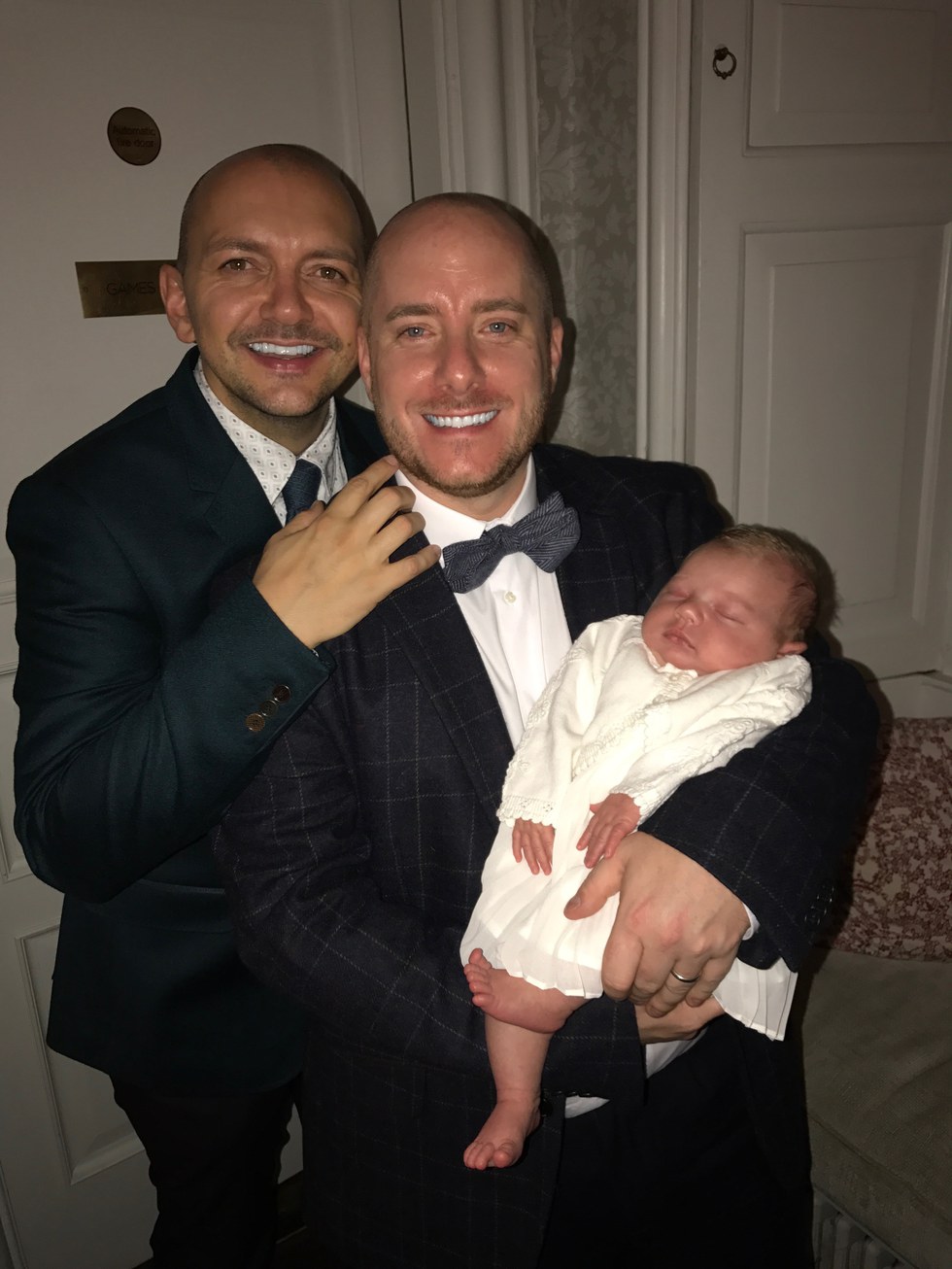 Michael and Wes (holding Talulah)
Clothes, clothes and more clothes!
The two dads confess that their youngest daughter's wardrobe would shame most adults!
"Having two gay dads, and then having both our brothers who are also gay have their husbands scour the shops for the cutest clothes is just adorable; it's always going to be fabulous for her."
The two things the dads can't live without
"Our Tommee Tippee Milk Prep Machine!" exclaimed Michael. "Sounds crazy I know, but this thing makes bottles in 30 seconds, exactly the correct temperature ready for Talulah to take, especially when she was feeding every 2 hours for the first few weeks.  This saved our life, I am certain of that! A close second would be the 4Moms MamaRoo, an electronic baby rocker that connects to your phone and rocks the baby six different ways. You need this in your life!"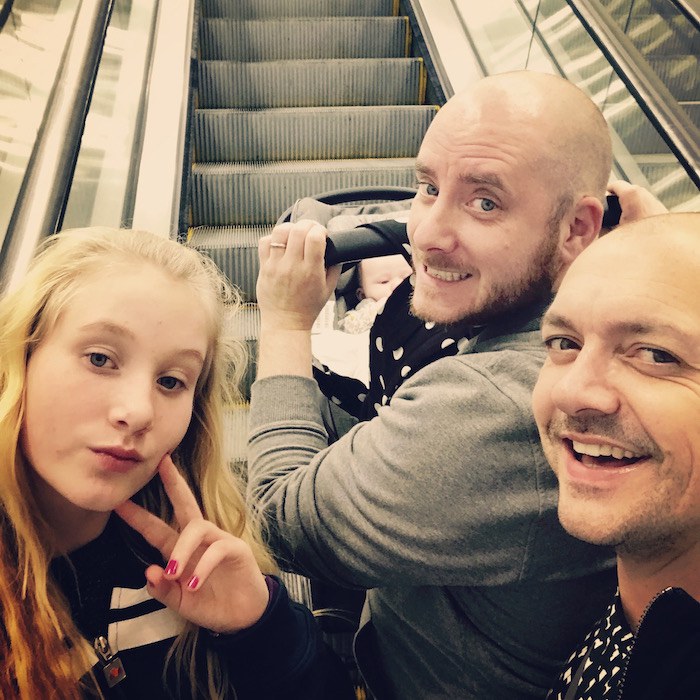 Their most precious moment so far
For Michael and Wes, this would have to be Talulah's birth. Initially, the dads thought that would not be present in the room at the time of their surrogate's caesarian due to their hospital's one additional-person-only policy. But right at the last minute, both dads were allowed to be there, something they never expected.
"Both of us were in tears, elated and beyond happy. Our baby, our daughter had arrived finally and she was bloody scrumptious!"
Advice to future dads
"Never give up." Despite the many roadblocks Michael and Wes faced, they continued to pursue their dream to have children together. And for these two dads and their beautiful daughters, this is just the beginning: The dads plan to expand their family twice more. We look forward to following this family's adventure.
Read about Jordi and Michael's first few weeks as first-time dads.
Brett and Jimmy created their family through adoption. Read about their first month with a newborn. 
It started when a four-year-old boy asked a clown, who had been hired to paint the faces of kids at a picnic, a simple question:
"Can I have a blue butterfly?"
Keep reading...
Show less
The Long Island Adoptive Families support group was created by parents going through the adoption process or who had already adopted. It was a great way to help members navigate the path of adoption whether it be private domestic, international agency, domestic agency or foster care. We spoke with Chemene, one of the founders, and found out how this group is supporting local gay men interested in becoming fathers.
Keep reading...
Show less
Adam Lozon and Scott Dufour met online and have been together 11 years.They live in Hamilton, Ontario, Canada, with their son Paulo. The couple are both in banking and are engaged to be married. We caught up with the dads to see how fatherhood was treating them!
Keep reading...
Show less
Guest post from Greg Hutch.
It's two weeks before school starts and I am sitting in my classroom updating the photos in the frames on my desk. These frames used to be filled with pictures of my dogs, of me playing my instrument (I am a music teacher), or of the various other things that I have enjoyed in my lifetime. Today, they are filled with loving pictures of my family, including my son and partner who I raise him with. Times sure have changed…thanks to our son, Clark.
Keep reading...
Show less
Editor's Note: In this ongoing series, we're shining the spotlight on some of the gay dads behind Gays With Kids as their incredible passion and commitment plays an invaluable role in making Gays With Kids possible. Please contact Brian Rosenberg if you'd like to talk about getting involved, too.
Keep reading...
Show less
Happy gay uncles day to all the wonderful "guncles" out there! Here at Gays With Kids we know how important your roles are within our families so we want to celebrate you today, and say a big thanks! Enjoy this collection of "guncle" photos and a few words of wisdom and contemplations from the uncles themselves.
Keep reading...
Show less
Two years ago when Oliver arrived into our lives, my partner Rob and I were living in separate countries. We met in Kuala Lumpur, Malaysia, and had Oliver when Rob was working in Bangkok and I was in KL. Oliver arrived two weeks early when we received an unexpected message from our agent saying to go to the hospital – our surrogate had been checked into hospital.
Keep reading...
Show less
The day began like any other. My alarm went off at 4.30am. I snoozed until 5am. I ate breakfast until 5.30am, at which point my son, Felix, woke naturally like clockwork. I fed him mashed bananas, cashew butter and chia seeds. I woke my dad up with a cup of tea and handed the baton over for him to look after Felix as I left for work on my bike at 6.30am. I worked through the day as normal. Then, at 6.49pm I received a call from the police.
Keep reading...
Show less
GET GAYS WITH KIDS IN YOUR INBOX

Follow Us on Instagram