We all know how rare it can be for dads to get that special time for dates when you have kids. Children of all ages demand attention, so it can be hard to find a free evening for just the two of you. While we can't provide that free time for you, we can suggest some of the very best date ideas.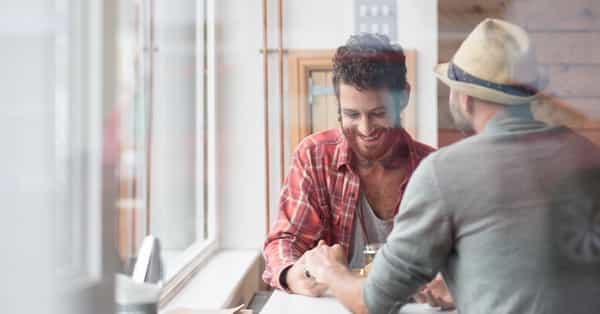 In our list of date night ideas, you'll find romantic possibilities, quirky suggestions and dates where you can even involve your kids. Just because we're stuck inside doesn't mean we can't have a memorable date night.
Have a Baby? Try Date Night at Home
The very reason you'll be wanting a date night is to enjoy some quality time together, away from the kids. But for those couples that have a baby, this can be impossible - but it doesn't mean date night is called off. Have your date night at home!
Get dressed up. Light some candles. Turn the baby monitor on. Order your favorite takeout. Open a bottle of your favorite wine (why not enjoy the beverage choices you enjoyed at your wedding?). Then, just enjoy each other's company. You've created a beautiful life together and a date in your home is the best chance to celebrate that.

Being in your home means you can plan your date around your child or baby's schedule (we all know about those midnight feeds), making a home date night a flexible choice for fathers. Another advantage is that many of the following date ideas can also be incorporated into the home date night, so it gives you the chance to be a little creative.
Just remember to turn off your phone. And don't worry about the dishes, you can do them tomorrow.
Catch up on Queer Content
Yes, this is just a suggestion to watch T.V., but as parents, who has the time? Take a moment, unwind with a glass of wine and catch up on all the great queer content you've missed since becoming a dad.
This way you can finally be in the loop again when your childless gay friends drop Drag Race references that go completely over your head. (Who the hell is Vanjie?)
Here are some of our favorite shows with queer characters we're watching right now: Pose, Euphoria, Sex Education, Queer Eye
Pose
Euphoria
Sex Education
Queer Eye
And of course, Ru Paul's Drag Race. Sissy. That. Walk.
Bottomless Mimosas and Brunch
Brunch is a universally-loved meal. Not quite breakfast, not quite lunch - just that pure morning brunch magic where it's either coffee or cocktails and definitely croissants and companionship.
The great thing about a brunch date is it can be had while the kids are at school, meaning no need for calling in a babysitting favor. Plus, that means more opportunity for bottomless mimosas.
To try this date idea, order your favorite bread and other brunch classics (avocado on toast, anyone?). You could even get your kids to act as waiters for a fun family event. Or, invite them along! Here's a recipe for virgin mimosas that your kids will love.
Experiencing Art Galleries From Home
Everyone remembers that scene where Ferris Bueller and co. enjoy the Chicago Art Institute for an afternoon of montaged revelations. We're not actually saying recreate that scene (although that definitely would be a unique date idea), but an art gallery date can be just as fun as anything John Hughes could film, even at home.
Just remember, if you're enjoying art from the comfort of your living room, you won't be Home Alone. (John Hughes pun - anyone?) Your kids will also love a chance to explore art and even create some of their own.
Museums have opened their virtual doors to allow for virtual tours! For example, check out the collections at the galleries below:
You could even channel the art ideas into something more practical. How about enjoying an art class together? From still life to impressionism, bring out your inner Van Gogh, Jackson Pollock or Frida Kahlo (depending on where your taste lies).
It doesn't matter if you're no Caravaggio, a guided art lesson will help you destress, release tension and find beauty in the little things. Try a YouTube video lesson or watch old episodes of Bob Ross' The Joy of Painting. Who's more relaxing than Bob Ross?
For a little family fun, host an art gallery day at your home, showcasing the artistic talents of your children. You could even dress them up as famous painters and get them to try and recreate well-known artworks. Who knows, you might have a little Picasso on your hands?
From online art galleries to lessons, this is the perfect date night idea for creative types. Alexa, play 'Oh Yeah' by Yello. Chicka chicka.
Go Apple Picking
Potentially the most autumnal date idea on this list, apple picking is a fun bonding opportunity for the whole family. This is the kind of date where you can actually take your child in their stroller - who said a date can't involve the little one?
Now, we realize many places don't grow apples - no worries! You can choose any type of fruit or vegetable in an organic farm in your area that offers the chance to pick yourself. It might be tomatoes, grapes or even root vegetables.
Grab your coat and boots and walk up and down the rows of produce, taking time to choose the best, ripest fruit from the trees. It's a bit like grocery shopping, only much more romantic.
Channel Julia Child With Online Cooking Lessons
"A party without cake is just a meeting," said Julia Child - and a date without good food and drink is just a hangout. For married dads with kids, you might not have been able to create anything more elaborate than mac n' cheese or lasagne recently. But there's a whole world of delicious food out there which you can access through a cooking class.
You'll enjoy time together while doing something fun, whilst also enhancing your culinary repertoire. Plus, they say there's nothing more romantic than food - so pick your favorite cuisine and get ready to cook something wonderful.
We'd recommend looking into what food classes are on offer - the more unique the better, as these will be the more memorable cooking experiences. And it doesn't have to be cooking, you could try baking or something unique like cheese or preserve making instead. Whatever floats your culinary boat. There is so much choice online.
The best thing about cooking lessons is that they're easily done at home - sometimes for free. You could cook along to favorite cooking shows or even try your hand at more unique recipes to be found on YouTube. From Gordon Ramsay to Binging with Babish, there's always something to explore on the internet. Plus, this means your kids can help out too!
Just remember, in a kitchen, any order must be answered with "Oui Chef!".
Outdoorsmen? Go For a Hike
If you're a couple who loves a good day exploring the outdoors, why not go for a hike? Perfect weather, picnic lunch and some time away from the little one in the beauty of nature - bliss.
It's probably the better choice for dads with older children, as a hike can have you away from the house for a whole day. But dads with babies can go for shorter hikes or even just walks, so make sure you've got the in-laws on speed dial for check-ups throughout the day.
For non-hikers who still enjoy the outdoors, you can choose another activity. Bike rides, canoeing, sailing or rock climbing, there's so much to choose from. This is also a really good date idea for marrying quality time spent together and a little exercise. It's also perfect for those dads looking to social distance from other people.
Recreating Bookstore and Coffee Shop Coziness
A simple date idea for those dads looking to slow down for the day is to recreate a local bookstore - the more vintage, the better. Now, at the moment actual bookstores and coffee shops might be out of the question - but that's no reason to not enjoy the same atmosphere!
First, fill your room with blankets and candles, turn on your coffee machine or brew a cafetiere with your finest blend and relax with a good book, soaking in all those Danish hygge feelings that will wash away any stress. To get the kids involved, make them hot chocolates and choose a book you all want to read, then read it out loud. This is a great way to get them away from their screens for an hour or two.
Now, choose a book. It could be one of your favorite authors, such as Haruki Murakami, James Baldwin, Jack Kerouac or Margaret Atwood - whatever you enjoy.
Alternatively, pick an author who is completely new to you. You could look through recent Nobel Prize for Literature winners, such as Peter Handke, Svetlana Alexievich, Kazuo Ishiguro or Olga Tokarczuk. Or you could look around online bookstores for inspiration and recommendations.
When you've both made your choice, go to the "local coffee shop" (Your kitchen or takeaway coffee store), order your most-loved usual (I'm a flat white with coconut milk kind-of guy) and read for the afternoon.
Remember, a date doesn't have to be mind-blowing or adventurous every time. Sometimes it can be as sweet and simple as enjoying a coffee, sharing a chuckle and getting stuck into your respective book choices together.
Here's a cute idea: Buy each other personalized bookmarks to help keep your pages with.
Create Swiss Chalet Magic with a Fondue Night
Let's increase the coziness with a night in a Swiss chalet. Purchase your favorite wine and some Emmental and Gruyère. It might be a little 70s in style, but that was a great decade. Spin a record, light a candle and relax on the couch while enjoying your cheese-dipped crudites and crusty bread.
You could even go out to experience this very European cuisine, but it's very easily recreated in the comfort of your own home. We've picked out a simple recipe from Epicurious here. This is also a really fun meal to share as a family.
And for dessert? Why not try a chocolate fondue? Delicious and definitely something the kids will adore if you'd like to involve them too.
Have you ever created some magical date nights you'd love to share with our gay, bi or trans dads? Channeled a Parisian cafe in the comfort of your kitchen? Built a drive-in movie theater in your backyard? Had a home spa day replete with facemasks and manicures? How have you involved your kids and turned dad dates into family nights?
We'd love to hear from you. Get in touch with your date ideas so we can provide even more great ideas for other deserving dads.