It's All Hallows Eve. A full moon hangs low in the sky. You hear the howl of a wolf and the squeal of a bat. There's a haunted feel to the air tonight. You feel a disembodied hand touch your shoulder and you turn around…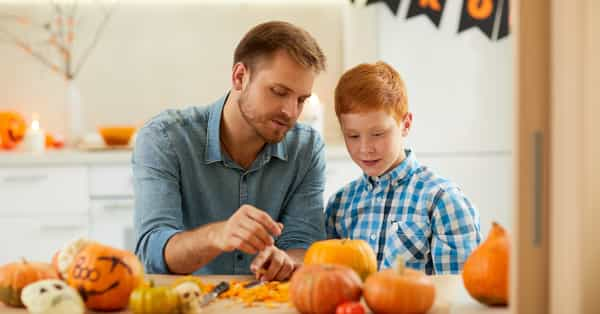 It's your child, wanting another caramel apple! Now is the time of trick n' treat and candy, creative costumes and sugar crashes. Lots of us love Halloween, from the fun parties with apple bobbing to scary movie marathons — and everyone knows gay dads can turn a wicked Halloween look or two. However, this year will be a little different. With all of us having to stay inside a bit more these days, we need to be a little adaptive when it comes to Halloween celebrations.
That's why we've come up with the best list of socially distant ideas for this year's Halloween fun.
1. Visit a Pumpkin Patch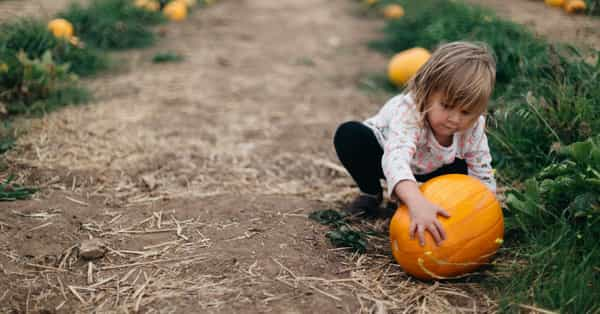 A COVID-friendly outdoor activity, visiting a pumpkin patch is a traditional Halloween day out. Find a local pumpkin field that does cashless payment and abides by distancing rules so that you and your family can choose the perfect group of pumpkins to display at your home.
2. Build an Outdoor Candy Graveyard
Got space in your yard? This is the perfect way to practice trick or treating without having to get close to other families. Make fake tombstones (you can make these out of polystyrene and paint) and then keep bowls filled with candy next to them. A child can enter one at a time and choose an item from one of the bowls - simple, safe and fun!
3. Piñata Time!
For indoor Halloween party fun, a Piñata is the perfect idea. You can make your own fairly simply using papier mache, then decorate it in any way you or your child wants. Maybe a pumpkin design or something a little more complicated, like a bat or ghost design?

It's fantastic fun to destroy and reap the sweet rewards, but also a very enjoyable thing to make with your young ones.
4. Make a Halloween Home Movie
Let's get all Blair Witch Project with a Halloween home movie! Now, obviously you can be a little more family-friendly than the Blair Witch Project, but this is a really fun opportunity to create something to look back on as your kids grow up.
Write a script, design costumes and use your home as the set. It doesn't have to be long (or even make much sense!), but we promise it will be a great experience for you and your kids. It will get their brains working and aid them in practicing creativity.
Plus, you could even have a Halloween-style awards ceremony afterwards.
5. Scary Movie Marathon
On the subject of movies, there's nothing better than a scary movie marathon to enjoy while celebrating Halloween at home. Here are a few of our child-friendly favorites:
Hotel Transylvania
ParaNorman
Ghostbusters
Coraline
The Corpse Bride
Hocus Pocus
Frankenweenie
The Witches
Casper
The Haunted Mansion
The Addams Family
Scooby Doo: The Movie
To check whether your choices are age appropriate, you can go to Common Sense Media. And when the kids have gone to bed, you might want to put on something a little scarier - Midsommar anyone?
6. Make Some Halloween Treats
Cookies in the shape of spiderwebs. Jelly in the shape of brains. Body-part cakes. Cupcakes with 'eyes' in them (marzipan and icing, of course). There are so many different options of ghoulish yet gorgeous confectionery to make with your family.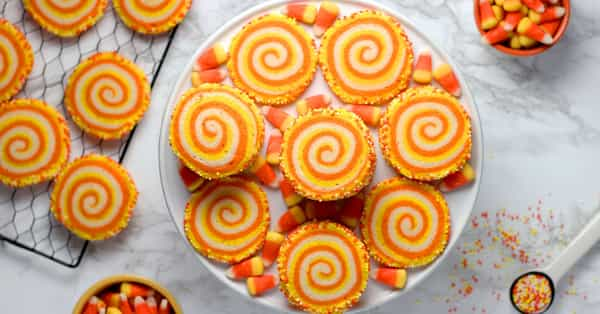 How about some candy corn spiral sugar cookies?
Ask your kids what kind of things they'd like to make, then find the recipe online which suits you the most. This is the perfect opportunity to teach your kids some cooking or baking techniques as well.
7. Halloween Camp Out
It sounds auspicious and almost too coincidental to be true, but October 31st will be a full moon. Known as the 'Hunter's Moon' or 'Blue Moon', this provides your family with the perfect opportunity to camp out in your yard.
Even with an overcast sky, this will be a fun chance to try something new, especially for young kids who may not have camped before. Take your laptop or tablet outside to watch movies and remember to make hot chocolate!
Plus, here's the biggest benefit: If you're sleeping on the floor, there's no way for the monsters under the bed to get you.
8. Host a Video Costume Party
This is a great choice for getting family and friends together for a night of devilish fun for all ages.

Using a video conferencing app such as Zoom, Skype or Google Hangouts, have a virtual party. You can vote for who has made the best costume and play games, such as Halloween-themed Pictionary, a trivia quiz or remote apple bobbing.
9. Decorate Your Face Masks
Face masks have become a common and everyday accessory. They're very functional, but this doesn't mean they can't fit with the holiday theme.
Get your face masks and decorate them with either permanent or removable additions. For example, you could make a spider's web out of string and clip it on, so that when you go to the store the next week you can return to looking normal.
The Frog Prince Paperie has some great ideas for Halloween mask alterations here.
10. Traditional or Virtual Pumpkin Carving
Remember the pumpkins you harvested? Well, it's time to carve them up!
You can do this the usual way, just as a family. Alternatively, set a video call up with another family with young children and carve together. Who can create the most unique pumpkin?
11. Throw a Halloween Scavenger Hunt
Instead of trick or treating around your neighborhood, turn your home or yard into a Halloween scavenger hunt of nightmarish proportions! Hide the candy, create clues and maps and warn your children about a monster who lurks ready to pounce on the unsuspecting scavenger.
You'll have to flip a coin on who will be the monster.
12. Create a Halloween Photoshoot
With costumes made and adorned, it's time for a photoshoot. Choose your scariest poses and get the lighting as atmospheric as possible, then create Halloween magic. You could even recreate scenes from your favorite Halloween films, such as Ghostbusters or Coraline. Just remember your props!
Have you got any unique Halloween ideas or traditions that are perfect for celebrating Halloween at home? Get in touch and share your ideas with other gay, bi and trans dads. We'd love to hear from you.