Schools are reopening, which means children, including yours, will be returning to their traditional learning environments. While this might be better for their education and development, it's also a tough time for dads who have safety concerns.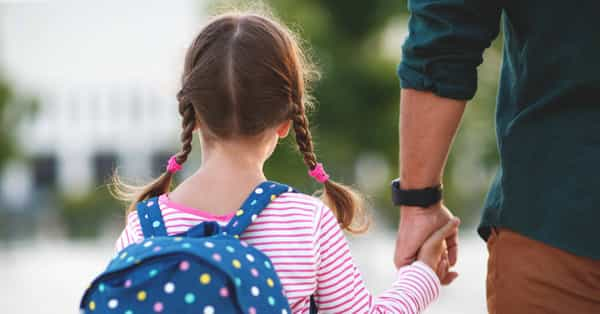 While schools will be setting out important rules and regulations for your child to follow while in attendance, you can also teach them about these best practices so they can go back to school safely.
The Difference Between Physical and Social Distancing
'Social Distancing' - it's become an incredibly common phrase of late and for an all-important reason - keeping us all safe. All of us can do our part in social distancing:
Staying six feet apart from people not in our household.
Limit contact when shopping.
Stay distanced while being active (running is a great exercise where you can socially distance!)
However, social distancing doesn't mean we have to stop being 'social'. Humans are social creatures and children need a good social life to develop and enjoy. This means you both need to figure out new ways in which your child can spend time with friends while staying safe.
Talk to your kids about how they can maintain a healthy mindset by arranging new ways to hang out with friends, so they're not running with social distancing to its full and potentially lonely extent.
You could have online video parties, movie nights, video game sessions or even play games such as Pictionary. Kids can even play outside with friends as long as they maintain a good distance from each other. For example, they could play sports that require distance, such as tennis (but don't share equipment), athletics or golf.
The CDC has more information on social distancing here.
Make Taking Temperatures a Habit
Some schools may take your child's temperature at the door, but it's still good to do this yourself. If they have a fever or an abnormally high temperature, make sure they stay home.
You can do this every morning before school, with an average thermometer or even an infrared one - all you need to do is point it at your child's forehead and it will automatically display their temperature.
If you want to go to that next level of safety, you can invest in an oxygen saturation monitor, which measures oxygen in the blood. A drop in blood oxygen saturation could be a potential sign of COVID-19 infection.
By taking temperatures, we can help to normalize this situation we are in, making it a little less scary for children as they return to school.
Brown-bagging It
During this time, it's much safer to bring food from home than have food from a cafeteria. A disposable brown paper bag can also be much cleaner than a reusable lunch box, which can be more likely to harbor and transmit bacteria.
Try and buy recycled brown paper bags so that this extra lunchtime waste won't be a strain on the environment.
Avoid Public Transport if Possible
Where possible, it's a great practice to avoid public transport. If you can give your child a ride to school that's perfect and if it's a short enough walk or cycle, even better. To promote safety, you could organize small groups of children that can walk together, while socially distancing of course.
This can be a bit like a walking carpool, where stops at other children's houses to collect them are incorporated. Not only is this safer, but it's also an extra bit of exercise for your child.
Remind Your Child To Wash Their Hands Regularly
Try and teach your child to wash their hands as much as possible. This can be done between every transition. If you have an older child who travels from one class to another, this is a great opportunity to do it. Younger children can excuse themselves every now and then, making sure their hands are nice and clean.
Similarly, provide your child with a small bottle of hand sanitizer. While it doesn't protect from germs completely, it's an extra defense during these times. There's also fun scents from Bath & Body Works that smell delicious!
Invest In a Reusable Mask
A washable, cloth face covering is the best investment during these times. They help to reduce the number of particles breathed into shared spaces, being caught in the fabric, which can then be washed and used again.
Children can benefit from having a unique mask - maybe one inspired by their favorite book or film, as it will help them keep track of it better than a plain or disposable medical mask.
Investing in reusable masks is a wise choice as a parent and is safer for your kids and better for the environment. Plus, who doesn't want to rock a Fortnite, Princess or Paw Patrol mask?
Washing After School
While it might be a bit of a chore, consider having your child shower or bathe when they return home. Your child may not jump at the chance, so explain to them the importance of cleanliness in a time like this. It's not just about protecting themselves, but the people around them.

If they're still not convinced, you can ask them to change their clothes and put them in the wash immediately after coming home. While this is a compromise, it will still help increase safety.
This is still a difficult situation for dads and their kids. If you've started any safety routines with your children or learned anything from these hard times, we'd really like to hear from you.
We believe this is a time for coming together, sharing knowledge and ultimately, keeping our children as safe as possible. Have you had any experience with preparing your kids for a return to school? We'd love it if you could share your tips with us so that we can share them with other dads in the same situation.