Wishing all of these gay, bi and trans dads whose families expanded recently a lifetime of happiness! Congrats to everyone in our community on their recent births and adoptions!
Congratulations to Andy and Jason on the birth of Reese!
"We both always knew we wanted kids and naturally gravitated towards surrogacy."
Andy and Jason started their journey to fatherhood two years ago. "We started reaching out to other gay dads - many we found through Gays With Kids - for advice on the process. Shortly after that, we signed with an agency and started building out our team: doctors, lawyers, and of course, our amazing surrogate and an anonymous egg donor." The dads created embryos with both of their sperm and chose not to know whose fertilized egg was implanted.
Their daughter Reese was born in May, and the dads were instantly in love.

"Holding Reese for the first time was the absolute best!," said Andy. "Due to Covid, we didn't even know if we'd be allowed in the hospital or the delivery room. The hospital was accommodating and set us up with our own room to wait for our daughter to be born, but told us we may not be allowed in the delivery room. Once our surrogate started pushing, they let both of us into the room and we got to be there for the birth. We did immediate skin-to-skin, and just sat there holding her for about an hour."
The San Francisco dads are completely smitten and love doting on their daughter!

Instagram: @abschu
Congratulations to Austin and Nathan on welcoming their son, Grady!

"Our path to fatherhood was truly an emotional roller coaster," said Austin. "Two years ago we were matched with a wonderful birth mother in Alabama and unfortunately the baby was born prematurely with trisomy-13 and passed away after only 20 minutes."
Following the loss of their little one, the dads took some time off. They restarted their journey a year later and within four months they were matched! "He was born on our anniversary June 16th and we could not be any happier and proud of him!"
"Holding him for the first time was surreal," shared the Georgia husbands. "We were in complete and total awe for the whole two days we were in the hospital with him."
Instagram: @awest770
Congratulations to Tyler and Dom on the birth of their son, Beau!
San Francisco dads became dads via surrogacy in Canada with three egg donors, three surrogates, and it took three and a half years! But welcoming wee Beau made it all worth it.
Beau was born June 13, 2020.
The dads describe holding him for the first time as pure magic! "Beau was very alert, and staring right back at me with those big, sweet eyes."

Congratulations to this new family of three!
Instagram: @tylercassacia
Congratulations to Sergey and Vlad on the birth of their son, Luke!
For New Yorkers, Sergey and Vlaf, every child is a miracle, and they were thrilled to welcome their very own miracle on June 21 this year. "May his life be full of amazing adventures and biggest happiness."
Despite the usual difficulties with a baby - lack of sleep and overthinking - every struggle has been a thousand times worth it for the new dads. "We honestly can't believe how fast time is going and that he is now two months old."
Luke joins his dads' other two children — their beautiful pups! Congrats to this new family of five!
Instagram: @sergeyandvlad
Congratulations to Martin and Paul on the birth of their son, Zac!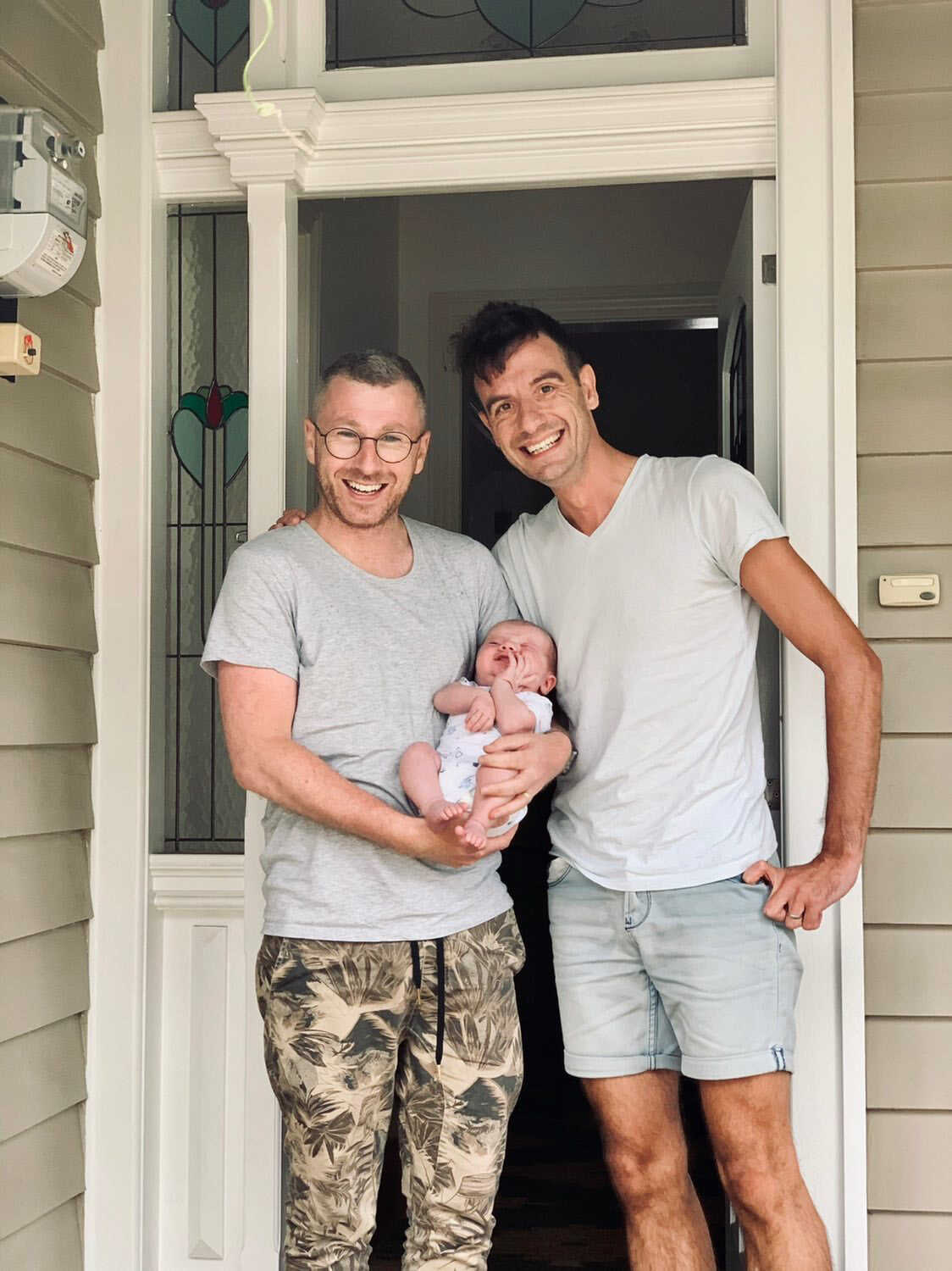 British expats Martin and Paul are the proud dads of Zac, born via surrogacy. "It took us just over two years from our first conversation until his birth in December 2019. Lightening fast is seems! Our egg donor and surrogate were in completely different states from us, and each other, which made it complicated but worth it!"
Zac was born December 28 last year and it was the moment of their lives! "The energy, emotion and rawness in the room was unlike anything either one of us had experienced."
You can learn more about this Melbourne family's journey via the Australian Surrogacy Podcast.
Instagram: @zedveesmith
Congratulations to Justin and Chris on the birth of their son, Elijah!
Justin and Chris from St Louis, Missouri, have been together almost eight years and married for almost four of them. "From the very beginning of our relationship we were both very vocal about our dreams of raising a child/children." About two years after they got married, the husbands started looking into surrogacy.
At first it seemed completely unobtainable due to the amount of money involved. "We knew that raising a child was something we had to do, so we just kept trucking forward and with the help of our amazing family we made it all work out. One of our sisters donated eggs, and one of our cousin's carries Elijah. It was a true family affair, and quite an example of a modern family."
On June 10th, Elijah came into the world! "Holding Elijah for the first time was the best day of our lives. We were in the delivery room and got to witness every part of his entrance into the world. It was such a surreal experience, and one full of love and gratitude. We will never forget it!"
The couple have four more embryos and are really excited to continue their family journey and give Elijah brothers and sisters - "we dream of having a big family!"
Instagram: @twodapperdads
***
Congratulations to Dan and Steve on the birth of their daughter!

New Yorkers Dan and Steve met in college and have been together for 13 years, and married for 6. "From the beginning we've talked about starting a family one day, and we spent a few years looking into our options." The couple officially started their surrogacy journey early 2019, and were matched with an amazing surrogate. "It felt like a long wait, but none of that mattered once we held [our daughter] in our arms for the first time."
On July 20, Dan and Steve became fathers! "Right after she was born we did skin-to-skin for an hour and it was so peaceful and magical, and it felt like we were meant to be her dads."
And since she's been born, she's had her dads wrapped around her little finger. "Every moment in the last week—when she looks up at me, when she grasps my hand, when she yawns—makes me forget about the middle-of-the-night feedings!"
Instagram: @dfreeman711
Congratulations to Alexei and Gordon on the birth of their son, Ian!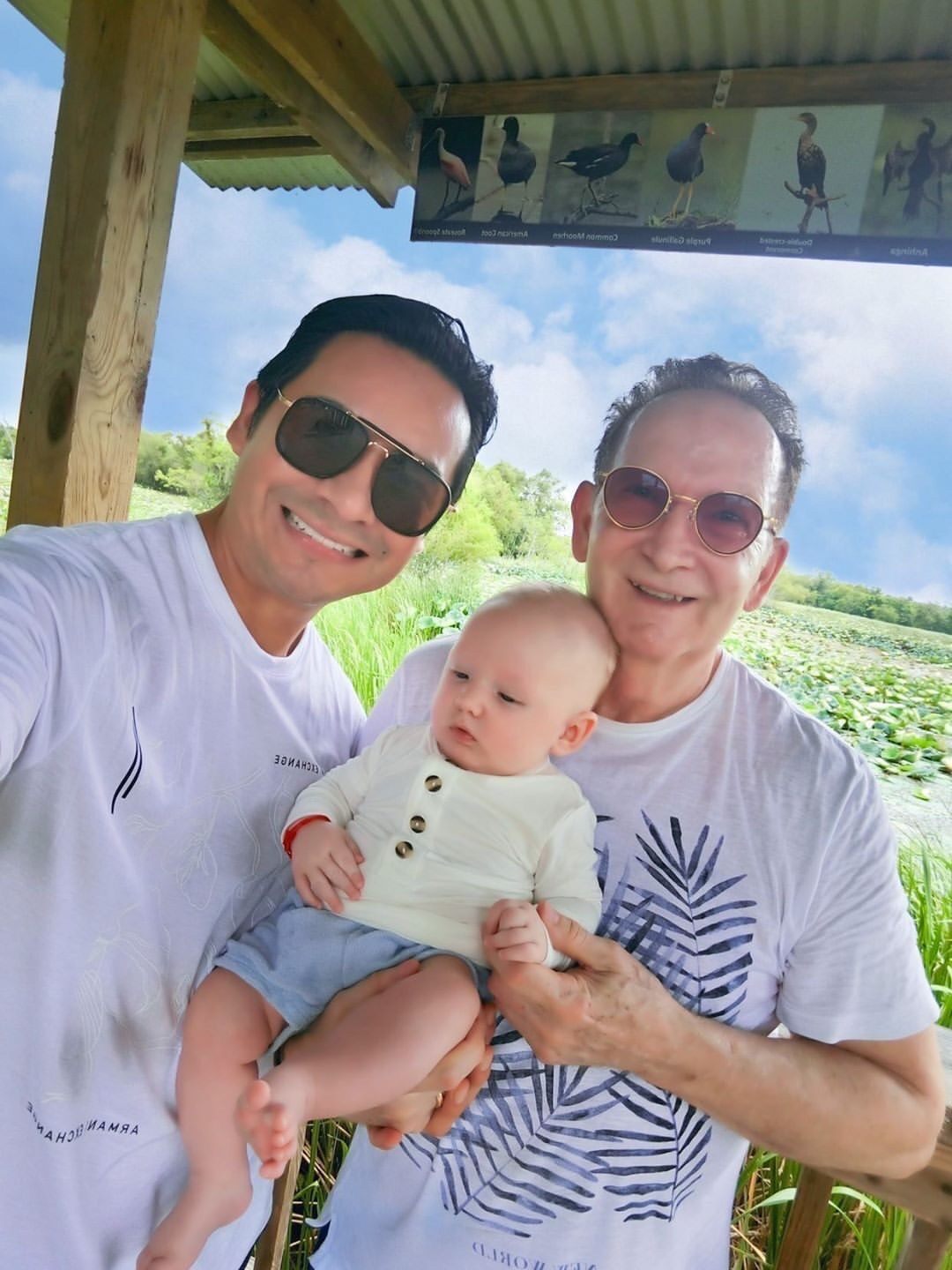 Houston couple Alexei and Gordon were thrilled to welcome their son on April 26th. And to make it even more special, Ian's dad Gordon was the attending doctor who delivered his own son!
"There are no words that can describe how happy we are, we feel so complete. Dreams do come true."
Congratulations to this new family of three!
Instagram: @alexeiquintal
Congratulations to Austin and Brian on finalizing the adoptions of Jaxon and Ellie!
Nebraska locals Austin and Brian always wanted to be dads. They had been fostering Jaxon and Ellie since May 2018 - they are from Brian's great niece and nephew, and they'd been in and out of ten foster homes; the couple didn't want to adopt anyone else.
"It was a very in-depth process and an emotional rollercoaster. A rollercoaster that often times stood still as if it hit a brick wall," shared Brian. "We were the first same-sex parents to adopt in our area."
On August 3, they became a forever family.
Brian and Austin recall their experience from the day Jaxon and Ellie's adoption was finalized. "Unless a person has gone through this, no one will ever realize the process in its entirety and no one will truly experience how it feels when you get to fill out and sign those 'orangish' pieces of paper... all that weight and stress that has been pressing against your chest starts subsiding."
"For some it doesn't only take a village to raise a child(ren) it takes a village to HAVE a child(ren)."
Instagram: @life_of_two_dads
Congratulations to Daniel and Dan on welcoming their daughter, Amaya!
Dan and Daniel always knew they wanted to be dads but weren't sure if it would ever be a reality. The Melbourne couple were married in 2019 after being together for four years.
After years of research they decided to pursue international surrogacy. "It was scary, a big leap forward and a costly process right in the heart of the COVID pandemic. But we were lucky enough to be blessed with our beautiful daughter, Amaya, who was born on 28th July 2020 and we still look at her every day and can't believe she's ours!"
From the first moment holding Amaya, the dads experienced feelings they'd never felt before. "So many emotions prior and once holding her, we couldn't help but to burst into tears of happiness."

The dads are still in the early stags of parenthood but they're sure life will kick off upon their return to Australia. The husbands both have very busy work lives, but they're excited to share their quality time with their new bundle of joy.

Instagram: @thedailydan_