Dad Life
Life with a Newborn: Nick and Chris With Their Daughter Ari
Apr. 08, 2017
---
It's only been a few months since Nick and Chris, 43 and 29 respectively, became dads to a newborn, but in that short time their daughter Ari has already taught them a lot.
"We are learning about love, selflessness, sacrifice and balance," shared Nick. "We've also learned that everything takes much longer and we are going to be late for everything!"
This has been a learning curve for the two dads who once were always on time and the first to be spontaneous with friends. But it's been a rewarding change as Nick and Chris navigate the path of first-time dads. Here's what their first few months have been like with a newborn.
How They Became Dads
Nick and Chris met through a mutual friend in 2010 and after four years together, they got married on July 18, 2014. After careful research on how to start their own family, they decided to get their foster parent license. They completed their training in 2015 and immediately went on a foster-adopt waiting list for children up to age 3.
After two years of waiting for the phone to ring, Nick and Chris re-evaluated, created an adoption book and sent it to a few agencies. Their first match was unsuccessful when the birth mother, towards the end of her third trimester, decided to keep the baby. The two men were devastated.
Their second match took them to Florida where they attended the 18-week ultrasound of Ari's birth mother. Nick and Chris developed a relationship with the birth mother during her pregnancy, so that when Ari was born in December 2016, an open adoption arrangement was established.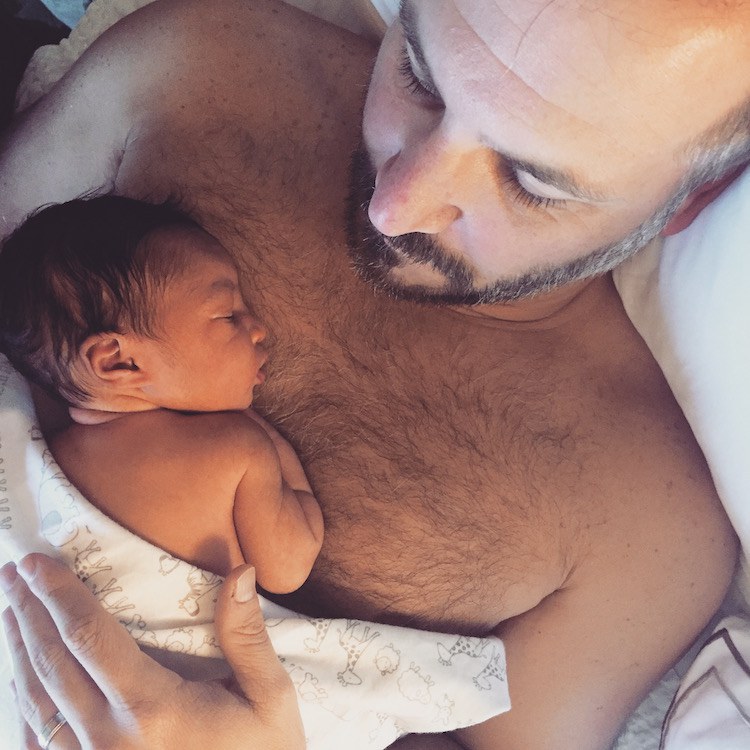 Nick and Ari
The Birth Plan
Nick, Chris and Chris's mom drove to Jacksonville, Florida, the day before their birth mother was induced. When they arrived, the two dads-to-be took the birth mother out for dinner and planned to pick her up the next day at 5 a.m. The dads recall the experience.
"We were with her all day as she was induced at 7 a.m. and didn't give birth till 11:05 p.m.," explained Nick. "We were in the room until she started to push at which point we went into the waiting room and our adoption coordinator FaceTimed us in. A few pushes later, she was out and we were able to come back into the room to see the baby."
The two dads were filled with love. They stayed overnight in the NICU feeding Ari and mostly just holding her. They spent the next 36 hours in the hospital. All parties signed the adoption papers 48 hours after Ari was welcomed into the world.
Nick and Chris had to stay in Florida for the ICPC process. (The Interstate Compact on the Placement of Children establishes uniform legal and administrative procedures governing the interstate placement of children.) That process  took almost three weeks, and Chris's mom stayed with them for the first week. Ari's first two doctor's visits were in Jacksonville, and the new dads enjoyed the reprieve from Chicago's harsh winters, strolling along the boardwalks and beaches as a brand-new family of three. Once they got the all clear, they headed back to Chicago.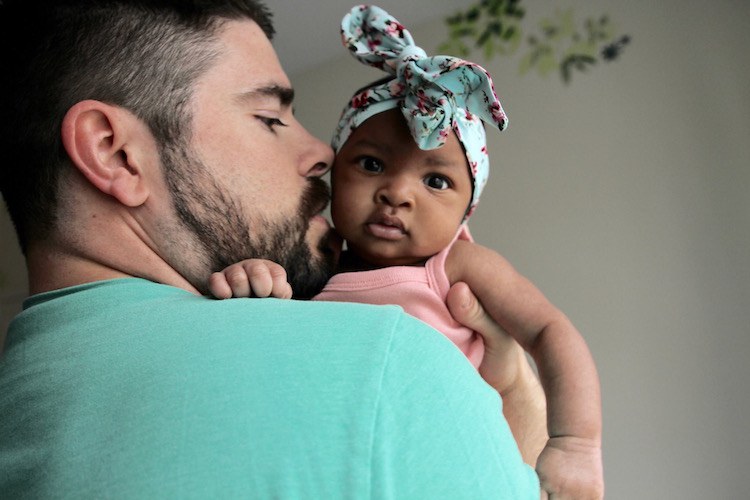 Chris with Ari
The New Routine
Nick, who runs his own repping firm for wholesale clothing, and Chris, a school teacher, were able to take some time off to adjust to their new fatherhood schedule. Ari began sleeping through the night at 10 weeks, and once Chris went back to school, his sister (who is also adopted) began childcare for the two dads three days a week. Nick has learned how to balance work and being a dad for the two remaining days of the week.
"We learned that it really DOES take a tribe to take care of a baby," said Nick and Chris. "We have a very eager group of friends and family that love to help out whenever needed. Even our friends have been willing to adapt to coming over to the house for dinner parties instead of going out."
One of the biggest adjustments for the new dads is having to plan everything. Things that were once considered simple, like going to the gym or grocery shopping, require planning and some forethought.
"We realized that we can do everything we did before having Ari but it just takes a little more time and patience."
The Biggest Surprise
What surprised them most? Their complete love and devotion for their daughter.
"I don't think anything could prepare you for the amount of love you feel for your child," exclaimed both dads. "We obviously knew we would love her but the feeling we have when holding our first child and knowing we are responsible for her wellbeing is indescribable."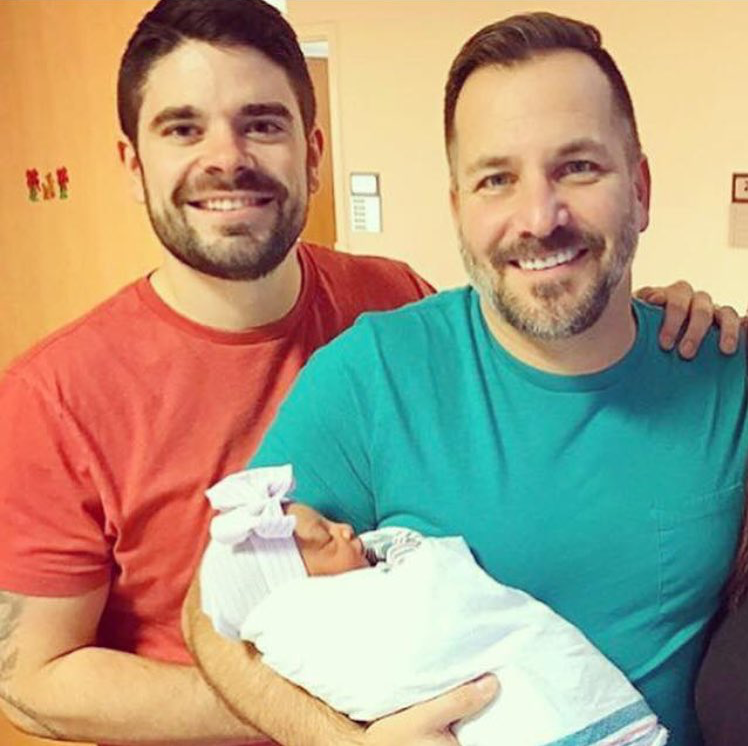 Chris (left) and Nick holding Ari
Their Most Precious Moment so Far
Being blown away by their families' and friends' love and support. Just three weeks after Ari was born, the new family of three, upon their return to Chicago, were greeted with a "Welcome Home Ari" banner, boxes of gifts and cards, a fully stocked fridge and cupboard, all from their loving family and friends.
"It was an overwhelming feeling to finally be home with our baby girl to such love from everyone," said Nick and Chris.
And, of course, the first time Ari smiled at her two dads.
Advice to Future Dads
"Make sure to make time for you and your partner and don't be afraid to accept help from your family and friends," said Nick and Chris.
"The process can be emotionally draining. Be prepared for a lot of ups and downs during the process but it is all worth it when you finally get to hold your baby in your arms."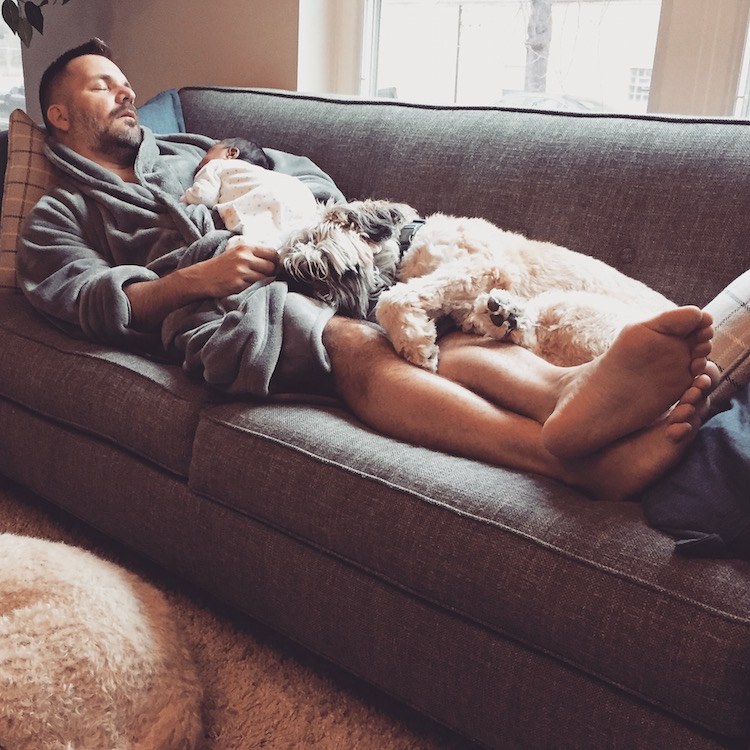 Nick having a nap with Ari and their four-legged child
Read about Jordi and Michael's first few weeks as first-time dads.
Brett and Jimmy created their family through adoption. Read about their first month with a newborn. 
It started when a four-year-old boy asked a clown, who had been hired to paint the faces of kids at a picnic, a simple question:
"Can I have a blue butterfly?"
Keep reading...
Show less
The Long Island Adoptive Families support group was created by parents going through the adoption process or who had already adopted. It was a great way to help members navigate the path of adoption whether it be private domestic, international agency, domestic agency or foster care. We spoke with Chemene, one of the founders, and found out how this group is supporting local gay men interested in becoming fathers.
Keep reading...
Show less
Adam Lozon and Scott Dufour met online and have been together 11 years.They live in Hamilton, Ontario, Canada, with their son Paulo. The couple are both in banking and are engaged to be married. We caught up with the dads to see how fatherhood was treating them!
Keep reading...
Show less
Guest post from Greg Hutch.
It's two weeks before school starts and I am sitting in my classroom updating the photos in the frames on my desk. These frames used to be filled with pictures of my dogs, of me playing my instrument (I am a music teacher), or of the various other things that I have enjoyed in my lifetime. Today, they are filled with loving pictures of my family, including my son and partner who I raise him with. Times sure have changed…thanks to our son, Clark.
Keep reading...
Show less
Editor's Note: In this ongoing series, we're shining the spotlight on some of the gay dads behind Gays With Kids as their incredible passion and commitment plays an invaluable role in making Gays With Kids possible. Please contact Brian Rosenberg if you'd like to talk about getting involved, too.
Keep reading...
Show less
Happy gay uncles day to all the wonderful "guncles" out there! Here at Gays With Kids we know how important your roles are within our families so we want to celebrate you today, and say a big thanks! Enjoy this collection of "guncle" photos and a few words of wisdom and contemplations from the uncles themselves.
Keep reading...
Show less
Two years ago when Oliver arrived into our lives, my partner Rob and I were living in separate countries. We met in Kuala Lumpur, Malaysia, and had Oliver when Rob was working in Bangkok and I was in KL. Oliver arrived two weeks early when we received an unexpected message from our agent saying to go to the hospital – our surrogate had been checked into hospital.
Keep reading...
Show less
The day began like any other. My alarm went off at 4.30am. I snoozed until 5am. I ate breakfast until 5.30am, at which point my son, Felix, woke naturally like clockwork. I fed him mashed bananas, cashew butter and chia seeds. I woke my dad up with a cup of tea and handed the baton over for him to look after Felix as I left for work on my bike at 6.30am. I worked through the day as normal. Then, at 6.49pm I received a call from the police.
Keep reading...
Show less
GET GAYS WITH KIDS IN YOUR INBOX

Follow Us on Instagram