Change the World
LGBTQ Organizations, Gay Rights Veterans and a Gay Dad are Leading the Fight for Gun Control
Aug. 08, 2016
For several years now, John Feinblatt (photo above) has helmed the largest gun control group in the country, Everytown for Gun Safety. Even in his line of work, which involves fighting alongside people who have been victims, or are related to victims, of unspeakable gun violence, Feinblatt was deeply shaken by the events that unfolded at Pulse nightclub in Orlando on June 12 of this year:
---
"I'm a gay dad," he wrote in a recent op-ed published in The Advocate. "So for me and my husband, Orlando was personal."
Feinblatt, however, has been fighting for sensible gun control policies since well before Orlando. And he has done so alongside other prominent LGBTQ organizations, such as the National LGBTQ Task Force and the National Center for Transgender Equality, and gay rights organizers, such as Zach Silk, Matt McTighe and Mark Glaze – all veterans of the marriage equality movement who have since moved on to the issue of gun control.
Taking a page out of the successful state-by-state strategy of the marriage equality movement, LGBTQ advocates have helped gun control advocates bring about some small, but notable, successes; a handful of states have passed new gun controls laws in recent years that mandate increased background checks and ban assault weapons.
You might be forgiven for wondering: Orlando aside, why have so many LGBTQ advocates taken up the issue of gun control? Don't we have enough to worry about – passing anti-discrimination policies and protecting transgender rights to name just a couple – without focusing our limited time and resources on seemingly extraneous issues?
Statistics, unfortunately, provide a stark justification: According to the FBI, LGBTQ individuals and our families are more frequently the targets of hate crimes than any other minority group. More than 20 percent of victims of gun violence, in fact, identify as LGBTQ – people of color and transgender individuals, moreover, make up the bulk of this grim figure.
Fighting to end gun violence in the United States, in other words, has long been a gay rights issue; it's been affecting our families for generations. Orlando is simply the latest, the largest, and the most gut-wrenching example of the impact of gun violence on LGBTQ people.
To be sure, the sheer scale of the attack in Orlando has galvanized our community with gusto unmatched in our previous activism on the issue. In the aftermath of the shooting, for instance, a new gun control group, called Gays Against Guns, has formed with the mission of becoming something of a perpetual thorn in the side of the NRA. The nation's largest gay rights organization, the Human Rights Campaign, also recently adopted the fight for stricter gun control laws as part of its official policy platform.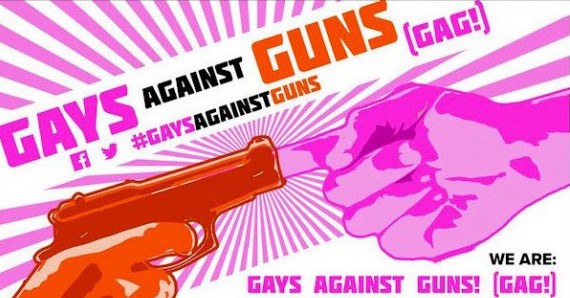 Thanks in part to the activism by gay dads like Feinblatt, there is a palpable sense of hope in the air that sensible gun control legislation might not be so distant after all. It's a feeling not so dissimilar to one many of us held, not so long ago, after the first few successes in the marriage equality movement, when the nation first started to realize that we as LGBTQ people will stop at nothing to protect our families.
When Milo turned two, friends and family would say, "Just wait for the terrible twos to start!" They came, they were terrible, (ok not all the time) and traveling with a two year old was trying at times, but it was still enjoyable (kind of)!
Keep reading...
Show less
Over 2 years ago, we spoke with experienced filmmaker Carlton Smith about his documentary featuring gay dad families created through foster-adopt. It was a heartfelt project that shone a light on the number of children in foster care (roughly 400,000 as referenced at the time) who desperately needed a home. And the large population of same-sex couples, many newly married, who were interested in starting families of their own.
Keep reading...
Show less
"Let's skip," my daughter said on our way to school the other week. She took my hand and started skipping along, pulling me forward to urge me to do the same.

Wouldn't it look, well, gay, for me to skip down the street? In public? I wasn't willingly going to make myself look like a sissy.
Keep reading...
Show less
Listen to the mustn'ts, child. Listen to the don'ts. Listen to the shouldn'ts, the impossibles, the won'ts. Listen to the never haves, then listen close to me... Anything can happen, child. Anything can be. - Shel Silverstein
Keep reading...
Show less
As part of our ongoing #GWKThenAndNow series, we talk to dads who have gone the distance and been together a great many years. Terry and Michael have been together 15 years, have two children, and live in Orlando, Florida. We find out how it began, and what they look for in a partner in life, love and fatherhood.
Keep reading...
Show less
Johnathon and Corey, both 29, met in 2011 working for the same employer. And since their first date, they've been inseparable. Johnathon is a full-time student pursuing a degree in Human Services, and once he completes his degree, he will return to his Native American tribe to help fellow Native American families in need. Corey is a stay-at-home dad. Together they adopted 6-year-old twins, Greyson and Porter, from foster care on June 1, 2017. We caught up with the first-time dads to see how fatherhood was treating them.
Keep reading...
Show less
It started when a four-year-old boy asked a clown, who had been hired to paint the faces of kids at a picnic, a simple question:
"Can I have a blue butterfly?"
Keep reading...
Show less
The Long Island Adoptive Families support group was created by parents going through the adoption process or who had already adopted. It was a great way to help members navigate the path of adoption whether it be private domestic, international agency, domestic agency or foster care. We spoke with Chemene, one of the founders, and found out how this group is supporting local gay men interested in becoming fathers.
Keep reading...
Show less
GET GAYS WITH KIDS IN YOUR INBOX

Follow Us on Instagram