Adoption
I Just Completed the Home Study. Here's What I Learned
May. 15, 2017
I'm not sure why, but it doesn't seem like anyone ever talks about the home study. Perhaps I glossed over the provision in all of the paperwork that comes along with adoption that says that talking about home study is taboo. Or maybe there's an unspoken agreement – "the first rule of home study is: you do not talk about home study."
Well…I'm breaking that rule.
---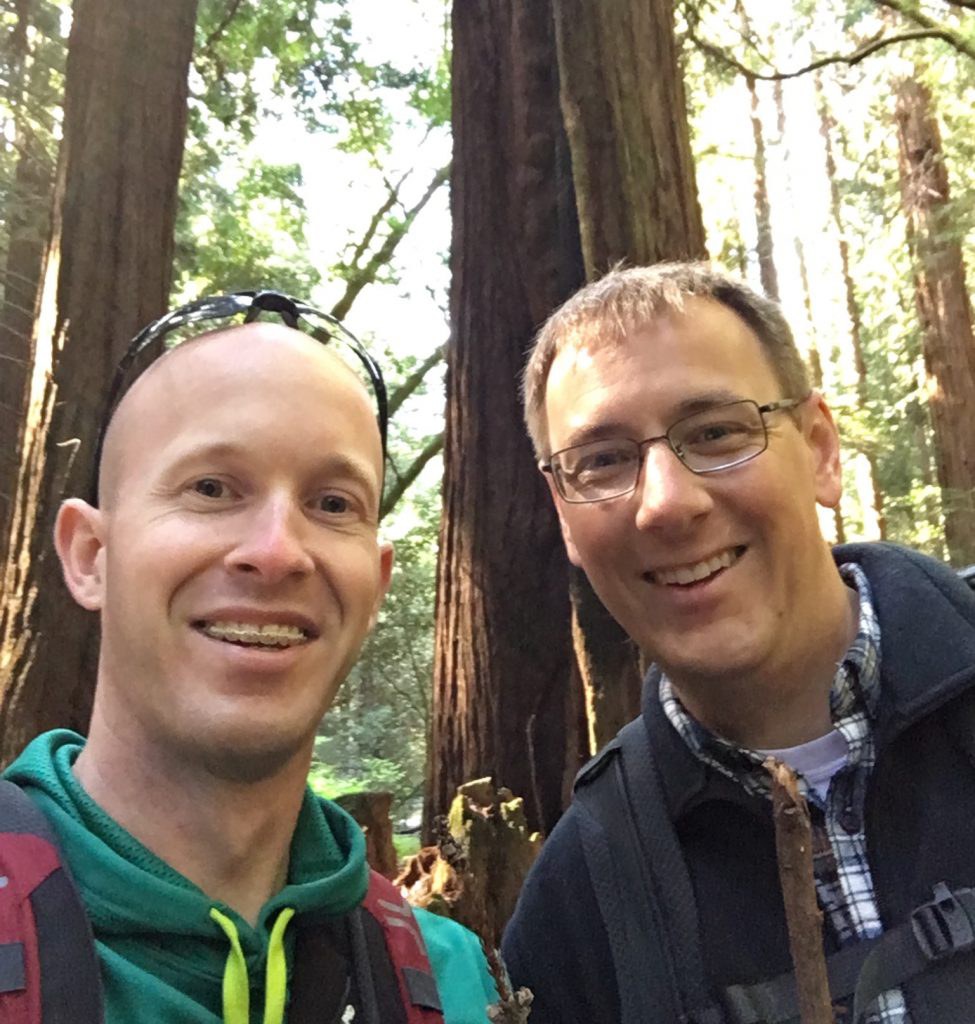 Ken (left) and Alex (right) at Muir Woods National Park
My husband and I started the adoption process about a year ago. We just finished our home study, and our profile is now being shown to expectant birth mothers. Our agency conducted the home study in a series of three visits, each of which was about an hour and a half in duration. Here's what I learned from each of these visits:
Visit #1: It's Not About How Clean Your House Is
We were incredibly nervous for our first home study visit. Our nervousness covered the whole spectrum of things that could go wrong. What if our house doesn't meet the standards required by our agency or the state? What if we're asked a question that we don't have a good answer for? What if the dog fur on the floor disqualifies us? Most of our worries were unfounded, but the home study is a big deal. We had to worry.
Friends had told us the home study is not a "white glove test." Still, it's spring, so we've got a pretty significant amount of dog fur. And, in general, we don't want to look like complete slobs. So, because we were concerned about a dirty house disqualifying us, we cleaned and vacuumed the night before our first visit. As it turns out, cleaning was largely unnecessary. Our social worker did not say one word about cleanliness. (Seriously…not even a compliment about how shiny the countertops were.)
Our social work told us something very early in her visit that put us at ease almost immediately. She told us that a lot of people ask when they'll find out if they've passed. Then she told us that, basically, we'd already passed---she wouldn't be here if we hadn't.
Our first visit involved a discussion about my husband and me. We sat in our living room and just talked. The discussion was natural. We discussed our relationship: how we met, why we clicked, what we like about each other, areas of our relationship that we can work on, etc. We quickly discovered that this portion of the home study was not about our home---it was about us. Ultimately, she needed to ascertain what kind of fathers we will be. Of course, she is concerned with how safe our home will be for our child. But this first visit, at least, was not about that.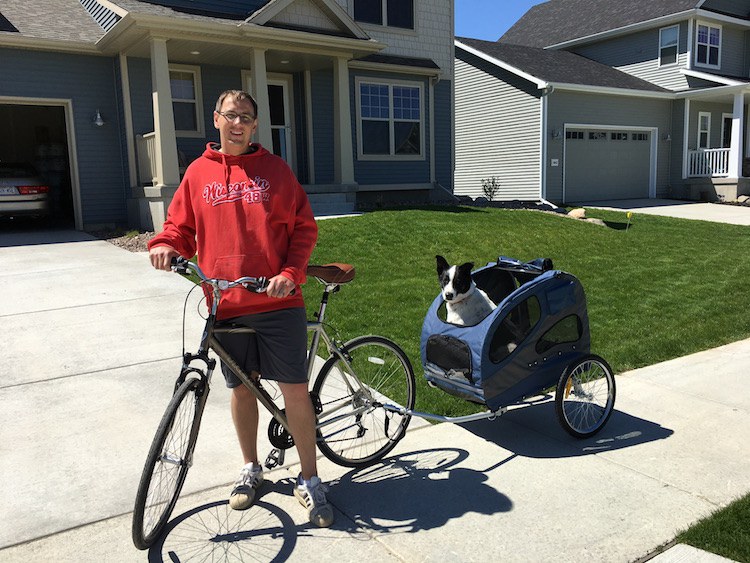 Alex taking Chace for a bike ride in the Houndabout
Visit #2: Mistakes Are Learning Opportunities
For the second visit, we met individually with our social worker at her office. Once again, we were all nerves before this visit. We thought the agency was trying to catch us in some type of fatherhood prisoner's dilemma. I did talk about my husband a little bit during my meeting, but the interaction was largely focused on my broader family, some of who have rather colorful histories.
"Just because a family member has spent a night or two in jail," I found myself saying to her, "it doesn't mean they'll be a terrible influence on my child."
At a certain point I could sense that our social worker probably agreed. That realization made me feel much more at ease with the conversation. At one point I said, "I feel like I'm portraying my family as a terrible group of people." (They're not terrible people.)
"You cannot change your past or your family's past,"Our social worker responded. "What you can do is recognize the learning opportunities that both you and your family have presented and grow from those experiences."
That is some good advice.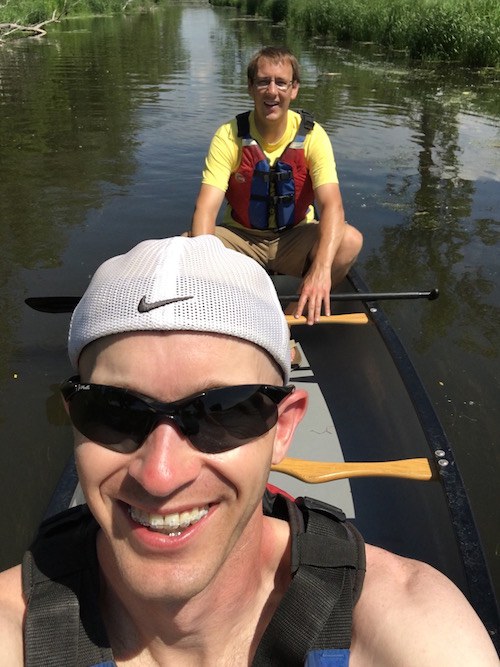 Ken (front) and Alex (back) canoeing in Madison
Visit #3: Your Home Doesn't Need to be Spotless... But it Does Need to Be Safe
The third and final visit was back in our home, where our social worker visited with us for about an hour. She had a few follow up questions from previous visits. We also briefly talked about the couple of missing documents that she needed to appease the state.
Then we walked through our house. My husband and I just built our home, so our social worker didn't have much to check in the way of compliance with building code. Still, she checked out the first floor living space, and we talked about our plans to convert what is now our office into a play room. She made sure the bedrooms and bathrooms meet state minimum requirements. We told her that the nursery is the only room in the house that we didn't paint when we moved in; we're waiting to see if we're having a boy or a girl. And we showed her our vision for how the nursery will be laid out. She also looked in the basement.
***
Is "home study" a misnomer? Maybe. We spent very little time focusing on our actual home. Perhaps "are-you-going-to-be-good-fathers study" was already taken. Regardless, don't lose sleep worrying about your home study. And when you do inevitably lose sleep worrying about your home study anyway, know that by virtue of having a home study, you're in the home stretch.
Read more:
Adoption Glossary: Terms Every Adoptive Parent Needs to Know
Path to Gay Fatherhood: The Adoptive Dad
It started when a four-year-old boy asked a clown, who had been hired to paint the faces of kids at a picnic, a simple question:
"Can I have a blue butterfly?"
Keep reading...
Show less
The Long Island Adoptive Families support group was created by parents going through the adoption process or who had already adopted. It was a great way to help members navigate the path of adoption whether it be private domestic, international agency, domestic agency or foster care. We spoke with Chemene, one of the founders, and found out how this group is supporting local gay men interested in becoming fathers.
Keep reading...
Show less
Adam Lozon and Scott Dufour met online and have been together 11 years.They live in Hamilton, Ontario, Canada, with their son Paulo. The couple are both in banking and are engaged to be married. We caught up with the dads to see how fatherhood was treating them!
Keep reading...
Show less
Guest post from Greg Hutch.
It's two weeks before school starts and I am sitting in my classroom updating the photos in the frames on my desk. These frames used to be filled with pictures of my dogs, of me playing my instrument (I am a music teacher), or of the various other things that I have enjoyed in my lifetime. Today, they are filled with loving pictures of my family, including my son and partner who I raise him with. Times sure have changed…thanks to our son, Clark.
Keep reading...
Show less
Editor's Note: In this ongoing series, we're shining the spotlight on some of the gay dads behind Gays With Kids as their incredible passion and commitment plays an invaluable role in making Gays With Kids possible. Please contact Brian Rosenberg if you'd like to talk about getting involved, too.
Keep reading...
Show less
Happy gay uncles day to all the wonderful "guncles" out there! Here at Gays With Kids we know how important your roles are within our families so we want to celebrate you today, and say a big thanks! Enjoy this collection of "guncle" photos and a few words of wisdom and contemplations from the uncles themselves.
Keep reading...
Show less
Two years ago when Oliver arrived into our lives, my partner Rob and I were living in separate countries. We met in Kuala Lumpur, Malaysia, and had Oliver when Rob was working in Bangkok and I was in KL. Oliver arrived two weeks early when we received an unexpected message from our agent saying to go to the hospital – our surrogate had been checked into hospital.
Keep reading...
Show less
The day began like any other. My alarm went off at 4.30am. I snoozed until 5am. I ate breakfast until 5.30am, at which point my son, Felix, woke naturally like clockwork. I fed him mashed bananas, cashew butter and chia seeds. I woke my dad up with a cup of tea and handed the baton over for him to look after Felix as I left for work on my bike at 6.30am. I worked through the day as normal. Then, at 6.49pm I received a call from the police.
Keep reading...
Show less
GET GAYS WITH KIDS IN YOUR INBOX

Follow Us on Instagram