Dad Life
Joe and Tim Share Their #GayDadStory, in Their Own Words
Feb. 17, 2017
Joe and Tim wrote their own #GayDadStory for Gays With Kids. They have been together 8 years, and were married on June 12, 2014. Joe is Papa and Tim is Dad to their two kids, Malaya and Zayn.
---
Beginnings – the Old-Fashioned Way
When Joe and Tim met in 2009, they had the same all-important question for each other: "Do you want kids?" They had both been in relationships where the other person wasn't interested in starting a family at all. This time, they made sure both were on the same page.
Joe had been close to having a family many years ago. In 1996, when Joe was a closeted junior in high school, he found out that he and his girlfriend were expecting a baby. As scary as it was, they decided to keep the baby and start a family. At three months pregnant, Joe's girlfriend moved into his family home and they began planning for the arrival of their child. When an ultrasound revealed that the baby was a boy, they decided to give the unborn baby a name: Tyler Matthew Oddo. In the following month, his girlfriend's parents began to wonder what was happening. Suddenly, one day in the fifth month of pregnancy, without Joe's knowledge, his girlfriend had an abortion. That pain and loss would live with Joe to this day.
As it is for so many LGBT families, the road to parenthood for Joe and Time would become a long and trying one.
Joe and Tim's New Attempt: Surrogacy
In 2010, unaware of the likely price tag of surrogacy, they met with the Fertility Center of Las Vegas to begin the process of surrogacy. They gave sperm samples, had testing done and even received pictures of potential egg donors. In their final meeting, the price of the process was totaled. When they heard that the starting price of surrogacy was around $86,000, they realized that, financially speaking, this wasn't an option for them.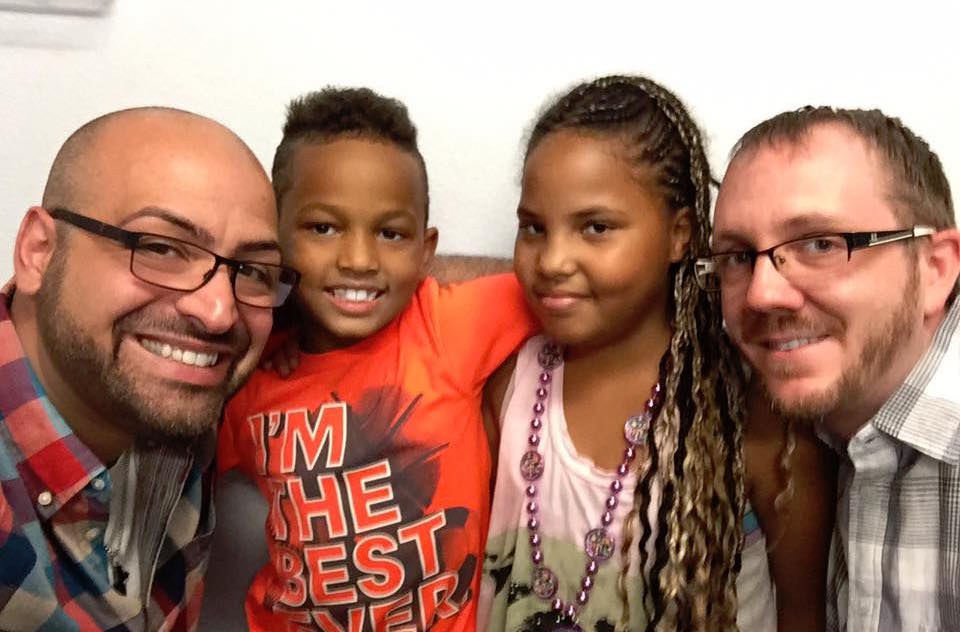 The day we met
The quest to have kids went on the back burner and they focused on growing their careers and enhancing their lives.
Joe and Tim Hoping to Adopt
In December of 2014, Joe and Tim's dream of becoming dads was sparked again. They met a pregnant woman who wasn't able to care for the baby and discussed adoption with them. An adoption attorney, however, told them that the men could legally only pay her medical expenses. The pregnant woman decided to keep the baby and raise it herself.
After that loss, the failed IVF and the traumatic events of Joe's teenage years, Joe and Tim said they would  stop trying for kids. After a mourning period, the began to travel again and enjoy life together.
But they both still wanted children. It seemed that everyone around them was conceiving. Whenever they checked Facebook, they saw ultrasound pictures.
Joe and Tim Hoping to Foster-Adopt
In October of 2015, they received a letter from a friend of the family talking about adoption. It was a painful letter, talking about loss and the difficult work of fostering children prior to adopting. Joe and Tim started discussing foster-adopt with each other. What if they received a child that they weren't able to work with? Would they be able to handle the onslaught of DFS workers in and out of their home? Could they help heal a child who has suffered loss?
In November, they made a decision. YES! They entered the Clark County Foster Care training program. The next 10 weeks only solidified their decision. There were over 400 children waiting for forever homes and they knew their child was out there waiting for them.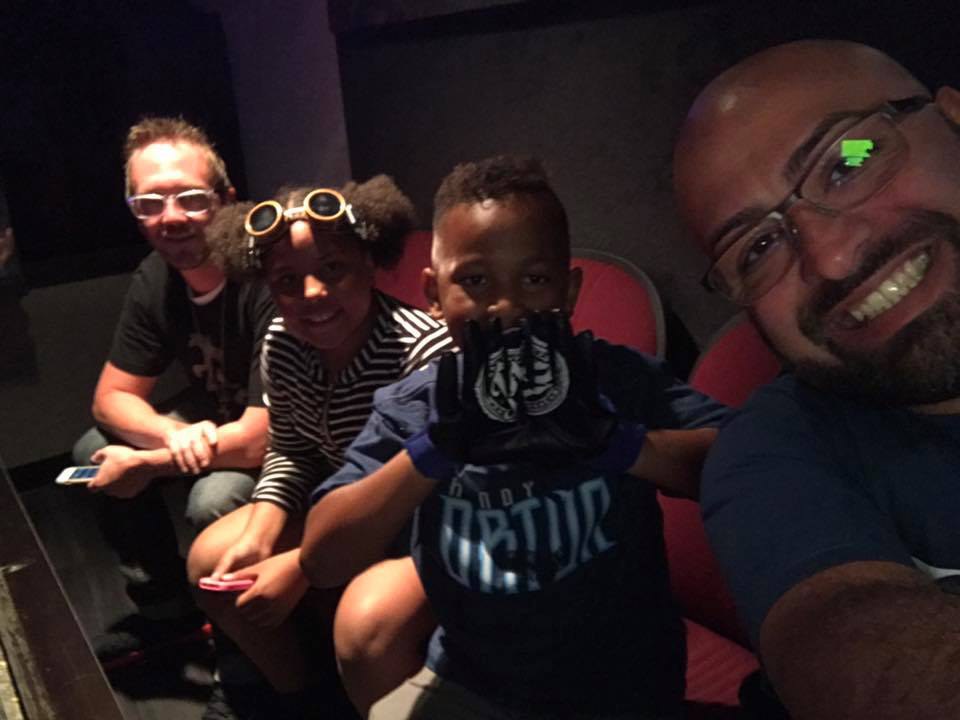 Our first WWE event (we all love the WWE)
Finally Success!
In May, Joe and Tim became licensed foster parents! They had to decline the first placement they were offered. But when they their licensing worker called to tell them about a sibling group of two, a sister and her brother, who were in desperate need of a forever home, the men took the plunge. After they asked many questions, assessed the kids' needs and their situation, they decided to meet these kids. On July 7, 2016 they met their future children for the first time.
The next seven months would be filled with learning, growing, stress, fights and a lot of home visits.
For Joe and Tim, perhaps the most frustrating part of it all was the many steps for finalizing a foster adoption. And so their advice to prospective gay dads is: Be prepared for piles of paperwork, hundreds of initials and signatures, and endless delays (due to the enormous workloads of the DFS workers) and stick with it!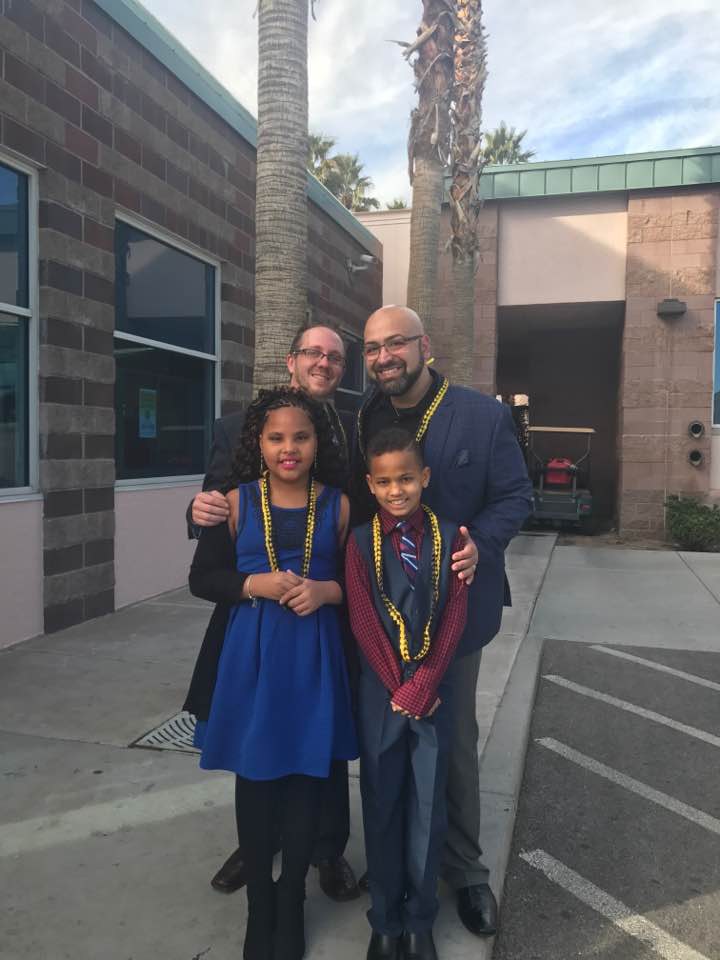 Finalization day
New Reality
The responsibility for two extra lives into their home weighed heavily on the men. They realized quickly that their parenting jobs were every bit as important as their regular jobs. School runs, preparing meals, doing laundry, cleaning the house and overseeing homework all took time. After a few months, Tim quit his day job in order to become a better father to his new kids.
Joe and Tim hope that they can help others on their quest to have children. Joe sits on the Board of Directors for the Gay and Lesbian Community Center of Southern Nevada and he hopes to bring more children to forever LGBTQ homes.
Their years-long quest for a family came to a happy conclusion on January 31, when, in a five-minute court hearing, Joe and Tim officially became the parents of Malaya, 10, and Zayn, 9!
When Milo turned two, friends and family would say, "Just wait for the terrible twos to start!" They came, they were terrible, (ok not all the time) and traveling with a two year old was trying at times, but it was still enjoyable (kind of)!
Keep reading...
Show less
Over 2 years ago, we spoke with experienced filmmaker Carlton Smith about his documentary featuring gay dad families created through foster-adopt. It was a heartfelt project that shone a light on the number of children in foster care (roughly 400,000 as referenced at the time) who desperately needed a home. And the large population of same-sex couples, many newly married, who were interested in starting families of their own.
Keep reading...
Show less
"Let's skip," my daughter said on our way to school the other week. She took my hand and started skipping along, pulling me forward to urge me to do the same.

Wouldn't it look, well, gay, for me to skip down the street? In public? I wasn't willingly going to make myself look like a sissy.
Keep reading...
Show less
Listen to the mustn'ts, child. Listen to the don'ts. Listen to the shouldn'ts, the impossibles, the won'ts. Listen to the never haves, then listen close to me... Anything can happen, child. Anything can be. - Shel Silverstein
Keep reading...
Show less
As part of our ongoing #GWKThenAndNow series, we talk to dads who have gone the distance and been together a great many years. Terry and Michael have been together 15 years, have two children, and live in Orlando, Florida. We find out how it began, and what they look for in a partner in life, love and fatherhood.
Keep reading...
Show less
Johnathon and Corey, both 29, met in 2011 working for the same employer. And since their first date, they've been inseparable. Johnathon is a full-time student pursuing a degree in Human Services, and once he completes his degree, he will return to his Native American tribe to help fellow Native American families in need. Corey is a stay-at-home dad. Together they adopted 6-year-old twins, Greyson and Porter, from foster care on June 1, 2017. We caught up with the first-time dads to see how fatherhood was treating them.
Keep reading...
Show less
It started when a four-year-old boy asked a clown, who had been hired to paint the faces of kids at a picnic, a simple question:
"Can I have a blue butterfly?"
Keep reading...
Show less
The Long Island Adoptive Families support group was created by parents going through the adoption process or who had already adopted. It was a great way to help members navigate the path of adoption whether it be private domestic, international agency, domestic agency or foster care. We spoke with Chemene, one of the founders, and found out how this group is supporting local gay men interested in becoming fathers.
Keep reading...
Show less
GET GAYS WITH KIDS IN YOUR INBOX

Follow Us on Instagram