Dad Life
In San Francisco, March Comes in Like a Crab, Goes Out Like a Lamb
Mar. 20, 2017
When Tim died of AIDS 10 years ago, he was cremated. Half of his ashes went to his sister in Maine, who planted an oak tree in the Wiccan tradition. We left the other half for his boyfriend, and that, we thought, was the last of it — until October. We got a registered letter from the funeral parlor telling us that Tim's ashes had been abandoned for a decade and that if we did not pick them up, his remains would be disposed of. So I drove to Duggan's and brought the second half of Tim home.
---
Aunt Amanda is Jewish pagan, which is kind of Wiccan, and she suggested we plant a Japanese maple over him in our backyard, which we did on Halloween. But this was a strange winter for trees. Lots of rain, lots of wind, and within a month, all the leaves had fallen, and my hopes for the sapling dwindled.
A month later, the ceanothus that we had planted when we had the triplets died. That tree had been popular. Krypto and Buddyboy marked it regularly, and all summer it was visited by a very friendly swarm of bees.
Aunt Dorla, whom the boys call Uncle Doya, planted a replacement. But I worried that the dogs and the bees wouldn't recognize it, and somehow I would be responsible for Crocker-Amazon beehive colony collapse disorder.
Two months went by, and Krypto still had not yet marked it. In the grand scheme of things, there are a lot worse problems than a sapling without leaves or a tree without bumblebees. But the superstitious Irish in me worried that if the sapling did not survive, then I had failed Tim's ghost (as if half your ashes languishing in the basement of a funeral home for a decade was not enough to ruin your afterlife).
In San Francisco, seasons are subtle. You have to look closely to see the signs. March comes in like a crab feed and goes out like a lamb.
The first sign of spring: This week the weather warmed, just a few degrees, but enough to open a window or two. I walked into the Whole Foods on Ocean Avenue to get raisins and buttermilk because March also means soda bread.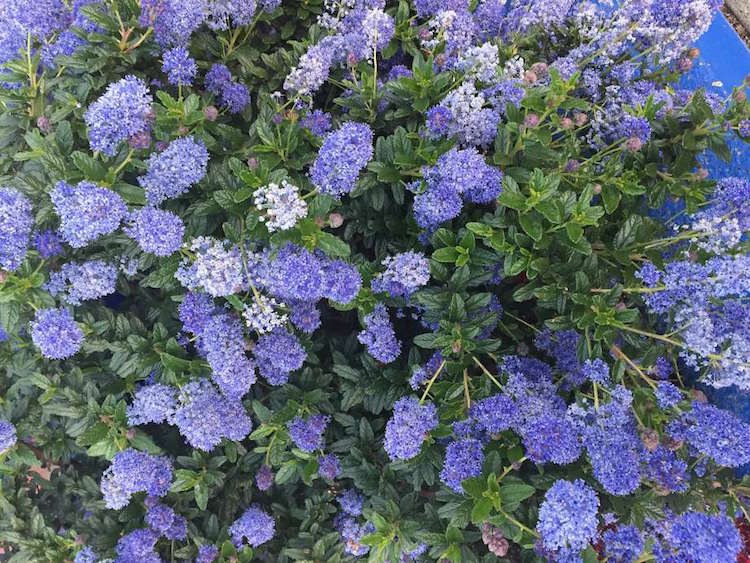 Ceanothus bloom
As Dylan John bagged the groceries of the woman in front of me, silver mist cascaded over the Ingleside hills, and we each smiled. Dylan said, "Fog dogs. All three of us." And I knew that the vernal equinox may not have arrived, but in the city by the bay, winter was over, and it was warm enough for the city to call the fog back.
The second sign of spring: I may have been thinking about the lack of bees, but Aidan was focused on the birds and bees. His fifth-grade teacher taught puberty 101, and this was the one class all year that my attention-deficit disorder son took notes. Aidan came home all full of himself, talking about "ejections" and whether he was growing hair down under. He was a little jealous that Zane's voice had started cracking, so I said, "It's just a phase. In 50 years, the whole sex thing will be a lot less interesting."
The third sign of spring: Aidan's class made a trip to the Presidio, and instead of rain and cold, we got a walk along Lobos Creek and saw red-tailed hawks wheeling through a cerulean sky, and the Golden Gate Bridge bursting with light. I could hardly wait to get back to the outer, outer, outer Excelsior to see if spring had reached the other side of the city.
When we did get back, at each corner of the blue bungalow, ceanothus burst with fat purple buds. The California lilac is not as fragrant as its East Coast relative, but, like the swallows of Capistrano, the bees had returned, thus proving that even a bumblebee is smarter than a Pekingese.
And there in the backyard, a tiny sapling sprouted pink and red leaves. Tim's ashes had either consecrated or fertilized the soil, and the cycle of death and rebirth had come all the way around the sun.
Bees return, even if the destination has changed. Fog returns like the whisper of those we have loved. And sometimes, even the most delicate of trees endures the winter.
It is then that those of us who doubt the spring are proved wrong.
This article was previously published in the San Francisco Chronicle. 
When Milo turned two, friends and family would say, "Just wait for the terrible twos to start!" They came, they were terrible, (ok not all the time) and traveling with a two year old was trying at times, but it was still enjoyable (kind of)!
Keep reading...
Show less
Over 2 years ago, we spoke with experienced filmmaker Carlton Smith about his documentary featuring gay dad families created through foster-adopt. It was a heartfelt project that shone a light on the number of children in foster care (roughly 400,000 as referenced at the time) who desperately needed a home. And the large population of same-sex couples, many newly married, who were interested in starting families of their own.
Keep reading...
Show less
"Let's skip," my daughter said on our way to school the other week. She took my hand and started skipping along, pulling me forward to urge me to do the same.

Wouldn't it look, well, gay, for me to skip down the street? In public? I wasn't willingly going to make myself look like a sissy.
Keep reading...
Show less
Listen to the mustn'ts, child. Listen to the don'ts. Listen to the shouldn'ts, the impossibles, the won'ts. Listen to the never haves, then listen close to me... Anything can happen, child. Anything can be. - Shel Silverstein
Keep reading...
Show less
As part of our ongoing #GWKThenAndNow series, we talk to dads who have gone the distance and been together a great many years. Terry and Michael have been together 15 years, have two children, and live in Orlando, Florida. We find out how it began, and what they look for in a partner in life, love and fatherhood.
Keep reading...
Show less
Johnathon and Corey, both 29, met in 2011 working for the same employer. And since their first date, they've been inseparable. Johnathon is a full-time student pursuing a degree in Human Services, and once he completes his degree, he will return to his Native American tribe to help fellow Native American families in need. Corey is a stay-at-home dad. Together they adopted 6-year-old twins, Greyson and Porter, from foster care on June 1, 2017. We caught up with the first-time dads to see how fatherhood was treating them.
Keep reading...
Show less
It started when a four-year-old boy asked a clown, who had been hired to paint the faces of kids at a picnic, a simple question:
"Can I have a blue butterfly?"
Keep reading...
Show less
The Long Island Adoptive Families support group was created by parents going through the adoption process or who had already adopted. It was a great way to help members navigate the path of adoption whether it be private domestic, international agency, domestic agency or foster care. We spoke with Chemene, one of the founders, and found out how this group is supporting local gay men interested in becoming fathers.
Keep reading...
Show less
GET GAYS WITH KIDS IN YOUR INBOX

Follow Us on Instagram