Gay Dad Life
How to Talk About Gender and Trans People With Your Kids
Mar. 10, 2016
When I was pregnant with Birdie, people surprised me with their acceptance of our family. Some people took some time to come around, but for the most part, by the time Birdie was born our community of family and friends were excited for her arrival. But, everything wasn't all rainbows and sunshine either; I lost people very close to me because they couldn't/wouldn't/didn't know how to tell their kids, who I was very close with for a very long time, that I was pregnant.
---
The loss of those kids from my life is painful to talk about and I usually avoid writing about it, but there it is. These folks, who are part of the GLBTQ community themselves, just couldn't tell the kids I was having a baby. Now I have an almost 2-year-old daughter and she has never met the two young people who helped shape me into the parent I get to be today. They don't get to be a part of this, the best part of my life, and to be honest, it is heartbreaking.
It just doesn't seem like such a big deal to me to talk to kids about gender. But I am transgender myself so maybe I am biased because I have no choice but to have these conversations, especially with my child. So, I decided to ask other people in my life how they talked to their children about our family. The children ranged in age from 18 months to 18 years and while the range in reaction and content of the discussion varied, the response was overwhelmingly positive. Some kids had questions, some questions led to bigger conversations about gender and reproduction, some kids took it completely in stride, but all of them were excited that their uncle/godfather/nanny/friend/neighbor was going to have a baby. Because babies are generally something to celebrate and children tend to understand that.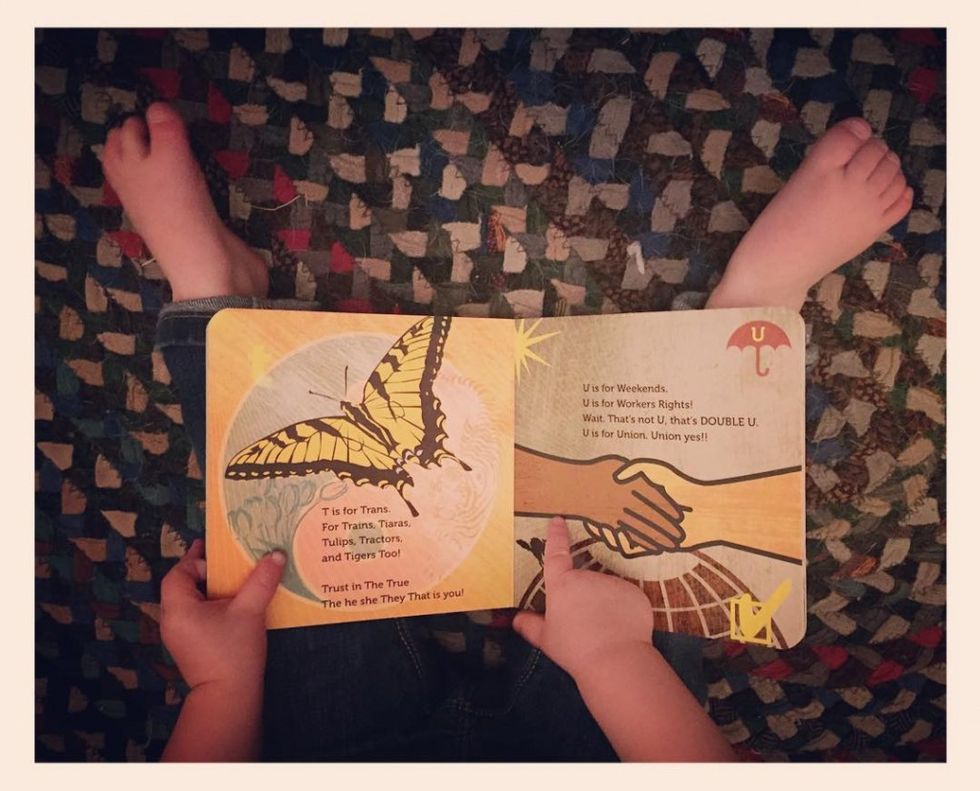 Birdie reading, "A is For Activist by: Innosanto Nagara"
I nannied full time for a family of a 2-year-old during my pregnancy. As my pregnant belly grew and we told her, "Stephen is growing a baby in his belly and when the baby is born you will have a new friend," she was largely unfazed. When she snuggled up to me for a book or fell asleep on me at nap, Birdie would kick her through my belly. My goddaughter, who was 7 when we told her we were having a baby, had some questions about how it was biologically possible, which her moms answered in an age-appropriate way. They also extended the conversation to talk about "more of the nuance of gender and how that can be different from sex. How we need to respect people's choice of how they identify regardless of what they look like on the outside and how we never ask people about their genitals and we respect pronouns." My neighbor's son was 7 too when his mom told him that we were having a baby; he said, "How can he have a baby in his belly; can boys do that? (Poor guy, I think he got a little excited.) His mom told him, "Stephen was born a girl but knew he was a boy and so that's what he is now. But he still has the uterus inside him that can carry a baby." He smiled and said, "I'm really happy for Stephen."
I understand that it may seem daunting to talk to your child about transgender people, especially if you don't have any transgender people in your circle of friends, but you should talk about it anyway. And honestly, you can, at any age, shift the way you talk to a child about gender, you can examine your own internalized beliefs about sex and gender roles, you can embrace your own gender expression and encourage your child[ren] to do the same. I am by no means an expert on how to talk about gender with kids, but I am transgender, I am a parent, and I have been a nanny for 15 years, and my advice comes from these lived experiences.
Where to begin? You have a gender; you may identify as cisgender or transgender or gender-fluid or gender-variant or male or female or neither or both. You express your gender; you may have been assigned female at birth, feel solid in your gender identity as female and feel comfortable and powerful expressing your femininity. You may have been assigned male at birth and feel comfortable as a male but do not feel comfortable with the expectations put on you because you are a man. We all have a gender, we all express our genders differently, so we should all be talking about gender; not just as it pertains to the trans community. Your child has a gender too, one that is developing along with everything else as they grow, learn and change. If you believe that children should have the right to autonomy and self expression it would be wise to encourage them to express their gender however they see fit. Firefighting super princess? Sure. Boy children wearing baby dolls and hosting tea parties? Why not. You hoped to raise your child free of gender norms but you ended up with a daughter who loves all the things girls are expected to love? That's ok too. Some girls are just fancy; ask a femme about it.
Watch your gendered language. I find it surprising how often I hear other queer parents using heteronormative and unnecessarily gendered language. For example; your 2-year-old male child is not "all boy" because he likes trucks and dirt. Lots of toddlers like trucks and dirt and it has nothing to do with their gender expression. It's not cute to ask a 5-year-old girl if she has a boyfriend. Why would you assume she will grow up to like boys? Why are you asking a 5-year-old if she is dating; instead, ask her what books she likes to read. Don't dress your baby in sexist onesies that reinforce gender stereotypes. (Seriously, google "sexist onesies." There are some pretty terrible ones out there.) When you are reading your child a book, try replacing the pronouns with the singular pronoun "they." When you talk about someone you don't know, don't make assumptions about their gender; use gender-neutral terms instead, "Yes, that person is wearing a hat. That kid is riding a bike. The grownup is taking care of their baby." I am not advocating that you always and only use gender-neutral language, but I am advocating that you use it more often and especially when you don't know someone's gender. Words can have a lot of weight and changing your language is a very small thing to do.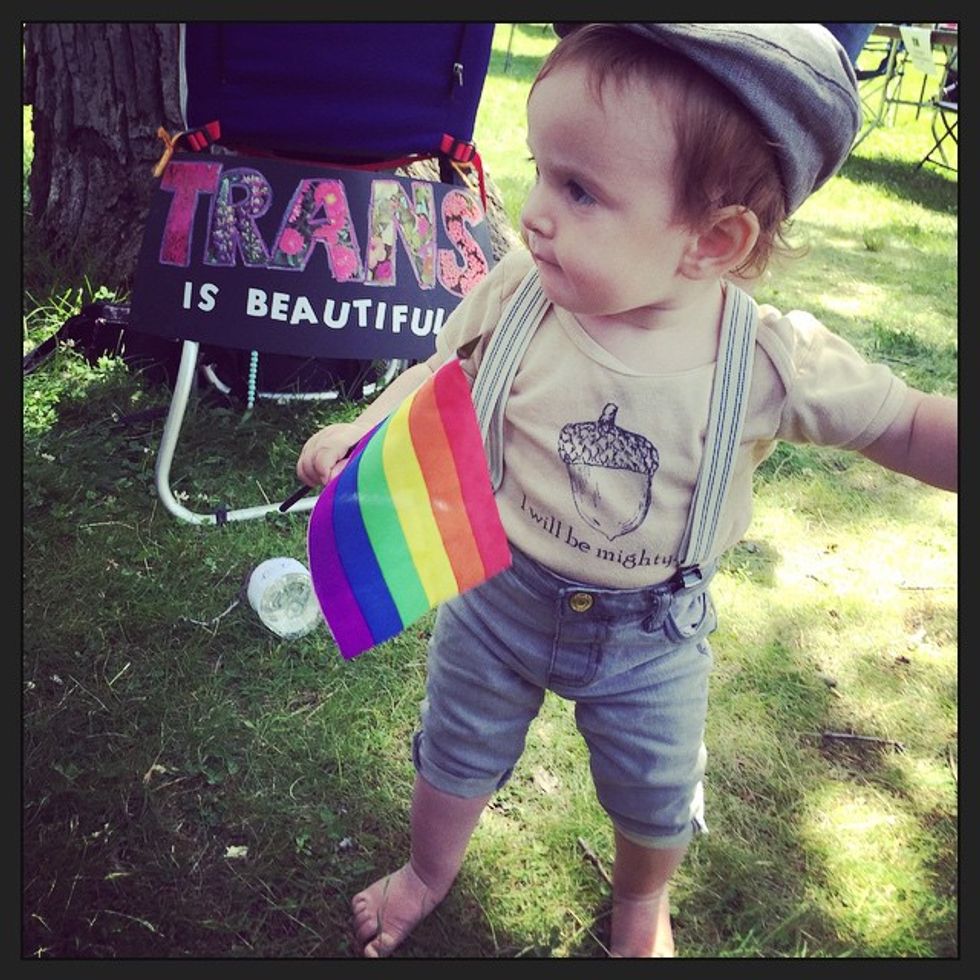 Tell your children about trans people. You probably already have started talking about gender, like when little ones start to notice differences. Instead of saying, "Boys have these parts and girls have those parts," try, some/most/many girls have these parts or some/most/many boys have these parts. Tell them some people are born assigned male at birth but as they grow up to feel like a girl and visa versa. Tell them that some people don't feel like either boys or girls or a little of both. Tell them that gender really comes from within even though some people like to think gender is about playing with certain toys or wearing certain kinds of clothes. Tell them that you can be a boy who likes to wear dresses and still be a boy, or you can be a girl who wants to play football and still be a girl. Tell them gender expression is a choice, their choice, and then support their choices.
When you do talk to your kids about trans people, don't use your trans friends as an example unless you explicitly have their permission. I am comfortable with people talking to their kids about me and our family because I am open about my gender. Not all trans people are comfortable being out to everyone, or out at all. And even is someone is out to you that doesn't necessarily mean they want to be out to your children. Let's be honest, kids aren't known for being able to keep information private. If you want to give your child real-life examples of trans people in their life, talk to your trans friends first and don't get upset if they say no; it is your job as an ally to be respectful. There are books, websites, and celebrities out there about their trans identity now, so if you don't have someone in your life who wants to be out to your child, you can look elsewhere for examples.
Lighten up about gender. As a kid I ran around shirtless in the woods with a baby doll strapped to my back. I did things boys like to do and I did things girls like to do. I turned out to be transgender because that's who I am, not because I liked blue more than pink or trucks more than dolls. Recently I was shopping at a store and an employee came up to us to say hello to Birdie. As Birdie was sitting in the cart looking at some pants, the employee [who assumed Birdie was a boy because of the outfit she was wearing] informed Birdie, "Oh, those pants are for girls. Those are girl's pants. For girls!" As she walked away Birdie touched the pants and said, "Girls?" And I said, "Birdie, those are pants. And anyone of any gender can wear those pants as long as they feel good in them. There aren't really just boy and just girl clothes, it's just clothes and clothes are for anybody." She nodded, ate more crackers and then said, "Not girls! Not girls. Hahaha." Yes Birdie, not just for girls. In fact, the pants in question were some rainbow striped leggings and I know plenty of boys who could rock those pants. Sometimes pants are just pants and toys are just toys and we should just let kids be kids.
When we start to break it down, the easiest way to talk to your children about trans people is just to make space to talk about gender, early and often. The more we as a community normalize openness and honesty around gender and trans experience, the more space we make in the world for families like mine to feel safe, welcome, and celebrated.
Check out and purchase some of these children's books as a way to start gender conversations in your home:
To see more examples of S. Bear Bergman's books visit his website Flamingo Rampant here, and to read a Gays With Kids article on the author, click here.
Check out our list of children's books about surrogacy.