Dad Life
How a Gay Dad Unexpectedly Became a Hockey Dad
Feb. 07, 2017
Could I Really be a Hockey Dad?
---
Hockey. My son wanted to play hockey. He asked repeatedly but my partner and I deflected. We distracted – but the ballet lessons we put him in weren't satisfying him, apparently. He was adamant about hockey.
Off to the neighborhood arena we went. The first time I walked in, it felt like a different world. Sure, I'd been in plenty of predominantly male spaces before, but this seemed like a foreign country. Here was a culture and a language I didn't know. All I saw were other men who did the typical male nod of the chin, the small motion that conveyed so much. I assume they were expressing things like "Hey!"; "How ya doin'?"; "Registration is over here"; "The first practice starts next week at 8"; and "See that guy who has no clue what he's doing?" It was all a code I had never learned.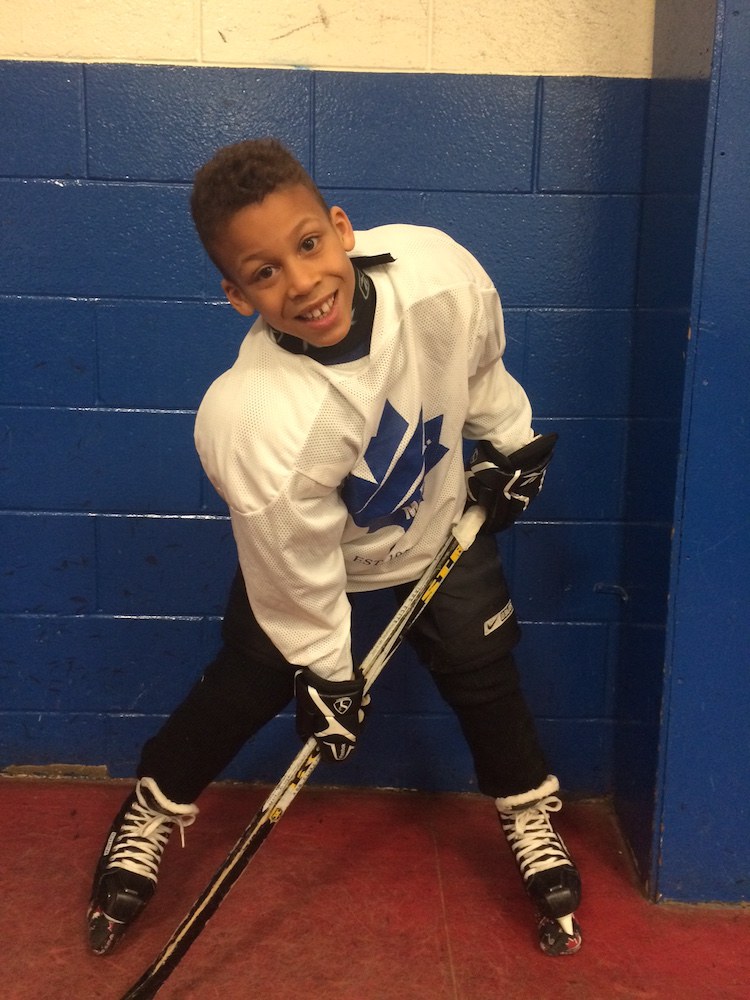 Our First Day
I managed, awkwardly, to get my son registered. Then the taciturn guy looked over my son and turned to me to ask, "Equipment?" I looked back blankly. The guy shrugged and told us what gear we'd need. I couldn't then admit not knowing what to put on first or how, so I looked out of the corners of my eyes to watch the other kids in the changeroom get geared up. I was so proud seeing my little guy skate onto the ice for his first practice, until I watched as the coach had to retie my son's laces. It felt like a dad failure on my part.
I'm a morning person, so I don't mind the early game times. But how would I fit in with the other dads? They stand at the boards, drink their morning coffee, talk about sports and yell encouragement and admonishments at their kids. I don't drink coffee. I don't know last night's scores. And what advice could I yell at my kid?
The Hockey Code
One day I overheard two of the dads talking. One of them said, "That number 11 is fast but too bad he's always offside." Number 11 – my guy. But I didn't admit that it was my son, nor that I didn't know what "offside" meant. Instead I went home to Google it. The next week, while lacing up my son's skates, I said to the coach, "We've been working on the offside thing." That day, I had to go home and Google "icing." I figured I could learn a hockey term a week. ("Icing: an illegal act by an ice hockey player of shooting a puck from within the defensive zone or defensive half of the rink beyond the opponents' goal line but not into the goal.")
Now I stand rinkside two or three times a week, happy because my son is happy. I can tie skates properly. I yell out "offside" when one of our players needs reminding. I hang out with the dads and chat about parenting, schools, weather, vacations, families – and a bit about hockey. I watch NHL games on TV with my son, so I'm picking up names of players and know who lost or won the night before. And I'm beginning to appreciate the strategy, speed and intensity of the game. The code isn't a secret – it is simply a new language.
The Maple Leafs Game
For my son's birthday this year, I bought two of the cheapest tickets to a Maple Leafs game when the Penguins were coming to town. Wearing the jersey of his hero, Sydney Crosby, my son opened the gift, threw his arms up and cheered. The tickets turned out to be standing room, behind the last row in the arena, the farthest away from the ice that one could possibly get. And yet when we arrived, my son said, sincerely and not charitably, "These are great seats!" He took it all in – the game, the atmosphere, the crowd. He focused intently on the game, knew when to cheer, when to groan, when to encourage the players and when to dispute the refs. He also knew to ask me for an overpriced hot dog, an oversized pop and an over-everything popcorn.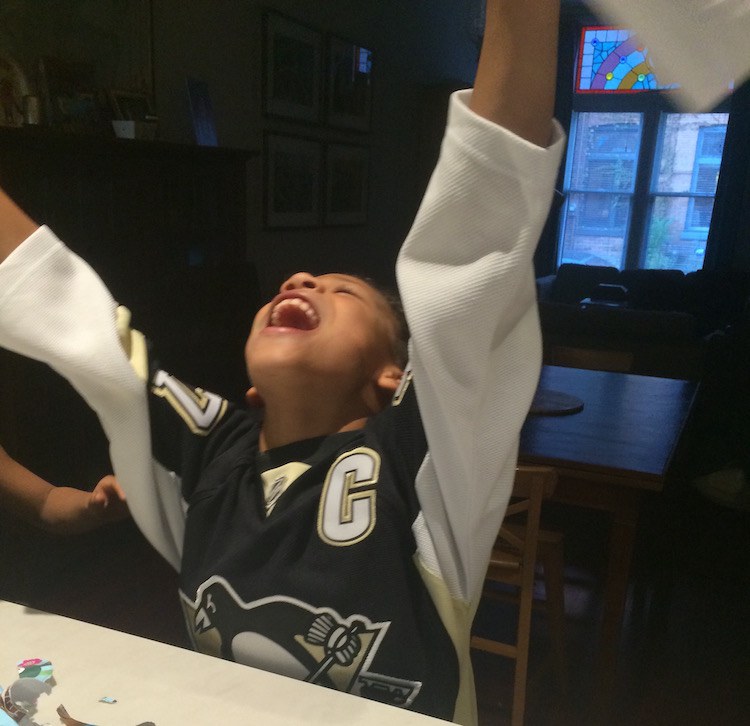 My Dad, My Role Model
It made me think of my dad who used to take me to games to try to get me interested in sports. He had to feed me to keep me occupied, before giving up on taking me altogether. My dad, who passed away 12 years ago, would have relished opportunities to take a grandkid to live games or watch sports with him on TV, all the things that I never liked to do. Instead my dad attended all the plays I wrote, directed or acted in. I didn't follow my dad into a business career or have his zeal for sports, but I could still use him as a role model.
Tears came to my eyes. Standing with my son for his first NHL game, out of my comfort zone, I was learning and experiencing new things right along my son. There, not because of the game, but happy because my son was happy. (Bonus: the Leafs won in overtime!) I will cheer him on and cheer with him, as long as I get to spend time with him doing what he loves.
When Milo turned two, friends and family would say, "Just wait for the terrible twos to start!" They came, they were terrible, (ok not all the time) and traveling with a two year old was trying at times, but it was still enjoyable (kind of)!
Keep reading...
Show less
Over 2 years ago, we spoke with experienced filmmaker Carlton Smith about his documentary featuring gay dad families created through foster-adopt. It was a heartfelt project that shone a light on the number of children in foster care (roughly 400,000 as referenced at the time) who desperately needed a home. And the large population of same-sex couples, many newly married, who were interested in starting families of their own.
Keep reading...
Show less
"Let's skip," my daughter said on our way to school the other week. She took my hand and started skipping along, pulling me forward to urge me to do the same.

Wouldn't it look, well, gay, for me to skip down the street? In public? I wasn't willingly going to make myself look like a sissy.
Keep reading...
Show less
Listen to the mustn'ts, child. Listen to the don'ts. Listen to the shouldn'ts, the impossibles, the won'ts. Listen to the never haves, then listen close to me... Anything can happen, child. Anything can be. - Shel Silverstein
Keep reading...
Show less
As part of our ongoing #GWKThenAndNow series, we talk to dads who have gone the distance and been together a great many years. Terry and Michael have been together 15 years, have two children, and live in Orlando, Florida. We find out how it began, and what they look for in a partner in life, love and fatherhood.
Keep reading...
Show less
Johnathon and Corey, both 29, met in 2011 working for the same employer. And since their first date, they've been inseparable. Johnathon is a full-time student pursuing a degree in Human Services, and once he completes his degree, he will return to his Native American tribe to help fellow Native American families in need. Corey is a stay-at-home dad. Together they adopted 6-year-old twins, Greyson and Porter, from foster care on June 1, 2017. We caught up with the first-time dads to see how fatherhood was treating them.
Keep reading...
Show less
It started when a four-year-old boy asked a clown, who had been hired to paint the faces of kids at a picnic, a simple question:
"Can I have a blue butterfly?"
Keep reading...
Show less
The Long Island Adoptive Families support group was created by parents going through the adoption process or who had already adopted. It was a great way to help members navigate the path of adoption whether it be private domestic, international agency, domestic agency or foster care. We spoke with Chemene, one of the founders, and found out how this group is supporting local gay men interested in becoming fathers.
Keep reading...
Show less
GET GAYS WITH KIDS IN YOUR INBOX

Follow Us on Instagram