Dad Life
Happy Birthday, Kid; The Cat is Dead
Mar. 01, 2017
How is my child EVER going to survive this?
It's a question I've asked myself time and time again as a parent. Will my daughter freak out when we throw away her binkies? Will my son be helpless when he enters Kindergarten and knows no one at his new school? Will the inconsolable tears cried at daycare drop-off – THIS morning! – embed themselves into my child's pre-frontal cortex and result in permanent memories? (Thanks for putting that in my brain, Inside Out!)
Ultimately, no matter what challenges my son and daughter have faced thus far, they keep reminding me of something I've heard more than once: kids are resilient.
This theory was recently tested again when we were visiting my sister and her family in Texas. We were four adults and four kids (ages 4, 5, 6 and 7) under one roof, and mid-week their beloved cat got sick … horribly sick. Suddenly, the poor cat had to be put down … on my nephew's birthday.
In addition to sadness, we adults had an even bigger concern: how were the kids going to take it? Especially the birthday boy. We had no option other than to tell them the truth; the cat ran away and hopefully we'd find her soon. OK, not really (as tempting as that was), we told them that the cat had died.
And, there was sadness. And tears. Particularly from the birthday boy.
About a half hour later, the barrage of questions began. We braced ourselves.
"When do we get cake?"
"Is there ice cream?"
"Can we open the presents, now?"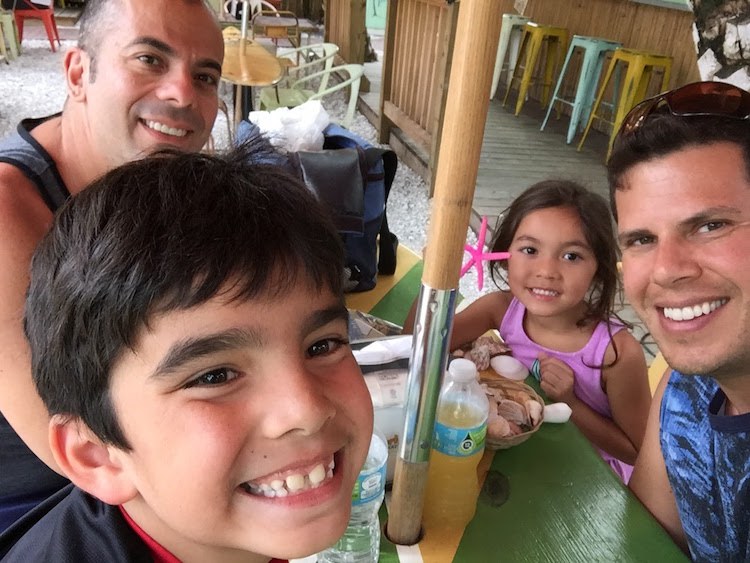 Tom (far right) and his husband (back left) with their two kids
To be fair, the expected, and surely understandable, emotions showed up. Fortunately, the kids did an amazing job of managing those emotions and moving on.
*  *  *
---
Before I became a parent, I had some serious concerns about what life would be like for kids with queer parents — and I know I'm not the only person, LGBTQ or not, who has had such concerns.  Would my kids feel or be treated different from other kids? Would they feel an absence growing up in a non-traditional family that didn't have a mother and father? Would they be bullied or discriminated against?
The questions were so big and concerns so real that I actually ended up doing my doctoral research on this topic: What was it like for kids to grow up and go through school with LGBQ parents? (No trans individuals were interviewed for this study.) I interviewed current college students, and what I learned is that they all faced some level of challenge growing up, but they all survived.
They were different and, as it goes for anyone who is different, sometimes those differences made them targets. But ultimately, they all got through, gaining skills (and fabulousness) that most of their peers will never attain.
My research uncovered an important discovery: once these kids got to a point where they no longer cared what others thought about them (mid-high school for most), they were strong enough to handle almost any negative thing that was thrown their way.  Oh, and just as importantly: every single person I interviewed said even if given a chance, they would not have changed their lives or family structures, because it was part of their story, and it made them proud to be who they were.
I know some of the challenges our children face can seem insurmountable. It would be irresponsible of me to shrug off severe bullying, health issues, loss, rejection, alienation, or other serious issues life can throw someone's way. The suggestion that "kids will get over it because they are resilient" is a gross generalization. However, when it comes to any hurdles our kids must overcome, big or small, I will say this: support and unconditional love are crucial. It is our job to be present, listen to our kids, empathize, show them our love and help them get through.
Dr. Tom Bourdon is the senior vice president of LGBT partnerships for prowdr.com as well as an organizational leader who has served at the helm of multiple social justice, LGBTQ and education-focused organizations. Bourdon's career has focused on LGBTQ as well as broader diversity and inclusion issues. He is now an independent consultant, trainer and coach helping individuals and companies grow and thrive in these two areas. He is married to his partner of 19 years and they are the proud fathers two children.
Originally published on prowdr.com.
It started when a four-year-old boy asked a clown, who had been hired to paint the faces of kids at a picnic, a simple question:
"Can I have a blue butterfly?"
Keep reading...
Show less
The Long Island Adoptive Families support group was created by parents going through the adoption process or who had already adopted. It was a great way to help members navigate the path of adoption whether it be private domestic, international agency, domestic agency or foster care. We spoke with Chemene, one of the founders, and found out how this group is supporting local gay men interested in becoming fathers.
Keep reading...
Show less
Adam Lozon and Scott Dufour met online and have been together 11 years.They live in Hamilton, Ontario, Canada, with their son Paulo. The couple are both in banking and are engaged to be married. We caught up with the dads to see how fatherhood was treating them!
Keep reading...
Show less
Guest post from Greg Hutch.
It's two weeks before school starts and I am sitting in my classroom updating the photos in the frames on my desk. These frames used to be filled with pictures of my dogs, of me playing my instrument (I am a music teacher), or of the various other things that I have enjoyed in my lifetime. Today, they are filled with loving pictures of my family, including my son and partner who I raise him with. Times sure have changed…thanks to our son, Clark.
Keep reading...
Show less
Editor's Note: In this ongoing series, we're shining the spotlight on some of the gay dads behind Gays With Kids as their incredible passion and commitment plays an invaluable role in making Gays With Kids possible. Please contact Brian Rosenberg if you'd like to talk about getting involved, too.
Keep reading...
Show less
Happy gay uncles day to all the wonderful "guncles" out there! Here at Gays With Kids we know how important your roles are within our families so we want to celebrate you today, and say a big thanks! Enjoy this collection of "guncle" photos and a few words of wisdom and contemplations from the uncles themselves.
Keep reading...
Show less
Two years ago when Oliver arrived into our lives, my partner Rob and I were living in separate countries. We met in Kuala Lumpur, Malaysia, and had Oliver when Rob was working in Bangkok and I was in KL. Oliver arrived two weeks early when we received an unexpected message from our agent saying to go to the hospital – our surrogate had been checked into hospital.
Keep reading...
Show less
The day began like any other. My alarm went off at 4.30am. I snoozed until 5am. I ate breakfast until 5.30am, at which point my son, Felix, woke naturally like clockwork. I fed him mashed bananas, cashew butter and chia seeds. I woke my dad up with a cup of tea and handed the baton over for him to look after Felix as I left for work on my bike at 6.30am. I worked through the day as normal. Then, at 6.49pm I received a call from the police.
Keep reading...
Show less
GET GAYS WITH KIDS IN YOUR INBOX

Follow Us on Instagram