Dad Life
How to Handle Your Child's First Crush
Apr. 27, 2017
It's late at night. You can't sleep. You put on the TV, but all the Golden Girl reruns are over. So you open your laptop. Go to your email and hit the refresh button. You expect to see a One Kings Lane email appear, or another Trump-ruining-America CNN alert like every other night. But instead it's an email from your child's kindergarten teacher. The ominous subject line simply says your child's name: "Maxwell."
Oh shit.
You start to shake. You're scared to click on it. So you quickly eat the emergency white chocolate Kit-Kat you keep in the top drawer of your bedside table. A hundred thoughts rush through your mind as you quietly crunch to avoid waking your better half. Did he bite someone? Was he caught eating his boogers? Someone else's boogers? Has he not memorized all his site words? Did he play the "Chuck" name game in class (Chuck, Chuck, bo-buck, banana-fanna fo…)? Or worst of all, did he bully someone?
You snap out of it! Obviously, he didn't bully anyone. He is your kid after all. But nothing could have prepared you for the content of this email:
Hi! I just wanted to let you know about a situation at school involving Maxwell. He apparently has a crush on one of his classmates (and the classmate has a crush on him). There has apparently been some kissing going on (on the cheek), I think mostly by the other person. I spoke to both Maxwell and the other child today about what is/is not appropriate at school. I would appreciate you having a similar conversation at home. This "romance" is causing quite a stir in the classroom.
Thanks for your support!
Sincerely, Mrs. Amazing Teacher
Okay, her name isn't actually "Ms. Amazing Teacher." But she is, in fact, an amazing teacher to my son, Max. We love her. Max loves her. He's learned so much in her class and goes to school excited every day. I just want to go to the same extreme protecting her name as she did withholding the kissing culprit's name.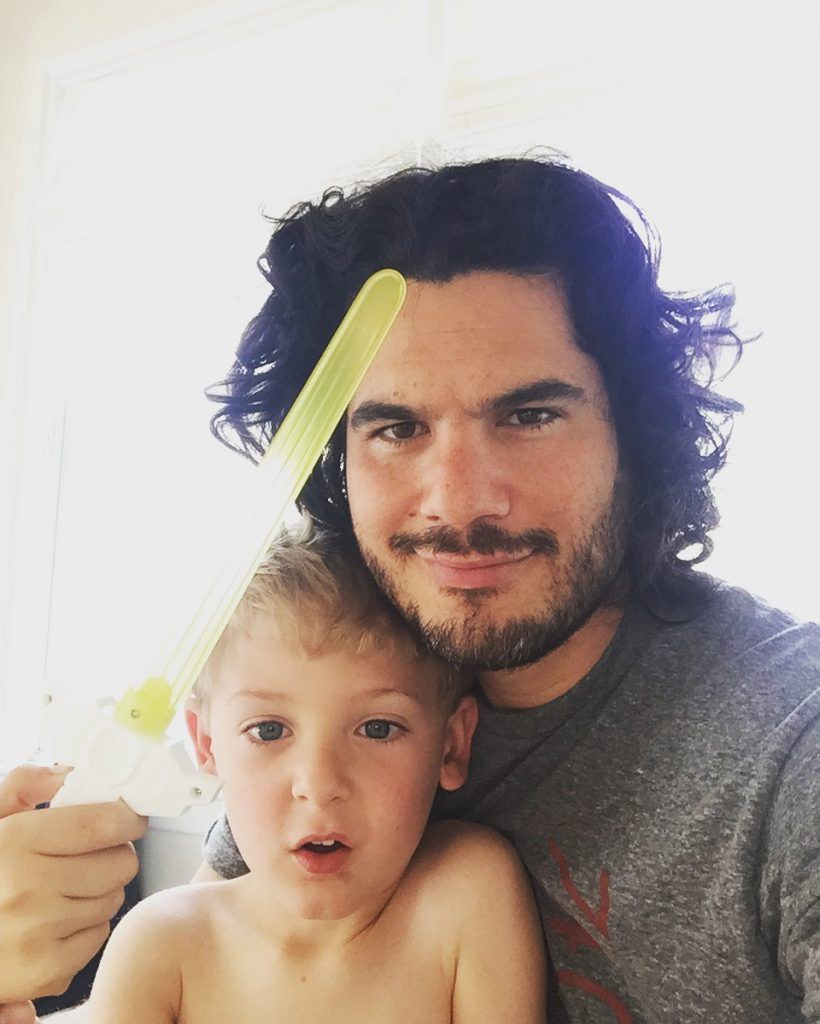 My first reaction was this must be an April Fool's joke. Everything about it reeked of being Punk'd. But sadly, Ashton Kutcher was nowhere to be found. Was I supposed to take this seriously? Based on her decidedly earnest tone, I reckon I was.
But was this really worthy of an email? Causing a stir? He's six!
The thing I found oddest was her seemingly deliberate use of vague, non-specific descriptions ("classmate" and "the other person"). I wouldn't expect her to call out the other child by name, but not using pronouns seemed rather anomalous. And therefore, I couldn't help but think, maybe this so-called "crush" was on another little boy, and she didn't want to be the one to open that can of worms. No pun intended.
"So," I asked Max on the way to school the next morning, "are there any kids in class you like playing with the most?"
"I like playing with everyone," he replied.
"But is there anyone extra special you like spending time with?"
He thinks for a moment. "Oh, yeah, I married Sarah at recess yesterday" (not her real name.) "We got in trouble because she kept kissing me."
My first inclination was to high-five him and ask about a prenup, but then I remembered his teacher's request. I said it's totally okay to play together at school, but that kissing isn't appropriate behavior at school. As I said the words aloud, I couldn't help but cringe a little because I didn't think the behavior was necessarily inappropriate. I felt it was normal. I pretended to get married on the playground when I was his age. Everyone at school knew I'd  be Mr. Whitney Houston.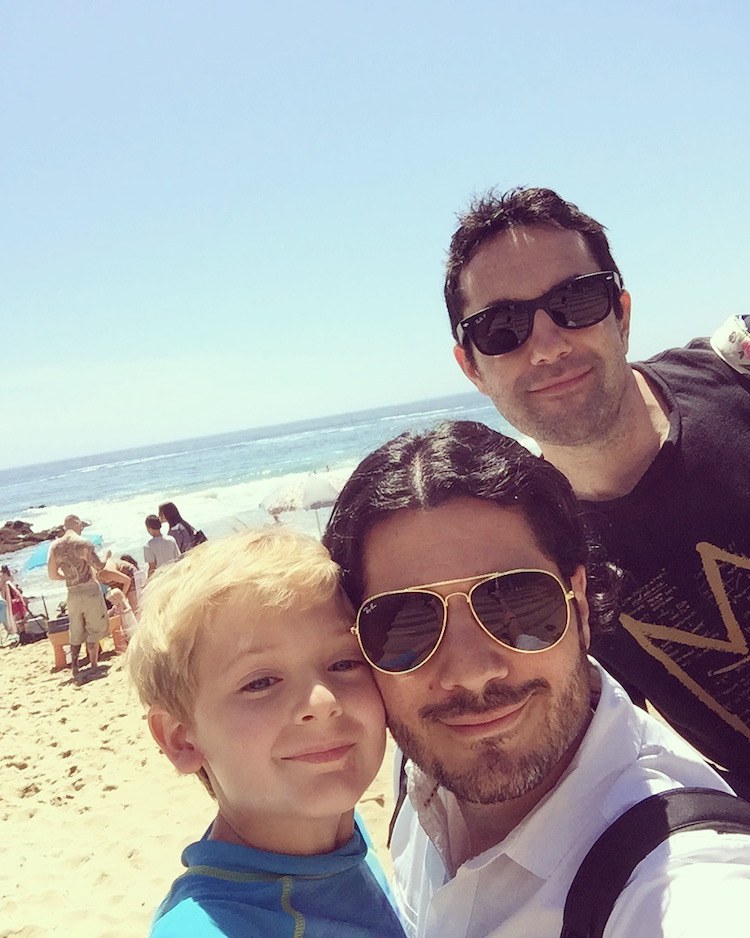 So what's the big whoop?
After doing some research I have a much clearer understanding as to why his teacher reacted the way she had. I learned some tips on how to handle your child's first crush — and take note, because it involves more than a simple high-five.
SET BOUNDARIES
According to experts, most kids will experience their first crush by the age of five or six. And while Kindergarten crushes rarely amount to more than hanging out at recess together, kids at this age may want to act out what they think it's like being in love. One of these behaviors is oftentimes kissing on the cheek. Experts say there's absolutely zero sexuality at this age. It's just their way of showing their feelings. If kissing is happening at school, it's probably a good idea for you to talk about boundaries with your child. Playing together at recess: all good. Kissing in the classroom? Not so much.
IT'S NO LAUGHING MATTER
When talking with your child about their schoolyard crush, do not laugh at them or dismiss their feelings. If you do, they might not feel comfortable opening up to you in the future. And that can lead to bad things. Remember Amy Fisher?
FIRST LOVES CAN BE VERY TELLING
A schoolyard crush can oftentimes foreshadow the type of person your child will be attracted to as he grows up. Experts suggest that these early connections help us understand which qualities we notice and like in other people — and adversely, a few that we don't. So take note. Ask questions. Then sit back and enjoy watching how it all unfolds.
LOVE IS FLEETING
If we've learned anything from Justin & Britney's relationship, young love doesn't last. And while most kids will get over their first crush quickly, some may struggle with hurt feelings. Whether your child is the heartbroken or the heartbreaker, it might be a good idea to ask them how they feel about it. It's also a good time to remind them of all their wonderful qualities. One thing I do that seems to help in situations like this — I tell Max about my own similar childhood experiences, so he realizes these things happen to everyone and it's just a part of growing up.
LOOK FOR THE LESSON
With puppy love comes lots of teachable moments. It's a good time to talk about things like respect, privacy and kindness. For example, a well-mannered man never kisses and tells (unless you've kissed a celebrity — in that case, Tweet that shit!). Another important lesson… if someone has a crush on your child, but your child doesn't return the feelings, it's important for your child to understand that he/she doesn't have to reciprocate.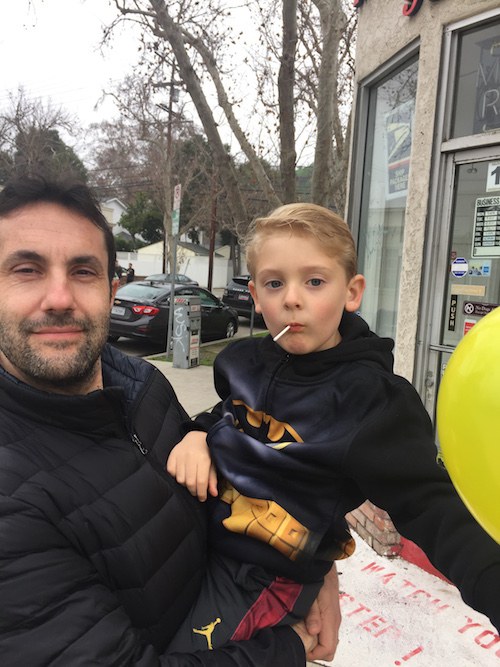 So in the end I learned that while puppy love can be "cute" at first, it's not always harmless. I now understand why Max's teacher reached out to us. Helping our tots navigate these special feelings is critical to how they cultivate healthy and positive habits in future relationships. So be sure to check in with your child's teacher if you think your child may have developed special feelings for someone. It's always good to get their perspective — after all, teachers often spend more time with your kids than you do.
Love is a tricky and sensitive subject matter. It's always important to keep the lines of communication open. If your child opens up to you, use it as an opportunity to guide — not dictate — his decisions. Because when we respect and honor our children's first loves, they are more likely to look back on them fondly.
As for my marriage to Whitney … it's not right, but it's okay.
---
Read David's recent posts:
American Horror Story: Getting Your Child to Take Medicine
Putting an End to My Son's Obsession With Toy Weapons
My Favorite Father and Son Movies
It started when a four-year-old boy asked a clown, who had been hired to paint the faces of kids at a picnic, a simple question:
"Can I have a blue butterfly?"
Keep reading...
Show less
The Long Island Adoptive Families support group was created by parents going through the adoption process or who had already adopted. It was a great way to help members navigate the path of adoption whether it be private domestic, international agency, domestic agency or foster care. We spoke with Chemene, one of the founders, and found out how this group is supporting local gay men interested in becoming fathers.
Keep reading...
Show less
Adam Lozon and Scott Dufour met online and have been together 11 years.They live in Hamilton, Ontario, Canada, with their son Paulo. The couple are both in banking and are engaged to be married. We caught up with the dads to see how fatherhood was treating them!
Keep reading...
Show less
Guest post from Greg Hutch.
It's two weeks before school starts and I am sitting in my classroom updating the photos in the frames on my desk. These frames used to be filled with pictures of my dogs, of me playing my instrument (I am a music teacher), or of the various other things that I have enjoyed in my lifetime. Today, they are filled with loving pictures of my family, including my son and partner who I raise him with. Times sure have changed…thanks to our son, Clark.
Keep reading...
Show less
Editor's Note: In this ongoing series, we're shining the spotlight on some of the gay dads behind Gays With Kids as their incredible passion and commitment plays an invaluable role in making Gays With Kids possible. Please contact Brian Rosenberg if you'd like to talk about getting involved, too.
Keep reading...
Show less
Happy gay uncles day to all the wonderful "guncles" out there! Here at Gays With Kids we know how important your roles are within our families so we want to celebrate you today, and say a big thanks! Enjoy this collection of "guncle" photos and a few words of wisdom and contemplations from the uncles themselves.
Keep reading...
Show less
Two years ago when Oliver arrived into our lives, my partner Rob and I were living in separate countries. We met in Kuala Lumpur, Malaysia, and had Oliver when Rob was working in Bangkok and I was in KL. Oliver arrived two weeks early when we received an unexpected message from our agent saying to go to the hospital – our surrogate had been checked into hospital.
Keep reading...
Show less
The day began like any other. My alarm went off at 4.30am. I snoozed until 5am. I ate breakfast until 5.30am, at which point my son, Felix, woke naturally like clockwork. I fed him mashed bananas, cashew butter and chia seeds. I woke my dad up with a cup of tea and handed the baton over for him to look after Felix as I left for work on my bike at 6.30am. I worked through the day as normal. Then, at 6.49pm I received a call from the police.
Keep reading...
Show less
GET GAYS WITH KIDS IN YOUR INBOX

Follow Us on Instagram