Mar. 19, 2016
After a two-year legal struggle, James and Chip, a gay couple living in a rural community in North Carolina, adopted Ken, a young boy who had suffered brutal abuse at the hands of his biological father. How two men saved a boy left for dead and never gave up on their dream of creating a happy family.
---
Pediatric respiratory therapist James Langley walked into the intensive-care unit like he had done for dozens of young patients. But the moment he saw 2-year-old Ken in 2004, he knew he had found his son.
"When I walked in, Ken turned his head and our eyes met," James says. "I walked over, and as I walked over, he raised his arms. He grabbed my cheeks. He pulled my head to his and our foreheads touched. And we just stayed there like that — it felt like forever, but it must have only been a few seconds — and I knew right then and there."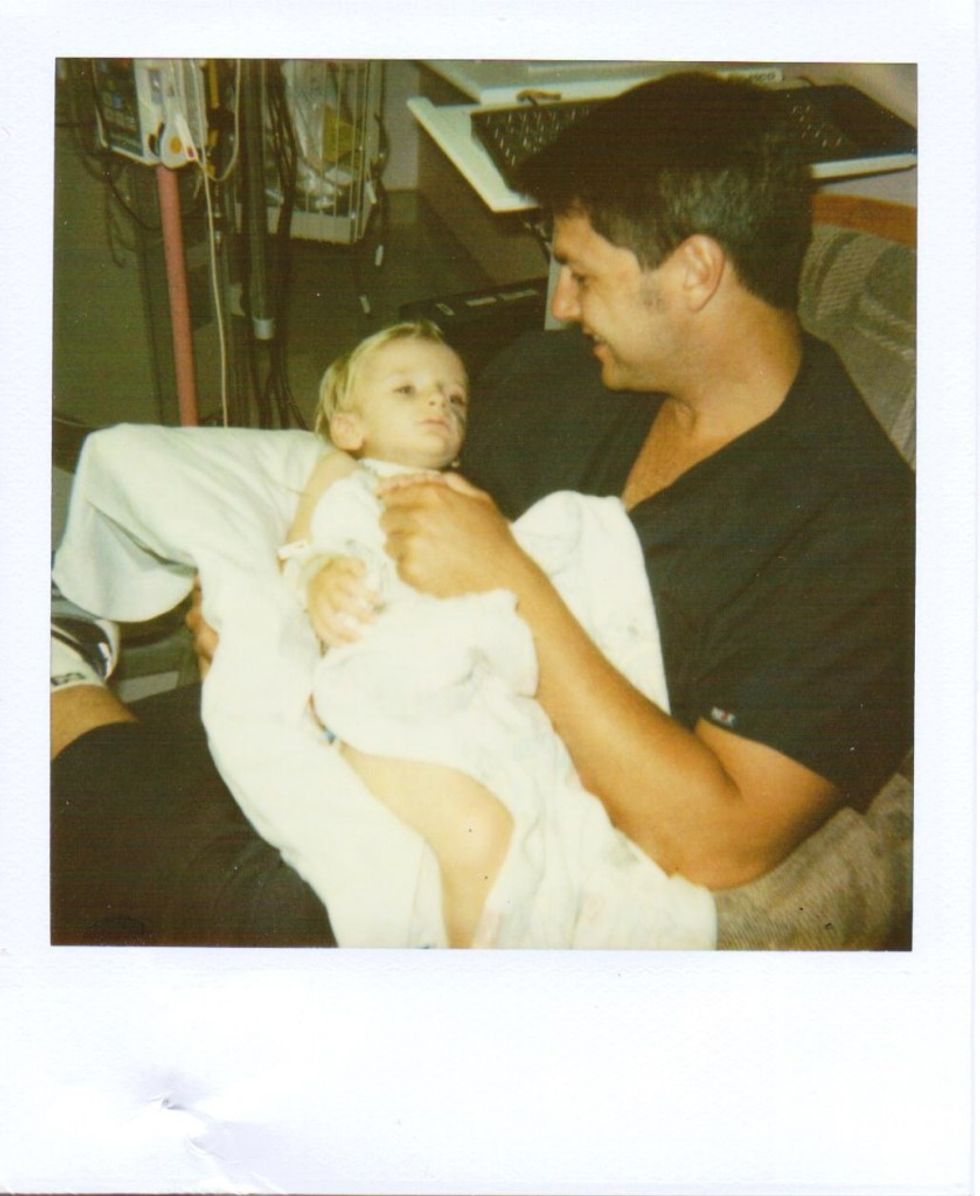 The day James met Ken. "Our bond was immediate and sensed by those around us." - James
He carried the boy to a nearby chair and sat with him. As soon as he left the room, he found the physicians, the social workers. And he told them he wanted to adopt Ken, "that very day, that very second."
James and his partner — now husband — Chip Fleming knew adopting Ken wouldn't be easy. The two health care professionals, a committed gay couple, were living in rural North Carolina. And living in the South wasn't the only obstacle.
Ken had been abused by his biological parents. He was a not much more than a skeleton, barely alive, weighing only 17 pounds. His body was covered in bruises, and until his first encounter with James, he had not responded to anyone in the hospital.
"Ken would not respond unless I was there," James says. "He wouldn't respond to anyone unless I came into the room."
Ken required emergency surgery due to the most recent abuse. Doctors warned the couple that young Ken might not survive his hospitalization.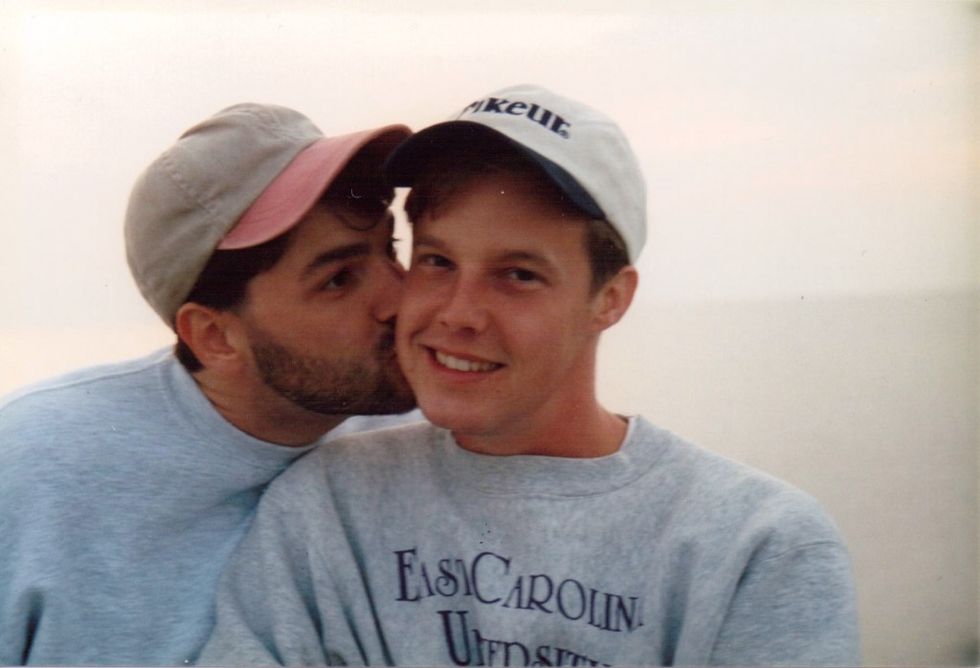 James and Chip in May 1993
"I remember thinking, all this kid needs is a chance," James says. "He needs somebody to love him, somebody to nurture him. This kid is going to live, and he's going to be mine. And I've never turned loose of that."
Ken got his chance. He recovered from his surgery, and in 2004 James and Chip began a two-year journey to adopt him. The two men, who have been together for 24 years and legally married for one and a half, had built a life for themselves despite the challenges of living in the rural South.
"Chip and I have been together a long time, and a lot of people will come into contact with us and, 'You're the first gay people we've ever met.' We're their first exposure. And we're just like everybody else," James says. "They knew us as Chip and James. The rest of our life is just as important as being gay. That's just one part of who we are."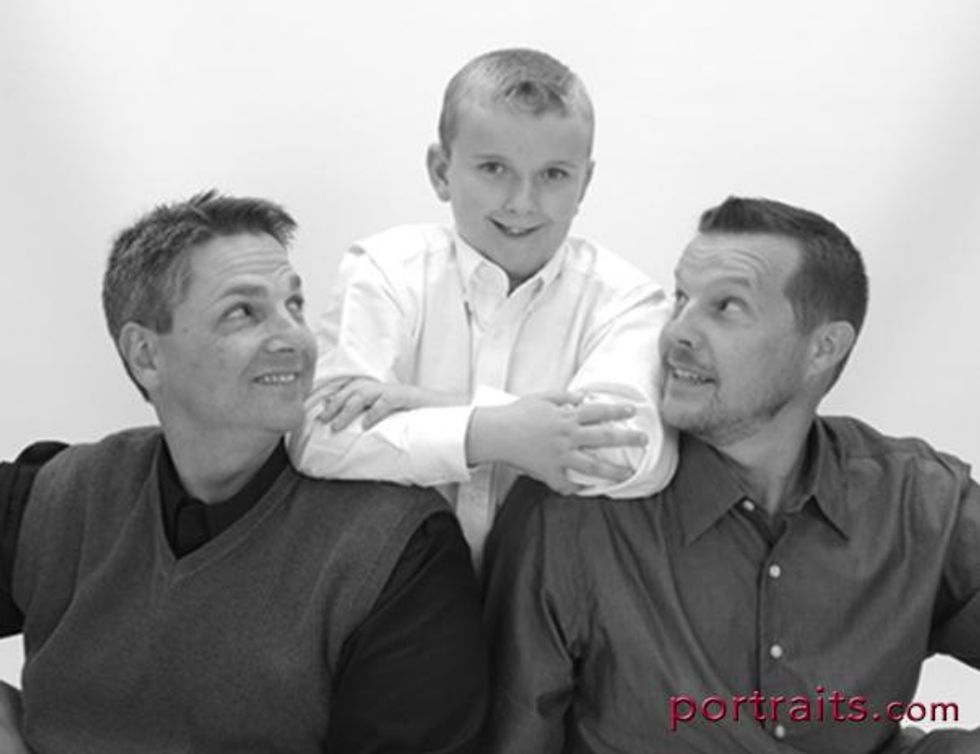 Family Picture December 2011
Chip agrees that once most of their neighbors or patients get over the surprise, everyone sees them as any other couple. "Most of the people who get to know us are intrigued by us, our relationship. But once they find out that we go through the same challenges as everybody else, it's really not that big of a deal."
They had been together 12 years before Ken came into their lives. James had always wanted to have children, but by the time he started his relationship with Chip, he had started to believe he would have to be a father in other ways.
"I've always had the paternal instinct," James says. "I always thought my career in pediatrics would be my only outlet to be a father figure or caretaker, knowing where we lived and the limitations of the law. Ten years ago, it was a much different climate than what it is now."
Despite the acceptance they had found and recent advances in LGBT rights, James and Chip still lived in the conservative South. Even though James pursued the adoption as a single parent — the only legal option at the time — he and Chip never hid their relationship during the adoption process. They took on the challenge of adopting a child in the South and staying open about their sexuality at the same time.
"We hit a brick wall, it seemed, every time we told a lawyer, a social worker, that we were a same-sex couple," James says. "But we were truthful with everyone from Day One — including Ken."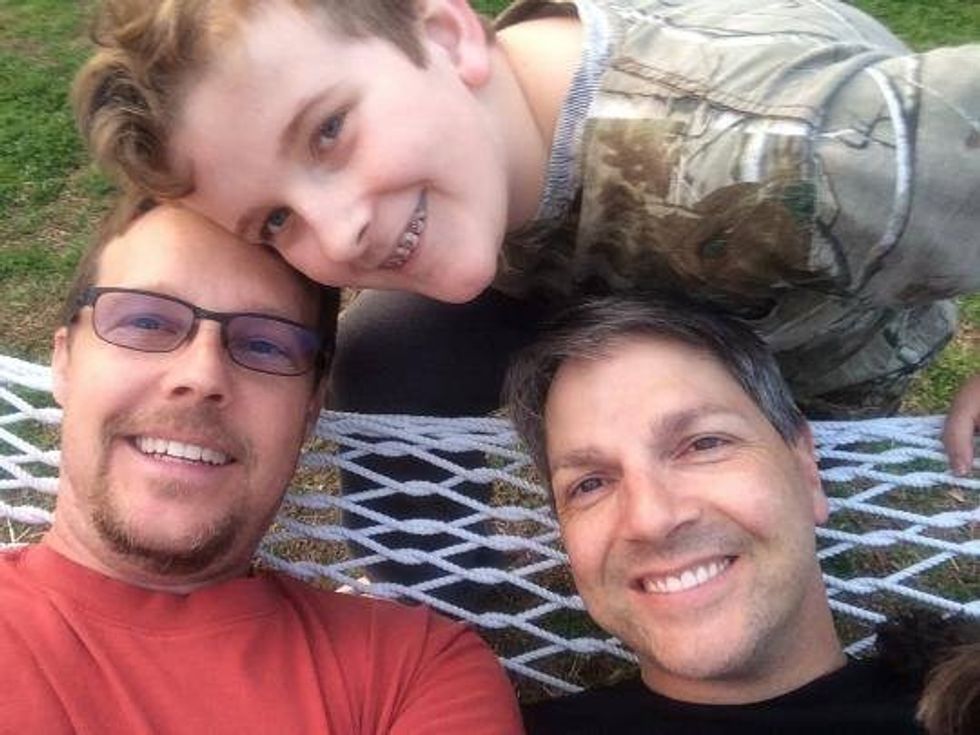 Summer 2013
Chip felt just as strongly about approaching the adoption openly. "We didn't want to leave our home," he says. "We loved North Carolina. We wanted to someday be married here, and we wanted to raise our son here. We were embedded in our community ever since we built our home here in '97."
The pair quickly learned that two openly gay men adopting a child was not going to be easy. Family and friends warned them of the negative stereotypes facing gay fathers, still pervasive in the South—that they were going to turn Ken gay, that they were pedophiles. They spent two years preparing for and fighting this discrimination.
"We went through two years of ups and downs," James says. "Our lawyers told us this is not going to go down without a fight. If there's one red flag throughout the process, it's going to be denied. The papers were a knee-high stack that had to be signed and notarized."
Ken's biological father had his parental rights terminated during the course of a child abuse investigation, and his biological mother relinquished her rights. The abuse investigation dragged on as James and Chip waited for Ken to become adoptable. The boy lived in a foster home in the meantime.
James and Chip had allies in Ken's guardian ad litem and his foster mother, who supported the couple during the adoption process and helped them spend as much time with Ken as possible. Finally, the adoption was cleared. But the couple's fight for custody wasn't over.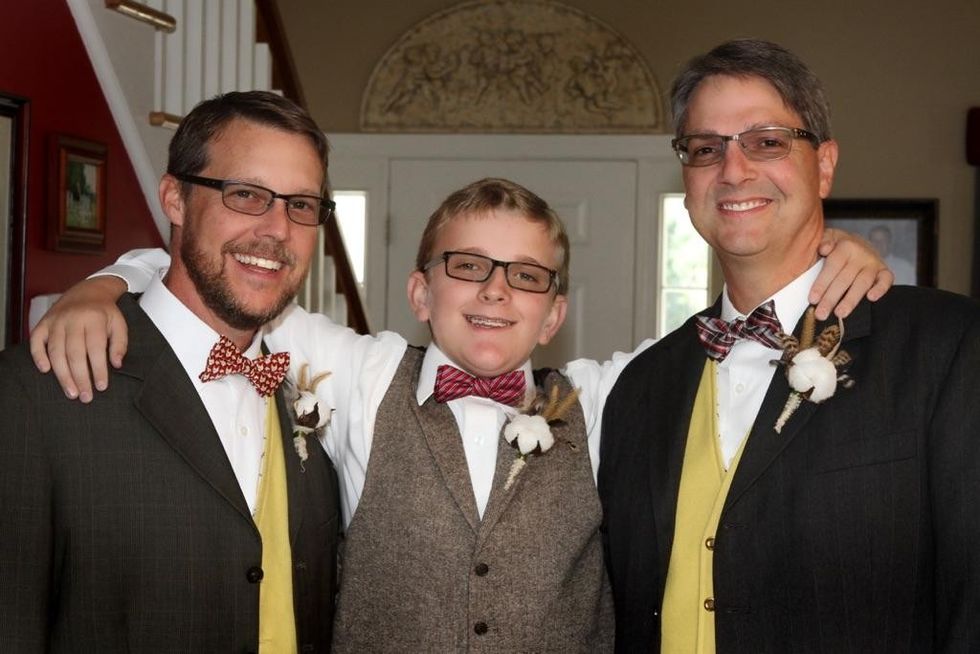 October 24, 2014: James and Chip's wedding day
"Our lawyer was going to take our paperwork to the courthouse when we got a call from the guardian ad litem," James says. "Apparently, they had learned if I put in my petition, the Department of Social Services would take him out of the foster home, put him in the system and try to get him back with the biological family—an aunt. We were worried his father could potentially have access to him if that happened."
For once, bureaucracy worked in the family's favor. "In North Carolina, DSS procedures are different in each county," James says. "We had three different counties we were dealing with in the adoption. But because one doesn't talk to the other one, we were able to get our adoption paperwork filed and approved by the judge before anybody could stop us. It was nail-biting down to the end. When I came home to Ken's birth certificate on our table, I could finally breathe."
The fear of those two years is still hard to shake, even to this day. "We were so worried, so paranoid that someone would come take him from us for so many years," James says. "It's hard to let go of all the paranoia."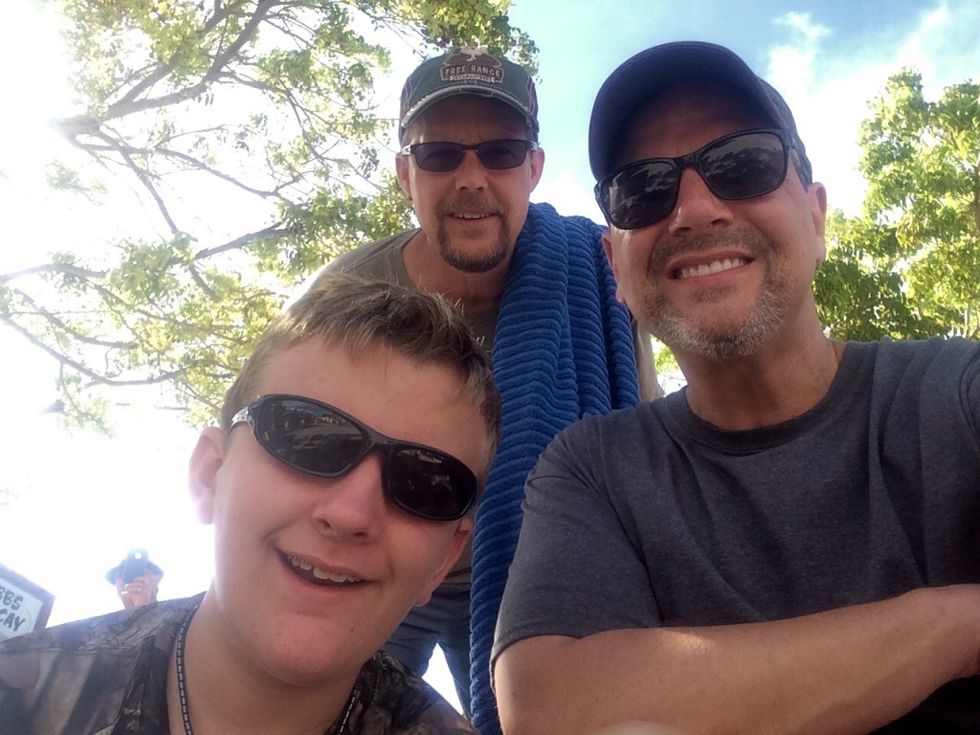 November 2015: Grand Turk Island, Turks and Caicos
The adoption was complete. Ken was their son. Still, even as he started school, the two men stayed vigilant. This was still the South, and they knew the challenges Ken could face as the son of two gay dads.
"In elementary school, I tried to handle everything up front," James says. "It was my way of protecting him. I went up to administrators, to teachers, to his coaches. We were very open about our family and maintained a close relationship with the adults in Ken's life. They were our eyes and ears when we were not around."
As Ken grew older, James and Chip realized that to be better fathers to Ken, they would need to step back and let him learn to fight his own battles.
"One of the hardest things you can ever give a child is their independence," James says. "That's been very difficult for me. But when Ken hit middle school, we had a family meeting and empowered Ken to assert himself — which he enthusiastically did. We gave him the words to say, we talked about the things he might hear, and if it gets to be too much, we will back him up. We told him that this was his truth, to own it, and it's his decision how to handle it."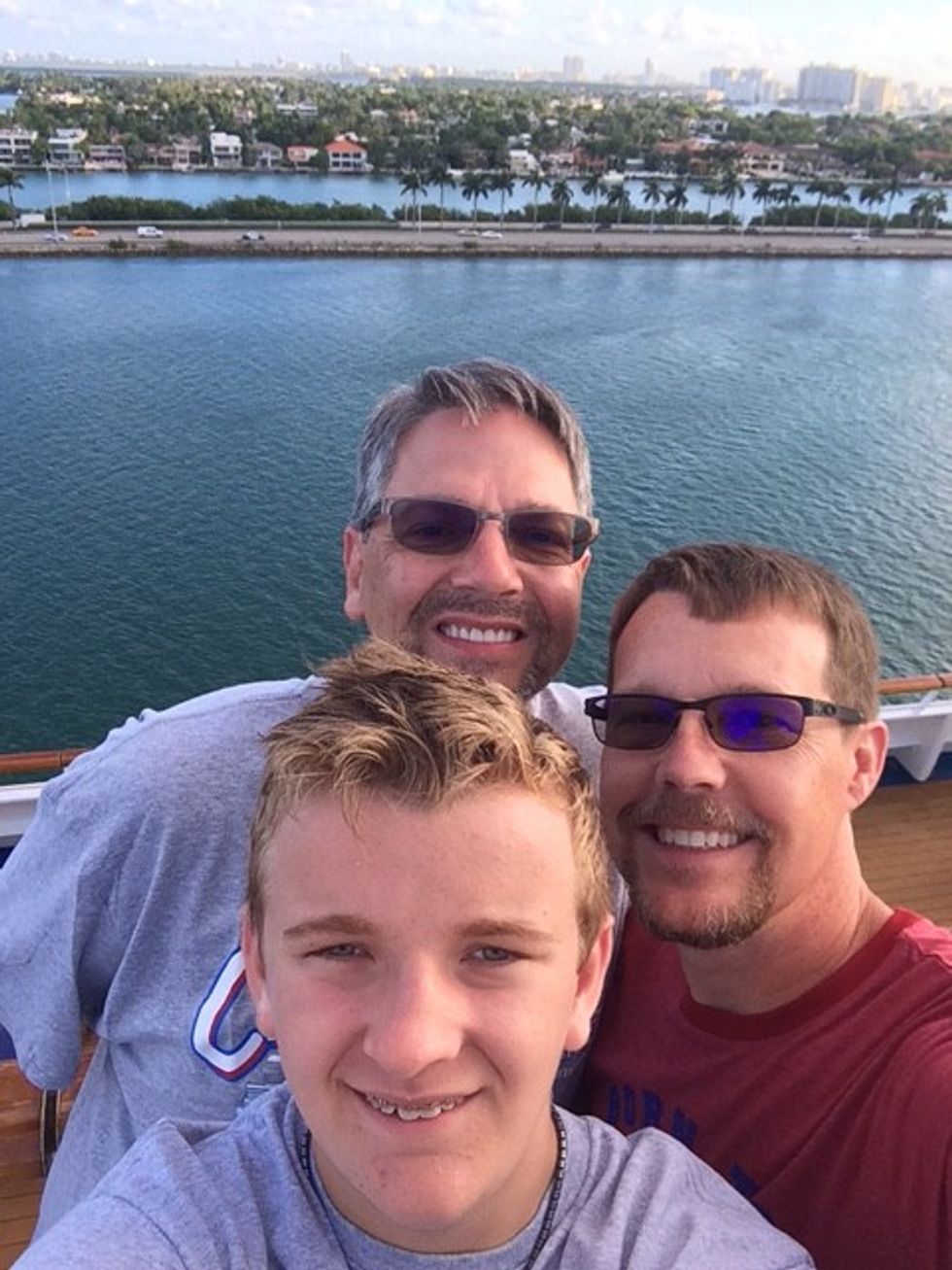 November 2015: Grand Turk Island, Turks and Caicos
Growing up wasn't perfect. Ken faced the teasing that his dads expected. Other kids told him that he would be gay because of his dads; that he had to use the bathroom for "queers." He was even taunted for the abuse he suffered as a toddler.
But Ken, now 14, always owned his truth — just as his dads had taught him.
"I did feel angry and frustrated. I wanted to know why the other kids would turn these things against me," Ken says. "But it's the truth. It's my truth. I feel relieved that I have my parents to talk to about it. Most of the time, it's just other kids not getting it. That's all."
James and Chip both speak with pride about Ken's life, his interests, his accomplishments. The two fathers have followed his health closely since he was a toddler. There's little trace of the "skeleton" James first encountered in that ICU. Ken recovered from the initial surgery to repair a hole in his stomach caused by his abuse, and he recently had another to aid further his recovery as he develops into an adolescent.
James and Chip love to listen to him play the saxophone and the piano. They watch him play soccer and practice for the cross-country team. They celebrate his studies — he consistently makes the honor roll.
All three lead a full life on the family farm, with chickens, bees and horses that James and Chip often ride. Of course, country life isn't perfect for young Ken.
"The Internet sucks!" he says while his two dads laugh.
Bandwidth isn't the only downside to the rural isolation. While James and Chip love their life and community, they admit that finding families like theirs was a challenge after adopting Ken.
"One of the biggest issues we've had is we've never fit in anywhere," James says. "When we adopted Ken, we had our gay friends, but they didn't have children. The people we knew and worked with who had kids were straight couples and much younger than we were. We went to the bigger cities — Raleigh, Durham — and met some lesbian parents, but we didn't fit into that category either. So two guys raising a 2-year-old together, we had to make our own niche."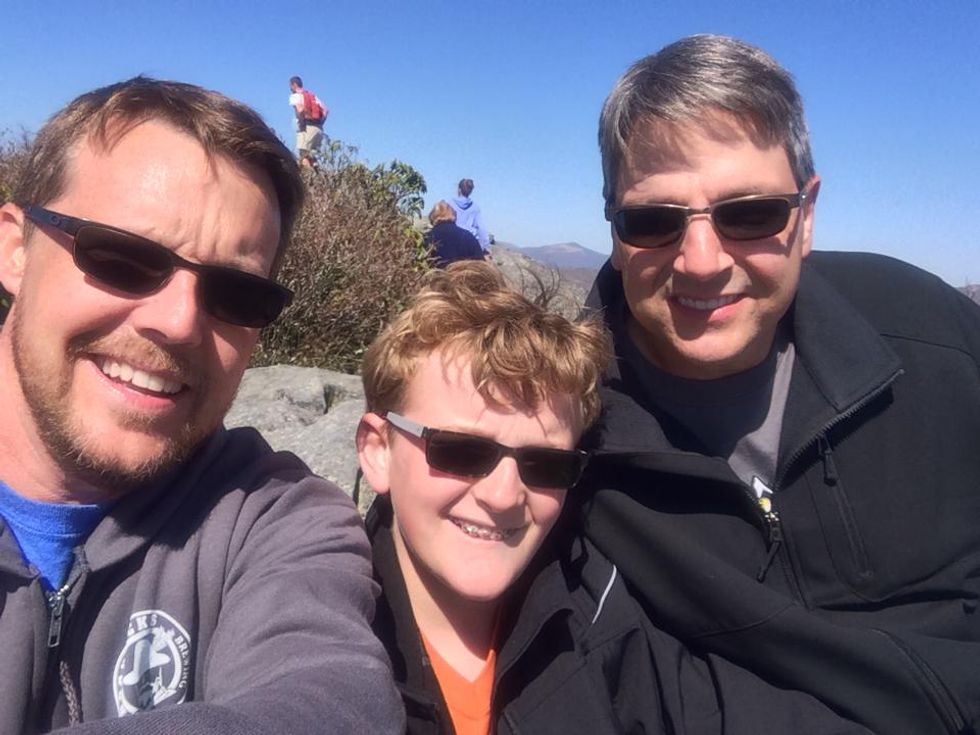 The couple worried most about Ken finding other kids who had families like his.
"Ken had it the toughest of all because Chip and I have each other," James says. "He has his friends, but he doesn't really have someone his age who can relate to his family. What we wanted to find was a family like ours that Ken can relate to."
The two men have searched online and begun to connect with families like their own. But James admits that the great lesson of his son's story is the strength Ken possesses despite his personal history and where they live.
"We've always been amazed at how resilient he is," James says. "He has never hid, never not wanted to go to school, has the best attitude. He finds the absolute good even in the worst kids. It is a challenge, especially in the South, because you got kids coming to school saying what they hear from their parents and their pastors. But having two dads is just one little piece of who Ken is. It's not the total sum of who he is. He's so much more."
That doesn't mean Ken steps down from challenging his peers on how they see his family. In seventh grade, Ken's school held an anti-bullying program. James and Chip learned only weeks later what their son had said.
"A teacher told us weeks later that Ken had stood and asked his classmates how they could hate his dads when they didn't even know us? That until he came to middle school everyone loved us and knew us by name. He told everyone that we were great and that nobody had given us a chance."
After hearing that, James felt incredible pride in his son. "That made my eyes water and my heart swell," he says. "He is one amazing kid."