Dad Life
A Gay Dad Worries About his Daughter's Milestones
Mar. 15, 2017
In the beginning, it was so hard for my husband and me to not get caught up in our new baby's milestones. It was so exciting when she would practically learn something new overnight! It was also a bit stressful to compare her growth with other babies around us. While we would be excited for our friends' babies, we would also look at our own child's growth and sometimes feel disheartened or worried when she would lag behind a bit.
Our baby was born prematurely at 31 weeks rather than after a full-term pregnancy. With a preemie (premature baby) there is an adjustment period; for our baby that period was two months. This means that our baby would usually achieve her milestones about two months after a full-term baby.
The EarlySteps Program
---
With Alli Mae being born at 31 weeks, we qualified for a program called EarlySteps. This wonderful and free program (if you qualify) helped us along the way in caring for our baby and also taught us how to do different activities that would help her along with achieving different milestones.
Editor's Note: Erik Alexander is referring to EarlySteps, a Louisiana program. But there are early intervention programs for your baby or toddler in every state and territory of the United States, as it is required by the Individuals with Disabilities Education Act (IDEA), Part C. If you want to know more about early intervention programs in your state, you can find a wealth of information on the Center for Parent Information and Resources website as well as on the Early Childhood Technical Assistance Center website.
We first met our coordinator for EarlySteps. After they assessed our situation, they assigned us a wonderful physical therapist that helped us so much in the beginning and most crucial time for our baby. Ms. Laura showed us different techniques to help Alli Mae's mind, eyes, hands, and tummy time development. She brought over different toys that would stimulate our baby's mind and also would teach us how to use them.
Physical Therapy
One toy in particular she brought was the jingle ball.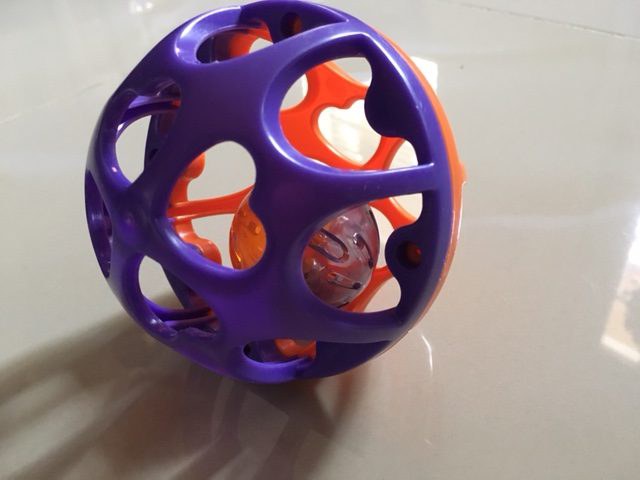 Although this may look like a cat toy, this isn't. It is specifically made to improve a baby's grasping capabilities. The little ball inside has a bell that keeps the baby engaged while the outer ball has holes to allow the baby to grasp it with both hands. This was the first step in teaching our baby to hold a bottle on her own.
Another milestone we had was when she could transfer the ball from one hand to another. That was an exciting day!
An activity mat was another useful item that we got to help during our physical therapy sessions. These pieces connect and were great for the next lesson we were taught.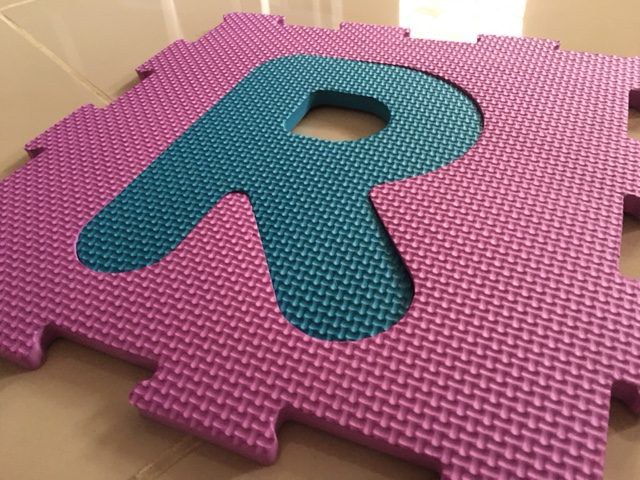 Tummy time is another of these important activities. Although that exercise only lasts for about two minutes, it was still difficult to watch my baby. My immediate reaction was to pick her up, but we learned that she was not in pain, she was just uncomfortable. And that distress would motivate her to roll over. And after what seemed like forever – it was two months – she did. After that milestone, the other milestones became easier to for her to achieve.
Lessons Learned
I learned so much from our physical therapist, Ms Laura. It was hard to say goodbye. She became a friend and I truly miss her sessions twice a month. She helped Douglas and me become more confident during that scary time by assuring us that we were going to be just fine.
I learned that babies develop at their own pace. Try your best to not compare your baby's progress with other babies. (That will just set you up for disappointment.) Instead, cherish the moments you have not yet reached.
If your baby has not achieved an upcoming milestone quite yet, you're likely to become anxious. But remember, time goes by fast. You don't need your baby to reach all those milestones in a hurry. Stop worrying. Allow your baby to be a baby. And allow yourself to enjoy your baby's childhood.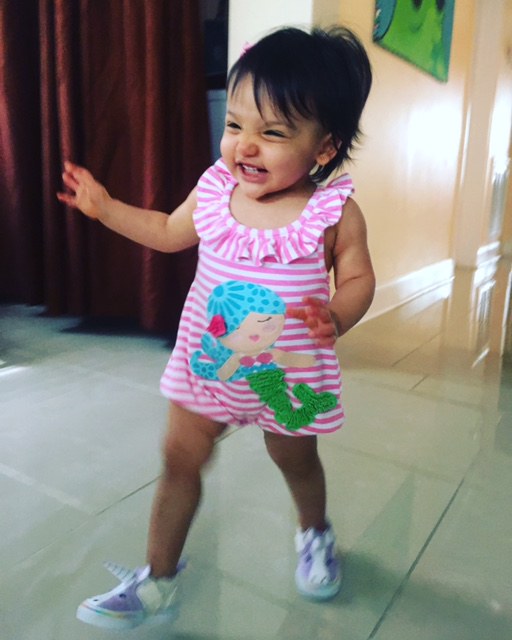 I would love for you to follow our family's journey on Instagram, Nolapapa.com and like us on Facebook.
Feature image photo credit: BSA Photography
It started when a four-year-old boy asked a clown, who had been hired to paint the faces of kids at a picnic, a simple question:
"Can I have a blue butterfly?"
Keep reading...
Show less
The Long Island Adoptive Families support group was created by parents going through the adoption process or who had already adopted. It was a great way to help members navigate the path of adoption whether it be private domestic, international agency, domestic agency or foster care. We spoke with Chemene, one of the founders, and found out how this group is supporting local gay men interested in becoming fathers.
Keep reading...
Show less
Adam Lozon and Scott Dufour met online and have been together 11 years.They live in Hamilton, Ontario, Canada, with their son Paulo. The couple are both in banking and are engaged to be married. We caught up with the dads to see how fatherhood was treating them!
Keep reading...
Show less
Guest post from Greg Hutch.
It's two weeks before school starts and I am sitting in my classroom updating the photos in the frames on my desk. These frames used to be filled with pictures of my dogs, of me playing my instrument (I am a music teacher), or of the various other things that I have enjoyed in my lifetime. Today, they are filled with loving pictures of my family, including my son and partner who I raise him with. Times sure have changed…thanks to our son, Clark.
Keep reading...
Show less
Editor's Note: In this ongoing series, we're shining the spotlight on some of the gay dads behind Gays With Kids as their incredible passion and commitment plays an invaluable role in making Gays With Kids possible. Please contact Brian Rosenberg if you'd like to talk about getting involved, too.
Keep reading...
Show less
Happy gay uncles day to all the wonderful "guncles" out there! Here at Gays With Kids we know how important your roles are within our families so we want to celebrate you today, and say a big thanks! Enjoy this collection of "guncle" photos and a few words of wisdom and contemplations from the uncles themselves.
Keep reading...
Show less
Two years ago when Oliver arrived into our lives, my partner Rob and I were living in separate countries. We met in Kuala Lumpur, Malaysia, and had Oliver when Rob was working in Bangkok and I was in KL. Oliver arrived two weeks early when we received an unexpected message from our agent saying to go to the hospital – our surrogate had been checked into hospital.
Keep reading...
Show less
The day began like any other. My alarm went off at 4.30am. I snoozed until 5am. I ate breakfast until 5.30am, at which point my son, Felix, woke naturally like clockwork. I fed him mashed bananas, cashew butter and chia seeds. I woke my dad up with a cup of tea and handed the baton over for him to look after Felix as I left for work on my bike at 6.30am. I worked through the day as normal. Then, at 6.49pm I received a call from the police.
Keep reading...
Show less
GET GAYS WITH KIDS IN YOUR INBOX

Follow Us on Instagram