Gay Dad Life
Gay Dad Talon and his son Tigger: Citizens of the World
Mar. 12, 2016
"As a single parent, I wanted more time with my son. And I wanted to get more living into my life."
---
A late-age adoption — the boy was 6 at the time — the new father could waste no time in creating a new life and new memories. So the job was quit, the bags were packed, and the father-and-son travel duo known as Talon Windwalker and Tigger took to the road and never looked back. They have been traveling the world ever since.
We're Gonna Have A Good Time Then
This is a man who took Harry Chapin's immortal "Cat's In The Cradle" to heart, heeding the consequences of putting off bonding with a child for everyday concerns. It is an existence Talon wanted to avoid from the beginning.
"I didn't want a situation where I am on my deathbed and going over all the things I had wished I had done," he says. "Instead, I want to spend that time with my son, and have us talk about all the cool things we did do."
There are worse ends. "Parenthood on the road," however, begs obvious questions, such as how does he pay for nonstop travel?
"It's actually very affordable," Talon tells Gays With Kids. "What makes travel expensive is how you live, how you do it, and how much constant expenses you have back home. It's a lot cheaper to travel full time than it is to live in the States."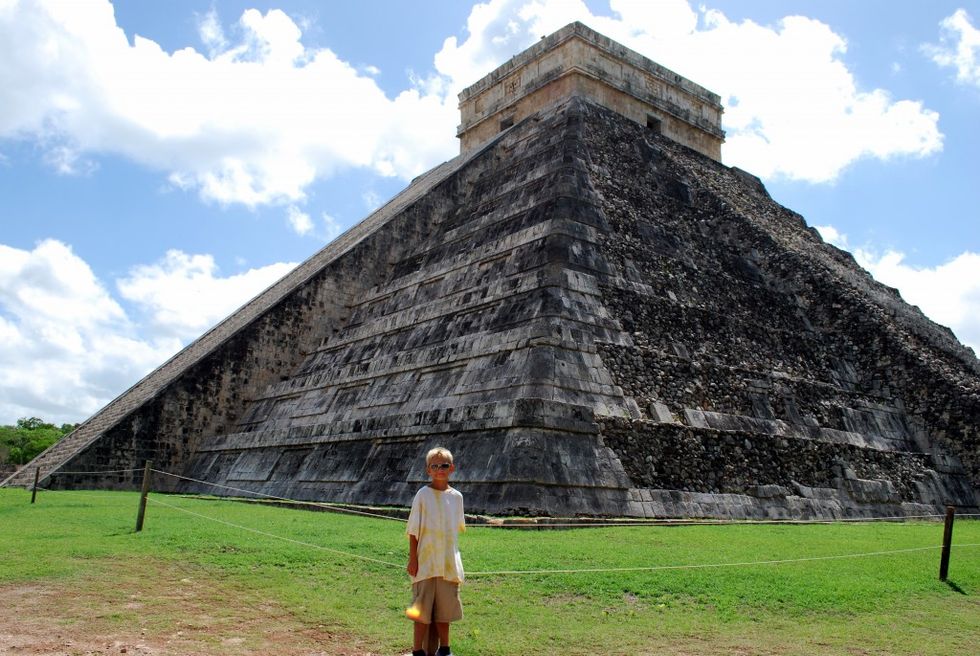 Tigger at Chichen Itza, Mexico. Photo credit: Talon Windwalker
Home and Away
You don't rack up an impressive count of 37 countries visited and, for all intents and purposes lived in, by accident. But it does require rejecting some of the most tightly-held notions of what makes a stable family life: By Talon's own admission, the pair are homeless; latter-day vagabonds, the two move from location to location every few weeks to every few months. And, without a steady income, they are also below the poverty line – at least by American standards. So the man gets creative.
Not having a mortgage, car insurance, or other large-scale drains on a bank account goes a long way into saving a few dollars, as does settling on those countries whose economies are kind to those dollars. (At the time this interview, Talon was in San Miguel de Allende, Mexico.) What a New Yorker or Parisian may call an odd job – transcription, blogging, scuba instruction – provides more than enough income to live comfortably, if not lavishly. The occasional housesitting gig is another brainwave for cheap room and board.
He documents those nuggets of modern wisdom on not one, but three blogs: one is called Travels4Yum (because you have to eat at one point), another TalonUnplugged (don't ask the question if you don't want the answer). But it is his adventures on 1dad1kid that the 47-year-old single gay father shines as an expert in giving roots to his son in what seems like a rootless upbringing. Ironically, it was their sedentary life that Talon considered rootless.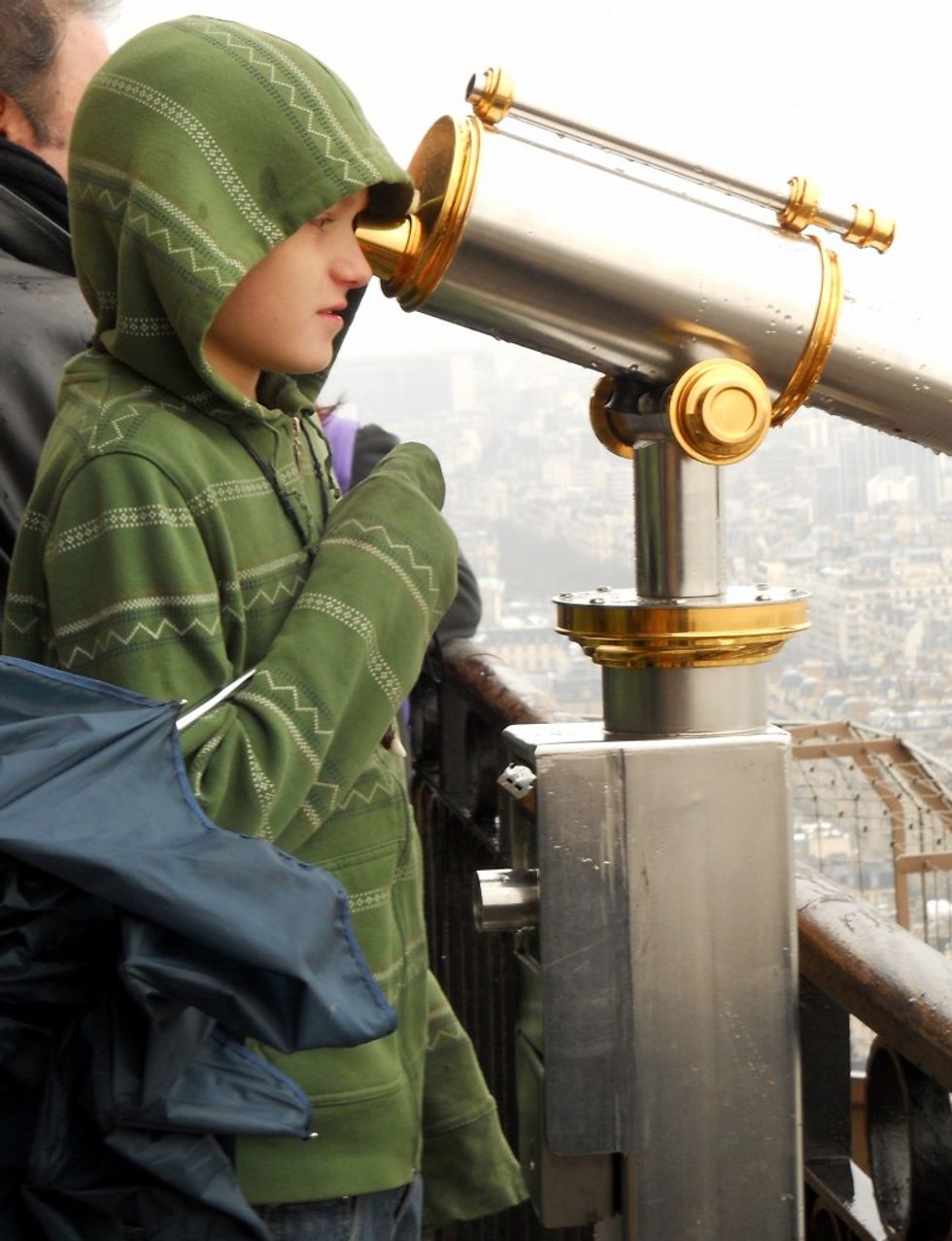 Photo credit: Talon Windwalker
The Wonderful Thing About Tiggers
"I realized I was working 40+ hours a week," Talon explains, who had been working in trauma as a hospice chaplain before traveling full time. "I sent Tigger to school, and then to day-care because I am at work. During the week, I got him for just a few hours before it was time for him to go to bed to go to school the next day. I felt like other people were raising him."
Tigger makes traveling easy by being 14 years old; he no longer needs round-the-clock parental supervision. At the same time, he is aware of, able to appreciate, and be occupied by different cultures in the way a very young child could not.
"I wanted him to have a broader connection to the world, to be more of a global citizen," says Talon. It is road he already knows, coming from a family of travelers. He introduced Tigger almost immediately to the great, wide world, first in short, weekend-long bursts. When his son turned 9, Talon began their world odyssey.
When it came to education, Talon turns the world into a classroom. Because Tigger has sensory processing disorder, his mental processes can neurologically "jam" to where incoming information is not interpreted in sync with his senses. It does not affect his intelligence, but can make conventional schooling a minefield. Using an approach paradoxically called "unschooling," Talon steers everyday situations into lessons: Shopping is a practical guide to math, percentages and economics; scuba-diving brings subjects such as physics and marine biology out of books and into real-world application.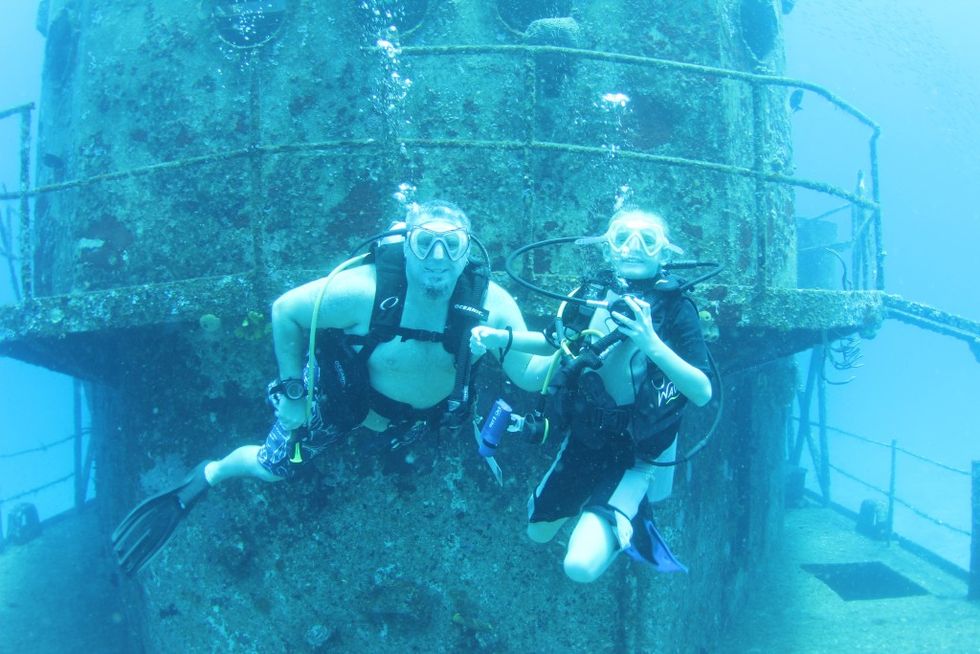 Photo credit: Talon Windwalker
School of the World
Sometimes the father gets as much of an education as the son. Their swing through Asia was a double-edged sword: While Western children are an endless source of fascination, the attention can go a little too far. In Vietnam, young Tigger was treated like a rockstar for his then-blond hair, but when random strangers went beyond photographing to touching it, his personal space was violated.
"We're going back to Europe," says Talon. "We're wanting to live in Budapest, so we are going to try and get a temporary residency visa for while we are there so that we don't have to move around too much."
"Too much" is the balancing act he must navigate with increasing empathy, particularly as Tigger gets older and forms his own identity and opinions; there are some days where he simply does not want to see this or that sight. Thus began the tradition of "lazy days," those spans where Tigger has time to himself, or when both father and son stay in. It is an infinitely rational compromise to make when family life is on the go.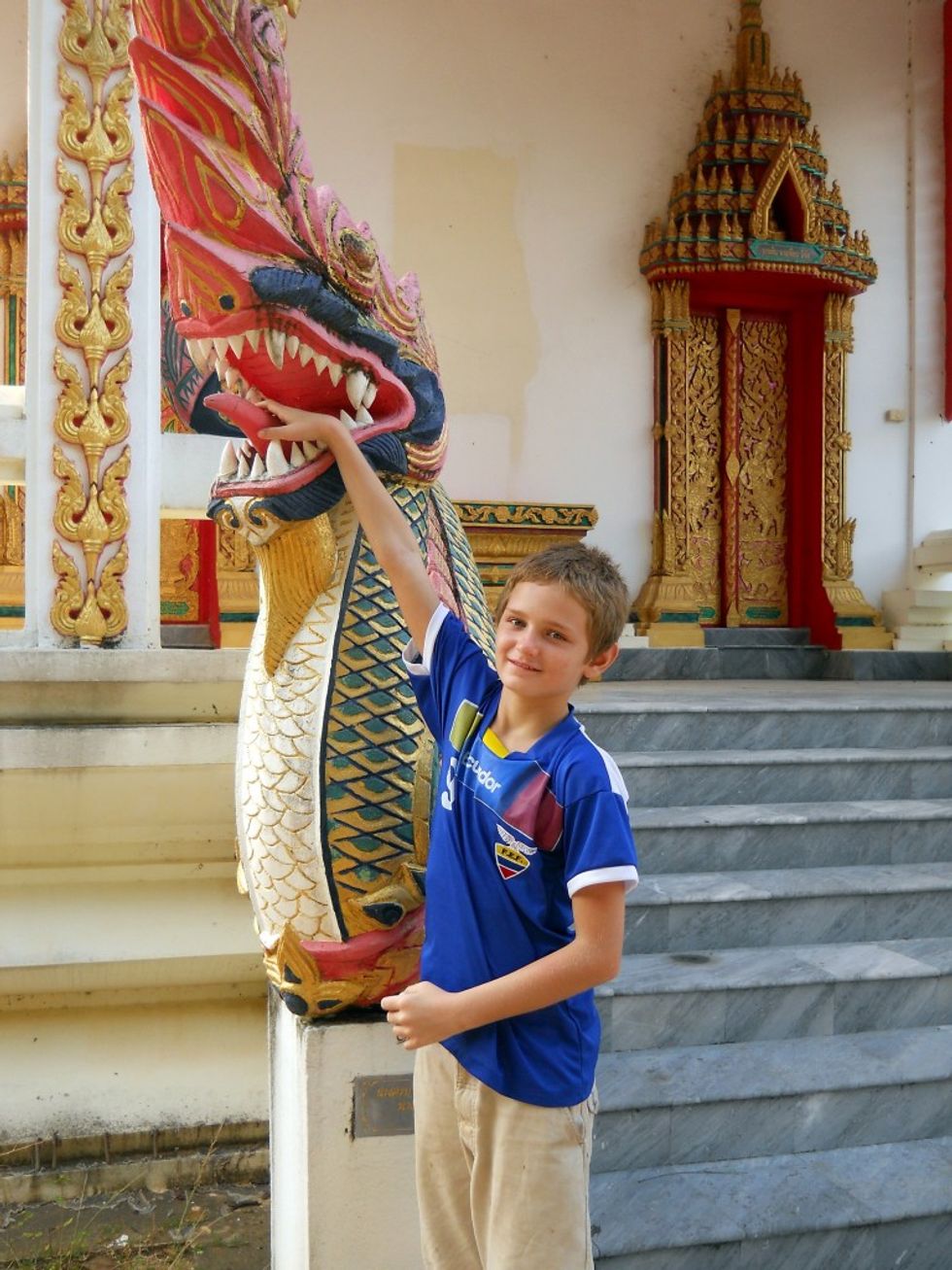 Photo credit: Talon Windwalker
Vivez sans regrets!
Of course, all this moving around gives rise to that other inevitable parenting question: How does the boy create and maintain a social circle? Tigger himself admits that his migratory life is "getting old," but is still excited when a new destination is planned (and he has full input). In a sign of the times, and like a true millennial, he keeps in touch with his global network friends on social media and online gaming.
"I've been to other countries, other communities; they are tighter and children have more independence and are able to do more, and I wanted him to be raised in those kinds of cultures, and also to expose him to many different cultures so that he could pick out the pieces that appealed to him resonated with him the most for when if he became a parent."
It's been a wild success for both of them. And, as they say, you cannot argue with success.