Dad Life
Why This Gay Dad Felt Relief On His Son's College Graduation Day
Jun. 02, 2017
In my book "Out and About Dad," I talked about feeling relieved when my kids turned eighteen because I no longer had to fear them being taken away from me. Well, the truth is that I didn't really know what relief felt like until now, watching them successfully graduate from college and start their adult careers.
They made it. And I made it too.
I'm sure every parent feels this same sense of relief. It's a universal emotion. But for a gay father, I believe it's more intense. As gay fathers we face more societal pressures than our straight counterparts. We just do. My parenting skills were questioned on a regular basis just because I'm gay. My motivations were questioned just because I'm gay. And my children's future was questioned just because I'm gay.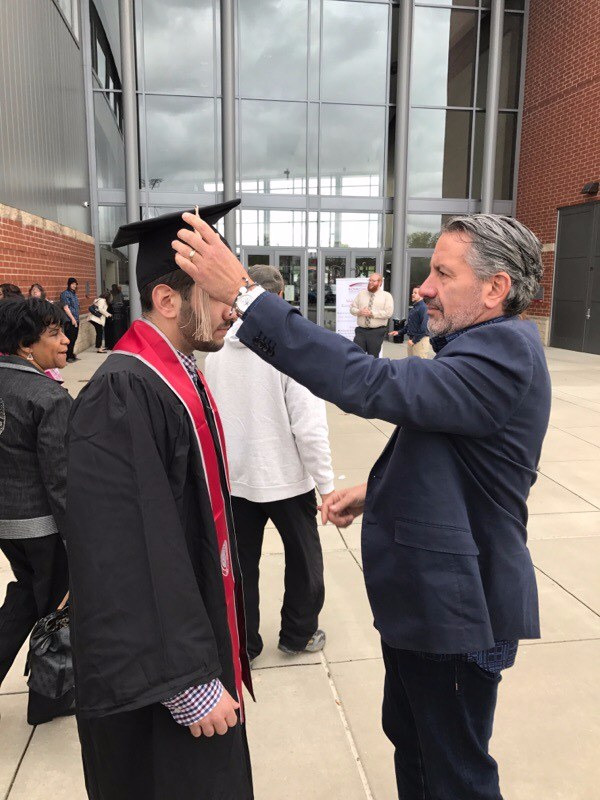 "Those poor kids," was a common statement said under their breaths and behind my back.
Sure, there were the occasional allies, especially the teachers, but I was left in parental isolation most of the time. I didn't fit the norm and I didn't fit in. The other parents didn't really let me in. I was basically one of only a few active fathers, and pretty much the only gay one. At least the only public gay one that I knew.
"You people shouldn't have kids," was said to me more than once to my face and I'm sure more than a few times when I wasn't around.
Oh really?
But I still felt it was important to let everyone know that I was gay as I was raising my kids. I didn't keep it hidden, that's for sure. I didn't hide my partner (now husband) either along the way. I just figured that no one could possibly be judgmental and prejudiced if they actually knew me. I was right some of the time. But I was wrong a lot of the time, too.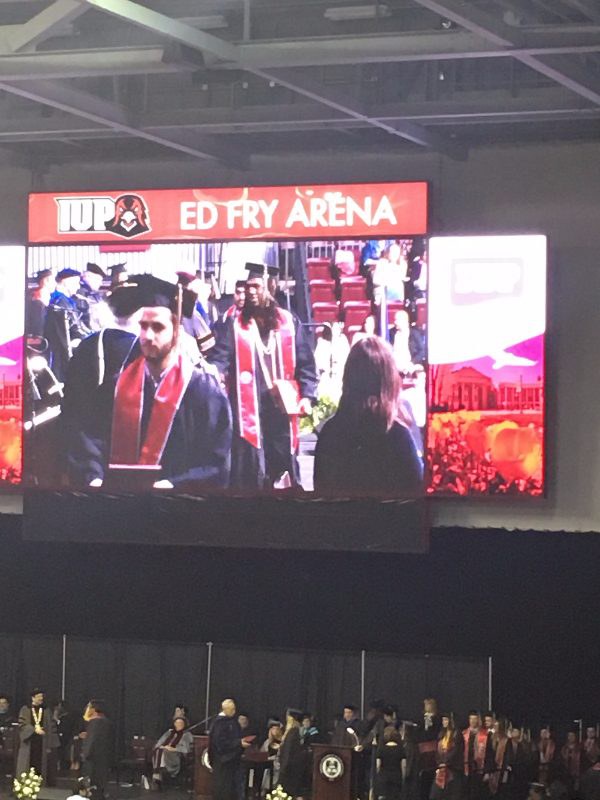 So, when I heard the Dean announce my son's name at his college graduation, imagine the rush of emotions that rushed over me: pride, love, and relief. All at once.
It's a relief that only a gay father could possibly know. And while I know times have changed for those raising their young kids now, I also know that it's still not easy. And for that we have each other.
For those of you thinking how lucky I am to have seen my kids make it and to not have to care for them anymore, you are perfectly right. But I do have to share that my son is now living with us in New York as he navigates his first job and budging his salary on a Manhattan budget.
Gay empty nest? Not quite yet.
---
Read More:
A Gay Dad's Message to the Airlines: Put Kindness First
When Milo turned two, friends and family would say, "Just wait for the terrible twos to start!" They came, they were terrible, (ok not all the time) and traveling with a two year old was trying at times, but it was still enjoyable (kind of)!
Keep reading...
Show less
Over 2 years ago, we spoke with experienced filmmaker Carlton Smith about his documentary featuring gay dad families created through foster-adopt. It was a heartfelt project that shone a light on the number of children in foster care (roughly 400,000 as referenced at the time) who desperately needed a home. And the large population of same-sex couples, many newly married, who were interested in starting families of their own.
Keep reading...
Show less
"Let's skip," my daughter said on our way to school the other week. She took my hand and started skipping along, pulling me forward to urge me to do the same.

Wouldn't it look, well, gay, for me to skip down the street? In public? I wasn't willingly going to make myself look like a sissy.
Keep reading...
Show less
Listen to the mustn'ts, child. Listen to the don'ts. Listen to the shouldn'ts, the impossibles, the won'ts. Listen to the never haves, then listen close to me... Anything can happen, child. Anything can be. - Shel Silverstein
Keep reading...
Show less
As part of our ongoing #GWKThenAndNow series, we talk to dads who have gone the distance and been together a great many years. Terry and Michael have been together 15 years, have two children, and live in Orlando, Florida. We find out how it began, and what they look for in a partner in life, love and fatherhood.
Keep reading...
Show less
Johnathon and Corey, both 29, met in 2011 working for the same employer. And since their first date, they've been inseparable. Johnathon is a full-time student pursuing a degree in Human Services, and once he completes his degree, he will return to his Native American tribe to help fellow Native American families in need. Corey is a stay-at-home dad. Together they adopted 6-year-old twins, Greyson and Porter, from foster care on June 1, 2017. We caught up with the first-time dads to see how fatherhood was treating them.
Keep reading...
Show less
It started when a four-year-old boy asked a clown, who had been hired to paint the faces of kids at a picnic, a simple question:
"Can I have a blue butterfly?"
Keep reading...
Show less
The Long Island Adoptive Families support group was created by parents going through the adoption process or who had already adopted. It was a great way to help members navigate the path of adoption whether it be private domestic, international agency, domestic agency or foster care. We spoke with Chemene, one of the founders, and found out how this group is supporting local gay men interested in becoming fathers.
Keep reading...
Show less
GET GAYS WITH KIDS IN YOUR INBOX

Follow Us on Instagram