Apr. 22, 2017
With so many people questioning the ability of LGBTQ people to raise healthy children, we are often loath to display anything less than perfection. Our family pictures are living proof: the lighting is always just right, everyone is dressed to the nines, and somehow we manage to get both twin toddlers to cheese for the camera at the same time. (Photoshop, anyone?)
But admit it: your camera roll is filled with hundreds (thousands?) of photo fails before you get that perfect shot. We love sharing your perfect family photos. You love to see them. But just for today, we're letting down our hair and embracing imperfection. Here are some of our favorite #dadfail photos that were never candidates for the holiday card:
Real life: Single dad José shares his family's epic meltdown. We've all been there.
---
In continuation from previous post, think I've got our next Christmas card covered! 😂 #parenting #gaydadnyc #happynewyear #singlegaydad #averywalker #lilahcarmen #londonrose #proudpapa #gaydadsofinstagram #ittakesavillage #twins #sonsanddaughters #nycgaydad
A post shared by Jose Rolon (@nycgaydad) on
Someone didn't get the "say cheese" memo?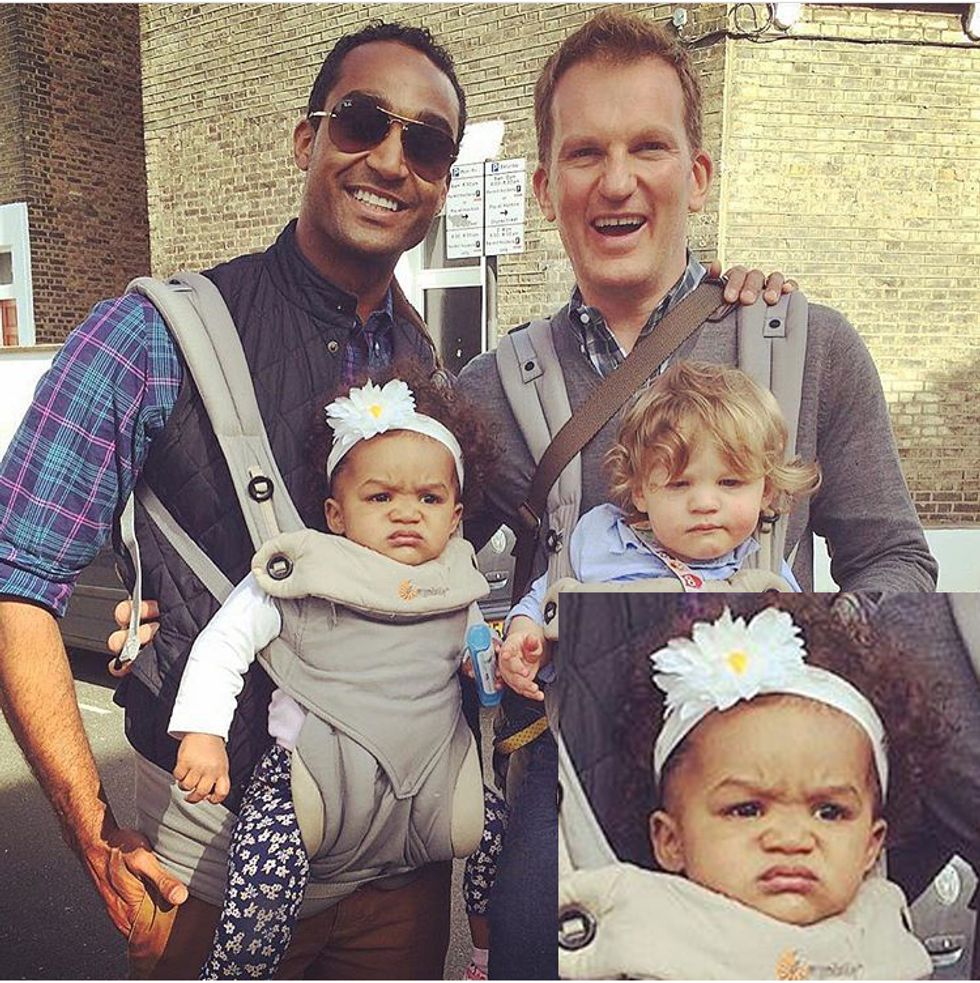 These are not future beach bums in the making.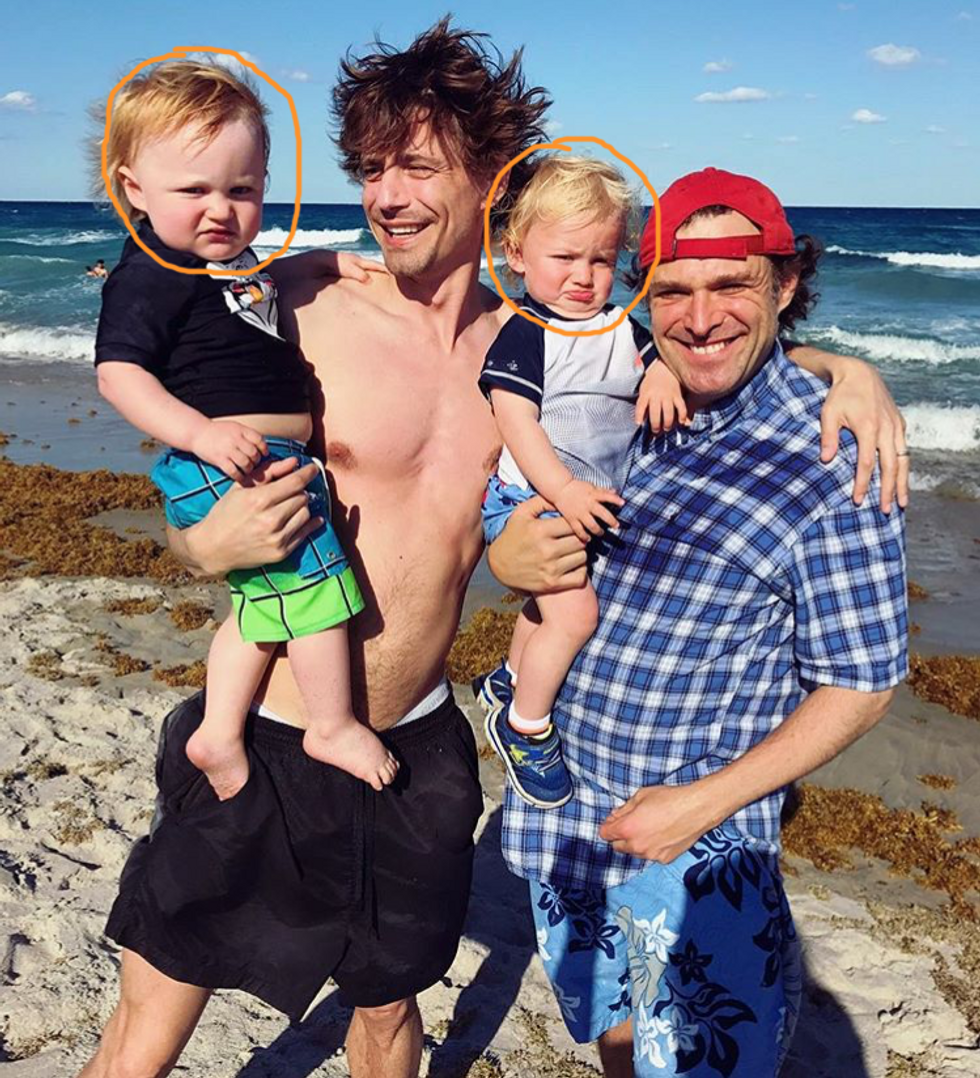 When "Say cheese" is a cue for tears, shrieks, and a photo-bombing cat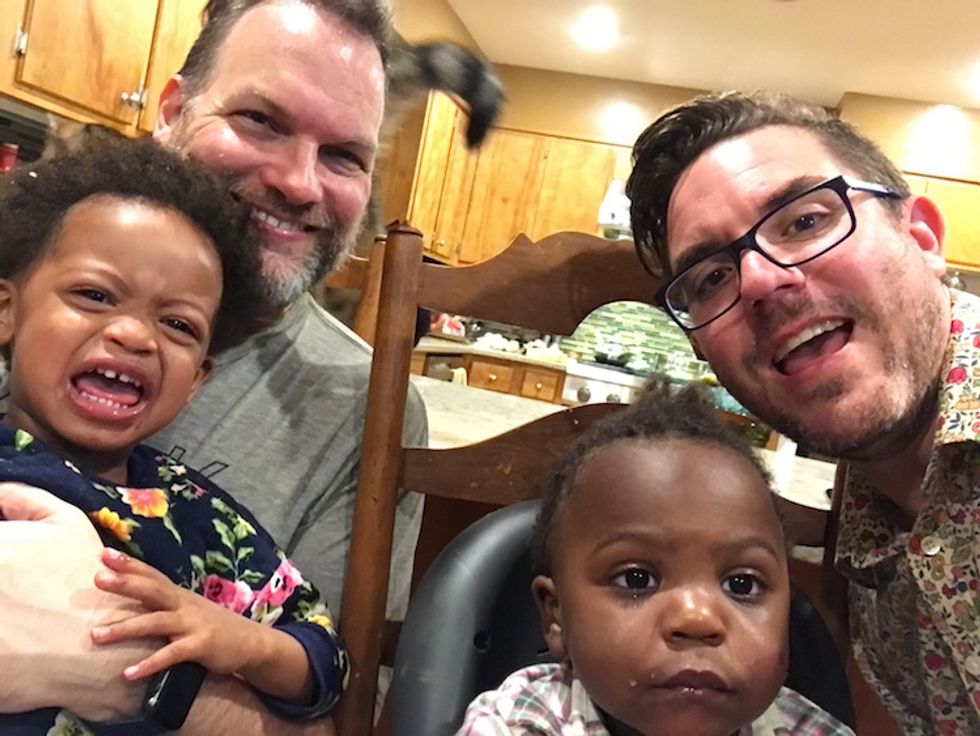 One of life's most traumatic experiences: the haircut.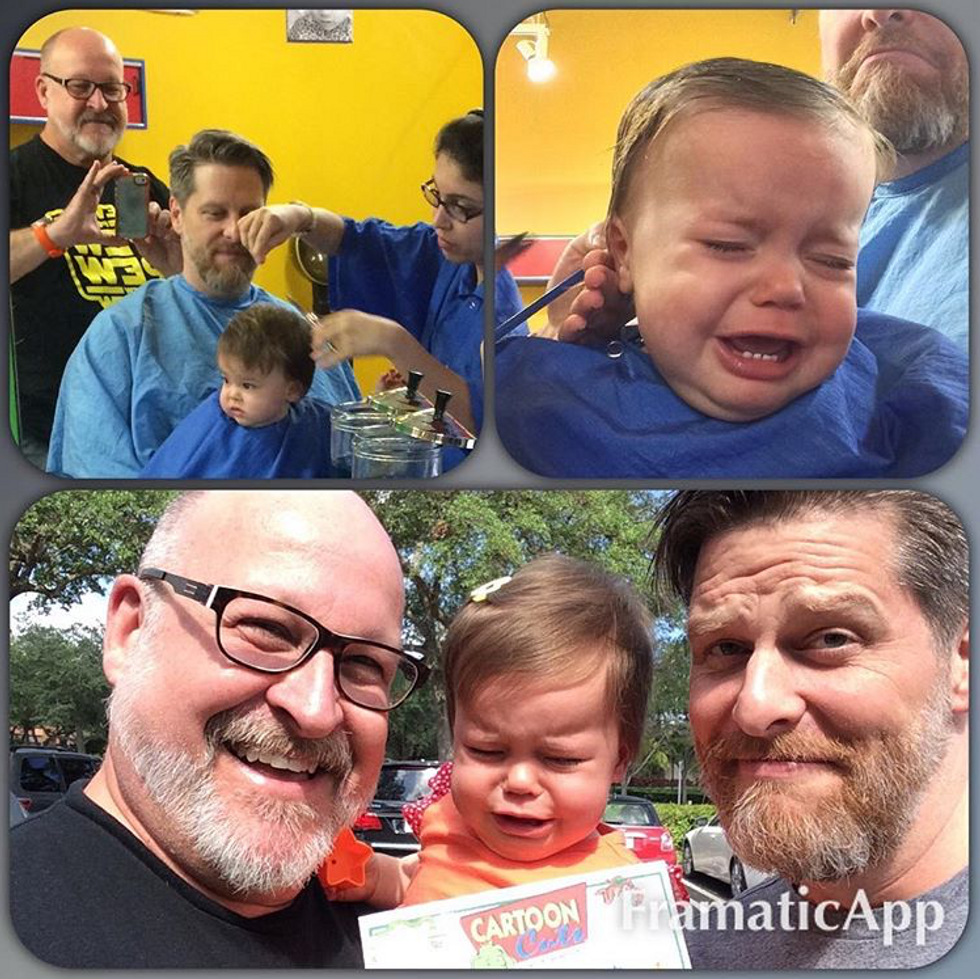 Start 'em young.
Morning commute got me like 😳. #babyonboard #traffic #speeddemon #vroom
A post shared by Michael Bellavia (@mrbellavia) on
Double the pleasure double the meldtowns. 
Daddy Brett's first day back to work, only one melt down so far... My new Friday routine moving forward with these little munchkins, tears or no tears I love every moment I get with these two!
A post shared by Justin Mallard (@the_mallard_rancourts) on
Melanie, practicing for her teenage years. #icanteven
Melanie can't even with this one. #fatherdaughter #gayswithkids #icanteven #baby #parenthood #facepalm
A post shared by Mark Martin Angle (@markangleftl) on
So unfair dad! 
I wouldn't let her eat (anymore) dog food.#assholeparent #protein #nationaldogday #gayswithkids #gayfathers
A post shared by Richard Kocher (@kocherkarma) on
When Santa is the One to Screw up...
Let's hope #santa's not sleeping on the job tonight! #zzzzz #merrychristmas #firstChristmas #christmasinLA #babysfirstchristmas #🎅🏼💤
A post shared by Michael Bellavia (@mrbellavia) on
Oh, snap! Busted booger style.
Daddy and Daughter Selfie #NotWhatiWasGoingFor #Shes19Months #SearchingForTreasure #BringingThisOutAtYourWeddingJordyn
A post shared by Justin Mallard (@the_mallard_rancourts) on