Dad Life
Children's Books About Gay Dad Families
May. 07, 2016
We've received many requests for titles of children's books about gay dad families. And so we compiled an up-to-date list! Is any book missing? Please let us know!
---
"And Tango Makes Three" is the bestselling, heartwarming true story of two penguins who create a nontraditional family.
At the penguin house at the Central Park Zoo, two penguins named Roy and Silo were a little bit different from the others. But their desire for a family was the same. And with the help of a kindly zookeeper, Roy and Silo get the chance to welcome a baby penguin of their very own.
Selected as an ALA Notable Children's Book Nominee and a Lambda Literary Award Finalist, "this joyful story about the meaning of family is a must for any library." (School Library Journal, starred review)
---
"The Family Book" celebrates the love we feel for our families and all the different varieties they come in. Whether you have two moms or two dads, a big family or a small family, a clean family or a messy one, Todd Parr assures readers that no matter what kind of family you have, every family is special in its own unique way.
Parr's message about the importance of embracing our differences is delivered in a playful way. With his trademark bold, bright colors and silly scenes, this book will encourage children to ask questions about their own families. Perfect for young children just beginning to read, "The Family Book" is designed to encourage early literacy, enhance emotional development, celebrate multiculturalism, promote character growth, and strengthen family relationships.
---
Rhythmic text and illustrations with universal appeal show a toddler spending the day with its daddies. From hide-and-seek to dress-up, then bath time and a kiss goodnight, there's no limit to what a loving family can do together. Share the loving bond between same-sex parents and their children.
---
"A Tale of Two Daddies" is a playground conversation between two children. The boy says he heard that the girl has two dads. The girl says that is right. She has Daddy and Poppa. True to a child's curiosity, practical questions follow. "Which dad helps when your team needs a coach? / Which dad cooks you eggs and toast?" To which she answers: "Daddy is my soccer coach. / Poppa cooks me eggs and toast."
---
Two Dads: A Book About Adoption
Having two dads is double the fun! Many families are different; this family has two dads. A beautifully illustrated, affirming story of life with two dads, written from the perspective of their adopted child.
---
Our society is changing. An increasing number of gay couples are having children through adoption and surrogacy. Luca panini has written this book as an educational tool to help people understand that families come in a variety of combinations. If you can, please buy two books – one for your child and one to give away as a present or donation to a school or library.
---
Stella's class is having a Mother's Day celebration, but what's a girl with two daddies to do? It's not that she doesn't have someone who helps her with her homework, or tucks her in at night. Stella has her Papa and Daddy who take care of her, and a whole gaggle of other loved ones who make her feel special and supported every day. She just doesn't have a mom to invite to the party. Fortunately, Stella finds a unique solution to her party problem in this sweet story about love, acceptance, and the true meaning of family.
---
The Great Big Book of Families

What is a family? Once, it was said to be a father, mother, boy, girl, cat and dog living in a house with a garden. But as times have changed, families have changed too, and now there are almost as many kinds of families as colors of the rainbow – from a mum and dad or single parent to two mums or two dads, from a mixed-race family to children with different mums and dads. Mary Hoffman takes a look through children's eyes at the wide varieties of family life: from homes, food, ways of celebrating, schools and holidays to getting around, jobs and housework, from extended families, languages and hobbies to pets and family trees – and she concludes that, for most people, their own family is the best one of all! With Ros Asquith's delightful pictures, this book takes a fresh, optimistic look at families of today. This fun and fascinating treasury features all kinds of families and their lives together. Each spread showcases one aspect of home life-from houses and holidays, to schools and pets, to feelings and family trees. Ros Asquith's humorous illustrations perfectly complement a charming text from the acclaimed Mary Hoffman; kids will love poring over these pages again and again. A celebration of the diverse fabric of kith and kin the world over, The Great Big Book of Families is a great big treat for every family to share.
---
Just how many things can "one" be?
One box of crayons.
One batch of cookies.
One world.
One family.
From veteran picture book author George Shannon and up-and-coming artist Blanca Gomez comes a playful, interactive book that shows how a family can be big or small and comprised of people of a range of genders and races.
---
Noa and Gal have two fathers, Itai and Yoav. They call them by their nicknames, Daddy-Yo and Daddy-I. Noa and Gal were born to gay parents in a process called surrogacy, with the help of two special women that enabled the arrival of the twins into the world.
In this unique book, the writer, Shosh Pinkas, shares the story of many same-sex families around the world. "Gal and Noa's Daddies" describes in a simple, clear and humorous way, without any apologies, a loving and caring same-sex family. This is a brave and important book for children, and it also provides an appropriate answer for the needs of adults. Family members, teachers, and friends will learn how to cope with the questions of curious children who seek to know more about the different types of families they see around them.
For age 3 and up. The story was evaluated by a child psychologist to ensure that the messages are appropriate for children of this age.
---
Why I'm So Special: A Book About Surrogacy With Two Daddies
"Why I'm So Special," a book about surrogacy with two daddies, tackles a very difficult, complicated subject in a sweet, whimsical way. It is a lighthearted picture book on surrogacy with two daddies. The book is a story that all parents who used a surrogate may share with their young children to let them know just how special they are. This story is ultimately about hope, perseverance and lots of love.
---
The Baby Kangaroo: Treasure Parenting Story
A sweet children's story of how two kangaroos, Jack and Sam, a gay couple, have their own baby by means of an egg donor and surrogacy. Using kangaroos in the story enables children to easily understand the methods related to their conception in a simple and loving way.
---
My Two Uncles & Me: Teacher, Parent & LGBT Recommended for Kids 4-8
Having two uncles is so much fun and two uncles are definitely better than one! Together, they'll teach you all about studying, baking and football. "My Two Uncles" will take you on a journey of twice the compassion, twice the understanding and twice the love.
Perfect for any family that has two uncles, two daddies, two aunties or two mommies.
If you're a fan of "My Princess Boy," "Mommy," "Mama and Me," "10,000 Dresses," "And Tango Makes Three," "Daddy, Papa, and Me," "William's Doll," or "The Different Dragon," you'll love this book.
---
The Purim Superhero

Nate loves aliens and he really wants to wear an alien costume for the Jewish holiday of Purim, but his friends are all dressing as superheroes and he wants to fit in. What will he do? With the help of his two dads he makes a surprising decision.
---
King and King

When a grouchy queen tells her layabout son that it's time for him to marry, he sighs, "Very well, Mother … I must say, though, I've never cared much for princesses." His young page winks. Several unsatisfactory bachelorettes visit the castle before Princess Madeleine and her brother, Prince Lee appear in the doorway. The hero is smitten at once. "What a wonderful prince!" he and Prince Lee both exclaim, as a shower of tiny Valentine hearts flutters between them. First-time co-authors and artists de Haan and Nijland matter-of-factly conclude with the royal wedding of "King and King," the page boy's blushing romance with the leftover princess and the assurance that "everyone lives happily ever after."
---
King and King and Family
Join newlyweds King Lee and King Bertie on their journey into the noisy jungle. The kings are greeted by wild animal families, but the royal travelers suspect that something more significant awaits them in the trees. King & King soon discover that there's no adventure more wonderful than starting a family of their own.
This book is a jubilant sequel to Lambda Literary Award nominee "King & King." Subtle clues on each page lead readers to a surprise ending. In a starred review, Kirkus called "King & King" "a joyful celebration that firmly challenges the assumptions established and perpetuated by the entire canon of children's picture books." An adoption story for everyone.
---
My Uncle's Wedding

There's so much to do now that Uncle Mike and Steve are getting married. Follow Andy on this enjoyable journey as he talks about his uncle's wedding, how it affects him, and the things he gets to do in preparation for the ceremony. You'll laugh and smile as you read this adorable story about marriage and family.
---
One Dad, Two Dads, Brown Dad, Blue Dads

Two children – one with blue dads, one from a more traditional family – compare notes in this light hearted book about parents who are different. In the end, of course, they discover that blue dads aren't really that different from other dads. Except for one thing.
---
Daddy's Roommate

This story's narrator begins with his parent's divorce and continues with the arrival of "someone new at Daddy's house." The new arrival is male. This new concept is explained to the child as "just one more kind of love." The text is suitably straightforward, and the format – single lines of copy beneath full-page illustrations – easily accessible to the intended audience.
---
Everywhere Babies

Every day, everywhere, babies are born. They're kissed and dressed and rocked and fed – and completely adored by the families who love them. With an irresistible rhyming text and delightfully endearing illustrations, here is an exuberant celebration of playing, sleeping, crawling, and of course, very noisy babies doing all the wonderful things babies do best.
---
ABC A Family Alphabet Book

Have fun with the kids, moms, dads and pets in this delightful book that celebrates LGBTQ families as it teaches young children the alphabet.
---
The Princes and the Treasure

This is the second edition of the best-selling adventure, romance, and marriage of Prince Earnest and Prince Gallant. The book has been translated into 26 languages, and has sold all over the world!
In the magical kingdom of Evergreen, beautiful Princess Elena is suddenly whisked away by an old woman. Undefeated champion Gallant and shy bookworm Earnest go on a quest to find the greatest treasure in the land so one of them can save and marry the princess. Along the way, Earnest and Gallant realize the greatest treasure in the land is not what they expected. This is a 28-page, full-color, illustrated children's adventure picture book with a same-sex marriage.
---
With irresistible, rollicking rhyme, beloved picture book author Mary Ann Hoberman shows readers that families, large and small, are all around us. From celery stalks to bottle caps, buttons, and rings, the objects we group together form families, just like the ones we are a part of. And, as we grow up, our families grow, too.
Mary Ann Hoberman gives readers a sense of belonging in this all-inclusive celebration of families and our role in them.
---
Trusted New York Times best-selling author Robie H. Harris continues her series for preschoolers with a look at the many kinds of families that make up our world.
Join Nellie and Gus and their family — plus all manner of other families — for a day at the zoo, where they see animal families galore! To top off their day, Nellie and Gus invite friends and relatives for a fun dinner at home. Accessible, humorous, and full of charming illustrations depicting families of many configurations, this engaging story interweaves conversations between the siblings and a matter-of-fact text, making it clear to every child that whoever makes up your family, it is perfectly normal — and totally wonderful.
---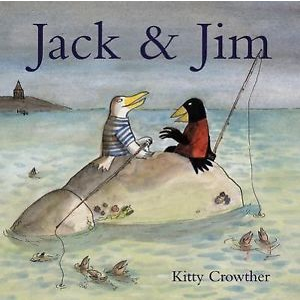 Longing for adventure, Jack the blackbird decides one day to venture out from his forest home to seek the excitement of the sea. There he encounters a dashing seagull named Jim, who welcomes Jack into his life and shows him the wonders of his seaside village. Unfortunately, the other (white) gulls aren't so hospitable. " Who's that funny bird?" old Captain Seagull asks. In spite of Jim's efforts to defend his friend, the villagers can't seem to get beyond Jack's differences. Until, that is, they learn that he has a skill none of them do. Jack's ability to read funny stories from an old washed-up box of books wins the friendship of the crusty gulls, and interspecies harmony abounds at last. Though the story has an innocent sweetness to it and the plot line is pleasantly meandering, the denouement seems forced as lessons about the importance of tolerance and the value of literacy are blurred. No question, the book's shining glory is in its illustrations. Kitty Crowther`s ink and watercolor pictures are quirky and appealing, with the seagulls dressed in jaunty stripes and Jack the blackbird in a handsome red shirt. The seagulls in the village have a mean, quarrelsome look about them, while Jack's and Jim's open expressions reflect their unbiased hearts. (Ages 4 to 7) – Emilie Coulter
When Milo turned two, friends and family would say, "Just wait for the terrible twos to start!" They came, they were terrible, (ok not all the time) and traveling with a two year old was trying at times, but it was still enjoyable (kind of)!
Keep reading...
Show less
Over 2 years ago, we spoke with experienced filmmaker Carlton Smith about his documentary featuring gay dad families created through foster-adopt. It was a heartfelt project that shone a light on the number of children in foster care (roughly 400,000 as referenced at the time) who desperately needed a home. And the large population of same-sex couples, many newly married, who were interested in starting families of their own.
Keep reading...
Show less
"Let's skip," my daughter said on our way to school the other week. She took my hand and started skipping along, pulling me forward to urge me to do the same.

Wouldn't it look, well, gay, for me to skip down the street? In public? I wasn't willingly going to make myself look like a sissy.
Keep reading...
Show less
Listen to the mustn'ts, child. Listen to the don'ts. Listen to the shouldn'ts, the impossibles, the won'ts. Listen to the never haves, then listen close to me... Anything can happen, child. Anything can be. - Shel Silverstein
Keep reading...
Show less
As part of our ongoing #GWKThenAndNow series, we talk to dads who have gone the distance and been together a great many years. Terry and Michael have been together 15 years, have two children, and live in Orlando, Florida. We find out how it began, and what they look for in a partner in life, love and fatherhood.
Keep reading...
Show less
Johnathon and Corey, both 29, met in 2011 working for the same employer. And since their first date, they've been inseparable. Johnathon is a full-time student pursuing a degree in Human Services, and once he completes his degree, he will return to his Native American tribe to help fellow Native American families in need. Corey is a stay-at-home dad. Together they adopted 6-year-old twins, Greyson and Porter, from foster care on June 1, 2017. We caught up with the first-time dads to see how fatherhood was treating them.
Keep reading...
Show less
It started when a four-year-old boy asked a clown, who had been hired to paint the faces of kids at a picnic, a simple question:
"Can I have a blue butterfly?"
Keep reading...
Show less
The Long Island Adoptive Families support group was created by parents going through the adoption process or who had already adopted. It was a great way to help members navigate the path of adoption whether it be private domestic, international agency, domestic agency or foster care. We spoke with Chemene, one of the founders, and found out how this group is supporting local gay men interested in becoming fathers.
Keep reading...
Show less
GET GAYS WITH KIDS IN YOUR INBOX

Follow Us on Instagram