Dad Life
Congratulations to These Gay Dad Families! (#14)
Feb. 08, 2017
Congratulations to these gay dad families on their new family members and some important milestones!
---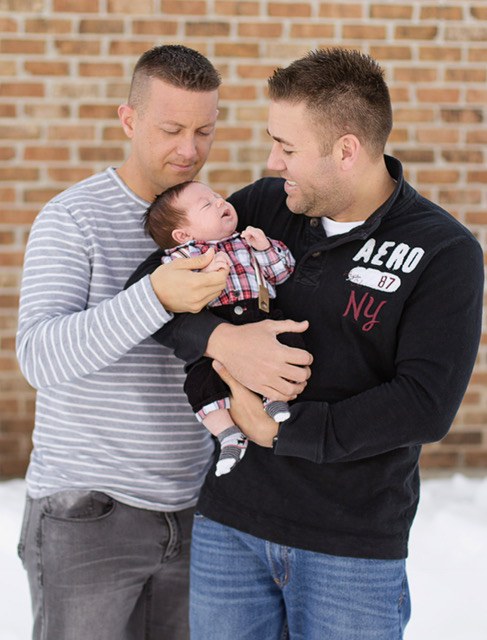 Joshua and Jeremy (holding Anakin)
Congratulations to Joshua and Jeremy on the birth of their son, Anakin!
Congrats to these husbands and dads on birth of their son Anakin, born in Salt Lake City in November 2016, whose adoption will be finalized next week, on February 13. They live in Salt Lake City, Utah. This family of three will soon expand to four as they're expecting a little sister for Anakin in May. Here's what the dads have to say: "Two under the age of 1 year old! Some say we are crazy but we believe that we are truly blessed to have such a great opportunity to raise two children."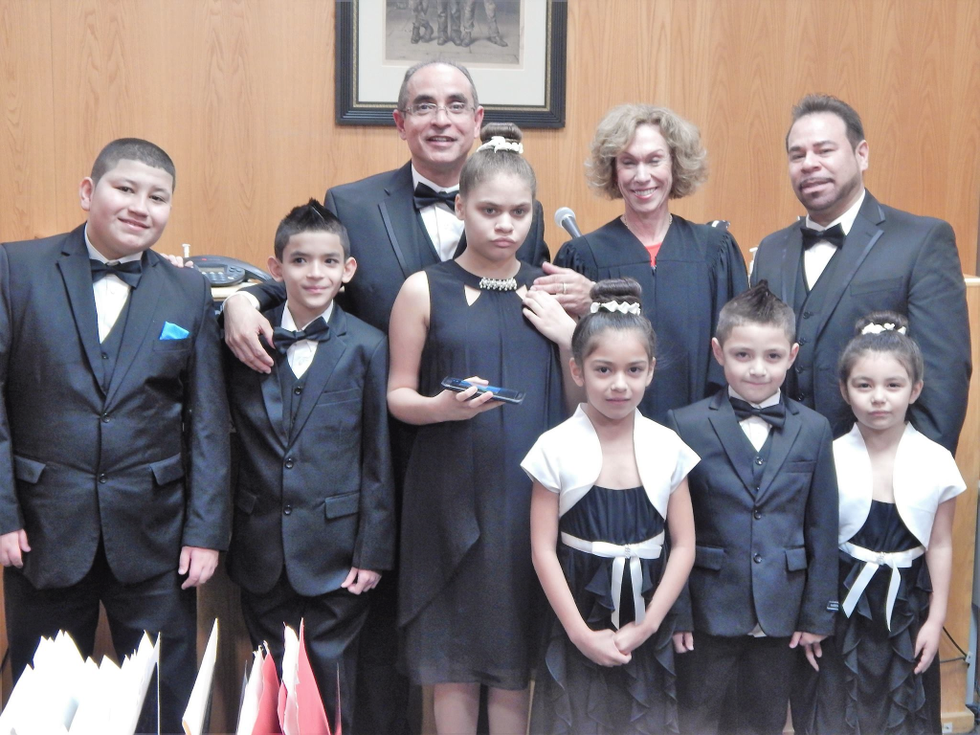 In family court for adoption day. Back row: Miguel, the judge and Luis; Front row: six of their kids; Christian, Julian, Jennessa, Mariana, Ivan and Ivannys
Congratulations to Luis and Miguel on the adoption of Ivan, Mariana and Ivannys!
The Delgado-Santiago family grew by three on Friday, February 3 when the adoption of Ivan, Mariana and Ivannys was finalized. Congratulations to this  family of fourteen! (Not all their kids are pictured here.) The dads, Luis and Miguel, have been together for 19 years and created their family through foster-adopt as well as through surrogacy.
An amazing day that has bonded our family for life. @tjoddo and I started our path of foster to adopt in November of 2015 and today, we finalized!!! We have known that God had a plan for us and for every closed door we knew that He would come through. Little did we know a phone call in the middle of the afternoon would lead to today. We would like to now formally introduce you to Zayn Alexander Oddo and Malaya Marie Oddo. Our son decided that he wanted to change his name early on and we gave him the freedom to pick whatever he wanted. Our daughter decided to simplify the spelling of her name and her middle name is in honor of my cousin Marie who has passed. Tim and I would like to thank each and every one of you for your love, support, guidance and advice. Today, we are all Oddos! #lovewins #gotchaday #adoption #love #families #gayswithkids #gaydads #instagay #lgbt #lgbtfamily #equality #lovetrumpshate @gays_with_kids
A photo posted by Joe Oddo Jr. 🏳️‍🌈 (@joeyod79) on
 Congratulations to Joe and Tim on the adoption of Zayn and Malaya!
For foster-adopt gay dads Joe and Tim, January 31, 2017 was one of the happiest days of their lives! The adoption of their two children, Zayn and Malaya, was finalized. Happy "Gotcha Day" to this forever family of four!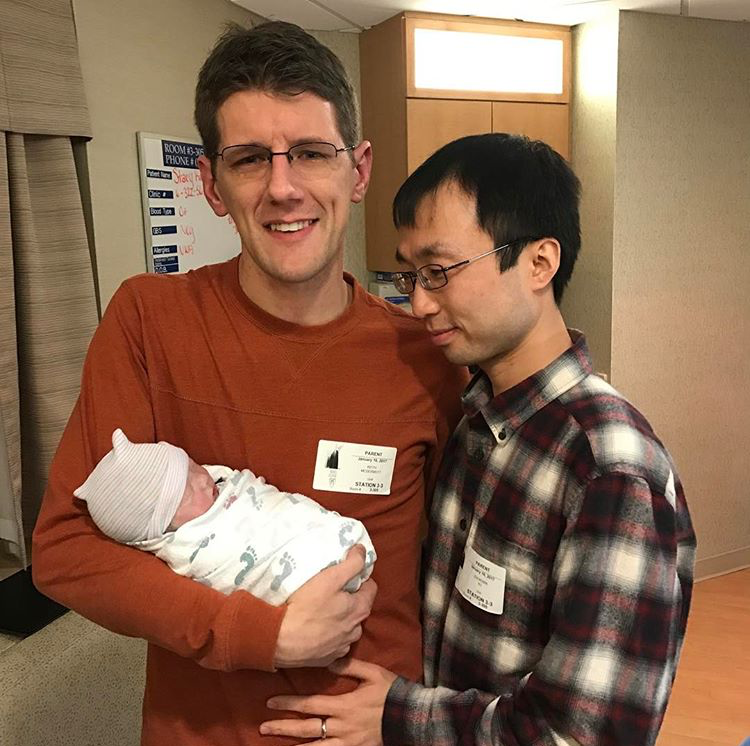 Keith (holding Kaili) and Zhengbin
Congratulations to Keith and Zhengbin on the birth of Kaili!
After a straightforward surrogacy journey (How lucky they were! It's not like that for most parents-to-be!) daughter Kaili was born on January 16, 2017. Keith and Zhengbin are her proud dads, and they are over the moon. They say they feel forever grateful to their surrogate. This family of three lives in Cleveland, Ohio.
When Milo turned two, friends and family would say, "Just wait for the terrible twos to start!" They came, they were terrible, (ok not all the time) and traveling with a two year old was trying at times, but it was still enjoyable (kind of)!
Keep reading...
Show less
Over 2 years ago, we spoke with experienced filmmaker Carlton Smith about his documentary featuring gay dad families created through foster-adopt. It was a heartfelt project that shone a light on the number of children in foster care (roughly 400,000 as referenced at the time) who desperately needed a home. And the large population of same-sex couples, many newly married, who were interested in starting families of their own.
Keep reading...
Show less
"Let's skip," my daughter said on our way to school the other week. She took my hand and started skipping along, pulling me forward to urge me to do the same.

Wouldn't it look, well, gay, for me to skip down the street? In public? I wasn't willingly going to make myself look like a sissy.
Keep reading...
Show less
Listen to the mustn'ts, child. Listen to the don'ts. Listen to the shouldn'ts, the impossibles, the won'ts. Listen to the never haves, then listen close to me... Anything can happen, child. Anything can be. - Shel Silverstein
Keep reading...
Show less
As part of our ongoing #GWKThenAndNow series, we talk to dads who have gone the distance and been together a great many years. Terry and Michael have been together 15 years, have two children, and live in Orlando, Florida. We find out how it began, and what they look for in a partner in life, love and fatherhood.
Keep reading...
Show less
Johnathon and Corey, both 29, met in 2011 working for the same employer. And since their first date, they've been inseparable. Johnathon is a full-time student pursuing a degree in Human Services, and once he completes his degree, he will return to his Native American tribe to help fellow Native American families in need. Corey is a stay-at-home dad. Together they adopted 6-year-old twins, Greyson and Porter, from foster care on June 1, 2017. We caught up with the first-time dads to see how fatherhood was treating them.
Keep reading...
Show less
It started when a four-year-old boy asked a clown, who had been hired to paint the faces of kids at a picnic, a simple question:
"Can I have a blue butterfly?"
Keep reading...
Show less
The Long Island Adoptive Families support group was created by parents going through the adoption process or who had already adopted. It was a great way to help members navigate the path of adoption whether it be private domestic, international agency, domestic agency or foster care. We spoke with Chemene, one of the founders, and found out how this group is supporting local gay men interested in becoming fathers.
Keep reading...
Show less
GET GAYS WITH KIDS IN YOUR INBOX

Follow Us on Instagram