Adoption
"The Commitment": A Film About Love, Loss, and Same-Sex Adoption
Mar. 20, 2017
Guest post written by Albert M. Chan, the creator and star of "The Commitment," a film about the journey of a gay adoptive parent.  
---
As an actor and filmmaker, I was inspired to make the fictionalized short film "The Commitment" by my own roller coaster journey to become a gay adoptive parent. At the time, I didn't know of any film that tackled the subject of domestic adoption, especially same-sex adoption, in an authentic way. So I made "The Commitment" to educate, entertain and move audiences with a depiction of both the most heartbreaking and the most joyous aspects of adoption, from the perspective not just of a married gay couple, but of birthparents and adoption professionals as well.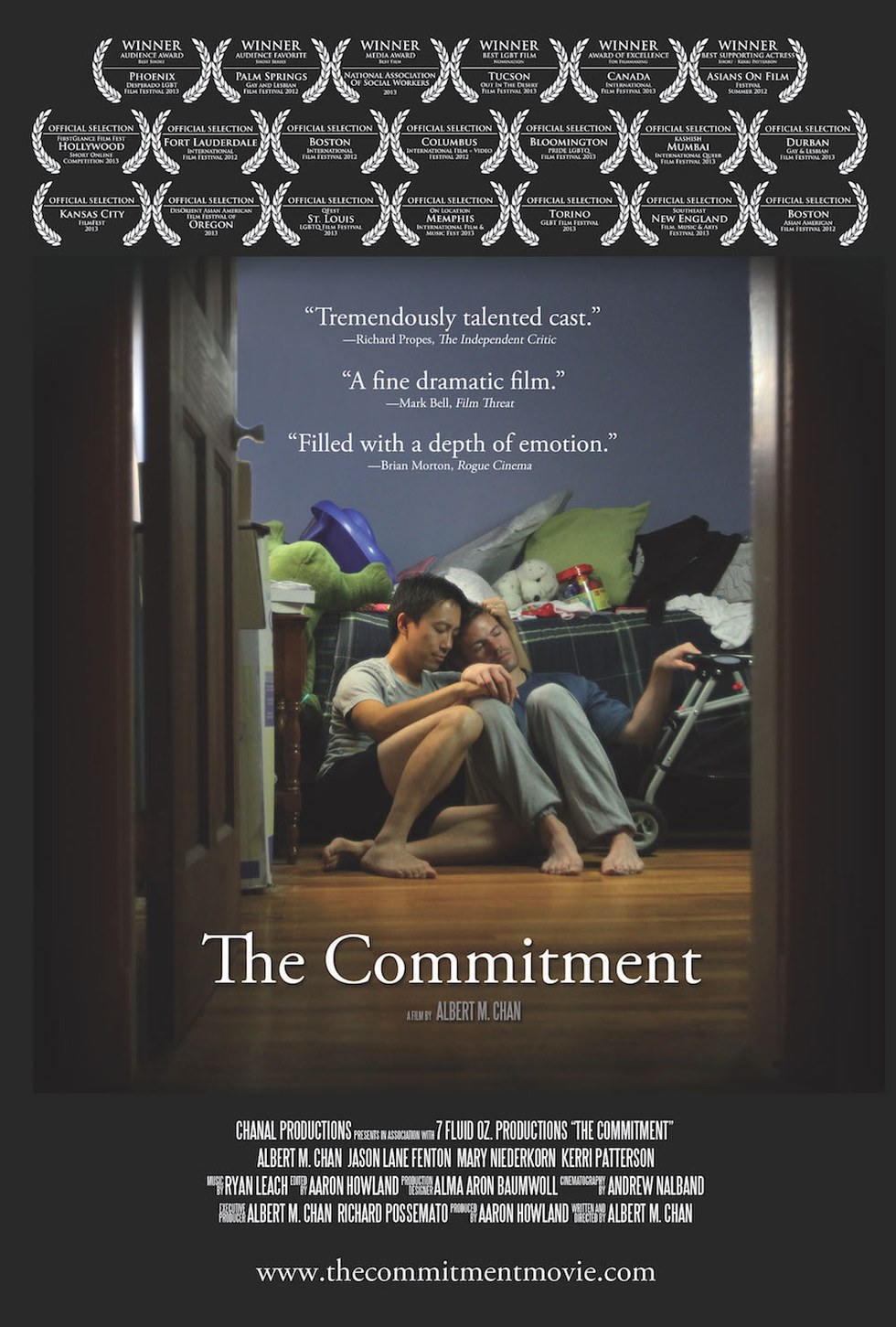 My husband and I started the domestic adoption process back in 2010. After deciding on an agency, we began to tackle the long checklist of requirements: registration forms, application forms, criminal background checks, FBI fingerprinting checks, child abuse checks, employment verifications, written references, online and in-person seminars, book studies, and homestudy meetings with an adoption social worker.
Once requirements are completed, couples usually wait about a year before being selected by a birthmother. But we had barely joined the pool of adoptive waiting parents, when we received the surprising news that a young pregnant woman had chosen us to parent her baby.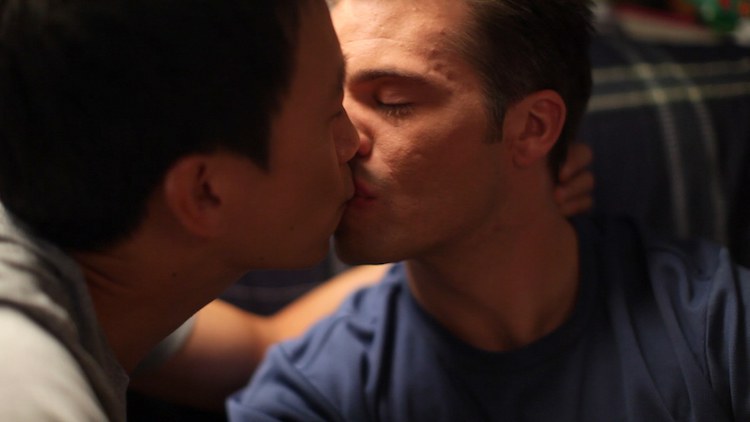 Film still: Robert (Albert M. Chan, left) and Ethan (Jason Lane Fenton, right)
We had less than three weeks to prepare for the arrival of our baby boy. We selected a pediatrician, made arrangements to take time off work, borrowed a variety of baby items, chose a daycare, and maxed out the minutes on our calling plan. But on that important day when we were to meet the birthmother of our baby for the first time, the agency canceled our meeting. The birthmother had changed her mind and chosen to place her baby with family friends.
The loss was more emotional than we would have expected. I recall how unusually hard it was to talk to people, even when they were simply saying how sorry they were that it didn't work out. Those familiar with domestic adoption had told us before we began that the adoption process is truly a roller coaster ride, and now we finally understood what they meant.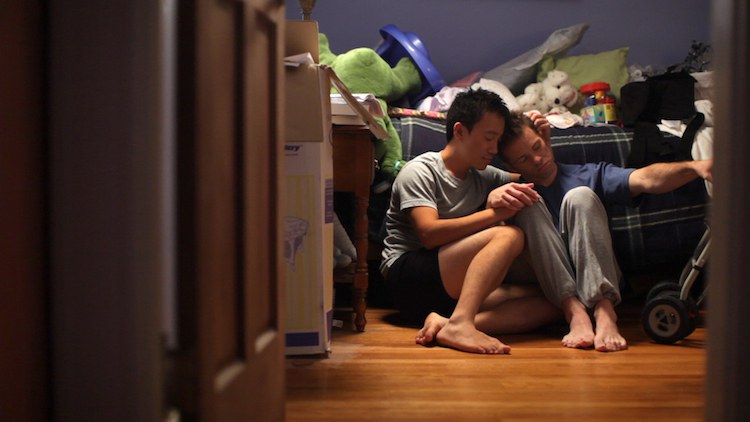 Film Still: Robert (Albert M. Chan, left) and Ethan (Jason Lane Fenton, right)
I dealt with the feelings of loss and disappointment the only way I knew how — I wrote "The Commitment." As my character tells his husband at the end of the film, "There is a baby out there somewhere, and it's making its way to us." This realization helped me get through the remainder of the adoption process. Four unsuccessful birthparent matches and one year later, "The Commitment" went into production. Two weeks after the film wrapped, our beautiful son Andrew was born, the result of our fifth match. Andrew brings us incredible joy, and I can't possibly imagine it any other way: We were meant to be together.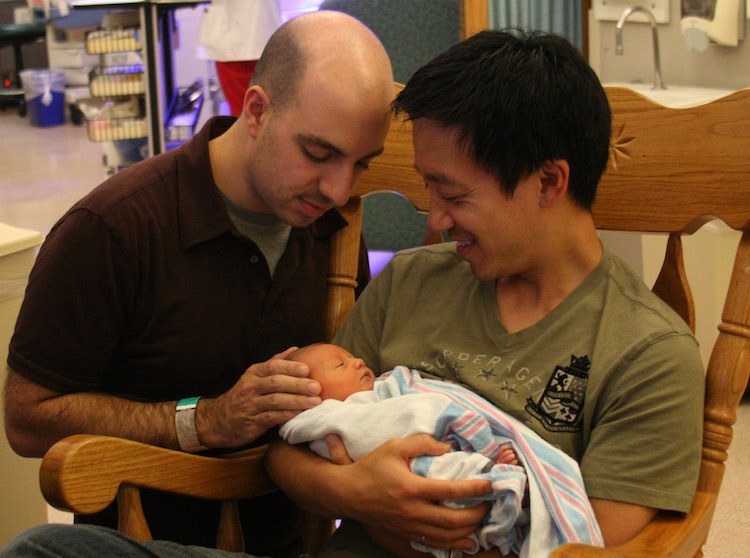 Richard, Albert's husband, (left) and Albert with newborn Andrew
Fast-forward to summer 2016, when Andrew was almost five years old. My husband and I had been waiting to adopt a second baby for over a year, and in that time period, we had several potential matches fall through. Then one morning, while we were in the midst of mourning yet another unsuccessful match, I received an email out of the blue from the adoption agency that facilitated Andrew's adoption. They explained that a baby was born earlier that day and asked if we were interested. We said yes, making sure to keep our optimism in check. The next day, on our way to celebrate Father's Day with our family, we received a phone call that confirmed the birthmother wanted us to parent her baby. We learned that the birthmother, who is Chinese (specifically Cantonese), was looking for a gay couple and preferred a Chinese home. I am Cantonese as well. Just as in Andrew's case, I felt that Justin was meant to join our family.
"The Commitment" has definitely struck a chord with people of all races and nationalities. The film is still going strong on the film festival circuit, having been shown at over 30 film festivals on four continents. It has been shown in countries where publicly showing gay films is a political act in itself. I've even had straight people tell me they identified with the film because they had suffered a miscarriage.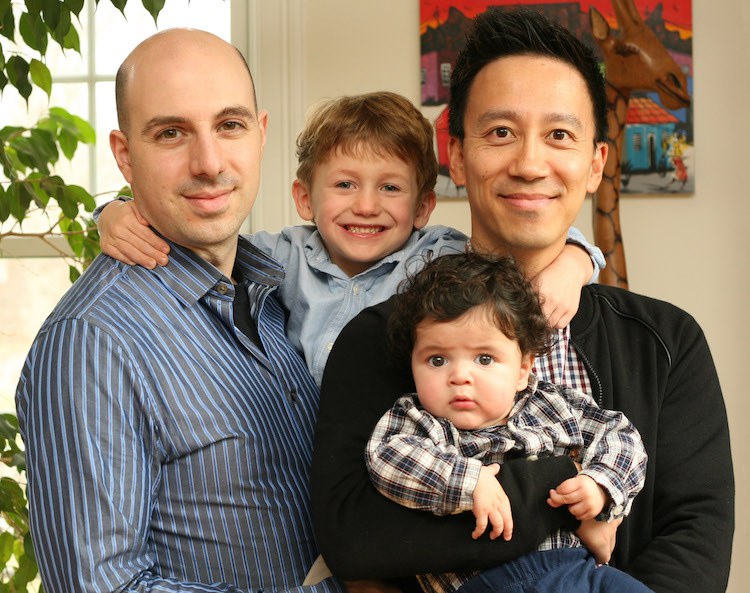 Richard (left) and Albert (right, holding Justin) with their sons Andrew and Justin
Love and loss are universal experiences, and I'm glad to see that as a society, we are generally moving in the direction where gender doesn't matter anymore. As an actor and filmmaker, I've stayed on this theme with my latest project "Welcome to the World," a first-person, confessional-style film about a man having trouble getting over the death of his boyfriend. The film presents, in real time, the journey of his awakening from isolation back to humanity.
"The Commitment" is available on Amazon as part of the gay shorts collection Green Briefs, available on DVD and via streaming. "Welcome to the World" will hit the film festival circuit in the latter half of 2017. For film trailers and the latest news, visit The Commitment Movie and Welcome to the World Movie.
When Milo turned two, friends and family would say, "Just wait for the terrible twos to start!" They came, they were terrible, (ok not all the time) and traveling with a two year old was trying at times, but it was still enjoyable (kind of)!
Keep reading...
Show less
Over 2 years ago, we spoke with experienced filmmaker Carlton Smith about his documentary featuring gay dad families created through foster-adopt. It was a heartfelt project that shone a light on the number of children in foster care (roughly 400,000 as referenced at the time) who desperately needed a home. And the large population of same-sex couples, many newly married, who were interested in starting families of their own.
Keep reading...
Show less
"Let's skip," my daughter said on our way to school the other week. She took my hand and started skipping along, pulling me forward to urge me to do the same.

Wouldn't it look, well, gay, for me to skip down the street? In public? I wasn't willingly going to make myself look like a sissy.
Keep reading...
Show less
Listen to the mustn'ts, child. Listen to the don'ts. Listen to the shouldn'ts, the impossibles, the won'ts. Listen to the never haves, then listen close to me... Anything can happen, child. Anything can be. - Shel Silverstein
Keep reading...
Show less
As part of our ongoing #GWKThenAndNow series, we talk to dads who have gone the distance and been together a great many years. Terry and Michael have been together 15 years, have two children, and live in Orlando, Florida. We find out how it began, and what they look for in a partner in life, love and fatherhood.
Keep reading...
Show less
Johnathon and Corey, both 29, met in 2011 working for the same employer. And since their first date, they've been inseparable. Johnathon is a full-time student pursuing a degree in Human Services, and once he completes his degree, he will return to his Native American tribe to help fellow Native American families in need. Corey is a stay-at-home dad. Together they adopted 6-year-old twins, Greyson and Porter, from foster care on June 1, 2017. We caught up with the first-time dads to see how fatherhood was treating them.
Keep reading...
Show less
It started when a four-year-old boy asked a clown, who had been hired to paint the faces of kids at a picnic, a simple question:
"Can I have a blue butterfly?"
Keep reading...
Show less
The Long Island Adoptive Families support group was created by parents going through the adoption process or who had already adopted. It was a great way to help members navigate the path of adoption whether it be private domestic, international agency, domestic agency or foster care. We spoke with Chemene, one of the founders, and found out how this group is supporting local gay men interested in becoming fathers.
Keep reading...
Show less
GET GAYS WITH KIDS IN YOUR INBOX

Follow Us on Instagram