TOP - Trans Dads
Becoming Papa
Aug. 26, 2015
For as far back as I can remember, I have wanted to be a parent. As soon as I could talk I asked for baby dolls, and then later, I asked for a baby brother. I got both. By age 5 I had the full-fledged "baby fever" that some women approaching their thirties feel. I had a special doll, Jessica, that came everywhere with me. I dressed her in my old baby clothes, I wore her in a carrier I bought at a yard sale, I took her on adventures in the woods and sat her in the basket of my bike. I remember pretending to nurse her as I had seen my mother and aunts do with their babies. I treated her like she was a real baby, like she was my baby, she was my practice for someday when I would get to have a real baby of my own. Even though I was born and raised female, I don't recall being strongly connected to the idea of pregnancy and birth, I just knew I wanted babies and imagined that someday I would probably adopt children. I wanted to start a family young and have a house full of kids.
---
As I grew up and went through puberty my feelings about my gender began to shift. Being a girl was fine as long as I stayed a girl, a tomboy, androgynous, ambiguous, a kid. But now I was "becoming a woman," a "young lady." The ideal repulsed me, except I didn't have words for it then, and I didn't know I had any other options. I tried to yield to it, but I never felt quite right and I began to like myself less and less. This coming of age all happened before the internet was a useful tool so the only transgender people that I ever heard of were sensationalized on trashy daytime talk shows and I knew that I didn't identify with them. The teenage years are a difficult time for everyone and I thought that the awkwardness with my body, sexuality and gender would pass. I thought that eventually I would meet the right guy and we would have a family and I wouldn't feel so anxious in my body. Little did I know that would actually happen, but I would take a very different path to get there.
As my twenties approached I had learned the word transgender and that's how I began to identify. I explored the parameters of my new gender, the kind of man I wanted to be, the kind of people I wanted to date, the kind of life I wanted to have. I settled into my identity throughout my twenties: I learned where my it was flexible and where it was not; I had relationships with both women and men but eventually was only interested in dating men. I medically transitioned by taking testosterone and having chest surgery. By my late twenties my gender wasn't on the front burner anymore, it didn't come up often and I wasn't quick to bring it up unsolicited. For all intents and purposes, I moved through the world as a queer man, and once I felt at home in my own skin, I knew I was really ready to find a partner and start a family.
When I medically transitioned, I considered that I would probably never be able to have a biological child. (That is what I had been told at the time.) It did cause me to pause and think but the idea of ever being pregnant was so far outside of my comfort zone it didn't ever seem like a plausible idea. So I forged ahead and assumed that I would take a different route to parenthood. I began exploring what adoption would require of me. I quickly learned that it would involve a lot of money and little privacy about my past and present life. While I lived comfortably, I didn't come close to having the money to cover the cost of a home study, birth mother expenses, legal fees, adoption fees, etc. Surrogacy never personally appealed to me and also can be a costly undertaking. I considered becoming a foster parent, and while fostering is something I think I could do and someday might like to do, first I wanted to have a baby that would be mine – not necessarily in the biological sense, but in the forever sense. I felt discouraged that I would never get the chance to become a Papa.
Then I started to think about the other option that I had previously discarded. I have the means to carry a child. I wasn't sure whether I would be physically be able to because of all the years I had taken testosterone, but other transmen before me had done it and they had healthy pregnancies and healthy babies. I decided to let the little seed of an idea take some time to root and grow. The idea did more than grow, it blossomed. It wasn't just a means to have a baby, but the way I really wanted to have a baby. Once I was comfortable with myself, and confidently passing as male, the idea of carrying a child began to have some appeal. I knew it wasn't going to be easy, but I believed that it was something I could do, and the more I considered it the more it felt like the right choice. As I turned thirty I made a deal with myself that by time I was 32, single or partnered, I would be on the path to fatherhood.
Fast forward a few years; I had been in a relationship for 2 years with my current boyfriend, we had many talks and discussions about building a family and despite our big and little fears we mostly felt excited and hopeful, so we decided to move forward. With the support of my doctor I stopped taking hormones, I got a clean bill of health, and after 10 years on hormones, my cycle started up again. (Never before had I looked forward to having a period.) We had begun to discuss the best time to start trying, and then it happened. Just two weeks after my 32nd birthday we made a baby. For nine months our little one grew, from a speck the size of a poppy seed to a fully formed baby. Somewhere in those nine months I began to appreciate my body in a way I had never been able to before – not a female body or a male body but a transgender body. A body that has the capacity to grow a beard and grow a baby. A body that, on May 20, 2014, after a long and painful but uncomplicated natural labor and delivery, finally made me a papa.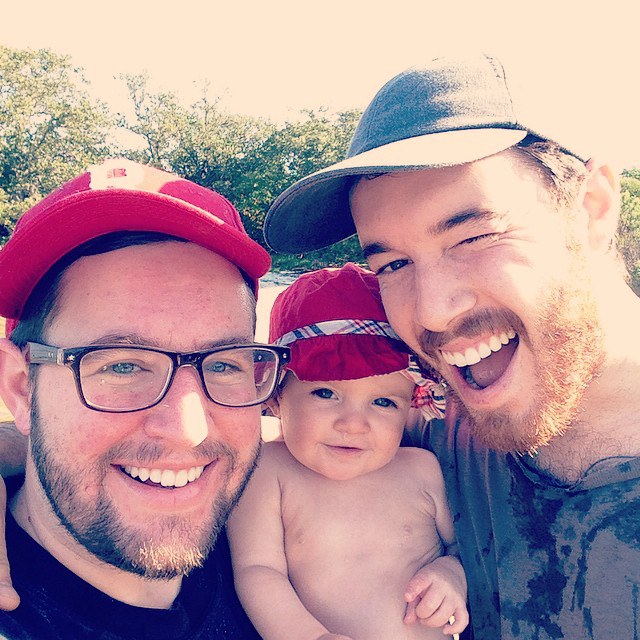 Stephen, Rowen and Josh
When Milo turned two, friends and family would say, "Just wait for the terrible twos to start!" They came, they were terrible, (ok not all the time) and traveling with a two year old was trying at times, but it was still enjoyable (kind of)!
Keep reading...
Show less
Over 2 years ago, we spoke with experienced filmmaker Carlton Smith about his documentary featuring gay dad families created through foster-adopt. It was a heartfelt project that shone a light on the number of children in foster care (roughly 400,000 as referenced at the time) who desperately needed a home. And the large population of same-sex couples, many newly married, who were interested in starting families of their own.
Keep reading...
Show less
"Let's skip," my daughter said on our way to school the other week. She took my hand and started skipping along, pulling me forward to urge me to do the same.

Wouldn't it look, well, gay, for me to skip down the street? In public? I wasn't willingly going to make myself look like a sissy.
Keep reading...
Show less
Listen to the mustn'ts, child. Listen to the don'ts. Listen to the shouldn'ts, the impossibles, the won'ts. Listen to the never haves, then listen close to me... Anything can happen, child. Anything can be. - Shel Silverstein
Keep reading...
Show less
As part of our ongoing #GWKThenAndNow series, we talk to dads who have gone the distance and been together a great many years. Terry and Michael have been together 15 years, have two children, and live in Orlando, Florida. We find out how it began, and what they look for in a partner in life, love and fatherhood.
Keep reading...
Show less
Johnathon and Corey, both 29, met in 2011 working for the same employer. And since their first date, they've been inseparable. Johnathon is a full-time student pursuing a degree in Human Services, and once he completes his degree, he will return to his Native American tribe to help fellow Native American families in need. Corey is a stay-at-home dad. Together they adopted 6-year-old twins, Greyson and Porter, from foster care on June 1, 2017. We caught up with the first-time dads to see how fatherhood was treating them.
Keep reading...
Show less
It started when a four-year-old boy asked a clown, who had been hired to paint the faces of kids at a picnic, a simple question:
"Can I have a blue butterfly?"
Keep reading...
Show less
The Long Island Adoptive Families support group was created by parents going through the adoption process or who had already adopted. It was a great way to help members navigate the path of adoption whether it be private domestic, international agency, domestic agency or foster care. We spoke with Chemene, one of the founders, and found out how this group is supporting local gay men interested in becoming fathers.
Keep reading...
Show less
GET GAYS WITH KIDS IN YOUR INBOX

Follow Us on Instagram