Mar. 21, 2016
About 200 miles north of Toronto in Canada lies North Bay, Ontario, a small military and mining town of just over 50,000 people. Probably not a great place for a gay dad family, you might think. But you'd be wrong.
Five years ago in North Bay, Nathan, then 22 years old, met 24-year-old John through the dating website Plenty of Fish. The guys were both born in North Bay and both grew up there.
On December 17, 2011, only a few months after they began dating, Nathan proposed to John with the help of a flash mob made up of friends and family. (See video below.) Nine months later they got married.
Today the young couple are still living in North Bay, as "Daddy" (Nathan) and "Dad" (John) to their two little girls, Brynn and Emery.
This is how they created their family. When local same-sex parents saw the flash mob marriage proposal video on YouTube they contacted Nathan and offered their adoption expertise if ever they were interested. And they certainly were. Both guys come from large families and had always had a desire to become dads.
They started doing their research about the adoption process and took the P.R.I.D.E. [Parent Resources for Information, Development and Education] course. Once they had completed the course, they expected to wait for a long time for a child placement would occur. (The average wait is between one and three years.)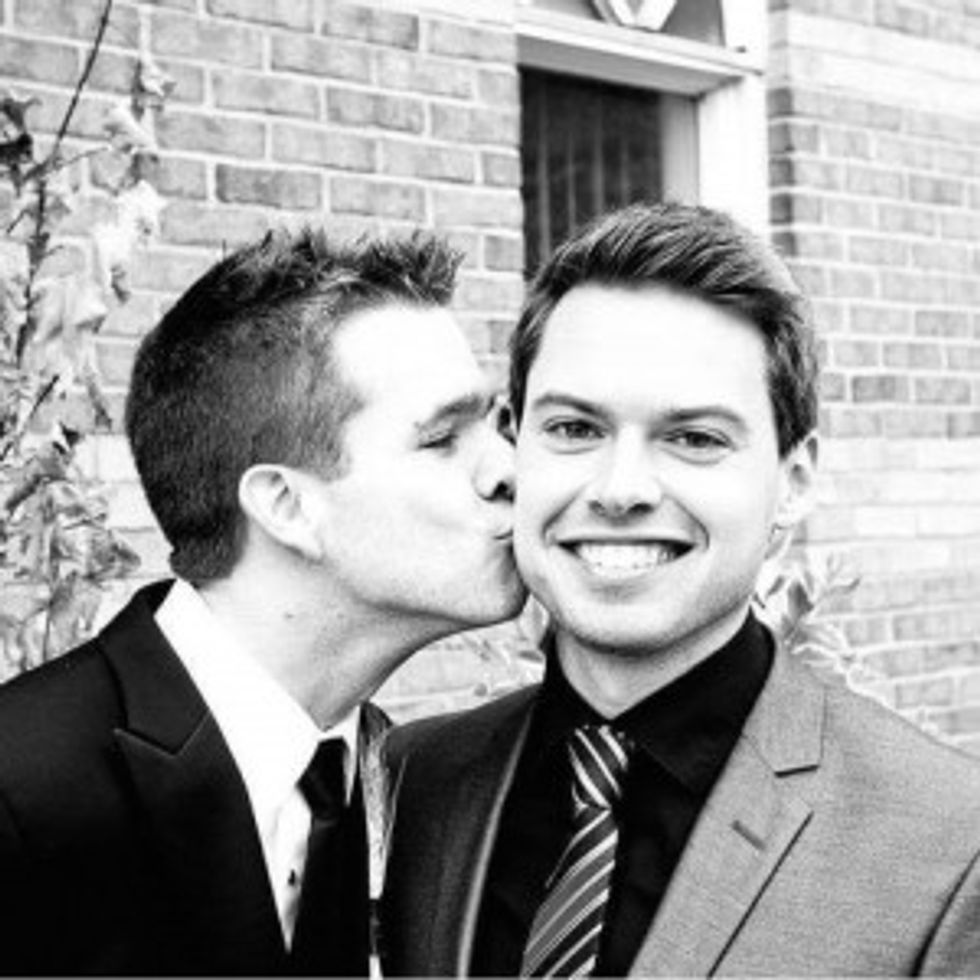 Nathan (left) and John
Much to their surprise, they were approached by a social worker with the Children's Aid Society (CAS) after only three months! They had been selected as a potential match for one of the kids in CAS foster care.
Unfortunately, at the time the guys were in limbo between homes, and felt it was impossible for them to move forward, afraid it would cause too much stress on the child. Understandably, they were very upset about it, but in the course of time they came to the realization that this placement just wasn't meant to be.
Four months later, on a Tuesday, they received another phone call. Again, it was a social worker with CAS stating that they were a match for a little 18-month-old girl. This time they immediately said, "Yes! Let's meet!" And so they met with the social worker that Thursday.
Now, one has to keep in mind that once a child is a crown ward [the official term in Ontario for a foster child], that child is officially available for adoption, but at least three families have to be interviewed about the placement.
During the interview they learned all about this 18-month-old girl and once the interview process was over they were shown her pictures. They immediately fell in love.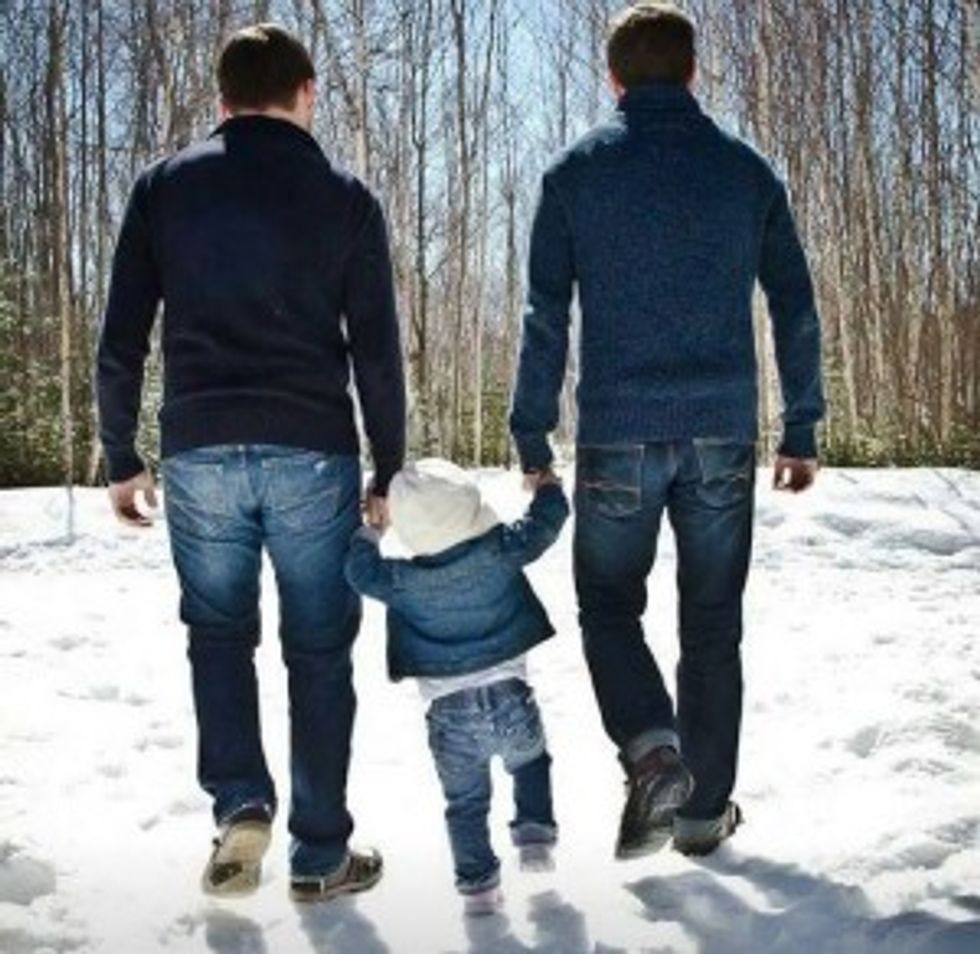 John (left) and Nathan walking with Brynn
They resumed their normal day-to-day routines as best the could and returned to work the following day.
Nathan was hard at work in the pharmacy when he glanced up to see a customer in line waiting for his medication. When he looked back down for a moment he realized it was his husband John with tears in his eyes.
He looked back up and saw John holding a flower arrangement in his hands and a balloon with the words Our New Little Princess. Nathan couldn't hold back his tears either. They were now officially dad and daddy. It was a moment they had longed for since before they got married.
They knew not to get too excited, because it might take a long time for an adoptive child to accept her new family.
Soon they realized that there was no need for concern: Their new daughter, Brynn, interacted with her new dads right away, when they all met at the local CAS agency the next day.
The next two weeks were packed full with visits. First a few one-hour visits, then full-day and overnight visits. Then, after two weeks, she moved in and the rest, as they say, is history.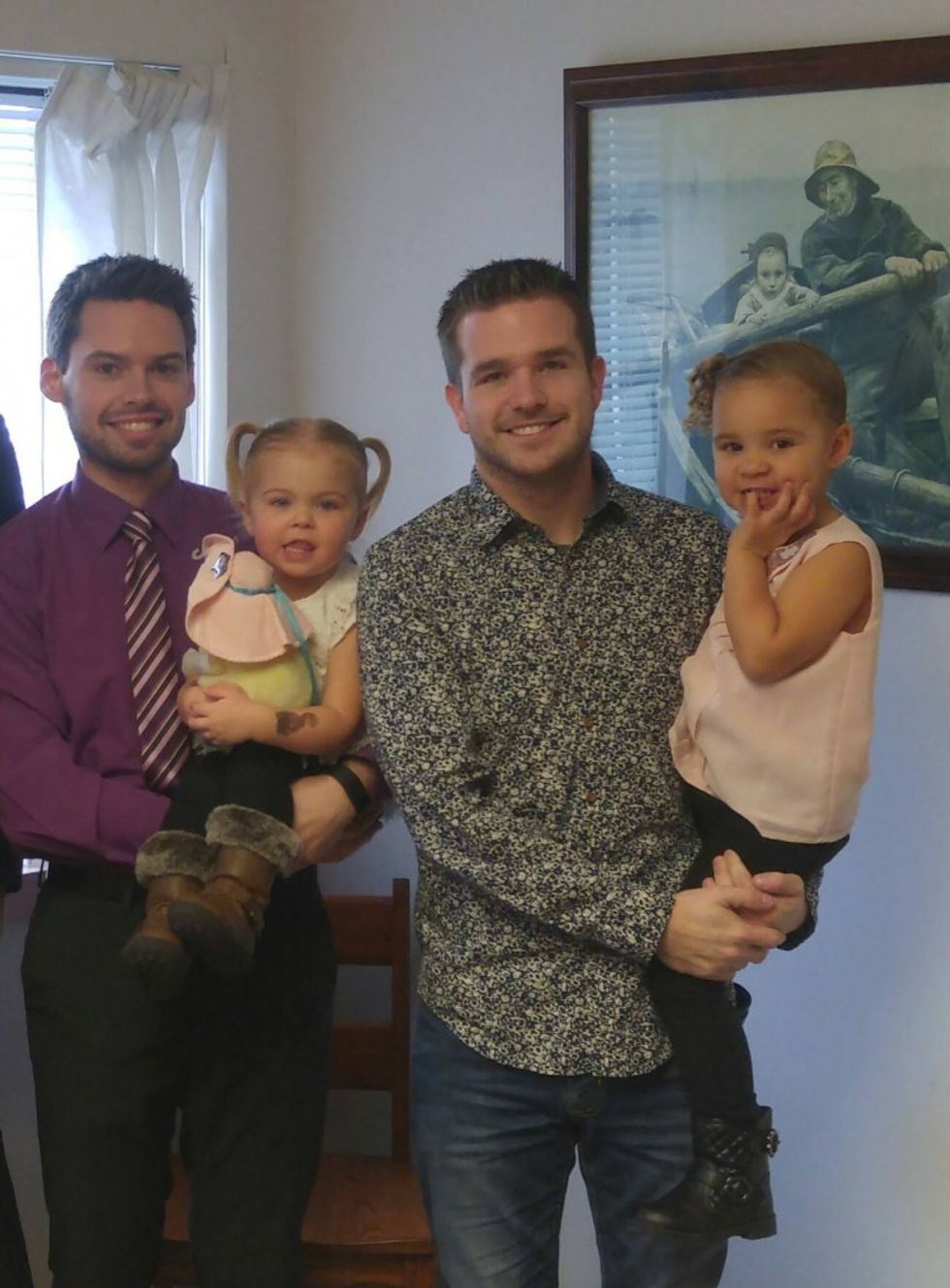 John (left) holds Emery and Nathan holds Brynn at the adoption signing for Emery
Once Brynn's adoption was finalized, they learned of a sibling, a younger sister. As soon as the agency mentioned her, Nathan and John said, "Without a doubt!" Without even looking at her medical history, they knew it was a sure fit.
One year exactly after Brynn moved in they started Emery's adoption process with Emery. Again, they had two weeks  of visits. And then Emery moved in!
The dads have nothing but great things to say about the adoption process and about the help Children's Aid Society gave them. In their own words, "We have had such a wonderful experience! We could never have asked for a better life. People do have to realize, however, that the process does not move along that fast for everyone; some people have to wait months, even years. We were truly lucky."
Are they done building a family? Nathan and John say that they are just enjoying their time together for now, but are thinking of possibly adopting a boy in the future.
When asked what the most important lesson is they are teaching their children, they say, "To love one another no matter your background. Family is about loving and caring for one another, not about your genes."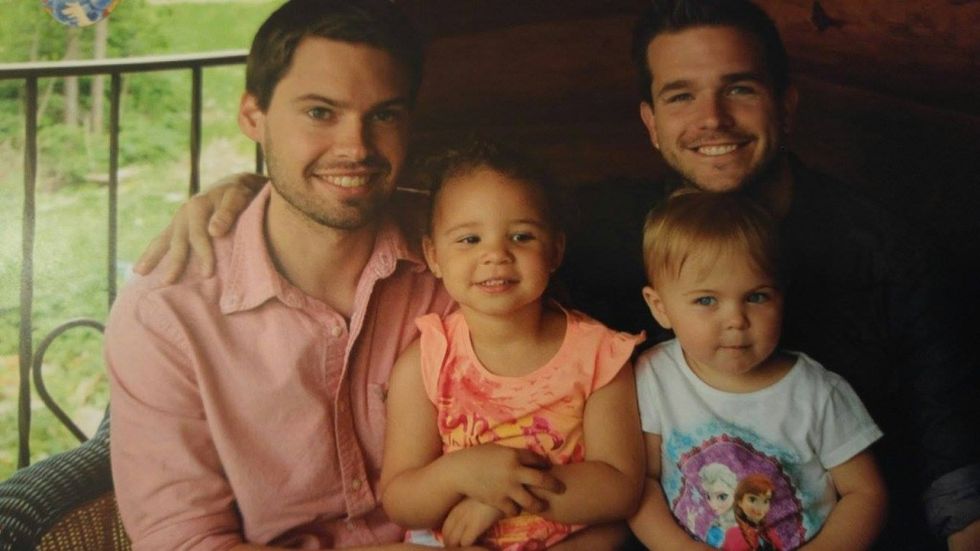 John, Brynn, Nathan and Emery
They have a few more things to say.
"We are so overjoyed to have partaken in this crazy adventure of parenting. It is the most rewarding thing we have ever done. We have adopted two beautiful girls in the process and will hopefully adopt a boy in the future. John and I both have large families so we truly understand how much of a blessing family really is. For us as Canadians, the thought and process of adoption seemed so obvious for us. It is such a common thing here in Canada to see same-sex parents. That is why I love what you are doing with Gays With Kids because it shows same-sex couples all over the world that having a family is possible and that there are many of us out there ready to lend our support.
---
"My husband John, our daughters Brynn and Emery and I, and our beloved furbaby Charlie would truly like to thank you for creating Gays With Kids. It is so inspiring to see such a wonderful outlet for people to share their success stories and to teach the younger generation to not be afraid, that they too can live a full life with the family they have always wanted."
Our response to Nathan and John: Thanks, guys, for sharing your beautiful family story and photos with us! We couldn't agree more on the importance of giving gay dad families great visibility. We couldn't do it without the help of gay dads such as you!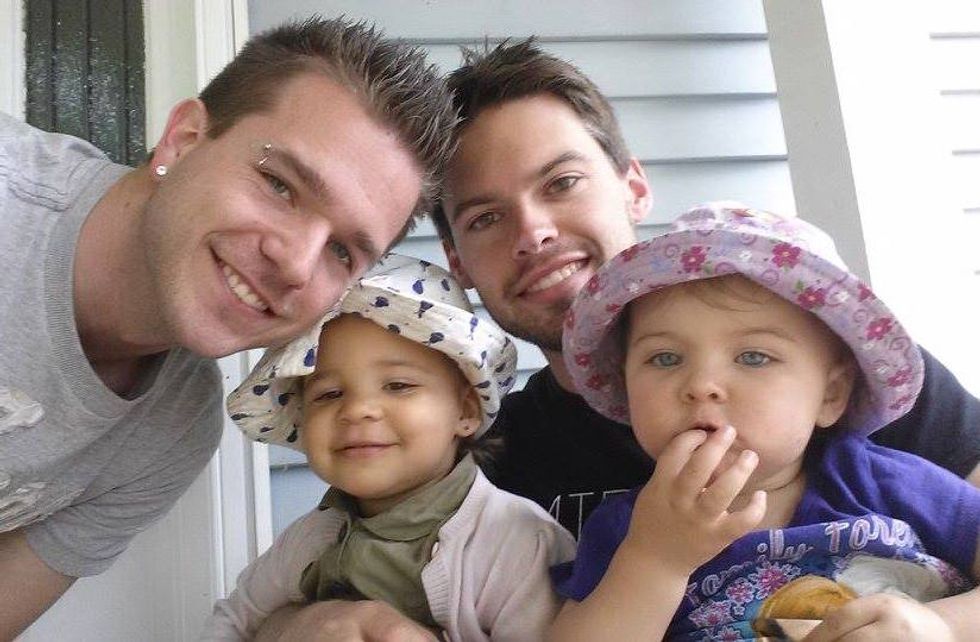 Nathan, Brynn, John and Emery