Dad Life
With Only 48 Hours to Prepare, Rob & Zack Become Dads
May. 18, 2017
Husbands Rob and Zack finalized the adoption of their son Asher on March 3, 2017. For the two dads, the road to fatherhood has been a crazy experience but creating a family has been a dream come true.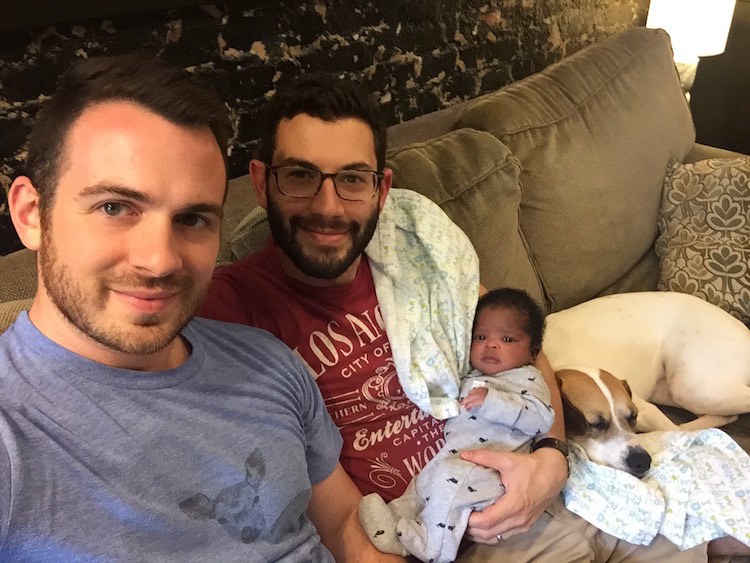 Rob, 32, and Zack, nearly 33, were introduced through friends almost 7 years ago, and were married on September 21, 2013. Rob works in non-profit science publishing, and Zack works for the State department. They live in Washington, D.C.
Before they settled on their path to a fatherhood, Rob and Zack spent a lot of time debating between surrogacy and adoption: How important was the biological connection? How would the additional financial burdens associated with surrogacy affect their family? Ultimately they both arrived at the same decision independently: adoption. Both concluded that biology wasn't a necessity to either of them, although they understand why for some people it might be.
As for their own families, Rob's parents have never fully accepted their son's sexuality, nor his marriage to Zack. It's been a long road; Rob spent years trying to be patient with his folks, but he has not been touch with them for a long time. As for the rest of Rob's family, his relationship with his siblings, their families and extended family members has remained positive.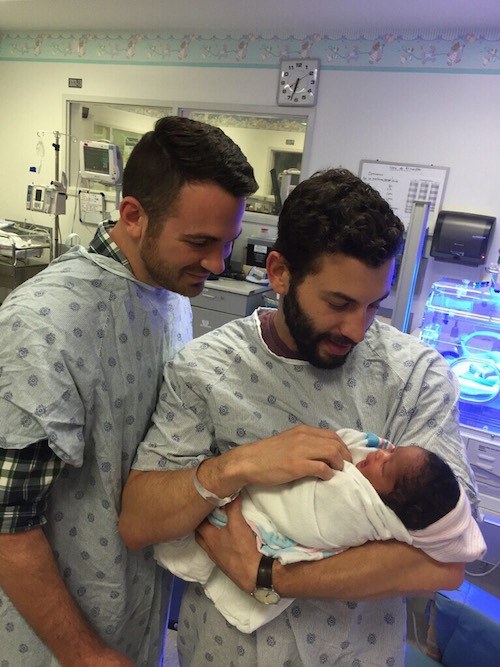 Unlike many adoptive parents who must wait months or years before being matched with a birth mother, Rob and Zack got the call just  four days after entering into the pool of potential adoptive parents. They were told to get to Texas as soon as possible to meet baby Asher and his birthmother. Rob was overseas at the time, so Zack had to pack for both of them, without having an idea how long they'd be staying in the Lone Star State.
"We didn't own any baby things yet since we thought we'd have a lot of time to prepare," recalls Rob. "So it all had to be done within 48 hours after we arrived in Texas. Luckily with the help of friends and family, we made it work!"
Asher was just one day old when the couple met him. They remember those first few days as overwhelming. Rob and Zack tried to not get too optimistic about their chances of parenthood as they were very aware of the window of time the birth family had to make the final decision to place the child for adoption.
"Meanwhile we were falling more in love with this tiny baby every minute, all the while operating on about 2 hours of sleep," said Rob.
Asher was born on a Wednesday, and on Friday, Rob and Zack were able to take him to the hotel where they were staying as they awaited state clearances to head back home to D.C. Zack's parents flew down to meet their grandchild and they all stayed together, adjusting to their new roles. Rob owes his ability to get any sleep during those first few days, he says, to Zack's parents.
Throughout the relatively long adoption process (Asher was in their care from May 2016 and the adoption was finalized March 2017) Rob and Zack encountered and were forced to jump through a few extra hoops. They have their suspicions as to why, and it did cause a lot of emotional and financial stress on their entire family. Thankfully, in March 2017, the two dads were able to celebrate the finalization of Asher's adoption, when they became a forever family of three.
It's taken the dads time to figure out how to divvy up responsibilities and to find their own rhythm. Rob gets Asher ready for daycare in the morning and does more of the cleaning jobs, while Zack is on cooking duty and prepares most of Asher's meals. Zack loves to cook so they each play to their strengths. (Most of Asher's cute outfits can also be attributed to Zack, he says.) They take turns sleeping in on weekends---allowing the other dad to get some extra rest has been crucial, they say.
They also place a high priority on finding time for themselves as individuals whether that's going to the gym, catching a movie or just enjoying each others company over a glass of wine. They know that doing those things allows them to be the best possible dads they can be to little Asher.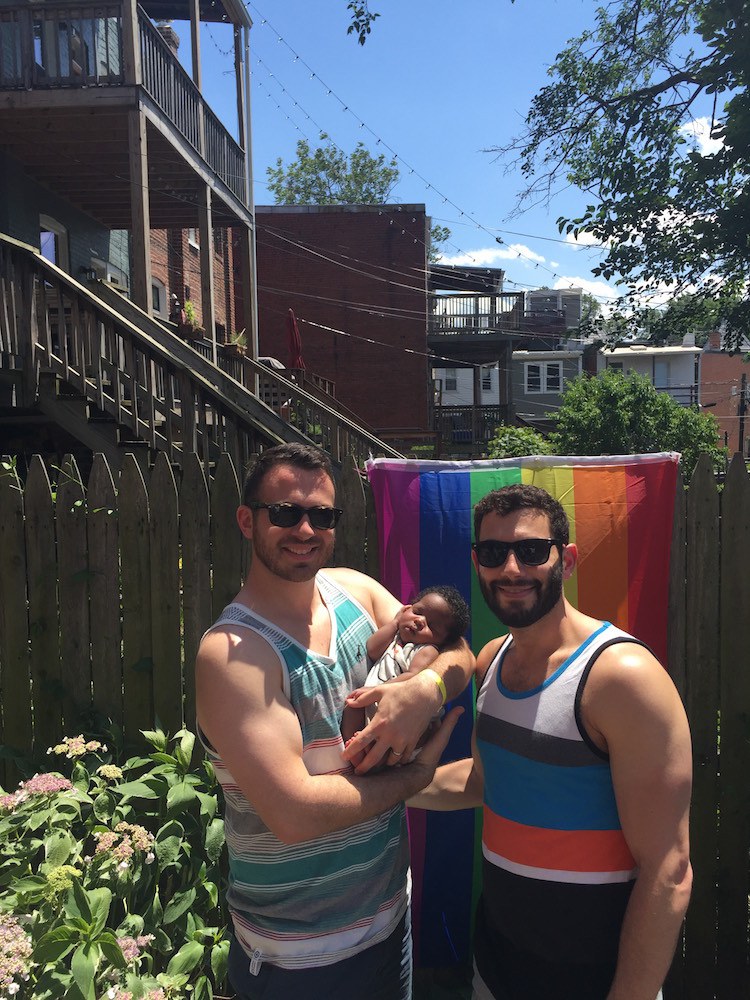 Before becoming dads, neither men had changed many diapers; neither had even read a baby book in preparation. But they learned on their feet. Another lesson they've learned as new dads? Baby boys will try to pee on you whenever they're getting changed.
"Outside of bathroom behavior," said Rob, "We have both learned a lot about patience, the limits of our own exhaustion, and how to support each other, even when our own reserves are low!"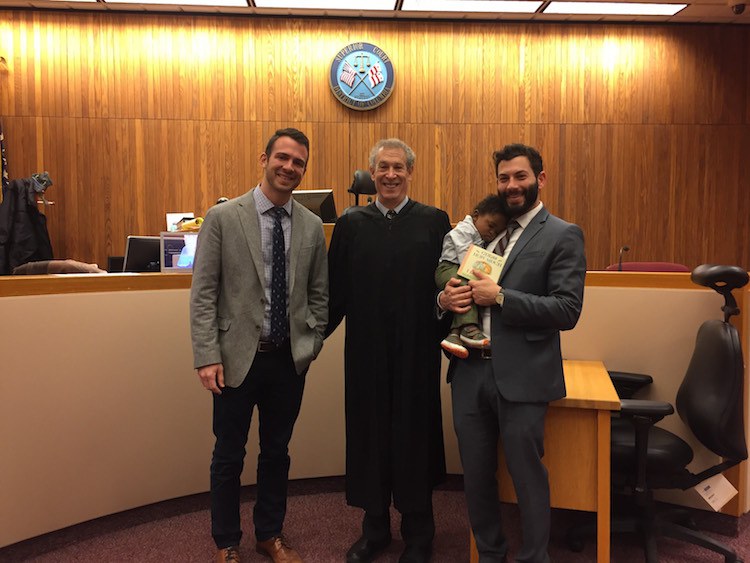 ---
Check Out More Family Profiles Below!
After a Harrowing Delivery, Barry's Bootcamp CEO Welcomes Home a Baby Boy
Afraid of Adopting from Foster Care? These Dads Say Don't Be
It started when a four-year-old boy asked a clown, who had been hired to paint the faces of kids at a picnic, a simple question:
"Can I have a blue butterfly?"
Keep reading...
Show less
The Long Island Adoptive Families support group was created by parents going through the adoption process or who had already adopted. It was a great way to help members navigate the path of adoption whether it be private domestic, international agency, domestic agency or foster care. We spoke with Chemene, one of the founders, and found out how this group is supporting local gay men interested in becoming fathers.
Keep reading...
Show less
Adam Lozon and Scott Dufour met online and have been together 11 years.They live in Hamilton, Ontario, Canada, with their son Paulo. The couple are both in banking and are engaged to be married. We caught up with the dads to see how fatherhood was treating them!
Keep reading...
Show less
Guest post from Greg Hutch.
It's two weeks before school starts and I am sitting in my classroom updating the photos in the frames on my desk. These frames used to be filled with pictures of my dogs, of me playing my instrument (I am a music teacher), or of the various other things that I have enjoyed in my lifetime. Today, they are filled with loving pictures of my family, including my son and partner who I raise him with. Times sure have changed…thanks to our son, Clark.
Keep reading...
Show less
Editor's Note: In this ongoing series, we're shining the spotlight on some of the gay dads behind Gays With Kids as their incredible passion and commitment plays an invaluable role in making Gays With Kids possible. Please contact Brian Rosenberg if you'd like to talk about getting involved, too.
Keep reading...
Show less
Happy gay uncles day to all the wonderful "guncles" out there! Here at Gays With Kids we know how important your roles are within our families so we want to celebrate you today, and say a big thanks! Enjoy this collection of "guncle" photos and a few words of wisdom and contemplations from the uncles themselves.
Keep reading...
Show less
Two years ago when Oliver arrived into our lives, my partner Rob and I were living in separate countries. We met in Kuala Lumpur, Malaysia, and had Oliver when Rob was working in Bangkok and I was in KL. Oliver arrived two weeks early when we received an unexpected message from our agent saying to go to the hospital – our surrogate had been checked into hospital.
Keep reading...
Show less
The day began like any other. My alarm went off at 4.30am. I snoozed until 5am. I ate breakfast until 5.30am, at which point my son, Felix, woke naturally like clockwork. I fed him mashed bananas, cashew butter and chia seeds. I woke my dad up with a cup of tea and handed the baton over for him to look after Felix as I left for work on my bike at 6.30am. I worked through the day as normal. Then, at 6.49pm I received a call from the police.
Keep reading...
Show less
GET GAYS WITH KIDS IN YOUR INBOX

Follow Us on Instagram